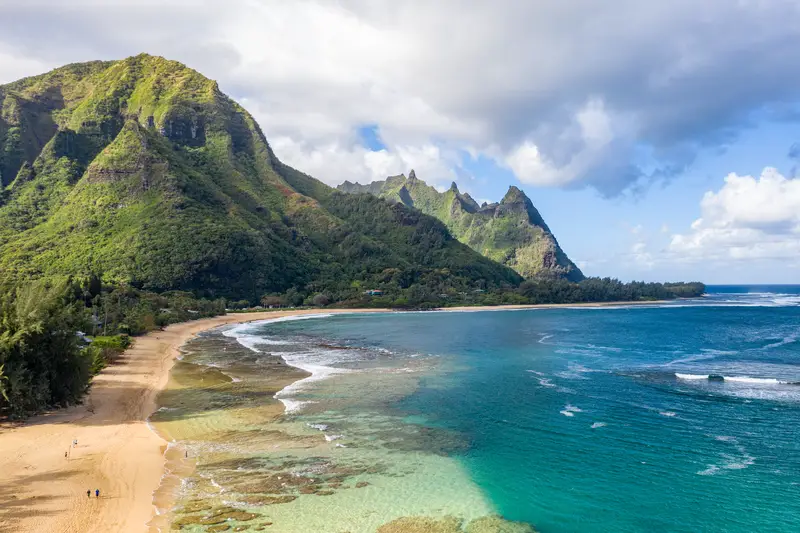 Also known as Tunnels Beach, Makua Beach is located in the north of the Hawaiian island Kauai. Yes, we're aware that there's a beach on Oahu that goes by the exact same name, but this article is dedicated to Makua Beach on Kauai.
Did you know that Makua Beach is the most photographed beach in Kauai? It's even the most photographed beach across all Hawaiian islands. In order to maintain its beauty and to protect its marine life, a great portion of its reef acts as a nursery. In other words, the snorkel area is limited to a certain area right next to the beach itself.
With its coastal palm trees and Na Pali cliffs in the background, this beach is pretty much "picture perfect" on a warm sunny day. If you ask us, snorkeling directly off the beach is a fun addition for Makua Beach visitors.
The Beach and its Reefs
As you can see from the map below, there's a large coral reef towards the ocean and a few smaller ones right next to the shore. Snorkeling is only allowed between the beach and these smaller coral reefs.
Makua Beach offers various snorkel entry points, however, you might want to try the sandy "tunnel" (which we marked with the snorkel mask on our map). Depending on where you're heading, the ocean floor is partially sandy and partially rocky. As you float above the reef, stay within the shallow areas next to the beach.
To get a good impression of the shallow snorkel area, there's a video further down below that you can watch. You'll soon notice that the shallow water offers a variety of fish species. Since there's enough to see already, we advise you to stay close to the shore. Advanced snorkelers could explore some deeper sections. However, it's important to avoid the stronger currents (which we marked with some cute little waves on our map).
The Marine Life
Corals
Unfortunately, corals aren't the best in Makua Beach. Even though they're not your main attraction, you'll be able to spot some cauliflower and rice across the reefs. Coral formations are relatively small but they do attract quite a good amount of fish.
Fish Species
Snorkelers are able to observe various typical Hawaiian reef fish. It's not uncommon to spot parrotfish, butterflyfish, triggerfish, goatfish, wrasse, tang, damselfish, snapper, surgeonfish and a few others. You might even see a few Hawaiian green sea turtles.
If you're lucky, you might even be able to spot the Hawaiian monk seal. These endangered species enjoy the waters of Kauai quite a bit, both on land and underwater. Make sure to keep your distance according to Hawaii's responsible viewing regulations.
The shallow areas are only a few feet deep, however, underwater visibility isn't exactly ideal. Pick a sunny and calm day in summer to get the best underwater experience.
Helpful (Travel) Tips
If you travel by car, keep in mind that finding a parking lot can be a hassle (sometimes even in the morning). Taking a shuttle or taxi might be a better choice, depending on your plans and budget.
Makua Beach doesn't offer any restrooms or showers. You won't find a restaurant or beach bar either. Bring your own snacks and beverages or use Google Maps to find the nearest supermarket.
There are no lifeguards.
Snorkeling isn't always an option because of possible currents and waves. Winters don't allow for snorkeling at all, and even summer months could prohibit any water activities. Inquire with the authorities whether or not you're allowed to enter the water and make sure to stay within calm shallow areas.
Another nearby snorkel spot can be found at Ke'e Beach. This beach is located towards the west. You do however need to make a reservation in case you want to snorkel Ke'e Beach.
Final Thoughts
In our personal opinion, Makua Beach on Kauai is mostly about exploring an incredibly beautiful piece of nature. Snorkeling is part of the deal and allows you to observe various typical Hawaiian reef fish. However, weather conditions must be calm and you should stay in shallow water close to the shore.
This location definitely represents the beauty of Hawaii, which is why we added it to our Top 9 snorkel locations in Kauai.