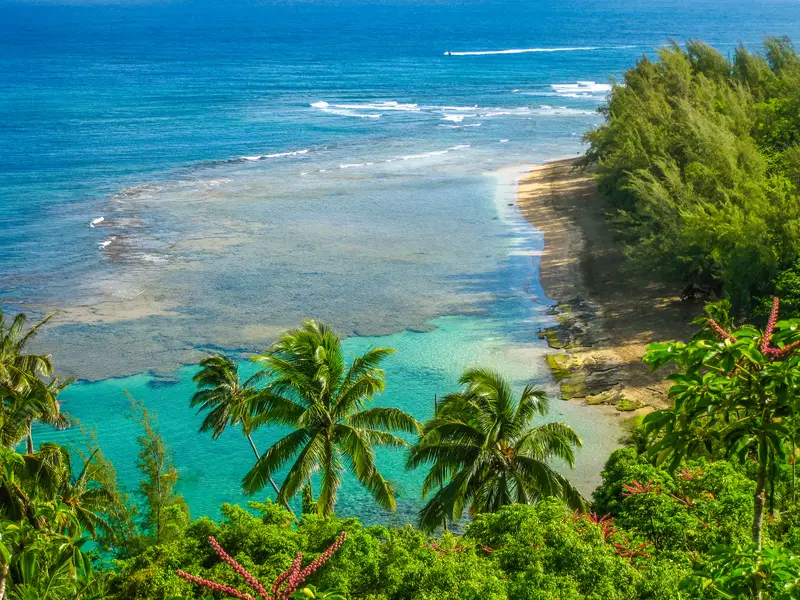 Located in the north of the Hawaiian island Kauai, Ke'e Beach marks the beginning of the northwestern Na Pali coastline. If you read our article about snorkeling the Na Pali Coast, maybe you remember that this remarkable area is (pretty much) only accessible by boat. For people who prefer to travel by car, Ke'e Beach is a great alternative for snorkeling the north shore of Kauai.
We have to admit that Ke'e Beach isn't as impressive as the Na Pali Coast, however, it allows for easy and beginner friendly snorkeling on warm summer days. There are 2 parking lots nearby: The primary one (next to the beach) and a so called "overflow parking lot" at Ha'ena State Park (a short hike towards the east).
Reservations
Latest news has it that reservations are now necessary in order to visit the beach. The same applies to the parking lot. In our opinion that's a good thing because the parking lots filled up quickly, especially in summer.
Go Ha'ena is a website that allows you to make various reservations. You could go for an entry pass only or a parking + entry pass. Alternatively, they also offer a roundtrip shuttle with an entry pass included. The shuttle makes several stops which are all listed on their website. The driver takes you all the way to Ha'ena State Park from where you follow the trail towards the beach.
The Beach and Where To Snorkel
Whether you travel by car or by shuttle, you access the beach by following a short (but very pretty) trail. The trail is well-maintained and easy to walk. The primary parking lot provides showers and restrooms, but you find these facilities on the beach itself as well. A lifeguard should be on duty. Restaurants are absent so bring your own snacks and beverages.
Once you enter the beach it's "simply" a matter of finding a personal spot. Especially summer months can be busy which often means a crowded beach. If you can, try to arrive on time. The golden sandy beach is surrounded by a green scenery which includes ironwood trees and coconut palms.
Ke'e Beach is all about snorkeling directly off the shore. You can't miss the nearby reef. If weather conditions are favorable for snorkeling, stay in between the beach and the reef. Swim in shallow water and avoid the area that connect the beach to the ocean.
The Reef and its Marine Life
Like many Hawaiian snorkel spots, an outer reef protects the beach from wild currents and waves. The reef attracts a variety of fish species, however, the amount of coral is limited. Compared to the Na Pali Coast, only a few sea turtles call Ke'e Beach their home. You'll probably spot one or two near rocky crevices.
On a calm sunny day you'll be surprised by how clear the water actually is. The amount of fish is very decent with a few typical Hawaiian fish species to look for: butterflyfish, triggerfish, surgeonfish, damselfish, parrotfish, wrasse, goatfish and more. Watch out for sea urchins, especially on or near rocky surfaces.
The Kalalau Trail
For our hiking friends, or should we say adventurous snorkelers, the Kalalau Trail might be a fun way to explore more than just a tropical beach. The trail is about 11 miles long, however, you don't need to walk its entire distance. If you're in good shape and an experienced hiker, you could decide to explore (parts of) the green scenery from above.
The Kalalau Trail runs from Ke'e Beach all the way to Kalalau Beach. In other words, you get to discover a good portion of the Na Pali cliffs and valleys. Since this is quite the journey, camping is possible at Hanakoa or Kalalau. Kalalautrail.com helps you to plan your trip and is packed with all necessary information.
Again, you don't need to walk the entire trail. You could just as well explore its beginning which results in beautiful panoramic scenes to capture on camera.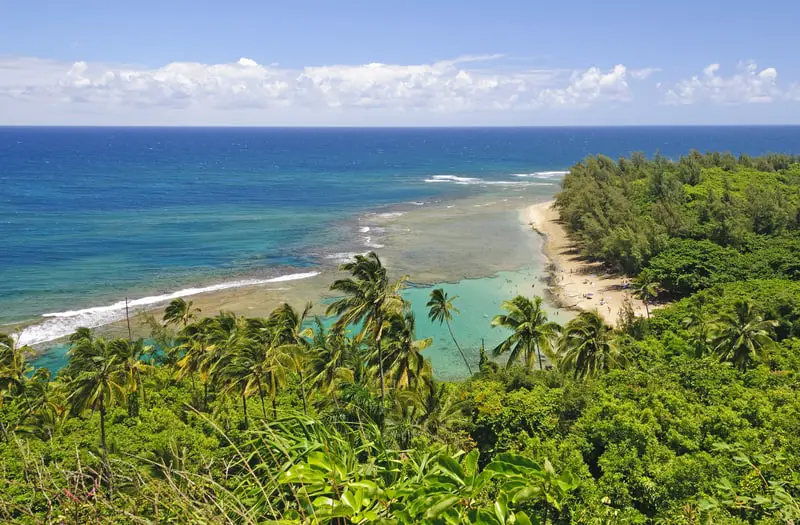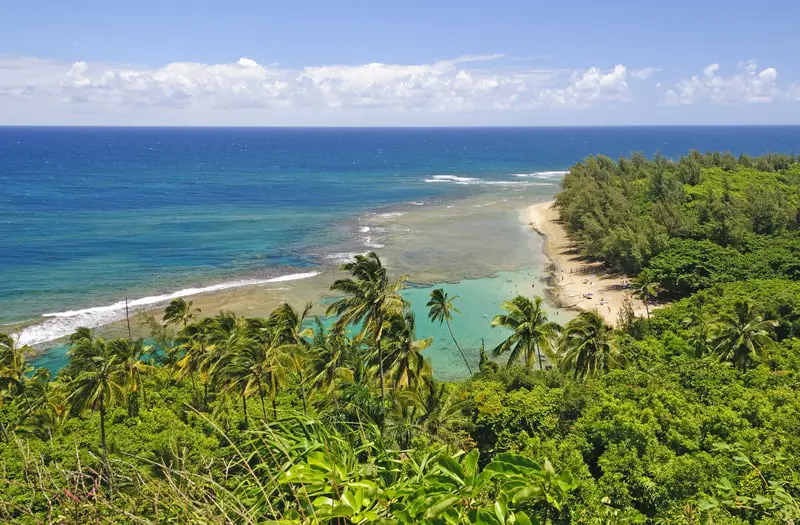 Final Thoughts
Ke'e Beach offers an easy to access snorkel spot that allows you to observe a good amount of typical Hawaiian fish species and even a few sea turtles. Shallow crystal clear water, a golden beach, coconut palm trees and a nearby coral reef should keep most snorkelers entertained for the day.
Compared to some other nearby snorkel spots, the amount of fish species and coral is a little limited. We consider Ke'e Beach to be a fun and easy location on calm and sunny days. Snorkeling might not be possible on certain (winter) days, so inquire about that and snorkel according to your personal skills.
Based on its location and scenery, we added Ke'e Beach to our best snorkel spots in Kauai.