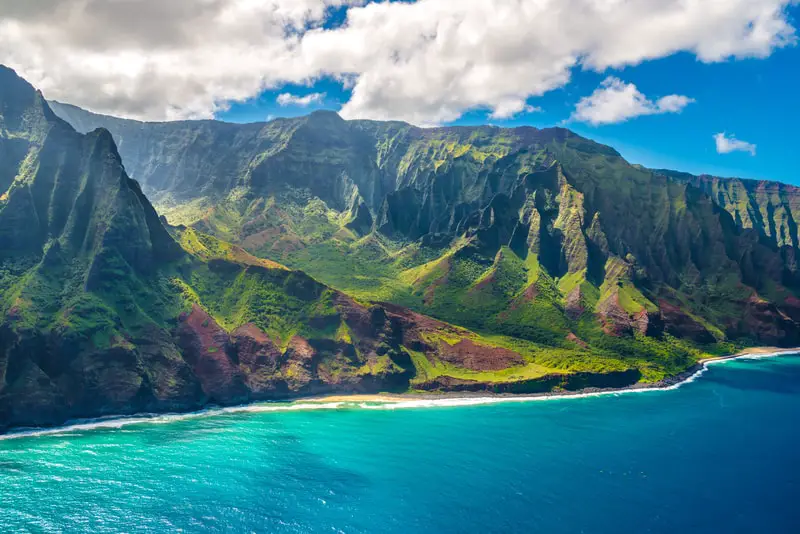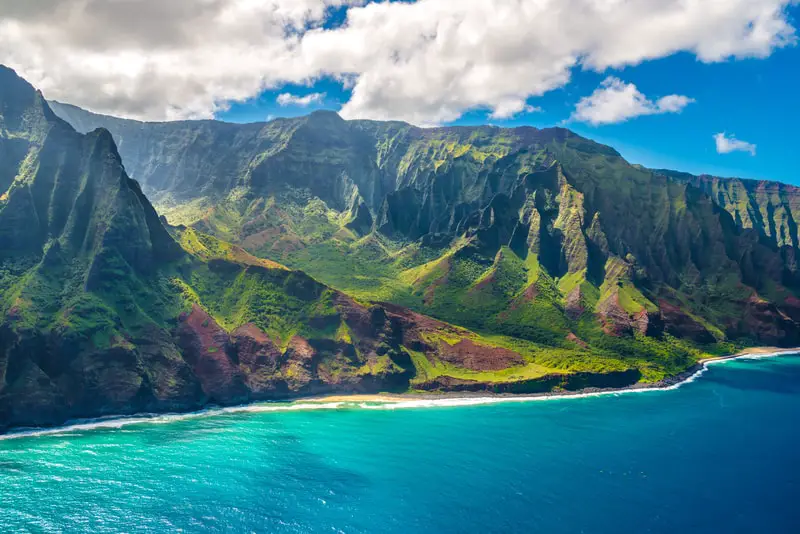 Situated on the northwestern coastline of the Hawaiian island Kauai, Na Pali is more than just a marvelous snorkel spot. Na Pali means "cliffs" in the Hawaiian language, which is no coincidence if you take a look at the above picture. About 17 miles of cliffs, valleys, waterfalls and white sandy beaches stretch out between Ke'e Beach and Polihale Beach.
A Little History
The Na Pali Coast actually is an ancient fishing village, and there's good reason for that. First of all, several shallow reefs run along the shore. These reefs acts as a barrier against waves and currents, which results in calmer water conditions next to the mainland. Various fish species enjoy these tranquil waters, even the Hawaiian green sea turtle and the Hawaiian monk seal. Besides fishing, ancient Hawaiians farmed foods in the deeper valleys. You can still feel these farming and fishing vibes whenever you visit the Na Pali coast.
Our Favorite Snorkel Spot on the Na Pali Coast
As you can see from the map below, the Na Pali coast hosts several beaches, caves and parks. It's not that one is (or should be) better than the other. However, there's nothing wrong with sharing a personal favorite (and many people actually agree with us). If you ever make it to Na Pali, and if you have no idea where to snorkel, consider to visit Nualolo Kai.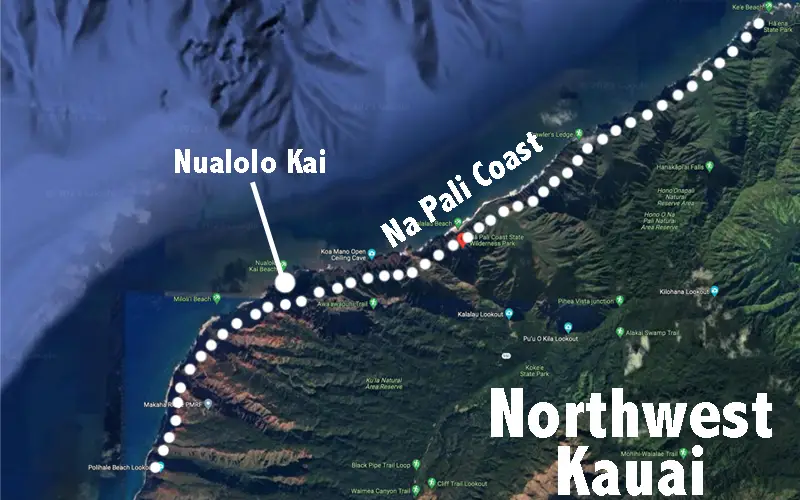 Nualolo Kai (Nualolo Beach)
Kai means "the sea" in Hawaiian language. So yes, you'll be snorkeling in the sea (obviously). But here's the thing: Nualolo Kai isn't exactly easy (if possible at all) to visit on foot. There's a hiking path to consider, however, this path is definitely not the easiest you'll ever come across. Its steep and rough terrain is probably not the best idea for the average person. In our opinion, it's best to join a boat or catamaran tour.
With its 2000 feet high cliffs in the background, Nualolo Kai Beach seems very small when passing it by boat. Just remember, once you're in front of the beach, there's a shallow reef right behind you. The tour operators will choose a perfect sport for snorkeling, after which you simply enter the water from their boat.
Here's a very nice video that shows you Nualolo Kai (by boat and by drone):
Nualolo Reef and its Marine Life
As we already explained, shallow reefs run along the Na Pali shore. One in particular stands out from the crowd: Nualolo Reef. Not only does this reef break the Ocean waves, it also acts as a food source for the marine life. No wonder why fishing was one of the main food sources back in the days. Many typical Hawaiian reef fish enjoy this nutritious reef. Even sea turtles get their fair share from all the growing seaweed.
People say that the reef also acts as a barrier against predators like sharks, even though whitetip reef sharks are not uncommon within the area. When snorkeling, expect to observe triggerfish, butterflyfish, tang, parrotfish, wrasse, snapper, surgeonfish, moray eels, lobster, octopus and maybe even an eagle ray. Dolphins enjoy the Na Pali coast as well. It's not uncommon to spot them whenever you join a boat tour (which we'll cover later in this article).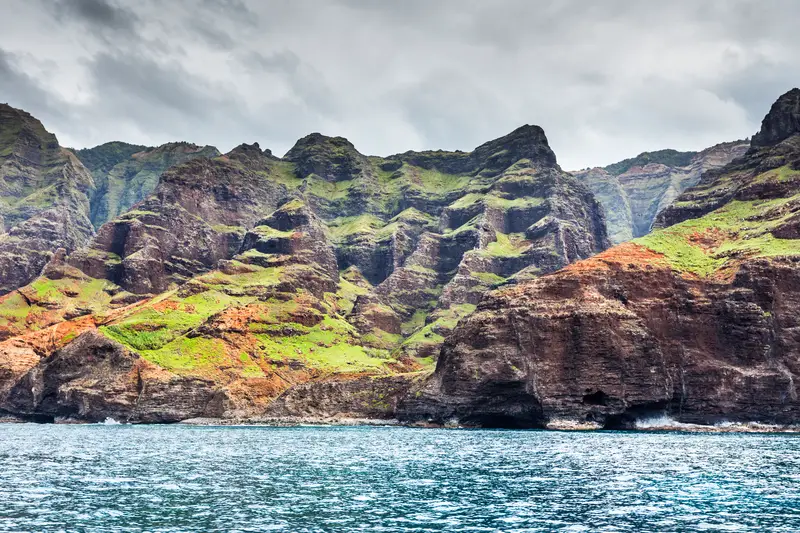 Visibility
You'll be surprised how clear the Nualolo Kai water actually is. On a calm and sunny day it should definitely be possible to have a clear underwater view of up to about 20 feet. The area close to the shore is pretty shallow which makes it easy to observe corals and various fish species. You don't have to dive down deep in order to spot a few sea turtles. Some of them simply enjoy to float on the ocean surface.
Boat Tours
Like we already explained, in our opinion it's best to join a boat tour. There are several companies to choose from. One option is Makana Charters and Tours (this links to their website). They offer various boats for both big and small groups, and one of their destinations is Nualolo Kai (as of writing this article).
The Makana company is able to provide all necessary snorkel gear and even gadgets that facilitate floating. Of course, if you have your own gear, that's even better. The tour comes with drinks, snacks and even lunch. Bringing your own beverages and food is fine as well. Keep in mind that swimwear and towels are not included. We would also advise you to read our article about UV protection for snorkelers since sunscreen (and hats or whatever block UV rays) is also not included. Good to know is the fact that their boats offer shady areas and seats.
One last thing: These tours usually take about 5 hours. Seasickness is not common according to the crew, however, it happens. Even though their boats are quite stable, feel free to read our guide about snorkeling and seasickness. We share quite a few good tips and tricks in that article.
For snorkelers who absolutely don't feel like joining a boat tour, consider to snorkel Ke'e Beach. This beach is located at the northernmost point of the Na Pali Coast and can be visited by car or shuttle.
Final Thoughts
In our personal opinion, Nualolo Kai on the Na Pali Coast is one of the very best snorkel locations in Kauai. We'd advise you to join a boat tour because hiking towards the beach is not exactly easy. Many Hawaiian fish species enjoy the shallow coral reef and even the Hawaiian green sea turtles are happy to welcome you to their own little paradise. With its farming and fishing history, visiting the Na Pali Coast is a breathtaking experience to never forget.