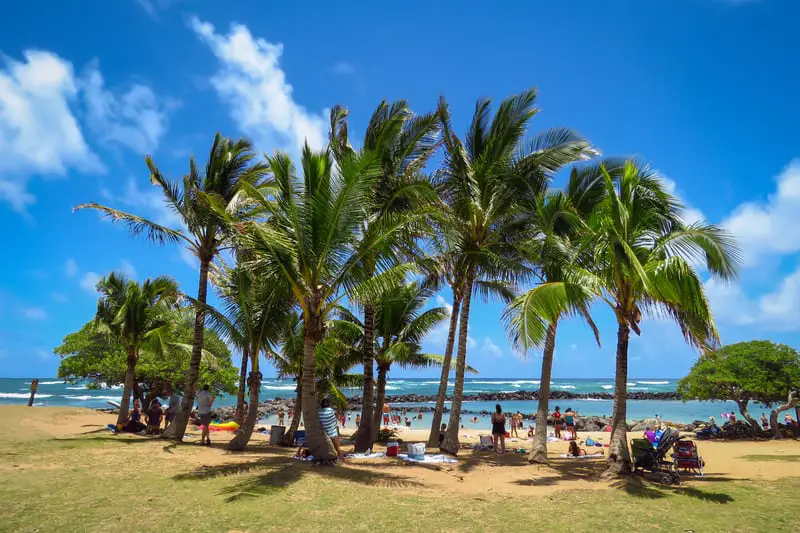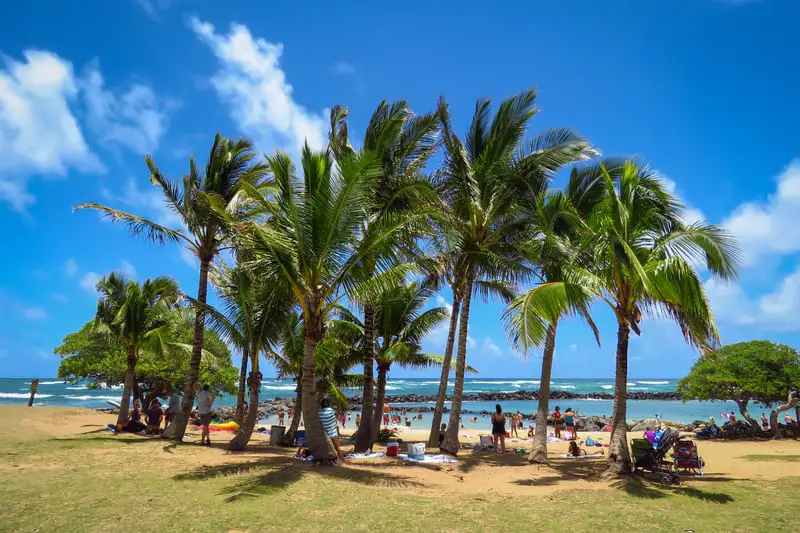 Located on the east side of Kauai, Lydgate Beach Park is a family-friendly little paradise that both adults and kids will certainly enjoy. The park sits right on top of Lydgate Beach with loads of facilities and activities within reach.
An artificial reef (which consists of 2 rocky walls) separates the ocean from the park's 2 pools. In other words, the pools are protected from oceanic waves and currents so that visitors can swim and snorkel in relatively calm water. Of course, weather conditions must still be favorable for snorkeling.
We're well aware that this location might not be an experienced snorkeler's dream, however, keep in mind that Lydgate Beach Park is all about enjoying a fun day with the entire family. Snorkeling is part of the deal, even though the marine life is surprisingly diverse and healthy (continue reading if you want to know why).
The Park
Like we already explained, Lydgate Beach Park sits on top of Lydgate Beach and offers all kinds of activities for the day. Besides snorkeling you can sunbathe, play volleyball, ride a bicycle or even walk the 2,5 mile long coastal path. Kids can swim, enjoy a picnic, play at the (huge) Kamalani playground or simply enjoy the sandy beach. Bathrooms and showers are available.
Parking is free. However, keep in mind that the park is very popular so parking lots could be filled. Especially summer weekends can be very crowded, so plan your visit wisely. There are a few hotels nearby in case you prefer to stay the night.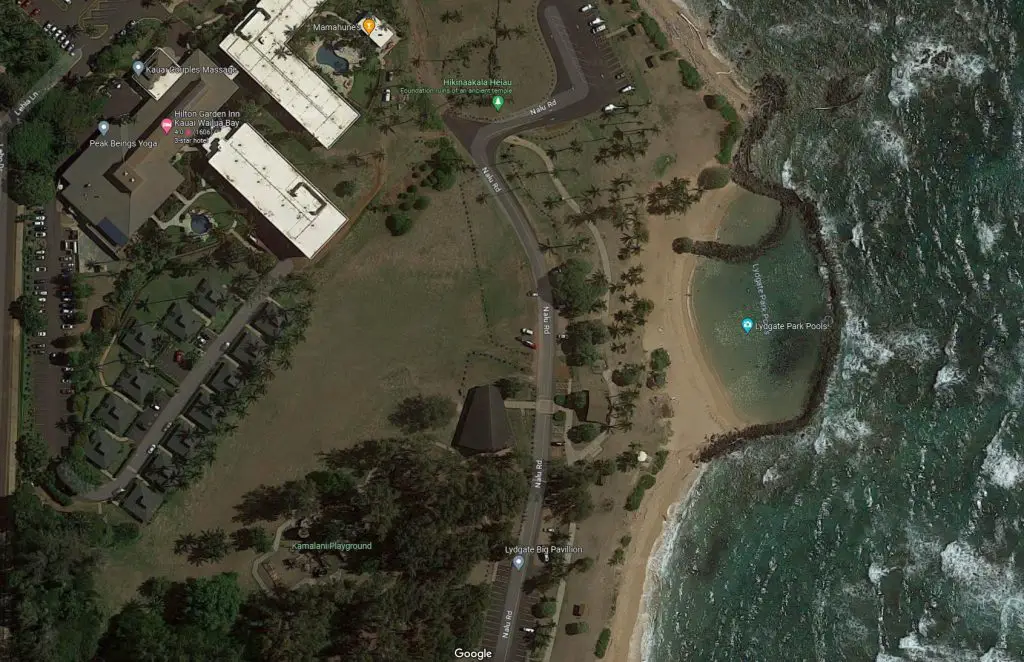 The Beach and The Reef
You'll find 2 adjacent pools within the park, each with their own beach. The smaller pool is shallow and meant for kids. The bigger pool is deeper and therefore better suited for snorkelers.
A man-made rocky wall protects both of these pools from ocean currents and waves. Various fish species are attracted to this artificial reef, but wait, it gets even better than that. Openings and crevices within the reef allow (small) ocean fish to enter and leave the pools whenever they feel like it. In other words: Expect a good amount of Hawaiian fish species when snorkeling.
Snorkeling
To get a good impression of the marine life, it's probably best to watch the video below. Skip to the 2:30 minute mark to get right into the snorkeling action. If you watch from the beginning you'll also get a good impression of the park and beach itself.
Both pools offer easy sandy access to the water. The small inner pool reaches depths of about 3-4 feet. The deeper outer pool reaches depths of about 5-8 feet. Keep that in mind, especially if you snorkel with kids. Even though there's a lifeguard on duty, you need to keep an eye on your children at all times.
Calm sunny days allow for decent underwater visibility. Shallow water might contain a good amount of sand, especially with kids playing around. Calmer areas within the bigger pool should provide a pretty good view of the marine life.
Marine Life
The warm and (usually) calm waters attract a variety of Hawaiian fish species. It's very common to observe parrotfish, pufferfish, angelfish, tang, wrasse and the occasional eel. Of course, you might be able to observe other (or more) fish species like the baby barracuda in the video below.
Green sea turtles are attracted to the rocky areas because that's where they usually find their food. It's important to keep your distance and to only observe how they swim or chill out.
Final Thoughts
Lydgate Beach Park allows for a fun family day full of tiny adventures, snorkeling included. Two protected pools allow both beginners and advanced snorkelers to observe a variety of Hawaiian fish species and (usually) a few green sea turtles. Check with the lifeguard about weather conditions and whether or not snorkeling is an option for the day. Sunny days in summer can be crowded.
We added Lydgate Beach Park to our Top 9 snorkel spots in Kauai. Not only because the park is so family-friendly, but also because of its "easy to access" marine life in shallow water.