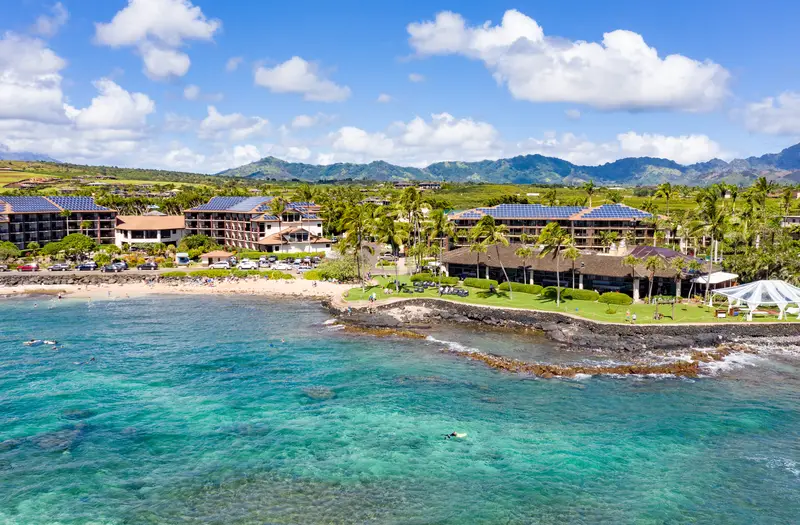 Located on the south shore of the Hawaiian island Kauai, Lawai Beach is a surprisingly great snorkel spot packed with loads of various fish species. As with most of our favorite Hawaiian locations, a coral reef protects the beach. This is one of the reasons why Lawai made it into our Top 9 snorkel beaches in Kauai.
Lawai hosts a pretty small and narrow beach, up to about 400 feet in length. Next to the beach you'll find the Beach House Restaurant which is known for its lovely sunset views. Lawai Beach Resort (4 star hotel) and Prince Kuhio Resort (3 star hotel) are both situated adjacent to the beach.
Lawai Beach is a pretty popular snorkel spot, which means that the area is often crowded. That's not a big surprise considering the fact that a diverse marine life awaits you as soon as you put on your mask.
The Beach (and the tides)
Like we said, this is a long narrow beach with a good amount of fellow snorkelers. Unfortunately, the beach is so narrow that tides are easily able to adjust its size. Low tides allow you to find a cozy sandy spot, whilst high tides could make the beach disappear completely.
Furthermore, not the entire beach consists of sand. A good portion (especially the west side) is more of a rocky area. You can find more information about the tides (and when they occur) on this website.
Not only the beach is partially rocky, so is the seabed. Lava rocks are literally everywhere. Water shoes for snorkelers is more than just a luxury at Lawai Beach. Of course, you can just as well wear a pair of snorkel fins. Whichever you prefer, make sure to protect your feet.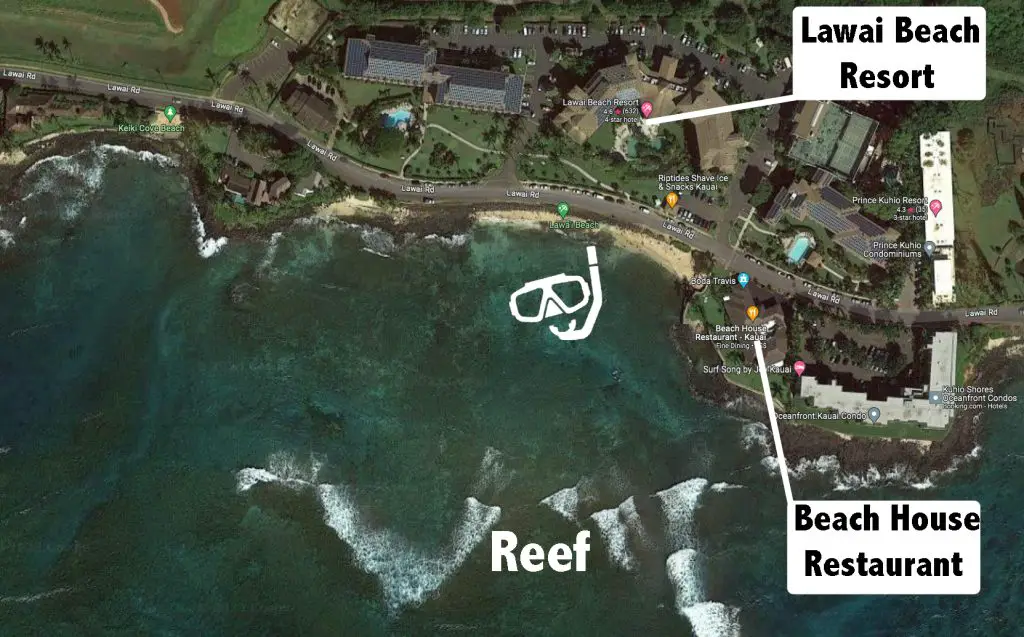 The Reef
As you can see from the above map, the reef isn't too far out (probably 500-600 feet, give or take). We know, most popular Hawaiian snorkel locations have (some kind of) reef sitting in front to break the waves. That's no different in Lawai Beach.
Coral reefs act as a food source for various fish species. Furthermore, they provide shelter and spots to breed. Even though the coral on Lawai's reef could be little better, there's no shortage of fish species. We'll cover the marine life further down below, just understand that this spot allows you to observe quite a bunch of common Hawaiian reef fish.
Even though the reef is capable to break the waves on most days, there's a chance that waves master this barrier. If that's the case, snorkeling is not an option on that specific day. So yes, always check weather conditions and inquire with an expert about snorkel conditions.
Snorkeling
The public beach of Lawai allows you to easily enter the water. On a calm and sunny day, the shallow water should even allow beginners to enjoy this spot quite a bit. Depths vary and increase from a few feet up to about 15 feet.
There's no need to float above the deeper areas, why would you if the marine life enjoys the shallow areas as well. So yes, stay in shallow water and let the magic happen. Like we said, the amount of healthy coral is limited, but fish are literally everywhere.
Marine Life
Quite a few common Hawaiian reef fish can be observed in Lawai Beach. Typical fish to observe include triggerfish, parrotfish, butterflyfish, goatfish, surgeonfish, damselfish, moorish idol, needlefish, wrasse, tang and more. Yes, these species are very common in Kauai, and Lawai hosts quite a bunch of them.
Hawaiian green sea turtles could be present, but there's no guarantee. Make sure to keep your distance in case you spot one. They're a delight to observe. If you're like us and snorkel with a GoPro, who knows you'll manage to record some awesome footage.
Be aware of sea urchins. They're spread across the entire area, so keep your distance. Even though we're not supposed to step on reefs in general, these little fellows could be right below your feet. So be cautious and protect yourself. They also enjoy rocky areas, so mind wherever it is you're floating at.
Coral
Compared to the amount of fish species, corals might disappoint. Especially in shallow water near the beach. There's some coral across the ocean floor, but experienced snorkelers have probably seen it in better shape elsewhere. Expect to come across some cauliflower, rice, finger and lobe.
Helpful (Travel) Tips
There are quite some facilities to use. Lawai Beach offers a small parking lot, showers, restrooms and (usually) even a small refreshment bar. Lifeguards are absent.
The Beach House Restaurant on your left is known for its awesome sunset views. If you're able to stay the night, make sure to grab a seat on their grassy deck. Lawai Beach is more than just a popular snorkel spot.
Underwater visibility is "ok", but not perfect. The deeper areas usually provide a better sight, but snorkelers will want to stay within the shallow area. If you visit on a calm and sunny day, which is the one and only best thing to do, visibility should be fine.
If you travel across the south shore, consider to also snorkel at Poipu Beach. Poipu Beach is a short ride towards the east and home to a good amount of Hawaiian monk seals.
Final Thoughts
Lawai Beach on the south shore of the Hawaiian island Kauai allows both beginners and advanced snorkelers to observe a good amount of various Hawaiian reef fish species. Weather conditions must be favorable for snorkeling and you should stay within the shallow parts of the bay. If you can, try to get a glimpse at the sunset from the nearby Beach House Restaurant.