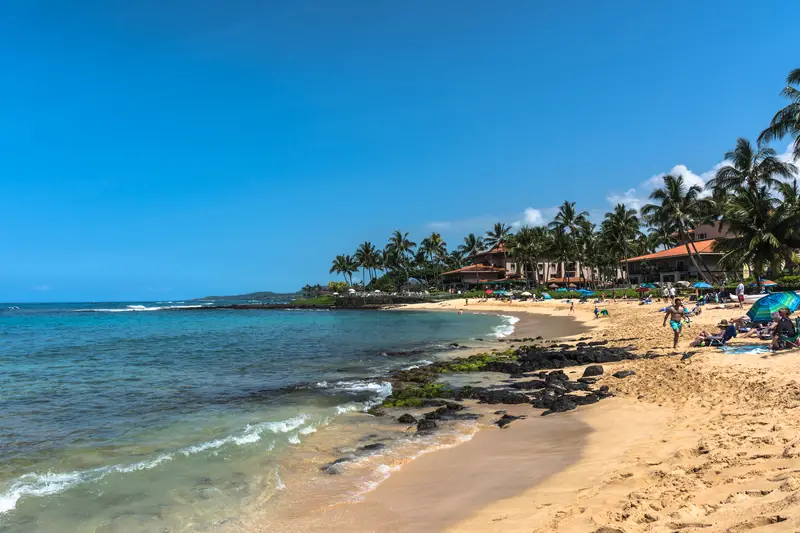 Located in the southernmost tip of Kauai, Poipu is a "beach town" known for its family-friendly coral reefs. With various beaches and resorts to choose from, and it's fine collection of restaurants, Poipu has become many people's favorite town on Kauai's southern coast.
One of Poipu's most popular beaches, if not the most popular, is called Poipu Beach Park. If you prefer Kauai's comfortable southern climate and if a diverse marine life in shallow water is what you're after, Poipu Beach park should not disappoint. Especially if you're looking for a family day (or weekend) trip.
About Poipu Beach Park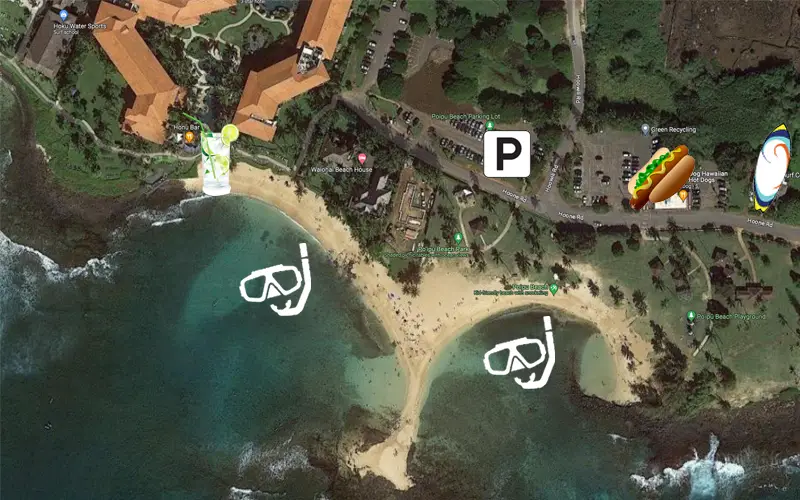 If you take a look at the map above you should notice that Poipu Beach Park consists of 2 adjacent beaches, separated by a sandbank. The one on your right (so on the east of the sandbank) is known for its shallow water which makes it pretty kid-friendly. The one on the left (so on the west side of the sandbank) offers a few deeper snorkel spots for more experienced snorkelers.
The surrounding reefs break Ocean waves to a certain extent, even though stronger currents and waves could master the reefs. If that's the case, snorkeling is not an option. Luckily, most days allow for shallow snorkeling near the shore. Lifeguards are present throughout the day (even though you should double check their exact schedule and location).
The western part of the beach borders the Marriott's Waiohai Beach Club, a 3-star hotel with their "Honu Bar" for frozen drinks and tasty snacks. Next to the resort you'll find the Poipu Beach Parking Lot. There's more to explore within the area, like a seafood and hotdog restaurant. Nukumoi Surf Shop is located near the eastern beach. They rent snorkel gear, beach chairs, umbrellas, life jackets and various other gear in case you didn't bring your own.
Other facilities include restrooms, showers, picnic tables, shady areas, zones of grass and a little playground.
Snorkeling
About the Water
As you can see from our map, sandy water entrances are available on both sides of the sandbank. Beginners could explore the shallow water on the east whilst more advanced snorkelers probably like the west side better. The west side offers some deeper snorkel areas which usually means more coral and fish species.
Shallow areas are somewhere between 2 and 3 feet deep which could be great if you snorkel with kids. Of course, you need to keep an eye on them non-stop. If you're an adult with some snorkel experience, try to explore the deeper sections which are up to about 10 feet deep (or a little more). Make sure to always stay close to the the shore and only snorkel where you're supposed to.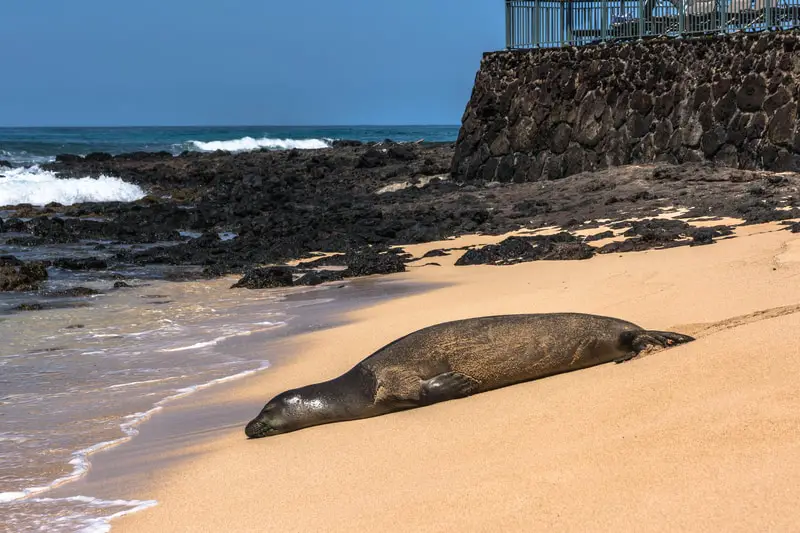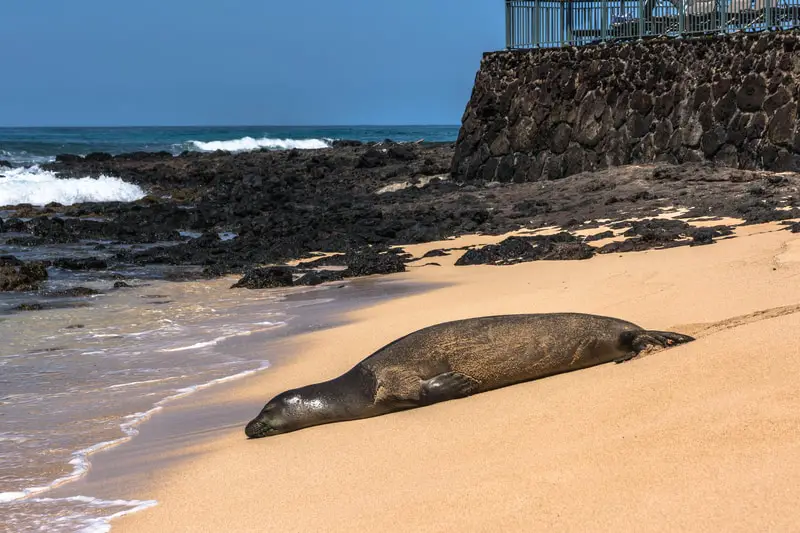 Marine Life
If you enjoy the company of Hawaiian green sea turtles, Poipu Beach Park should not disappoint. You'll find them both on land and underwater (even though most prefer the water at daytime). Make sure to keep your distance.
Poipu Beach is also famous for its Hawaiian monk seals. These endangered marine mammals usually swim within the area, even though they visit the shore for a little rest from time to time. Their typical growling noises can be heard both above and below water. Just like Hawaiian green sea turtles, keep your distance according to these Hawaiian wildlife rules.
Besides a variety of corals, expect to observe the following fish species: Butterflyfish, parrotfish, triggerfish, surgeonfish, goatfish, flounder, wrasse, sergeant major, damselfish, moray eels and a few others.
Some Helpful Tips
Poipu Beach Park seems (and pretty much is) a sandy little paradise. However, keep in mind that the entire area contains a good amount of rocks. The rocks ashore can be very slippery, so yes, you need to watch your step. Rocks and even sharp coral can also be found underwater. Water shoes for snorkelers can be very helpful and are more than a luxury when visiting Poipu Beach.
Even though you'll find plenty of shady areas across the park, make sure to bring sufficient sunscreen. We're not exactly sure whether or not Nukumoi Surf Shop sells any, but we dedicated a separate article all about sunscreen and UV protective clothing for snorkelers and beach fans.
We explained that the 2 beaches are separated by a sandbank. Just be aware that whenever the tide is high, the sandbank might (partially) disappear. This could result in more currents and waves, so inquire about this with the lifeguard.
Final Thoughts
Poipu Beach Park in the south of the Hawaiian island Kauai usually allows for calm shallow snorkeling that even beginners are able to enjoy. The coral is "ok" and you're able to observe a good variety of typical Hawaiian reef fish. Hawaiian green sea turtles and monk seals can be found both on land and underwater. Weather conditions usually allow for snorkeling, but there are exceptions. When in doubt, inquire with the lifeguard whether or not (and where) to snorkel. Facilities are great but be aware or multiple rocky areas.
If you're curious or if you're able to travel, feel free to also check out our favorite snorkel spots on Kauai.