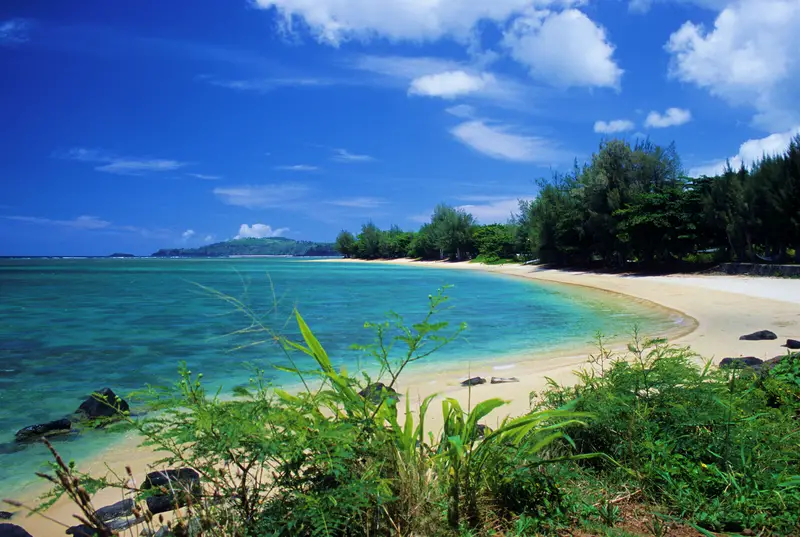 After reviewing various locations that allow for some awesome snorkeling in Kauai, let's take a closer look at Anini Beach. Located in the north of the island, this snorkel spot could very well surprise you. Compared to some other northern locations, Anini Beach often provides relatively comfortable water conditions.
The white sandy beach with its palm trees is protected by a long narrow coral reef, which usually results in calm and warm blue turquoise water. Since a large portion of the area is shallow, both beginners and experienced snorkelers are able to enjoy this snorkel spot.
Things To Know About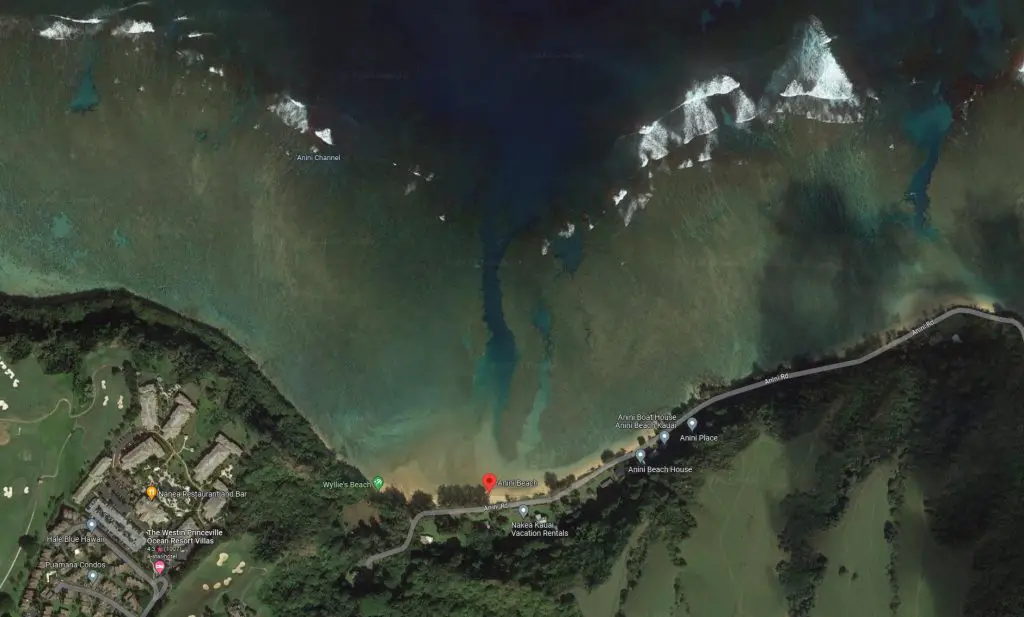 The Beach and its Water Entrance
You'll find a parking lot when driving from Anini Road, which is situated right next to the beach. There's usually enough space to park your car, especially if you arrive on time (in the morning). A bunch of green trees provides a shady area to relax. Even restrooms and showers are available. Make sure to bring some beverages and snacks to enjoy at one of the picnic tables.
As soon as you enter the water you'll notice how shallow the area actually is. Even better, the water stays shallow for quite a bit. This means that snorkeling with kids should be possible, as long as weather conditions are calm and as long as you stand by their side. At most times, Anini Beach isn't extremely crowded. However, there's no lifeguard on duty.
Even though this is a sandy beach, the ocean floor gradually changes towards a mixture of rocks and seagrass. If you're an advanced snorkeler, chances are you'll get bored fairly quickly. Good thing though is the fact that sea turtles enjoy the warm shallow waters as well, so you should be able to spot a few. They feed off the seagrass so try to float above those "green underwater areas". A few smaller fish species will grab your attention as well, just don't expect too much. Again, this is a fun and easy snorkel spot in the north of Kauai.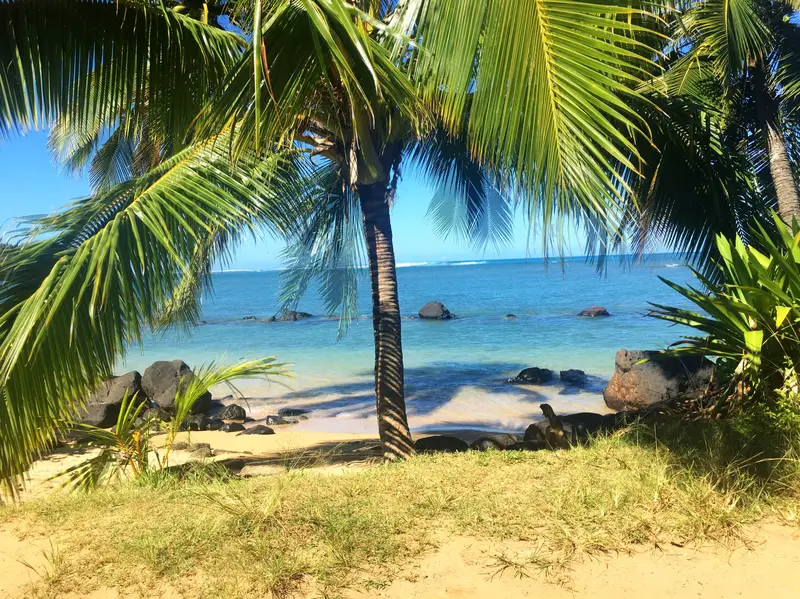 Where To Snorkel
As we mentioned earlier, the area next to the beach allows for warm and shallow snorkeling. Most people stay between the inner reef and the shoreline, even though advanced snorkelers could explore the reefs whenever weather conditions are calm. Just make sure to stay within the shallow parts of the reef and to stay close to the beach.
Be aware that currents can suddenly arise. Through the channels within the reef (see aerial picture) there's a continuous possibility of currents that flow towards the ocean, even when you least expect it. In other words, know you limits and snorkel skills.
Keep in mind that there's some seagrass and other stuff floating around at times. Underwater visibility is usually good, but can also disappoint.
The Marine Life
The amount of fish species increases towards the shallow reef. Like we said, sea turtles can be found pretty much everywhere, even close to the shore. That should probably be enough for kids anyway. Little coral is spread out across the ocean floor, but also increases towards the reef.
Even though this is definitely not the best spot on Kauai in regards to a diverse marine life, advanced snorkelers could observe quite a variety of fish species on a calm and sunny day. Common fish species include butterflyfish, trumpetfish, yellow snapper, whitemouth moray eels, pufferfish, moorish idol, needlefish, tang and cornet fish. Maybe you'll even spot a lionfish or scorpionfish, so make sure to keep your distance.
Final Thoughts
One of the things we like best about Anini Beach is its Hawaiian vibe. Green palm trees, a white sandy beach, a fantastic view and a limited amount of visitors. Yeah, some shallow snorkeling in warm water is fun, but if you add it all up this isn't the best snorkel spot on Kauai. Snorkeling is probably part of the deal and not your main goal.