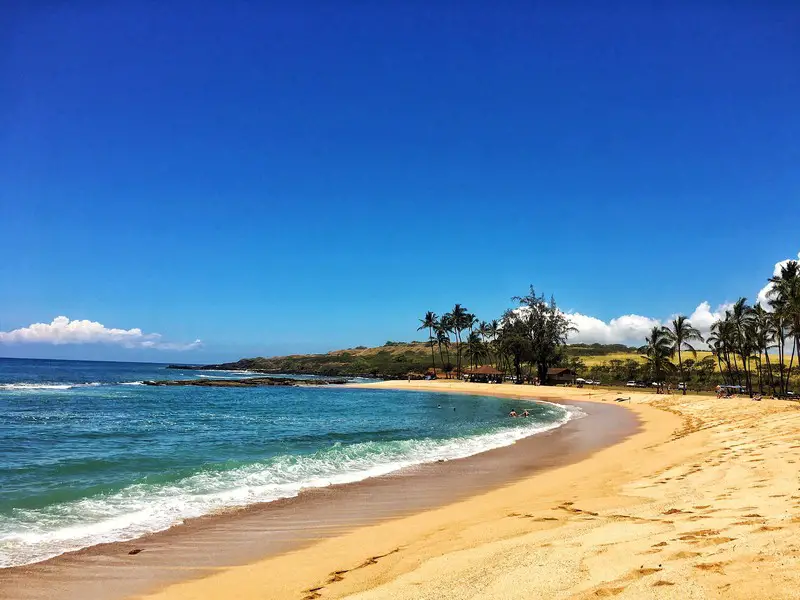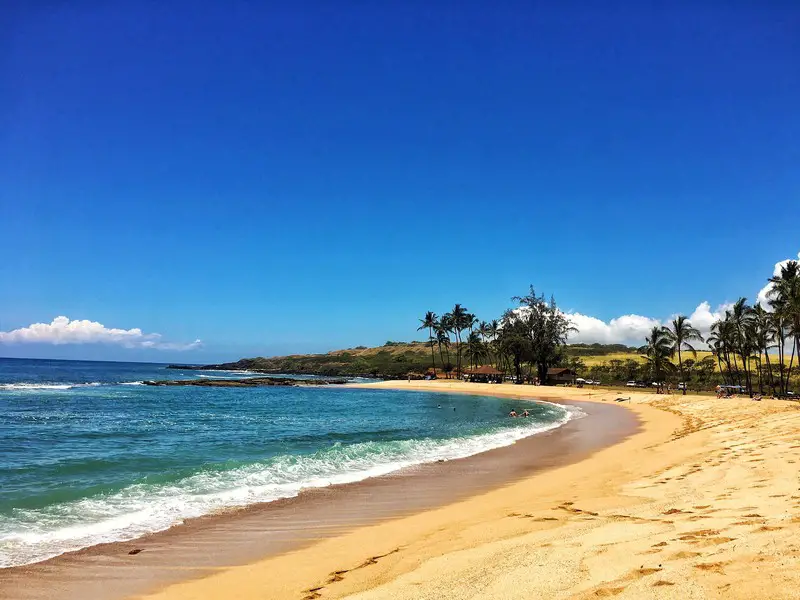 Salt Pond Beach Park is located on the southwestern shore of the Hawaiian island Kauai. The beach is part of the Hanapepe community and sits next to Kauai's only natural salt ponds (and a little airport). You'll find 3 pools: A big one with two smaller ones on each side. The protective coral reef usually allows for calm and warm water conditions.
In a way you could compare Salt Pond Beach Park with Lydgate Beach Park on the east coast of Kauai, just without all the attractions. Furthermore, Salt Pond Beach Park usually isn't as crowded. Snorkeling is very decent, especially along its southern shallow rocky area.
The Beach
As you can see from our map, the beach is divided into 3 pools. If you snorkel with kids you could decide to play within the shallow areas of the smaller northern pool. That's where most kids hang out with their parents. Of course, keep an eye on them non-stop.
The main (middle) pool is the largest and better suited for snorkelers. The sandy beach is surrounded by palm trees and various grassy areas. Facilities include showers and restrooms. Furthermore you'll find a lifeguard, picnic tables and some shady huts.
Like we said, Salt Pond Beach Park usually isn't very crowded and more of a "locals beach". On most days, parking shouldn't be a problem (even though it's often best to arrive on time). You'll find the parking lots next to the beach, at the very end of Lokokai Road (or Salt Pond Road as some prefer to call it).
The Reef
As long as weather conditions are calm and sunny, the reef is able to partially protect Ocean waves from entering the pools. In summertime this usually results in comfortable warm water with little currents, which makes it a family-friendly location.
The reef attracts a variety of fish species, even sea turtles. Remember, coral reefs not only act as a food source but also provide shelter and nurseries for the marine life. Even though we consider this park to be more of a beginner-friendly snorkel spot, the marine life to observe is quite decent.
Snorkeling
Even though the sandy beach provides easy access to its water, the ocean floor starts to become partially rocky towards the reefs. These rocks, together with the reef itself, contain a good amount of sea urchins. Depending on your floating skills, or simply for protective reasons, water shoes are a good idea.
Snorkeling, in our opinion, is best in shallow water near the reef. Water depths within the bigger pool vary, up to about 10 feet. Many snorkelers prefer to snorkel towards the south of this pool. That's where you'll find shallow water with a partially rocky ocean floor.
It's important to always check if weather conditions allow for snorkeling (inquire with the lifeguard). Make sure to snorkel near the shore in shallow areas that facilitate an easy and quick exit in case of unexpected currents. Avoid the center and deeper areas because that's where the reef submerges.
Underwater visibility is pretty good on calm sunny days.
Marine Life
It should be obvious that the marine life isn't as exclusive as in some other Kauaian snorkel locations. However, Salt Pond Beach Park allows you to observe quite a number of typical Hawaiian reef fish. Common species to observe include parrotfish, moorish idol, goatfish, butterflyfish, moray eels, black sea cucumber and (like we already mentioned) Hawaiian green sea turtles.
The occasional Hawaiian monk seal enjoys the park as well. Some enjoy to swim within the pool whilst others prefer to take a nap ashore. Make sure to keep your distance and to not interact with these endangered marine mammals.
Final Thoughts
Salt Pond Beach Park allows for a family-friendly day trip with decent shallow snorkeling. The southern protected area of the bigger pool is best to observe a variety of Hawaiian reef fish in shallow water. Stay away from deeper areas and avoid to swim towards the center where the reef submerges. Facilities are great with showers and restrooms. The amount of shady huts is limited so bring enough sunscreen and other UV-protection (like clothes, hats, beach tents etc).
Because Salt Pond Beach Park usually offers comfortable shallow snorkeling directly off the beach, we added this location to our Top 9 snorkel spots in Kauai.