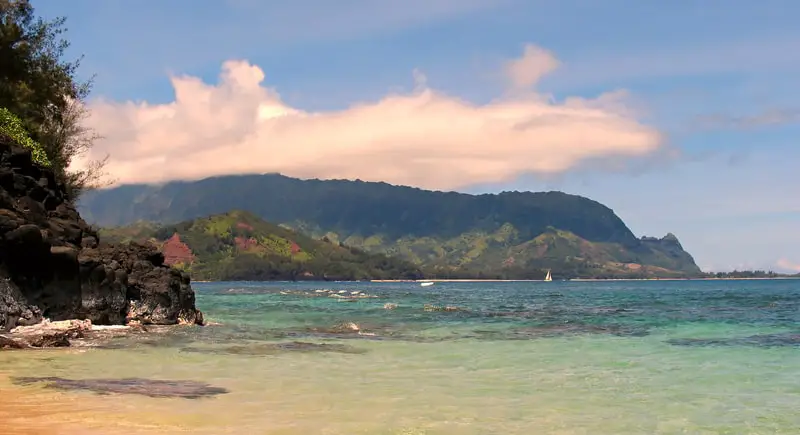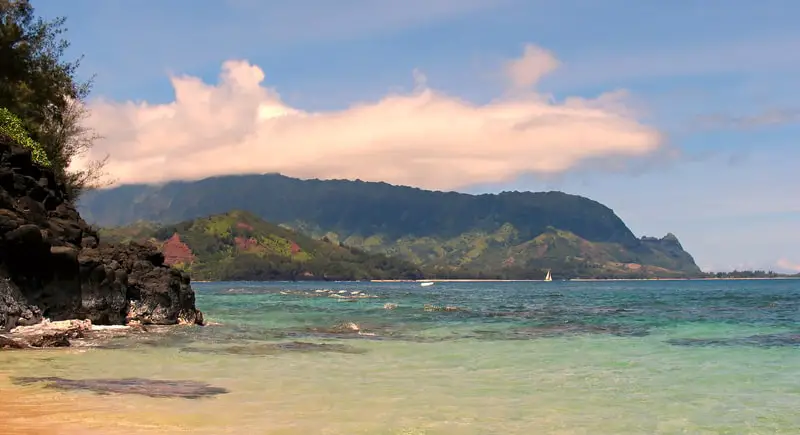 Located on the north coast of the Hawaiian island Kauai, Hideaways Beach is considered to be one of the island's prettiest beaches. Compared to most other snorkel spots on Kauai, Hideaways Beach is more of a "hidden beach" (which explains its name).
Besides the fact that this is a secluded beach, snorkeling is truly amazing. With a coral reef right at your doorstep, various fish species and even green sea turtles are easy to spot in shallow water.
Unfortunately there's one downside to this beach: Its accessibility. You don't need to be an acrobat, but the (short) trail towards the beach is not exactly a walk in the park. We'd advise you to watch the video further down below to decide whether or not the trail matches your hiking skills.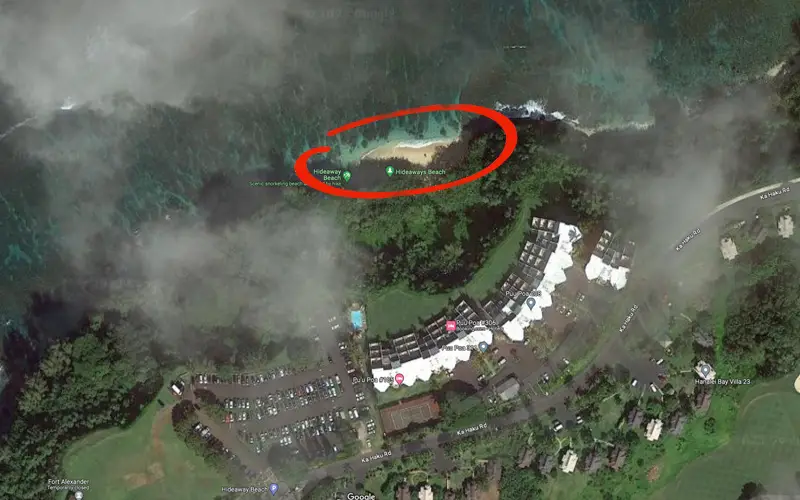 The Beach (and the Trail)
If you'd like to (finally) experience those "private island feelings", Hideaways Beach is all that. Keep in mind that this is a small beach, only about 300 feet in length. Palm trees border the golden sandy beach which provide enough shade for relaxation. Calm sunny days during summer months result in clear turquoise water with an easy entrance for snorkelers.
Like we already mentioned, it's best to simply watch the video below in order to actually see what the trail looks like. We're not saying that it's an impossible challenge, however, it could be a deal breaker for some of us. Since rain is not uncommon on Kauai, the trail might even be wet and therefore slippery. Furthermore, the design of the trail isn't exactly a masterpiece. So, again, watch the video below before heading out to Hideaways Beach.
You won't find any facilities on the beach. In other words, you won't find any showers, restrooms or restaurants. Bring your own beverages and snacks. There's no lifeguard either.
The Reef
One of the best things about Hideaways Beach is it's reef. If you take a look at our map you'll notice that both spurs and grooves stretch all the way towards the beach. This coral reef attracts a variety of typical Hawaiian fish species which we'll cover further down below.
Since the reef pretty much borders the beach, there's no need to swim out far. We'd even advise you to stay close to the shore because that's where you find a vibrant marine life in shallow water. Of course, weather conditions must be calm and allow for snorkeling (which is only in summer).
Even though water entrances are sandy, rock formations stretch out towards the beach. So yes, be careful and protect your feet. The reef and its rock formations offer food and shelter for Hawaiian green sea turtles. In other words, you don't need to swim out far in order to observe a few.
Snorkeling
If you followed our article so far, you should now understand why Hideaways Beach is packed with a good amount of typical Hawaiian reef fish in shallow water. Snorkeling is really awesome on calm sunny days. For both protection and propelling we'd advise you to wear a pair of snorkel fins.
Marine Life
Unfortunately the coral could be better in this location. There's some cauliflower, rice and finger to observe. Just don't get your hopes up too high. Hideaways Beach is more about snorkeling between green sea turtles and various fish species. Common fish to observe include triggerfish, damselfish, angelfish, butterflyfish, parrotfish, goatfish, wrasse, moray eels and a few others.
Be aware of sea urchins. Visibility is usually quite good, as long as you snorkel on a calm and sunny day (which is rule number 1 anyway).
Helpful (Travel) Tips & Links
Parking is limited so inquire about that up front. You won't be the first person who doesn't manage to find a parking spot.
Besides hiking, some people prefer to kayak to Hideaways Beach from Hanalei Bay. Since accessing the beach is a "hot topic", here's an article that explains all the details.
Make sure to bring all necessary (snorkel and beach) gear yourself. Don't forget sunscreen, something against mosquitoes, water, snacks, you name it. A backpack for snorkelers might be helpful.
Even though the beach offers no facilities whatsoever, Hideaways Beach is located in Princeville which means numerous nearby resorts and restaurants. Hideaways Pizza Pub is a lovely Italian restaurant towards the east.
Check weather conditions to understand whether or not snorkeling is an option for the day. Stay within the shallow water that borders the beach and snorkel according to your skills. Here's a link to the beach weather on Hideaways Beach (which also links to information about tides, winds and waves).
For people who travel across the island, even if you stay up in the north, feel free to explore our Top 9 snorkel locations in Kauai.