This article is part of our Hawaiian Snorkel Guide.
If you read some of my other articles, you're probably aware how much I enjoy to snorkel on the Hawaiian island Oahu. After reviewing various awesome snorkel spots, I decided it was about time to summarize my Top 8. If one of these locations seem interesting, I'll provide links to my in depth reviews so you can learn more.
As the map below shows, 3 of my best Oahu snorkel spots are located in the north: Three Tables, Sharks Cove and Kuilima Cove. On the west coast my 2 favorites are: Electric Beach and Ko Olina. If you're staying in the south near Honolulu, these are my 3 tips: Waikiki, Turtle Canyon and Hanauma Bay.
In this article I list these 8 locations in a personal "excellent" to "good" order. Of course, it all depends on your expectations, skills and whether or not you're traveling with kids. A summary video can be found at the bottom of this page.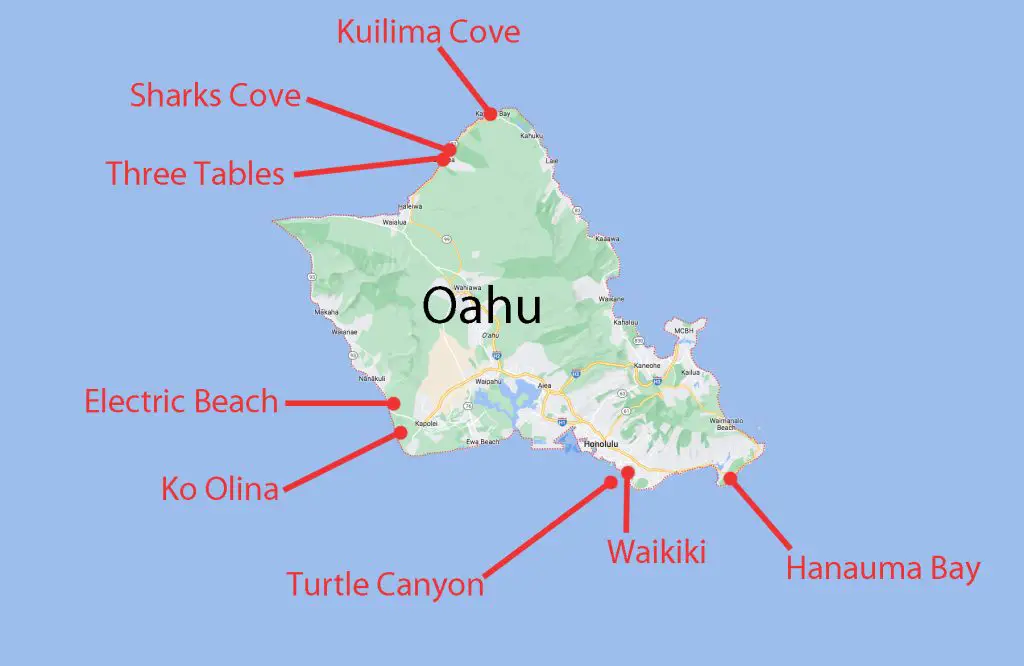 1. Hanauma Bay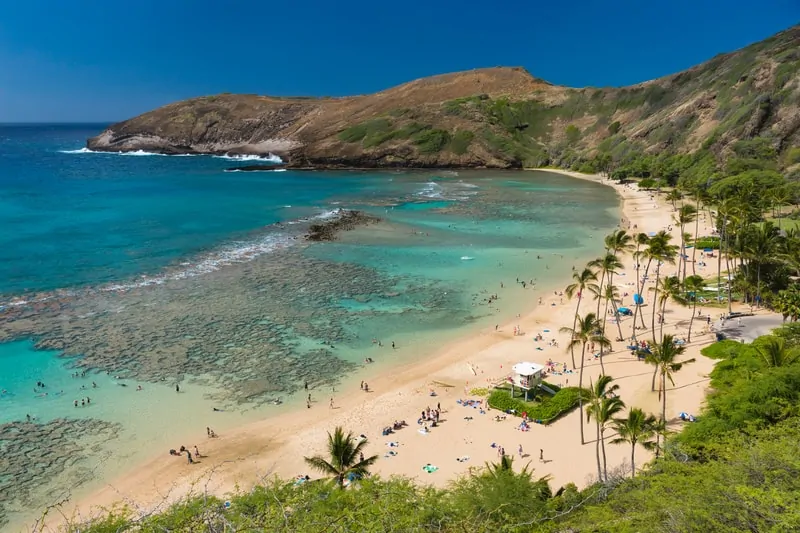 Hanauma bay is definitely one of my favorite snorkel locations on Oahu. The beach is situated on the southeast of the island and offers more than 400 fish species to observe (the coral is lovely too). Back in 1967, this bay became a protected marine life conservation area. Only 3000 people are allowed to visit per day.
The bay is protected by a coral reef with clear and calm water. As you can see from the above picture, sandy entrances allow for easy access. The inner reef is pretty shallow whilst the outer reef is suited for more advanced snorkelers.
Sea turtles enjoy this bay and are very common to observe. Furthermore you'll probably see triggerfish, tang, surgeonfish, moray eels, butterflyfish, parrotfish, goatfish and many more. Corals include lobe, blue rice and cauliflower.
Apart from snorkeling, Hanauma Bay is definitely a beautiful location to relax at. Its white sandy beach and surrounding palm trees make this little paradise complete.
Here's the link to my full review about snorkeling in Hanauma Bay.
2. Electric Beach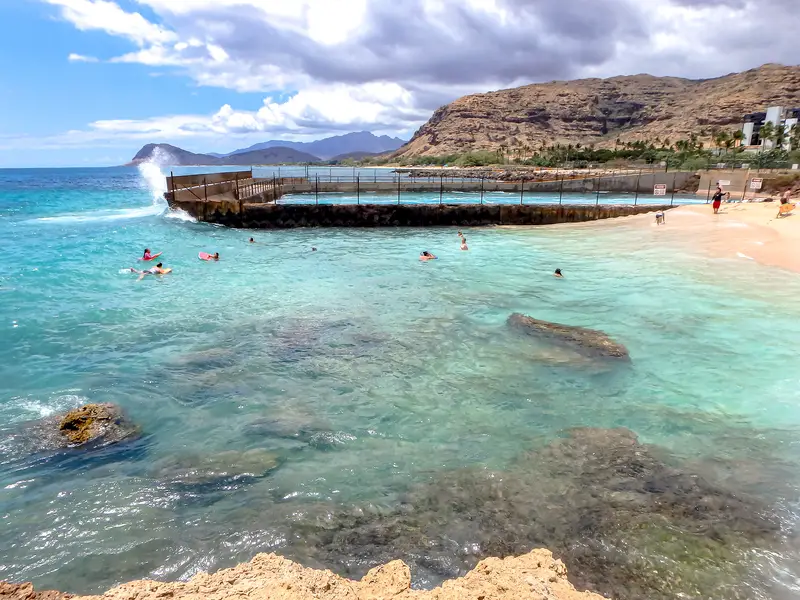 Electric Beach is located on the west of Oahu. I know, the name of this spot could raise some eyebrows, but don't worry. The thing is this: A nearby power plant needs sea water for cooling purposes, after which a warm water stream is released back into the ocean. So yes, if you like warm water, this could work!
In my opinion, Electric beach is meant for advanced snorkelers. Its entry can be tricky because of waves and currents, especially in winter. You always need to check weather conditions because there's a chance that snorkeling is not allowed.
If weather conditions are calm, and if you're able to snorkel within the warm water stream, this is definitely a fantastic experience! You get to observe many typical Hawaiian reef fish like butterflyfish, triggerfish, sergeant major fish, moorish idol and more. Maybe you'll even come across a sea turtle or spinner dolphin. Corals include cauliflower, rice and large lobe.
Facilities are limited so bring your own drinks and snacks. There are a few small bathrooms with showers and parking is free (double check that since things could change over time).
Here's the link to my full review about snorkeling at Electric Beach.
3. Sharks Cove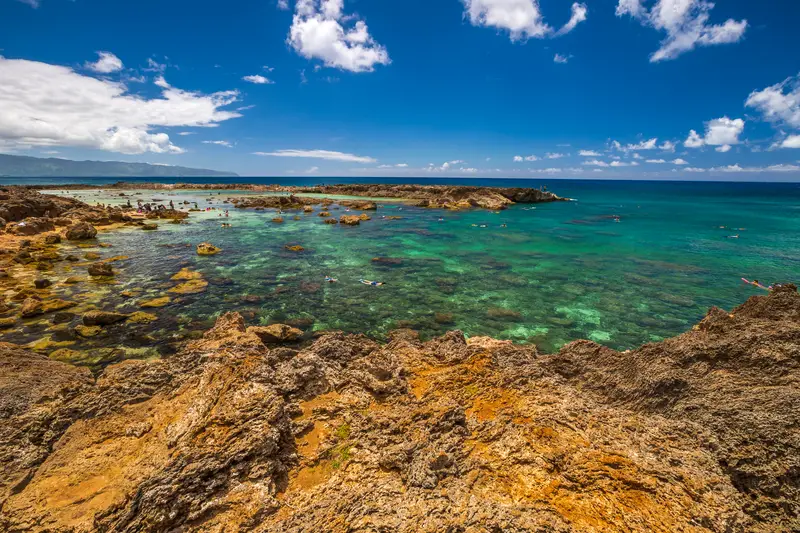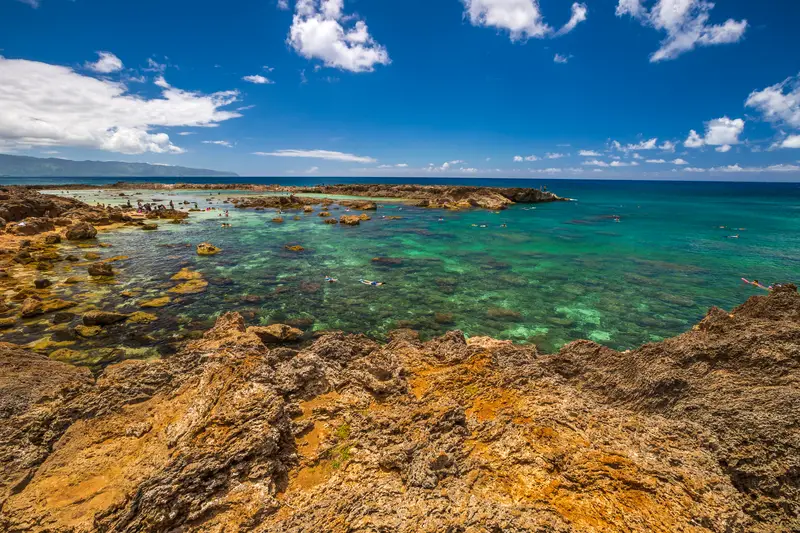 Sharks Cove can be found in the north of Oahu. Even though sharks are not its main attraction, there's a small chance to observe a Whitetip reef shark (which grow about 5 feet in length). According to some locals, the cove looks like a shark from an aerial view, which is one explanation for its name.
The area is pretty rocky with a limited amount of sand. Wearing water shoes and other protective gear is definitely my advise. One big advantage though is its shallow water. Stay within the cove and you'll be able to observe triggerfish, butterflyfish, moorish idol, trumpetfish, parrotfish and maybe even an octopus. Green sea turtles enjoy the cove as well. Coral, on the other hand, is limited. You'll get a glimpse at some cauliflower, rice and lobe. Just don't expect too much.
Even though this is a cove, weather conditions may not allow for snorkeling. Currents can be strong, especially from October until April (which means that snorkeling in winter is often not possible). Summertime is usually much better. Facilities are limited. We found a pizza takeaway nearby, but bringing your own beverages and snacks is definitely a wise thing to do.
Here's the link to my full review about snorkeling Sharks Cove.
4. Three Tables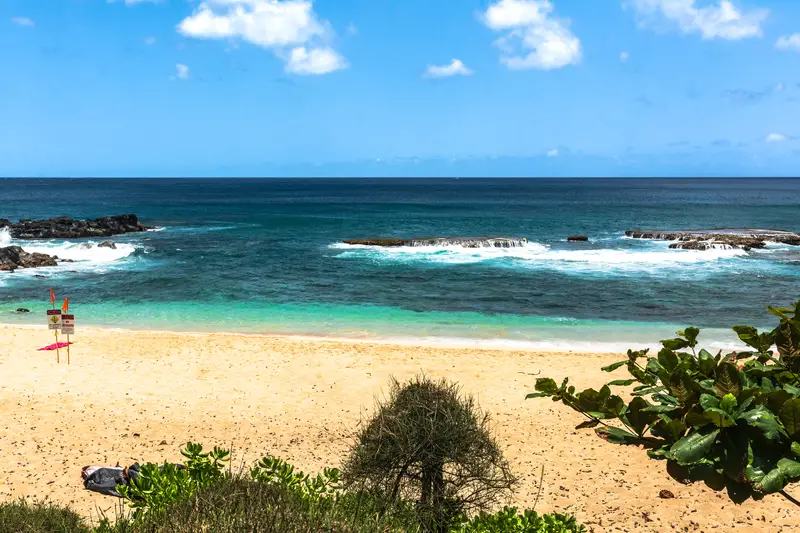 Three Tables is located in the north of the island. You'll find 3 coral reefs near the beach, which look like tables whenever the tide is low. Just like Sharks Cove, snorkeling in this location is best (and often only possible) in summer. Waves and currents usually dominate the winter months.
The sandy beach provides easy access to the water. Just be aware that rocks cover the ocean floor for the most part, so be careful and protect your feet. With an average depth of about 10 feet, observing the marine life is pretty easy. You don't need to swim out far, even though advanced snorkelers could explore the tables. Fortunately there's enough to see near the shore, which is great for beginners (as long as the weather is calm).
Sea turtles enjoy this area quite a bit, so expect to observe a few. Furthermore you'll probably see butterflyfish, goatfish, parrotfish, damselfish, moorish idol, triggerfish, wrasse and more. You'll also find cauliflower, rice and lobe coral.
Facilities are limited. We found a supermarket nearby and there are some restrooms near the beach. If you prefer to sunbathe it's probably wise to bring a beach umbrella and a towel. There's a very pretty walking path in case you feel like hiking for a bit.
Here's the link to my full review about snorkeling Three Tables.
5. Turtle Canyon
Turtle Canyon is located in the southeast of Oahu, near Waikiki. This location is different from all the others that I cover in this article because it's not attached to the mainland. Turtle Canyon is a submerged reef, about 15 minutes out by boat.
If you love turtles, you'll love this snorkel spot! Turtles are attracted to this reef because it provides their favorite foods: Algae, seagrass, sponges and invertebrates. Once you snorkel you'll soon notice a good amount of smaller wrasse. These fish eat algae and parasites that live on the shells of the turtles. People often call it a "cleaning station" for these turtles. The water is pretty warm too.
Most days allow for clear water, especially in summertime. You do need to join a catamaran tour with an instructor. They know exactly where snorkeling is best. Hawaiian green sea turtles can grow up to about 4 feet in length, but you'll probably find a few smaller ones as well. Make sure to keep your distance.
Here's the link to my full review about snorkeling in Turtle Canyon.
6. Waikiki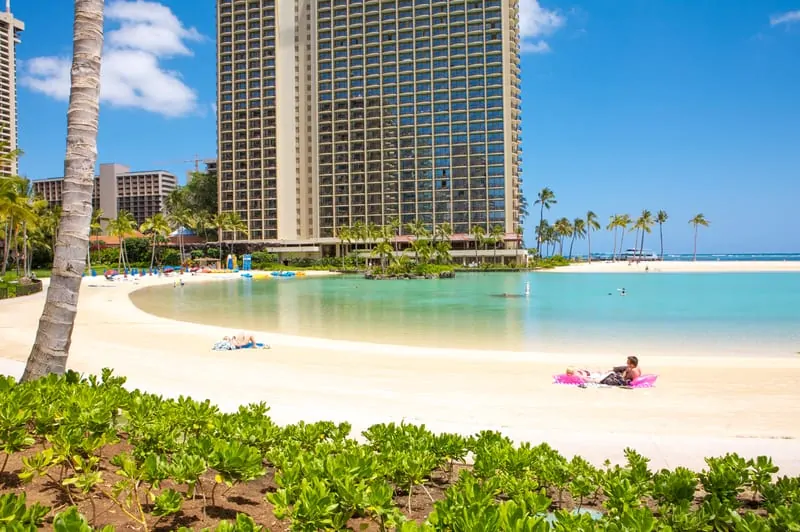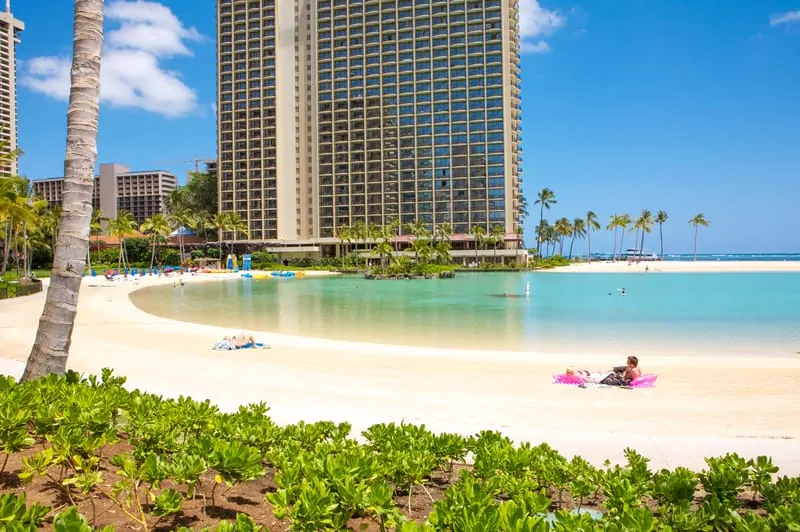 Just like Turtle Canyon, Waikiki is also located in the southeast of the island (they're really close to each other). Waikiki Beach consists of several combined beaches, which add up to about 2 miles in length. There's a lot of tourism and nightlife going on in Waikiki, so beaches are usually crowded.
These are my Top 5 beaches to consider: Kahanamoku Beach, Fort DeRussy Beach, Kuhio Beach, Queens Beach and Sans Souci Beach. In my opinion snorkeling is best at Queens Beach with quite an impressive marine life. Fishing is not allowed here, and the reefs are much healthier.
In my opinion, visiting Waikiki is more than just a snorkeling adventure. You could hike Diamond Head, watch the Kuhio Beach Hula Show, enjoy the fireworks show, visit the aquarium or simply explore all of its shopping facilities.
Here's the link to my full review about snorkeling in Waikiki.
7. Ko Olina
Ko Olina is located in the southwest of Oahu and consists of 4 manmade lagoons. Because of its shallow water and rock formations, various fish species can be observed by both beginner and advanced snorkelers (as long as the weather allows for snorkeling of course).
The 4 lagoons are pretty much the same, even though one could be more crowded than the other. It doesn't matter that much which one you choose because they all provide a white sandy beach and a shallow snorkel spot. There's a chance to observe a sea turtle. Common fish species for Ko Olina include butterflyfish, cornetfish, moorish idol, goatfish and wrasse. The amount of coral is quite limited but includes cauliflower.
I consider this location to be more of a "family friendly resort town". Advanced snorkelers might not enjoy it too much, whilst beginners could definitely have a fun experience. If you feel like a trip with the family, this could definitely work on a calm and sunny day.
Here's the link to my full review about snorkeling in Ko Olina.
8. Kuilima Cove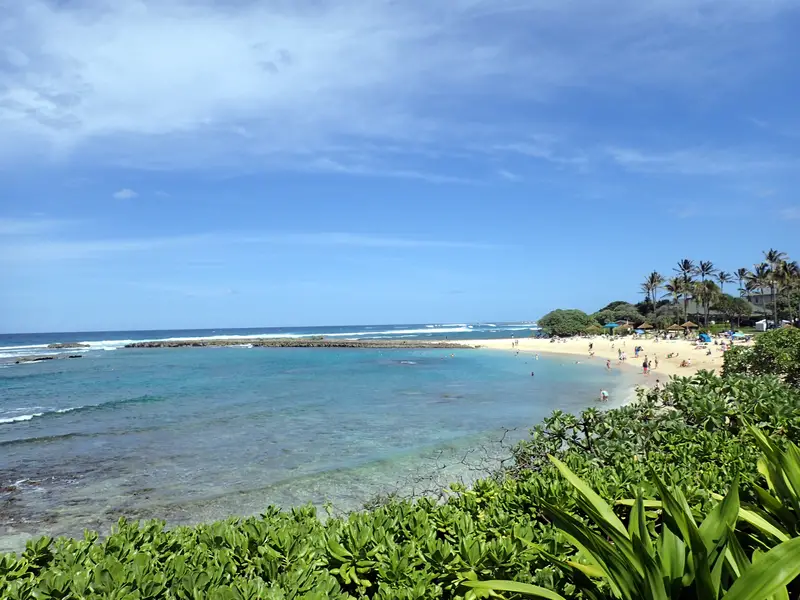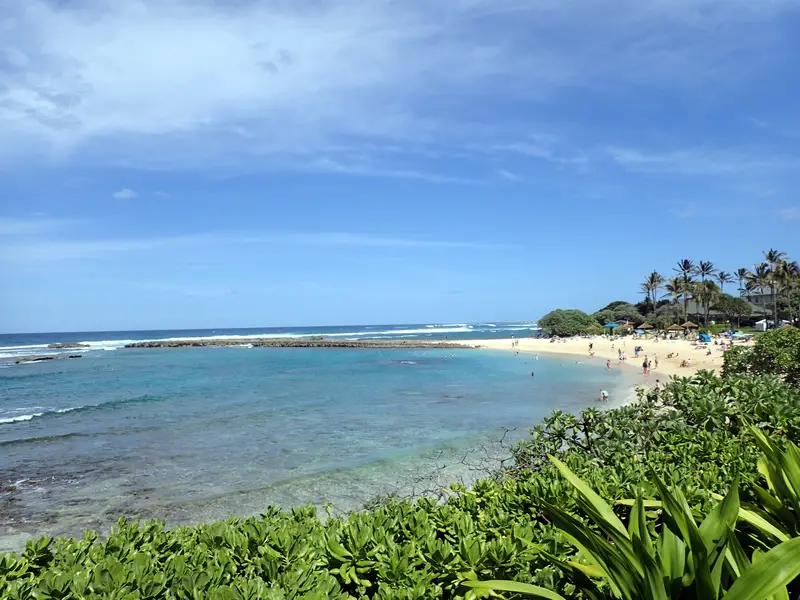 Last but not least, this is another snorkel spot in the north of the island. Kuilima Cove is also known as "Turtle Bay", which means there's a pretty good chance to observe some green sea turtles.
Even though this cove is situated up north, snorkeling is often possible because of its rocky wall (which breaks the waves from the ocean). Of course, weather conditions must be favorable for snorkeling, which isn't always the case (especially in winter). Calm summer days could allow for relaxed snorkeling.
The marine life is limited and the coral isn't exactly great. However, this is definitely a perfect spot for a family day because snorkeling is very beginner friendly. Facilities are great too because of the adjacent resort.
One of its downsides is the fact that families (and therefore kids) take up a good portion of the beach and water. If you're looking for a quiet place, maybe its best to skip Kuilima Cove.
Here's the link to my full review about snorkeling Kuilima Cove.
Our Summary Video: