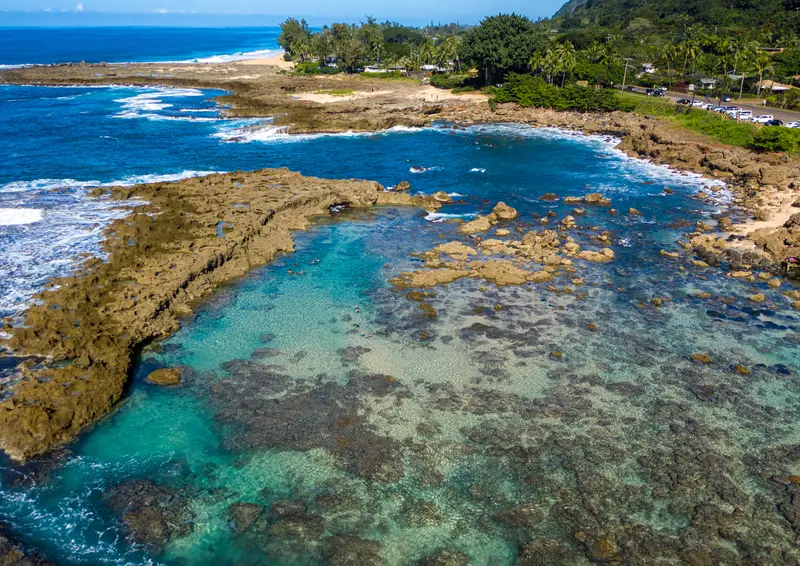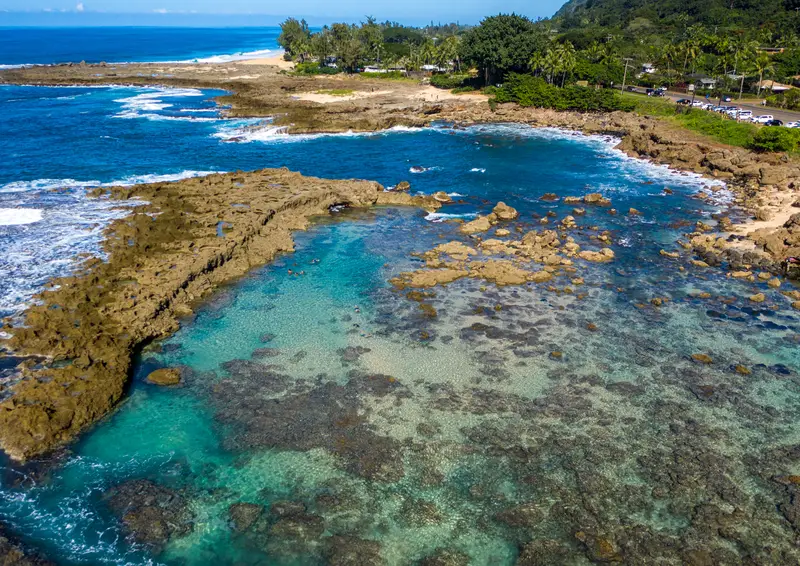 This article is part of our guide for snorkeling on Oahu.
Sharks Cove is located in the north of the Hawaiian island Oahu. It's part of Pupukea Beach Park, a marine conservation area that aims to protect it's environment. As a result, Sharks Cove offers a fantastic and diverse marine life for us snorkelers to explore. If you ever make it to the island, and if you enjoy snorkeling, try to visit this little but exciting cove.
So Why Is It Called Sharks Cove?
Relax, the name doesn't refer to the amount of sharks swimming in the cove. If that were the case, well, snorkeling wouldn't be a good idea at all. According to some people, an aerial view of the location would show a large reef that is shaped like a shark. We cover a possible shark encounter later in this article.
What To Expect
Accessing The Cove
From the nearby parking lot you can walk directly to the cove. Since the area consists of lava rock formations, try to stick to the pathways that have been created for visitors. Make sure to wear some shoes for easy walking and leave your high heels at home. You don't need to be an acrobat to gain access, it's just a little rocky so be prepared for that.
Rocks And Sand
You can say that the entire location mainly consists of rocks. Sure, there's some sand to relax on, but don't expect this to be a tropical white sandy beach. It's everything from that. Still, people like to hang out on the sandy parts of the area in order to relax and sunbathe.
Make sure to wear some proper water shoes once you walk towards the water. Even within the water it's best to still wear them as the rock formations are everywhere. If you wear fins, make sure to put them on once all set. Open heel fins could do the trick for anyone who wants to keep their water shoes on. If you're interested, read all about your possibilities in our snorkel fins review.
Shallow Water
One of the things that makes this cove fantastic for snorkeling is it's shallow water. Once you start your adventure you'll find your way across some rocky areas before it's comfortable to swim. At that point, expect the water to be about 7 or 8 feet deep. If you decide to snorkel a little further, the depth increases to about 20 feet.
Make sure you stay within the cove in order to avoid strong currents. Safety first, right? Besides that, there's so much to explore within the cove already. Keep en eye on your surroundings to avoid any injuries. If it makes you feel more comfortable and secure, consider a snorkel rash guard.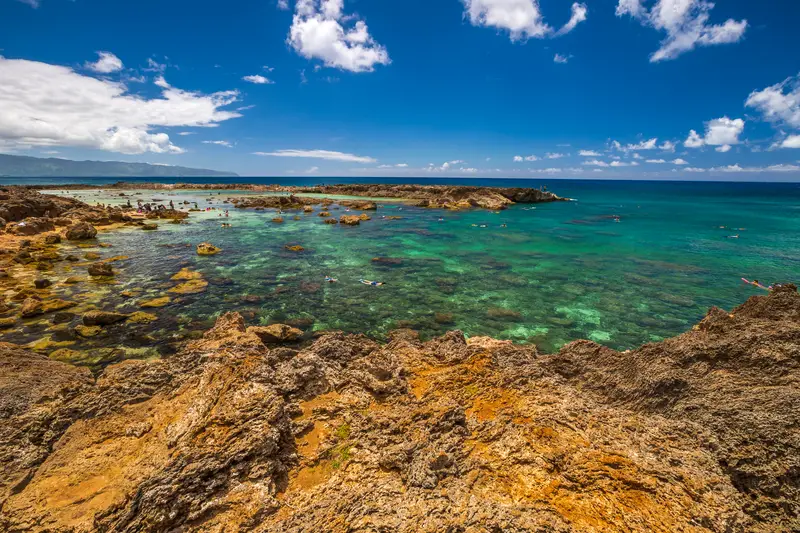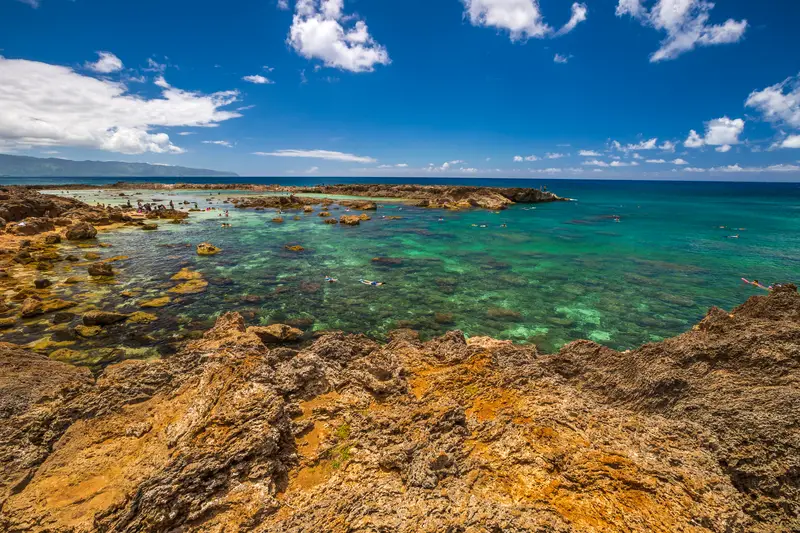 Marine Life
We'd say it's best to take a look at the video below. It only lasts for abut 3 minutes and provides a great impression of what to expect. Another fun way to get to know the marine life is to scroll through our list of common Hawaiian fish.
Fish Species
Trigger fish
Trumpet fish
Parrot fish
Surgeon fish
Butterfly fish
Unicorn fish
Goat fish
Damsel fish
Cornet fish
Needle fish
Bluefin Trevally
Moorish Idol
Perch
Tang
Jacks
Wrasse
Mullet
Eels
octopus
Crustaceans
Sea Urchins
Turtles
If you want to snorkel with turtles, this is your chance. The green sea turtle lives in the cove so there's a good chance you'll spot one yourself. Even though they are fascinating animals, remember to always keep your distance. Stay calm and let them mind their own business. Definitely worth bringing a waterproof camera!
If underwater photography has your interest, feel free to read our guide about snorkeling with A GoPro. It's where we share a lot of helpful tips.
Are There Sharks In Sharks Cove?
Even though your chance of encountering a shark is small, the occasional shark may be spotted in Sharks Cove. Most likely it's a Whitetip reef shark. Small ones usually measure up to 5 feet in length.
They are usually calm and rarely aggressive towards snorkelers. Sometimes they feel like exploring someone who swims nearby. Make sure to leave them alone as some people have been bitten. More information about these sharks can be found on this website (link to Oceana.org). Someone who filmed a shark in Sharks Cove posted a video on Youtube, which you can see from this link.
Coral
If coral is your main priority, this cove will most likely disappoint you a little. Sure, there is some coral like rice, lobe or cauliflower, just don't get your hopes up too high. Snorkeling in the location is more about spotting fish and turtles.
Climate And Currents
Make sure to always inquire about weather conditions. Currents can be strong from time to time like you can expect on every Hawaiian island.
From October until April you could expect a good amount of waves and currents. Even though this can happen throughout the whole year, summertime should be relatively enjoyable. That's when we'd suggest to snorkel on a calm day.
The summer season lasts from May until October with an average temperature of 85°F throughout the day. Even though temperatures are warm all year round, avoiding the rainy season could definitely enhance your snorkel experience. Snorkeling in the rain is possible, as long as the weather is calm. A good amount of sunshine however will definitely increase your vision. And it adds to your safety as well.
Tips
Facilities
On the bay itself there's not much to entertain you. In other words, bring a few drinks or snacks in order to stay hydrated and well fed. There's a pizza takeout nearby as shown on this Google Maps image. The Ke Iki Beach Bungalows are located very close to the cove as well.
It's convenient that both restrooms and showers can be found near the parking lot. Whatever stuff you bring, make sure t take it back with you. Not just because this is a conservation area, but because we should respect nature all together. Even marine life friendly sunscreen is available these days if you do little research.
If you can, try to visit early in the morning, like around 9 am. The parking spaces can fill quickly, especially when the weather conditions are perfect for snorkeling.
Watch Your Belongings
Every location comes with the risk of thieves. Leaving your belongings in your car is not a good in idea, and Hawaii is not an exception! It's best to not bring any expensive or exclusive gear with you in the first place. But we get it, bringing a camera or a wallet is just a necessary thing when you're on holiday. If this is you, consider to get one of these waterproof bags or cases. They come in different sizes and can sometimes even be taken with you whilst snorkeling or swimming.
Kids
In our opinion, it's probably not a good idea to bring your kids to this snorkel location. Obviously it all depends on their age and whether or not they are good swimmers. The rocky area and the possible currents are not always the perfect spot for children. Besides that, there's not a "real" beach so to speak. Building sand castles or digging holes is much better at some of the other Hawaiian beaches. Kids must be kept in sight at all times by their parents or caretakers. Their excitement might lead to injuries whenever they want to play. In case you bring your children, go ahead and read our giant guide for snorkeling with kids. We cover a lot of helpful tips and snorkel gear in this article.
Safety
There's no lifeguard on duty at Sharks Cove. Besides being careful to access the water, make sure you stay safe snorkeling. We mentioned the weather conditions already, so take that into consideration. But also pay attention to other people. Some days can be crowded, so watch where you're going and als watch your fins. Never snorkel alone, even in this cove. Maybe it's a good idea to bring a safety kit, just in case someone gets hurt. We listed a great one in our snorkel guide for kids.
Tide Pools
When the tide is low, you'll come across a number of tide pools within the area. Who knows you like to go for a walk in between snorkel sessions. Well, if you're lucky, the tide pools will be a lovely sight. Some kids even enjoy them, just look after their safety. Who knows you'll even find a few small fish swimming around, a fun way to keep kids entertained at young ages.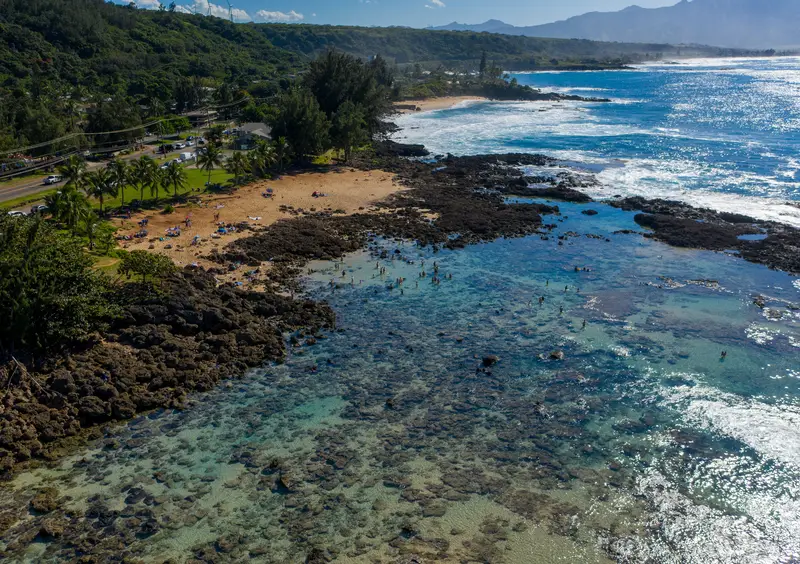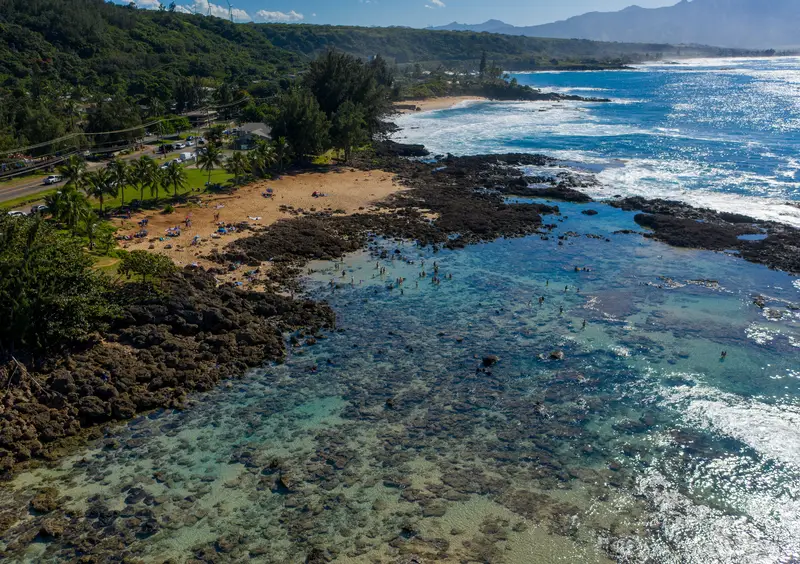 Final Thoughts
Sharks Cove offers a wide variety of marine life in mostly shallow water. Therefore it's definitely a snorkelers dream, as long as you don't put your hopes up too high when it comes to corals.
Besides fish you can expect to see green sea turtles. There's a small chance of spotting a shark, usually the white tip reef shark. Summer months are the best time to travel, as long as weather conditions allow for safe snorkeling.
The area itself consists or lava rock formations. They attract a variety of fish species. You need to be careful because hurting yourself is a possibility. Try to take it slow and watch your surroundings.
All together this is a lovely snorkel location. No wonder why it's been rated one of the "Top Twelve Shore Dives in the World" by Scuba Diving Magazine.