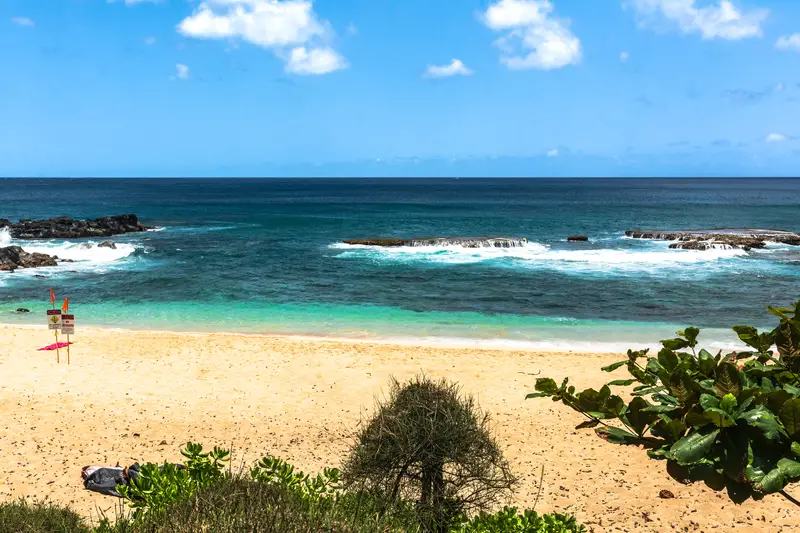 This article is part of our guide for snorkeling on Oahu.
On the northern shore of the Hawaiian island Oahu, right below Shark's Cove and part of the Pūpūkea area, "Three Tables" is a true snorkel paradise. Typical Hawaiian fish species, various corals and a white sandy beach allow for a full day of excitement and relaxation. In this article we guide you through this awesome and popular snorkel spot.
Why Is It Called Three Tables (Beach)?
Some call it Three Tables Beach, some simply say Three Tables, but they all refer to 3 coral reefs close to the shore. There actually are more than 3 coral reefs, it's just that 3 of them are big enough to rise above the ocean surface when the tide is low. Yes, people in Hawaii definitely know how to name (and therefore identify) their beaches, just like "Two Steps Beach" on Big Island for example. Anyway, once the tide is low you'll notice three "table like" structures, so grab a seat and let us tell you what they're all about.
About The Location
From Kamehameha Highway you'll spot the parking lot on your left hand side. If you're a bit late to the party and the parking lot has already filled, try to find a spot at Pūpūkea Beach (which is right next to Three Tables). Since the beach has no restaurants, maybe it's wise to get a few drinks and snacks from the nearby supermarket (see our map). Grab your gear and simply walk towards Three Tables beach. We'd advise you to also bring a towel and beach umbrella as this is a great location for a little sunbathing. The restrooms have been renovated in 2020, after which they reopened.
If you're an early bird and time is on your side, consider to also snorkel at Sharks Cove. Compared to Three Tables, Sharks Cove is a rocky area. However, there's some awesome snorkeling in shallow water waiting for you.
Snorkeling Three Tables
Maybe the most important thing to understand, is that snorkeling is not possible all year round. Like we explained in our Sharks Cove review, only the summer months (May until October) could allow you to do some underwater exploration. Even in summer there's no guarantee that snorkeling is possible, depending on waves and currents. However, if you catch a calm and sunny summer's day you'll love this place!
Entering The Water
The sandy beach allows you to easily enter the water. Be aware that as soon as you're in the water, the amount of rocks on the ocean floor rapidly increase. We ourselves usually wear water shoes for snorkelers, especially since the sand could become hot. Once we enter the water we put on our additional open-heel snorkel fins (this links to our review and all you need to know about the different kinds of available fins).
All in all, Three Tables is a pretty shallow location. You'll soon be floating in water with an average depth of about 10 feet, unless you're experienced and go out to deeper areas (up to about 15 feet). Here's a video that should give you a good idea of what to expect:
Where To Snorkel
In our personal opinion, it's definitely not necessary to swim out far. Snorkeling between the beach and the coral (table) reefs should be more than enough for most of us. Sure, if you're experienced and a strong swimmer, circling around the tables is beautiful and might increase your chance to observe a sea turtle. Just be aware of currents and stay within your personal limits.
The water surrounding the tables is usually very clear, unless you catch a windy day (which might not be suitable for snorkeling anyway). The ocean floor is a mix between sand and rocks, with a few small craters to explore in case you're able to dive down a little. Various fish species enjoy multiple areas within the water, and even coral is spread out in bits and pieces. In other words, everyone from beginner to expert levels should be able to enjoy the marine life.
Marine Life
Most of the marine life we cover in our separate article called Typical Hawaiian Reef Fish can be found in Three Tables. So yes, that's awesome! Like we said, there's a good chance to observe a sea turtle. When it comes to fish species, especially expect to see parrotfish, moorish idol, surgeonfish, damselfish, butterflyfish, goatfish, cornetfish, triggerfish, wrasse and grouper. Corals include cauliflower, lobe and rice (among others).
The Beach At Three Tables
Right next to the parking lot you'll find a few picnic tables and a sign that explains the rules of the beach. There's a small path below the trees that leads to the sandy shore. Even though the beach itself is relatively small, there should be enough room for you to find a spot and to install your beach umbrella. If you walk towards the right you'll find a path that runs along the rocky shoreline, which is marvelous for taking pictures of the bay. Talking about photography, did you know we have a giant guide for snorkeling with a GoPro? As long as the sun shines and as long as the water is calm, Three Tables is worth a few pictures (both on land and below the ocean surface).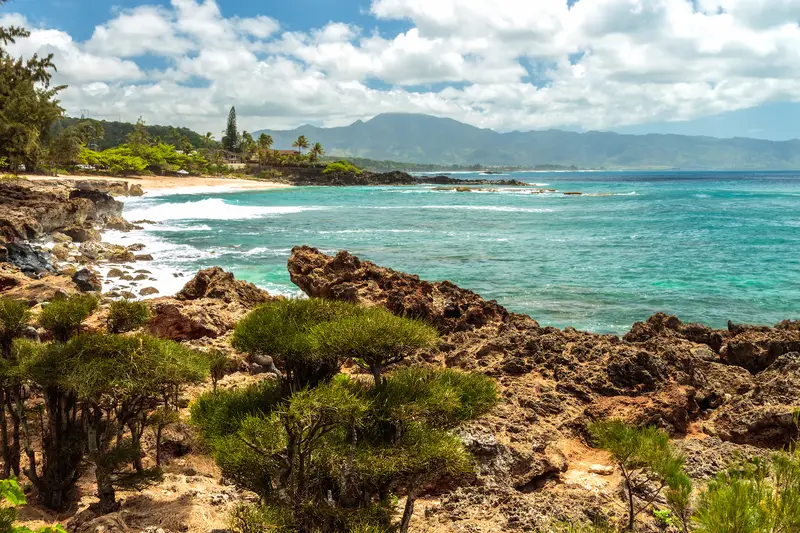 A Few Tips
If you travel by car, make sure to never leave any (valuable) gear in your vehicle. This might sound obvious, but you won't be the first to discover that someone took your belongings while you were out having fun.
Another thing to understand is that reef friendly sunscreen is mandatory in Hawaii. We know, not everyone sticks to this rule, but we should all contribute to keep the reefs and their inhabitants happy. We cover reef friendly sunscreen (and related gear) in our article about UV protection for snorkelers and swimmers.
Pay attention to sea urchins. There are quite a few of them on the coral reefs. Of course, we should never touch the marine life, but make sure to keep your distance from the tables as well.
Final Thoughts
On a sunny summer's day with little currents, Three Tables is truly an amazing snorkel spot. The marine life is diverse and includes a bunch of common Hawaiian fish (and coral) species. If you ever visit Oahu during summer months, and if the weather conditions are calm, Three Tables is (in our opinion) well worth a visit.