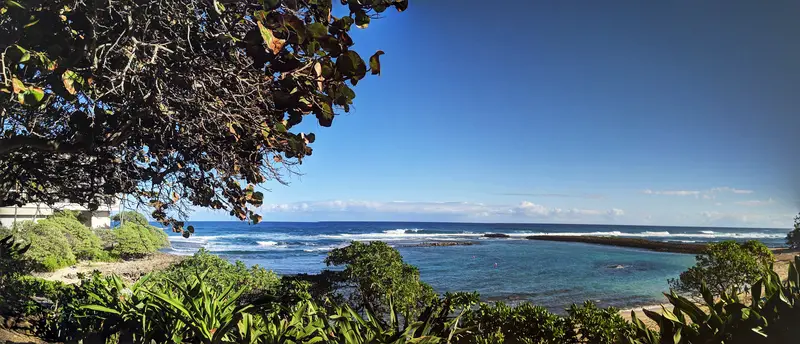 This article is part of my Top 8 snorkel locations in Oahu, Hawaii.
When it comes to Hawaii, Oahu is and will always be one of my favorite snorkel islands. I covered a bunch of my favorite locations on Oahu already, mostly on the west side, but today I'll dive into a great (and popular) snorkel spot in the north: Kuilima Cove.
Yes, I know, the north could come with a decent amount of currents (especially in winter). However, compared to some other nearby snorkel spots, Kuilima Cove could very well surprise you. Also known as Turtle Bay (have a wild guess why), green sea turtles are the main attraction in this spot.
Here's a map of Oahu so you immediately get the idea of where Kuilima Cove is located. If you're currently traveling, here's a link to Google Maps for directions. You could also get in touch with Turtle Bay Resort.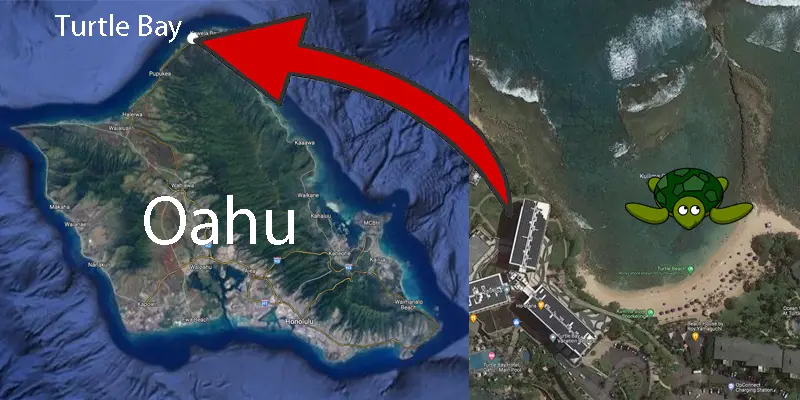 Basic Stuff To Know About
As the above picture shows, there's a beach and a resort. You don't need to stay at the resort in order to snorkel or to enjoy the most important facilities. It's a public beach.
Parking at the resort is free (double check this because things could change over time).
There are restrooms and showers (which are really nice by the way). There's a kiosk (in case you forgot to bring your snorkel gear) and a bar (for drinks and snacks).
I couldn't find any lifeguards on duty so follow all the beach/snorkel instructions from the available signs.
Let's Go Snorkeling!
Alright, great, you made it to the parking lot. It's best to arrive on time because the available spaces fill up pretty fast (especially in summer). It's not a long walk towards the beach. Depending on when you arrive, and depending on the season, it's good to know that the beach usually gets crowded (again, arrive on time if you can).
So Where Are The Turtles At?
Just a quick reminder: Yes, turtles love this place, but there's no guarantee that you'll be able to observe them. Of course, this place is known for its green sea turtles, so if the weather is good and water conditions are favorable…I'd say you're gonna be just fine. I even observed a few big ones!
Once you arrive at the beach, try to walk towards the right. You'll notice a huge rocky area that heads into the ocean. These rocks act as a barrier, which often results in comfortable snorkel conditions. The sandy beach provides an easy entry into the shallow water. Yes, this place is really shallow within specific areas. I marked the area where we saw some turtles on the above map.
Shallow Water
I'd say it's best to just watch the video below. You'll get a great impression of the area and what to expect exactly. Overall, the water is often just a few feet deep. Experienced snorkelers could explore the deeper areas (let's say 6-7 feet) whilst beginner snorkelers should stay within the shallow areas where they're able to stand/walk.
For people who stay within the shallow areas: Make sure to protect yourself and watch your surroundings. The ocean floor is partially rocky and sea urchins are all over the place.
Marine Life
Besides the green sea turtles, I came across a good amount of parrotfish and butterflyfish. There are a few Moorish Idol, surgeonfish, damsel fish, wrasse and some other species. In my opinion, the coral isn't exactly a huge attraction.
Sea Urchins
As the video already showed, there are a good amount of sea urchins. Especially in rocky areas (so partially on the ocean floor and especially near/on the rocky wall).
Helpful Gear
Like I said, you enter the water from a sandy beach. The ocean floor however is partially rocky. Wearing water shoes might be a good idea or maybe even supporting fins. We're all aware that we shouldn't stand on the ocean floor, but you never know (and don't forget about the sea urchins).
The people in the above video chose to wear a snorkel rash guard. We ourselves usually do the same. Not only to protect against scratches but also to avoid sunburns. Sure, sunscreen is definitely necessary in Oahu, which brings me to my next point.
Bring all necessary UV-protecting gear like a beach umbrella for example. You might be able to rent one from the resort, but they seem very expensive (from what I heard). Sunscreen is important too, maybe a towel or a chair, whatever helps you to enjoy a sunny day. I cover loads of available protective gear in my article about UV protection for snorkelers and beach fans. If you can, grab yourself some reef friendly sunscreen…it does help our little swimming friends to stay happy!
Water Conditions
Water conditions are often fine and comfortable for snorkeling. Of course, winter months are usually less attractive, and even summer months sometimes come with currents and waves. If that's the case, avoid snorkeling and come back another day.
The water itself can be very clear on calm sunny days. That's when snorkeling is simply the best. Make sure to snorkel within the shallow areas. I've heard that these days there are some buoys that mark the snorkeling area. Make sure you inquire about that because buoys are there for a reason.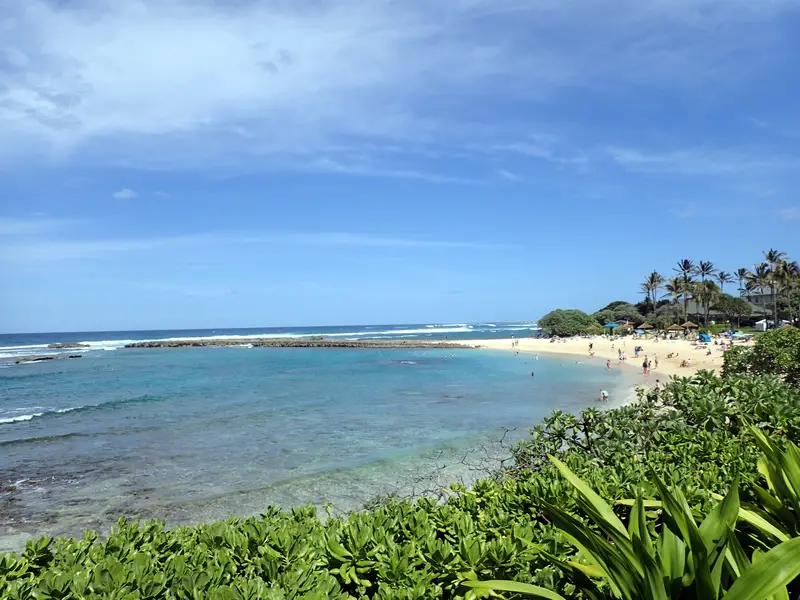 Possible Downsides
Except from the possible currents and unfavorable weather conditions (that would not allow you to snorkel in the first place), please understand that Kuilima Cove is pretty much a "beginners location" whenever the climate is comfortable. Experienced snorkelers might be disappointed. The coral is not really interesting (if I may say so) and the amount of fish species is limited.
Another downside is the fact that you'll probably be surrounded by families with kids. Chances are that kids will be present (and shouting) on the beach and in the water. Of course, not every day is the same, but it's good to know that these locations could be crowded with families. I'll list some nearby alternative snorkel locations on Oahu at the bottom of this article. Always good to check them out and to know your options.
A Long Story Short
Kuilima Cove (also known as Turtle Bay) is a lovely place to visit on a calm and sunny day. Even beginner snorkelers have a chance to observe a few green sea turtles as long as weather conditions allow for easy snorkeling. Advanced snorkelers might be a little disappointed because the underwater adventures are limited. Sea urchins and various rock formations (and of course UV rays) all ask for proper protection. I personally consider this location a fun and easy break for a few hours on a calm day.
Oahu Inspiration
Every snorkel spot on Oahu comes with its own pro's and con's. That's why I review every location separately. If you're staying within the northern part of the island, consider to also read my guide about snorkeling Three Tables. Nearby you'll also find another interesting spot: Sharks Cove.