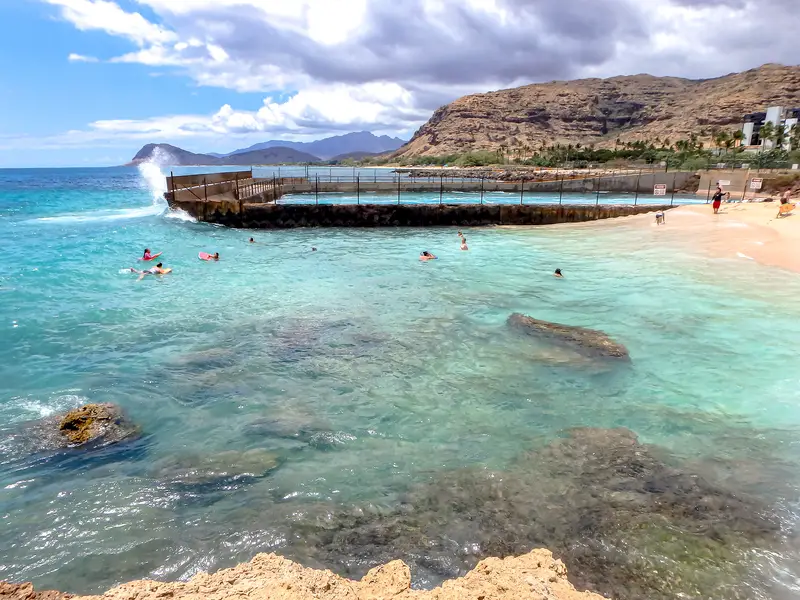 This article is part of my guide for snorkeling on Oahu.
I reviewed some of my favorite snorkel locations on the Hawaiian island Oahu in the past, even the "hidden" Turtle Canyon recently. Now I head on over to the southwest coast to take a closer look at Electric Beach.
Before I start, this area is meant for experienced snorkelers. Even though it depends on the climate, there are quite some currents to be aware of.
So What Is Electric Beach?
Electric Beach is not your typical "one stop" snorkel location. The name refers to an area that consists of 3 beach parks: Tracks Beach Park, Electric Beach Park and Kahe Point Beach Park. In other words, if someone mentions Electric Beach, they usually refer to the entire area and not the Electric Beach Park itself. I know, it all sounds confusing. However, it's a small area so just consider this to be one stretched out beach with various entrances.
The easiest (and most convenient) way to enter the Electric Beach waters is to park your car at Kahe Point. It's a small walk towards the beach (and the entrance point for snorkelers). The entrance area offers shallow water but increases in depth towards the ocean. The image below illustrates the warm water outlet (or pipes actually). Yes, one of the reasons why people love to snorkel here is because of the warm water. The Electric Kahe Power Plant (on the opposite side of the road) uses sea water for cooling purposes. The warm water is then released back into the ocean.
Snorkeling
The Inlet (Beach)
The snorkel mask in the above picture is meant to show you where its best to enter the water. It's a shallow inlet bordered by the warm water outlet (towards the north) and the reef area (towards the south). Unfortunately, this area of the beach isn't great for snorkeling. Yes, it's shallow, but both waves and currents can make it a "wild ride" so to speak. Put on your gear and swim out of the inlet. Again: This is not meant for beginners. The currents and water pipe stream can take you out to open sea. That's why on certain days snorkeling should be avoided. If the climate is "ok", make sure to wear snorkel fins. One more thing: Don't get too close to the warm water outlet (see the breaking waves in our very fist above picture).
The Warm Water Stream
If you pay close attention, you'll notice an abnormal stream of water slightly out from the power plant outlet. The warm water is transferred through pipes which eventually hits the ocean surface. This creates an appealing "separate pool" as shown in the above picture. Quite obviously, the warm water in this pool attracts a whole lot of marine life, sometimes even dolphins. This is where you'll find more experienced snorkelers. You don't necessarily need to dive down deep in order to observe the marine life. The average depth around this warm water reef is somewhere around 30 feet (9 meters), but it depends on where exactly it is you are snorkeling. Don't snorkel in the stream itself but enjoy the surrounding areas.
The Southern Rocks
If the warm outer reef isn't your thing, try to snorkel along the rocky shore. Yes, there are currents, but as long as they are "calm" you're definitely able to see a variety of fish species (and sometimes even sea turtles). Rocky areas often include underwater cracks, which provide shelter for certain fish species. Visibility isn't always great near the shore, but well, it depends on the climate. Just stick to whatever area you're able to manage and make sure to never snorkel alone. Floating accessories can also be of help. The picture below should give you an idea about the currents along the rocky coast. Once again, avoid swimming whenever conditions are unpleasant and consider to snorkel in Sharks Cove (or any other calm location) instead.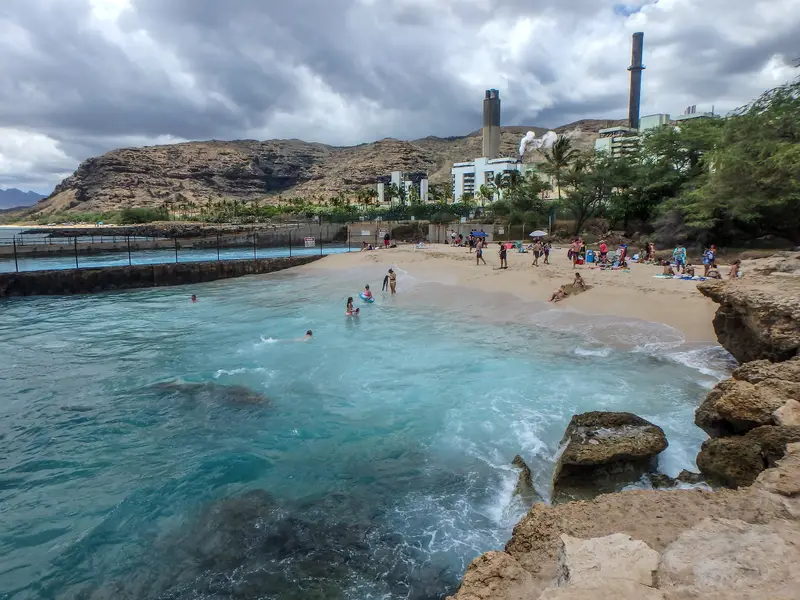 Marine Life
Fish Species
Not all, but many typical Hawaiian reef fish can be found around the warm water reef. Some of the most common are butterflyfish, parrotfish, triggerfish, moorish idol, tang, sergeant major fish, damsel fish, yellowtail scad, eels and black urchins. Chances are big you'll even spot the Hawaiian sea turtle. Not hundreds, but one or two are usually in the neighborhood. They can grow up to 4 feet in length.
If you watch the video further down below, you'll notice that there's a chance to even see spinner dolphins. Who knows you'll even get a glimpse of an eagle ray. If not, don't worry. There are many schools of fish that should keep you entertained for quite a while.
Coral
Rice coral is very common in Hawaii, so expect to see those across the reef. You'll also spot the cauliflower hard coral with its typical branches. Last but not least, the pretty large lobe coral is also quite common around the reef.
Travel Tips
Electric beach itself doesn't offer any restaurants. Therefore, bring your own drinks and snacks. Don't take loads of gear with you because someone could grab it whenever you're snorkeling. Make sure to watch your belongings or have someone else do that for you.
Parking is free and might be crowded on Saturdays and Sundays. Again, make sure to not leave any valuable gear in your vehicle.
Kahe Point Beach Park offers tiny bathrooms and small showers for rinsing purposes. There's enough shade below the trees but you can just as well enjoy one of the available picnic tables.
Keep your distance from the marine life. Yes, sea turtles and dolphins are lovely to watch, just make sure you stick to the Hawaiian snorkel rules.
Final Thoughts
If you're an experienced snorkeler, and as long as the weather conditions are relatively calm, Electric Beach provides an impressive marine life in clear warm water. The facilities are basic and Kahe Point Beach Park is quite small. This location is all about the fish and corals.