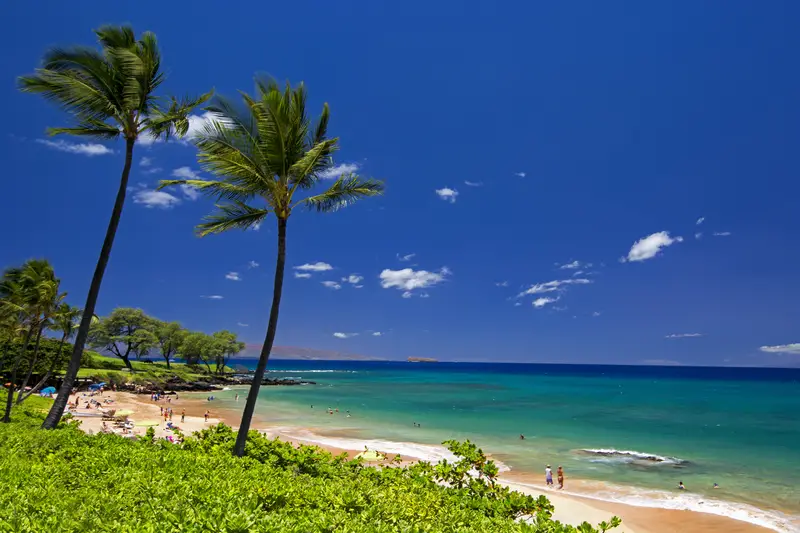 This article is part of our Top 7 snorkel spots in Maui, Hawaii.
On the southwestern coast of the Hawaiian island Maui, Maluaka Beach is one of our favorite snorkel spots within the area. Also known as Turtle Town, this relatively small beach includes a coral reef (on the southern tip) that's packed with sea turtles and a good amount of various Hawaiian reef fish.
Because observing sea turtles is pretty much guaranteed, several boat tour companies take visitors directly to the coral reef from where they snorkel off their boat. However, you can just as well travel by car and access Turtle Town from the beach itself. In our opinion, that's a great choice, especially if you're an advanced snorkeler.
The Beach
Like we said, Maluaka Beach is relatively small but borders 2 coral reefs to explore. In this article we'll focus on the southern reef since that's where most of the (turtle) action happens. It's also the bigger reef.
The white sandy beach is definitely gorgeous and even better: It's not too crowded most of the time. The beach is a little secluded with 2 nearby parking lots. The video further down below explains exactly how to get there.
You'll find showers and restrooms as well as picnic tables and grassy areas. Make sure to bring your own drinks and snacks. The beach is mostly sandy but picks up some rocks towards the northern and southern reefs. Shallow water entrances and (usually) calm water are an invitation for both snorkelers and swimmers.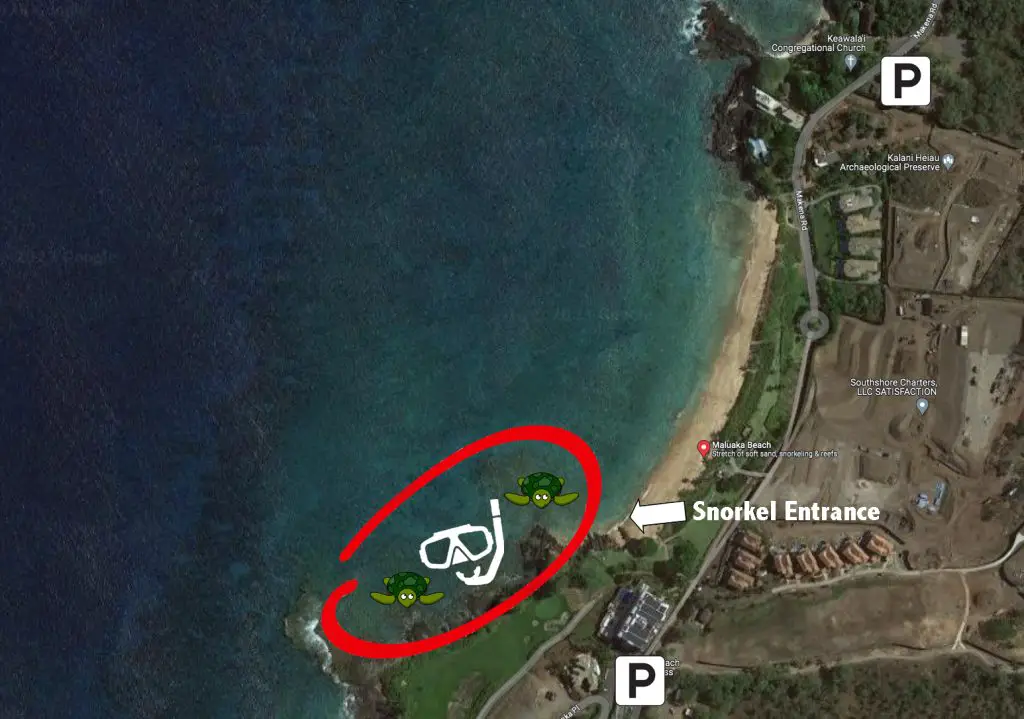 The Southern Reef
We prefer to call this a collection of smaller and bigger reefs in stead of "just 1 reef". As you can see from our map, the southern tip of Maluaka Beach turns into a rocky shoreline. This is where rocks start to partially cover the beach with sandy water entrances in between. Of course, the water must be calm enough to snorkel, which is especially the case when it's still morning.
Even though there's some enjoyable snorkeling along the rocky shoreline (with even sea turtles), the best snorkel spots are at the outer reefs. The first reef is about 200 feet out from the shore. So yes, you need to be able to swim a little and some snorkel experience is definitely helpful.
From the first coral reef at the southern part of the beach you'll be able to explore some other (and even bigger) reefs to your left (so towards the west). We marked this area on our map so you understand what we mean. If you're capable to explore these reefs you'll soon notice an increase in coral. Even underwater visibility increases quite a bit.
Snorkeling
Entering the water & Where to snorkel
If you read our article this far you can probably skip this section. But let's just summarize everything for you.
The shallow rocky shoreline along the south allows you to easily enter the water. You could stay near the shore and greet a few Hawaiian sea turtles and a few fish species. The first coral reef to explore is situated about 200 feet out. The coral there is much healthier and the amount of sea turtles increases. If you keep on snorkeling towards the left you'll enter more (and bigger) reefs with an even more diverse marine life. This is what people call "Turtle Town".
Depending on where you snorkel and depending on your skills, remember that this is a relatively shallow area. Some parts are deeper, up to about 10-15 feet, whilst some areas are very shallow. Keep in mind that sea urchins enjoy the reefs as well. In other words, if you snorkel in shallow water, stay away from reefs that almost meet the ocean surface.
Tip: Various boat tours take their snorkelers straight towards Turtle Town. If you're not sure where the turtles are at, figure out where these boats set anchor and go from there.
Visibility
In a nutshell, underwater visibility is quite good. If you snorkel towards the outer reef you'll experience better visibility. Since most reefs are relatively shallow, visibility depends on currents and waves. In between the coral reefs there are some patches of sand, which could mix with water and therefore make everything a little blurry. We all know that snorkeling is best (and only possible) on calm sunny days, so if you stick to that rule you'll be just fine.
Check out this video guys and girls! We share a lot of videos on our website, but when it comes to explaining things this is just a wonderful and helpful video:
Marine Life
Well, we guess that it should be obvious by now that Hawaiian green sea turtles are the main attraction across the reefs. However, don't think that the rest of the marine life is "average". Especially the outer reefs allow you to observe a good amount of typical Hawaiian reef fish. Common fish species to observe include pufferfish, butterflyfish, triggerfish, cornetfish, sergeant major, surgeonfish, wrasse, goatfish, tang, parrotfish, snapper and damselfish. If you pay close attention you might as well come across trumpetfish, squirrelfish, moray eels or the occasional octopus. Who knows you'll even see a spotted eagle ray.
Final Thoughts
The southern reefs at Maluaka Bay offer fantastic snorkeling with great underwater visibility. Hawaiian sea turtles are one of the main attractions which beginners can sometimes observe right next to the beach. Advanced snorkelers could explore the outer reefs as long as weather conditions are calm.