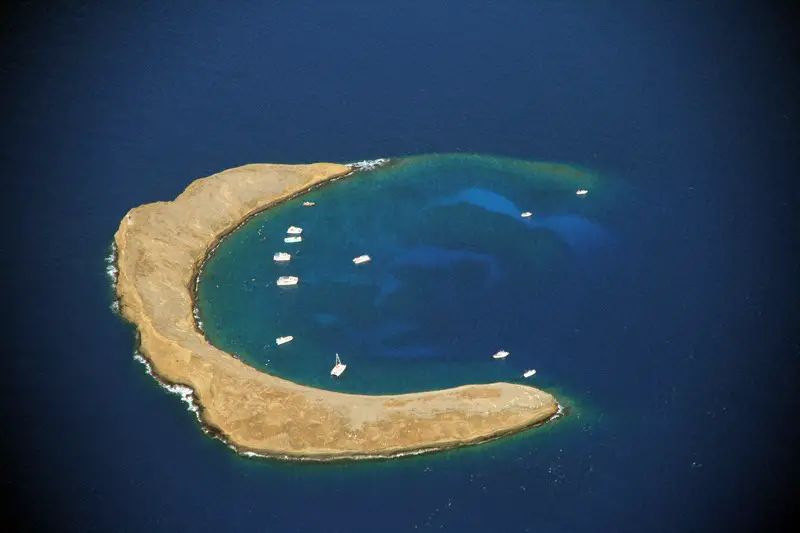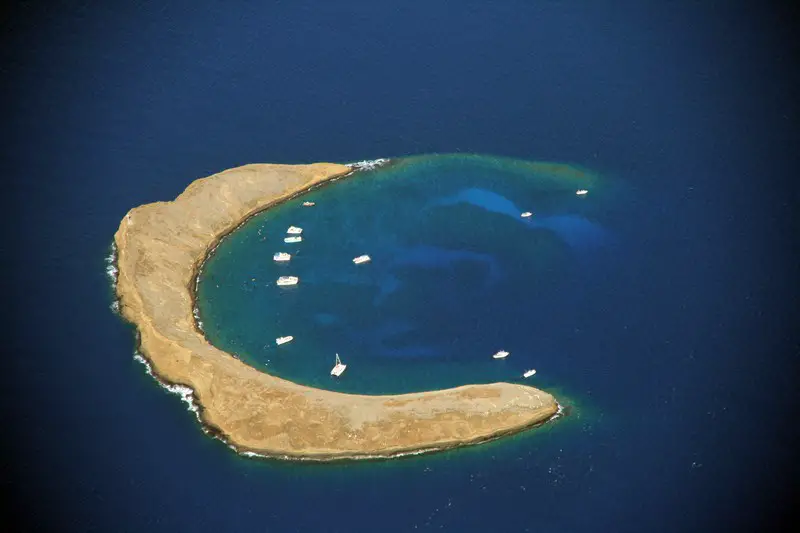 This article is part of our Top 7 snorkel spots in Maui, Hawaii.
In the southwest of Maui, about 2,5 miles offshore from Makena Beach, the Molokini Crater is without a doubt one of the best (if not the best) snorkel spots on the island. This partially submerged volcanic crater is over 200.000 years old and forms a unique snorkel spot sheltered from oceanic winds, waves and currents.
Molokini Crater is only accessible by joining a boat tour, but definitely worth a visit for people who long for "the best of the best". Its breathtaking coral reef attracts over 250 different fish species which can easily be observed with an underwater visibility of about 100-150 feet.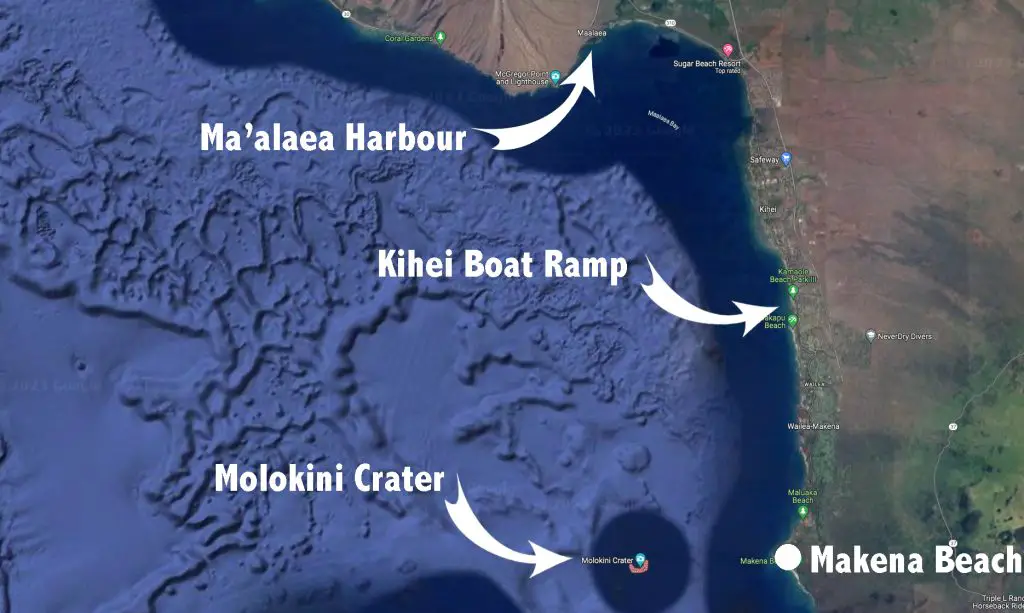 How To Get There (Boat Tours)
Like we said, you need to join a boat tour. Here's a helpful website with information about the available boats and their price tags. Most tours last for a few hours and come with snorkel gear, drinks, snacks and sometimes even full meals.
Departures
Most of these boat companies depart from Ma'alaea harbor. However, if you're staying within the Wailea are, some tours depart from the Kihei Boat Ramp (which saves you a lot of traveling time). From Ma'alaea it usually takes about an hour to arrive at Molokini Crater, whilst boats only take 30 minutes for people departing from Kihei Boat Ramp. So plan your trip wisely.
Dolphins and whales
Whatever tour you go for, there's a good chance to observe some spinner dolphins along the way. If you're really lucky, depending on the time of year, you could even see a whale in the distance. Whale season in Maui typically lasts from mid-December until mid-May.
What to bring
Make sure to bring your own towels and sunscreen. Some boats offer plenty of shady areas to sit at whilst the faster speed boats are pretty much open air. Necessary snorkel gear is usually provided. Once you enter the crater the crew will set anchor close to the best snorkel spots. You snorkel directly off their boat.
Tip: If you easily experience motion sickness, check out our article about snorkeling and seasickness. That's where we cover a bunch of tips.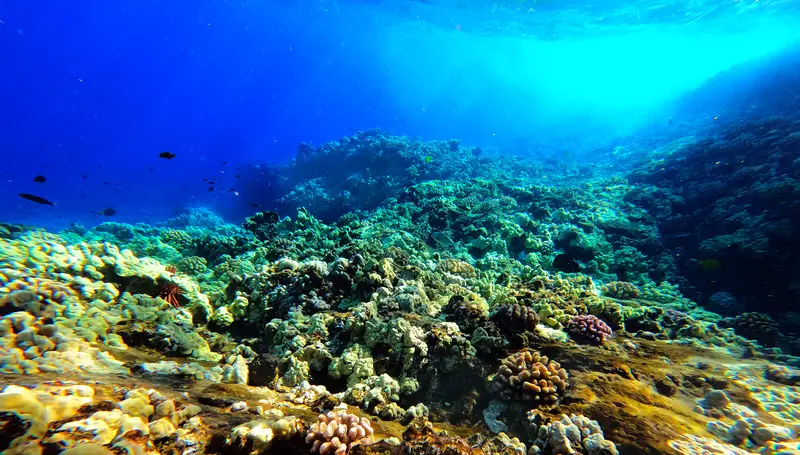 Snorkeling
Water conditions
Because of the trade winds on Maui, snorkeling is best in the (early) morning. Most boat tours depart at 7:30 am and return around 12:30 pm. That's when the water is usually calm and underwater visibility is at it's best.
Because of the protective characteristics of Molokini Crater, waves and currents are partially blocked which makes snorkeling very beginner friendly (as long as you catch a calm and sunny day). Average water temperatures range between 74° F in winter and 80° F in summer.
The Reef
The volcanic eruption that occurred over 200.000 years ago resulted in a huge (collapsed) coral reef. If you want healthy coral, this is the place to visit. Boat tours will enter the crater and set anchor right above this coral reef. You snorkel directly from their boat. Depending on where you snorkel, both shallow and deeper areas can be explored as you go. If you stay close to the boat, depths of around 10-25 feet are not uncommon.
Visibility
As we previously explained, snorkeling is best in the morning because that's when the water is usually calm. An underwater visibility of 100-150 feet is pretty common and quite unique if you think about it. Out of all Hawaiian snorkel spots, this is definitely a great location to snorkel with a GoPro or any other underwater camera. Sometimes the crew rents out cameras or joins you in the water to record some entertaining videos.
The Marine Life
With over 250 different fish species you can expect to observe some typical Hawaiian reef fish as well as a more "exclusive" marine life. Common fish species around the cauliflower and rice corals include yellow tang, triggerfish, butterflyfish, bluefin trevally, parrotfish, moorish idol, damselfish, goatfish and maybe even a green sea turtle. If you pay close attention you could just as well spot a moray eel (sometimes even big ones). An octopus might be hiding between the lava rocks and even whitetip reef sharks or manta rays could be present at times. The occasional Hawaiian monk seal could also suddenly appear.
A Few (Helpful) Tips
The Molokini Crater is part of a Marine Life Conservation District. This means no fishing, collecting, touching or interacting with the marine life. Use reef-friendly sunscreen.
This is a popular snorkel spot so once you enter the crater you could consider it a little crowded. However, don't worry because the boats keep their distance and most people snorkel close to their own vessel. You'll soon figure out that there's enough space for everyone.
Besides snorkeling it's also possible to scuba dive at the Molokini Crater. If you're curious, more information (and dive locations) can be found here.
Final Thoughts
Snorkeling the Molokini Crater on the southwestern shore of the Hawaiian island Maui is a truly unique experience. Its healthy reef, various corals and diverse marine life are just part of the fun. Excellent underwater visibility, calm water and exciting boat tours complete this family-friendly day trip.