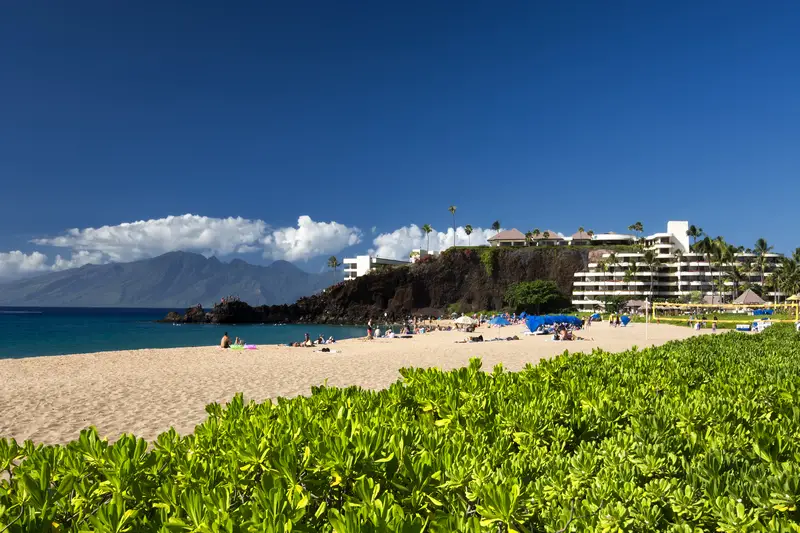 This article is part of our Top 7 snorkel spots in Maui, Hawaii.
Kaanapali (Ka'anapali) Beach is located on the west coast of the Hawaiian island Maui. This 1 mile long white sandy beach is all about resorts, shops, restaurants and bars. In other words, it's not your traditional secluded Hawaiian beach.
The 2023 TripAdvisor Travelers' Choice awarded this beach the #1 Beach in the US and the #10 Beach in the world. So yes, people seem to love this place.
Our readers probably know that we're not the biggest fan of these "resort towns" when it comes to snorkeling. However, from time to time there's one that actually surprises us with a "hidden underwater gem". In the case of Kaanapali Beach, this gem is called "Black Rock".
In other words: If it's your plan to visit a luxury Hawaiian beach resort with great nearby snorkeling, Kaanapali Beach does the trick.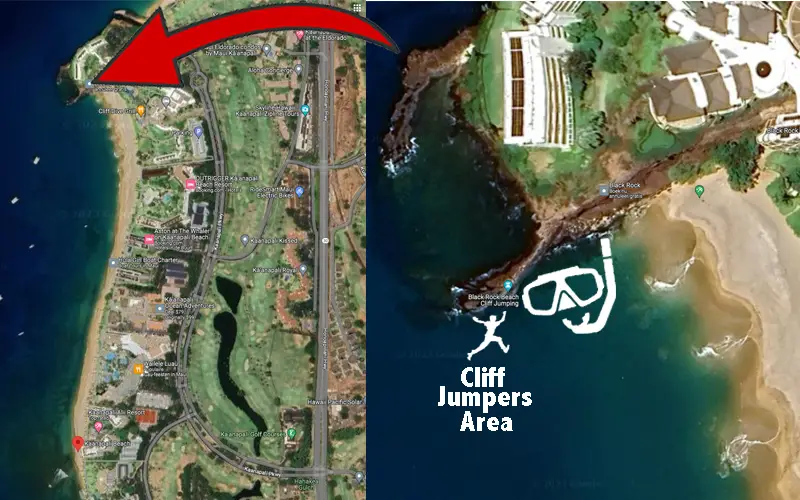 Black Rock
In a nutshell, Kaanapali Beach itself doesn't exactly offer great snorkeling. The beach, in our opinion, is meant to swim and cool down. Luckily enough, the northern point of the beach is a totally different story. Known as Black Rock, this is the only place where you want to snorkel.
You can't miss Black Rock from Kaanapali Beach. It's that huge rock (cliff) at the northernmost point of the beach. Various paths along the resorts and restaurants will take you there. The rock attracts a good amount of cliff jumpers as well, but don't worry about that. Snorkeling between the beach and the cliff jumping area is exactly what Black Rock allows you to do.
Imagine you're a fish in Kaanapali Beach: You could swim up and down the 1 mile length of the shore all day long, or you could head towards the northern cliff with food and shelter. The choice is easy, right? Well, that's exactly why Black Rock is packed with loads of fish species.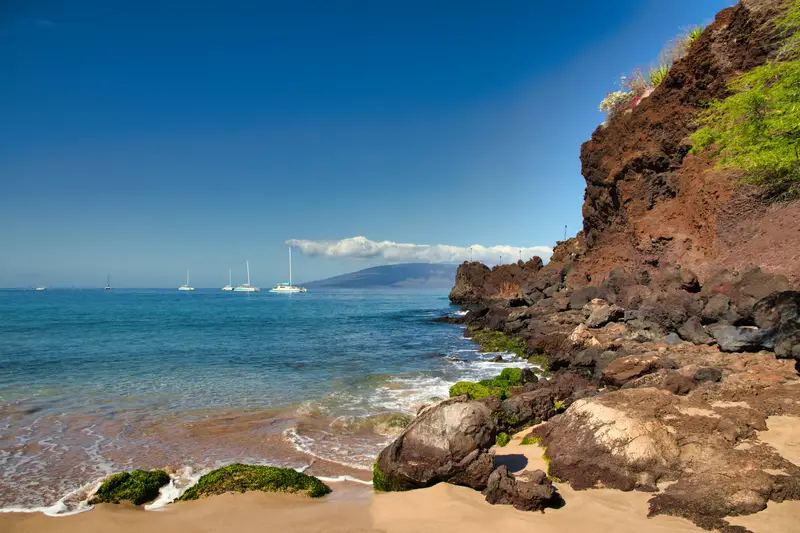 Snorkeling
Entering the water & Where to snorkel
As you probably guessed, Kaanapali Beach itself is mostly a sandy area with a few lava rocks here and there. That being said, even though you can walk right into the water, always check for possible rocks. The ocean floor is pretty much sandy, even though rock formations increase towards Black Rock.
You want to snorkel near the rocky wall, just don't bump into it. The lava rock formations attract a good amount of Hawaiian fish species, even sea turtles. There's a good chance that you'll even observe a sea turtle before putting on your snorkel mask, that's how much they like this little bay.
From the shore, depending on your skills, in our opinion it's best to snorkel along Black Rock towards the cliff jumpers. You don't need to go out too far because there's a lot to explore already. Furthermore, staying within this relatively shallow area with many other people is a comfortable way of looking after one another.
Advanced snorkelers could decide to explore the tip of Black Rock, which is passed the cliff jumper area. Of course, weather conditions must be calm. The beach can be a little crowded depending on the day.
The video below gives you a good impression of what to expect when snorkeling near the shore and along the cliff (even towards the tip of the rock).
Visibility & Currents
In our opinion, visibility is usually great. Like we said, you must catch a calm day that allows for snorkeling. As long as currents and waves are low, underwater visibility can even be awesome. The water could contain some sand particles near the shore since many people enjoy to float or swim there. Depths increase up to about 10 feet whilst you snorkel along Black Rock. Depths increase around the tip but you should still be able to see the ocean floor pretty clearly.
We hope you got a good impression of what snorkeling is like from the above video. Keep in mind that this was filmed on a sunny day with comfortable weather conditions. However, weather conditions and therefore currents might not allow for snorkeling on certain days. So check about that. Furthermore, there's always a possibility of unexpected currents and waves, so make sure you know what you're doing and where you're going. Snorkel fins are really helpful in this location. The same goes for floating accessories like snorkel life vests for example.
Marine Life
Whether you snorkel next to the beach or along the rock, sea turtles are an attraction you can't miss. They usually float near Black Rock and let other fish eat algae off their shells. We often call this a "cleaning station" for turtles.
A bunch of typical Hawaiian reef fish can be observed along Black Rock. Expect to see some triggerfish, parrotfish, cornetfish, hawkfish, butterflyfish, moorish idol, unicornfish, needlefish, jacks, trumpetfish, goatfish, snapper, surgeonfish, boxfish, tang, damselfish, grouper, moray eels and more.
Even though Black Rock isn't a coral paradise, there's some coral to be found like cauliflower, rice and lobe. Their amount increases towards the tip of the rock, but even shallow areas hold some coral on rocky surfaces.
Facilities
If you're visiting for the day (so you're not staying in one of the resorts), there are some showers on this public beach. We're not aware of any public restrooms but who knows things changed in the meantime. There's always a restroom available in Whalers Village (shopping center) or you could kindly ask the reception of a nearby resort. Wear a smile and maybe offer a tip and chances are you'll be just fine.
There's no lifeguard (as of writing this article). Ordering a tasty meal or beverage at one of the restaurants and bars shouldn't be a problem. When it comes to parking we'd advise this discussion on TripAdvisor.
If you're planning to visit Kaanapali Beach, here's a helpful website that lists the resorts, restaurants, activities, news and more. Or you could watch the drone video below:
Final Thoughts
Kaanapali Beach hosts some of the finest tropical Hawaiian resorts. Along its entire shoreline snorkeling is only fun at Black Rock (up in the north). Not only is it fun, there's a surprisingly vibrant and diverse marine life to observe up close. Even sea turtles come here to chill and feed. With very clear water and loads of facilities, spending the day at Kaanapali Beach should be great fun for most snorkelers. Only snorkel when weather conditions are calm, avoid the open sea and know what you are doing.