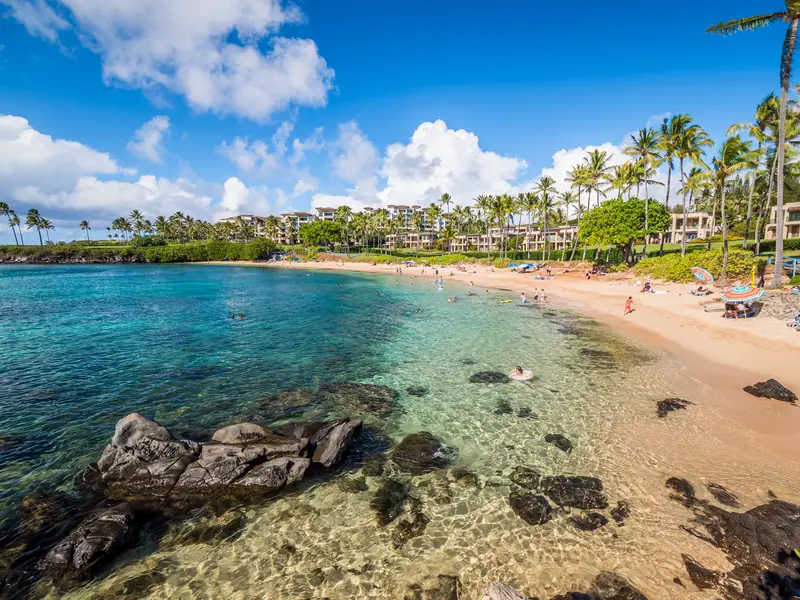 This article is part of our Top 7 snorkel spots in Maui, Hawaii.
On the northwestern tip of Maui there's a sheltered little bay that hosts one of Maui's best snorkel spots: Kapalua Bay Beach. By the way, it's not just us who love this beach. It was nominated "America's Best Beach" in 2018. Even though we focus on snorkeling, a romantic white sandy beach is always a pleasant surprise.
The cove is bordered by 2 long coral reefs that provide ideal snorkel conditions. Corals, various fish species, sea turtles and even the occasional octopus await you in clear shallow water.
The Beach
From north to south, Kapalua Bay Beach measures about 650 feet in length. In other words, this is a relatively small beach (and it's not very wide either). Locals enjoy this place so things can get crowded during the summer months. If you can, try to arrive on time since mornings are usually calm. And hey, it also helps to find a parking lot.
Facilities include showers and restrooms. There's no bar directly on the beach, so bring your own snacks and beverages. Merriman's Kapalua restaurant is located at the southern tip and offers all kinds of menus (like seafood, pasta, steak, salads). The view from their deck is awesome by the way.
For the most part this is a sandy beach. Still, rocks can be found everywhere and increase below the ocean surface. In other words, water entrances are sandy but protect your feet when snorkeling.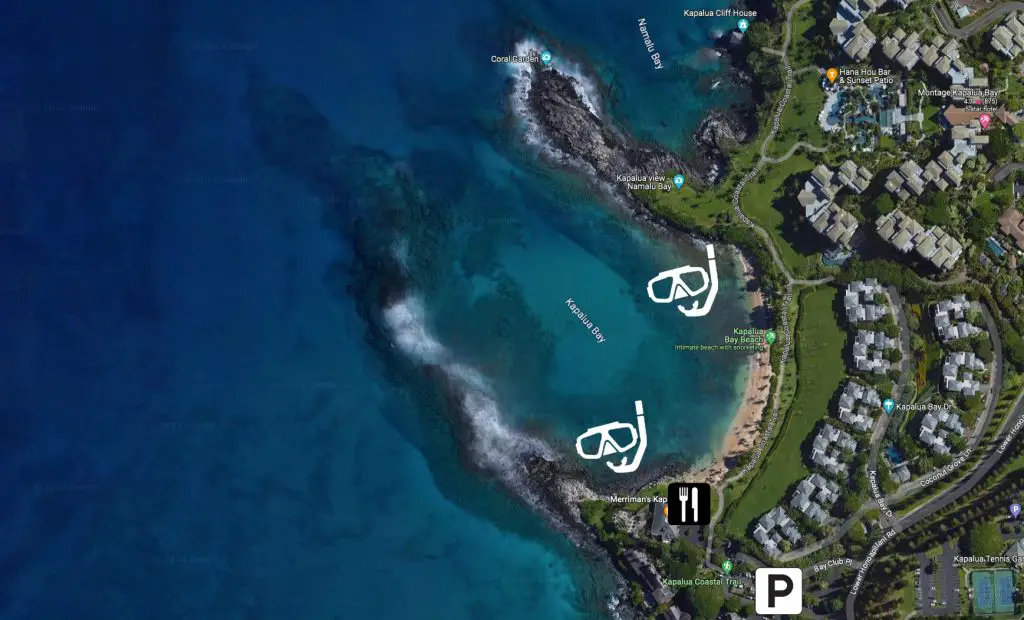 The Reefs
As you can see from our map, Kapalua Bay is bordered by 2 coral reefs: The northern and the southern reef. Even though ocean waves and currents are always able to enter the cove, water conditions are often comfortable because of its protective topography.
The northern reef is longer and usually a little more protected from waves than its southern twin. That's why most snorkelers prefer to explore the northern reef. However, that doesn't mean that the southern one isn't worth it (because it really is).
Calm and protected water, combined with the volcanic nature of the reefs result in a huge variety of fish species. Even a good amount of corals can be observed along the rocky surfaces. So yes, we consider these reefs to be very healthy.
Snorkeling
Entering the water & Where to snorkel
Even though this is mainly a sandy beach, the amount of rocks increase towards both of the reefs. You'll find various sandy water entrances, just be aware that submerged rocks are spread across the entire ocean floor. We advise you to put on your snorkel fins as soon as you entered the water.
Like we said, most people prefer to explore the northern reef because of it's protective characteristics. Try to find a nearby sandy entrance and simply float towards the rocky wall (just keep your distance). There's no need to explore the entire reef all the way towards the tip. Sea turtles and a bunch of fish species enjoy the shallow water near the shore, so why head out towards the tip where currents and waves start to increase. Simply stay within the first half of the rocky wall and you'll be just fine.
If you decide to explore the southern reef it's best to stay even closer to the shore. Currents are usually stronger within this part of the bay. Corals and fish species are still present, maybe a little less interesting, but still worth an exploration. This brings us to our next point.
Visibility
Since this is a protected cove, underwater visibility is usually great. Especially the northern reef near the shore provides perfect underwater visibility. The southern reef is a little less protected from ocean waves which could make the water a little blurry. All in all, if you catch a calm sunny day, exploring the marine life is a delight.
Depths vary but floating in shallow water is already awesome as you can see from the video below. You'll soon notice that the sandy ocean floor turns into a rocky underwater paradise once you float towards the reefs.
Marine Life
Sea turtles are a great attraction and chances to observe a few are pretty big. They especially enjoy the shallow calm waters near the shore. Kapalua Bay Beach might also allow you to see an octopus. Have you seen the movie "My octopus teacher"? We love that movie since it explains how intelligent and creative these sea animals actually are.
The most common fish species include butterflyfish, parrotfish and wrasse. But wait, there's way more. As you float along the northern reef you'll soon also notice triggerfish, bluefin trevally, damselfish, surgeonfish, boxfish, moorish idol, goatfish, unicornfish and a few other typical Hawaiian reef fish. If you pay close attention you might even get to observe a moray eel. Corals include cauliflower, rice, lobe and finger.
Weather Conditions
Even though this is a protected cove, snorkeling is only possible as long as weather conditions are calm. Yes, summer months are usually great but you still need to check about winds and currents. Winter months are usually wilder and often don't allow you to enter the water.
As long as you catch a calm sunny day in summer, chances are that the water is very snorkel-friendly. These days even allow you to snorkel with kids (as long as you keep an eye on them 24/7). They'll love the sea turtles! If you can, arrive on time because the water tends to be calmer in the morning.
As far as we know, and as of writing this article, there's no lifeguard on duty.
Final Thoughts
Kapalua Bay Beach has all the ingredients for a lovely day of snorkeling: A white sandy beach, 2 coral reefs and a very diverse marine life. The northern reef attracts most snorkelers because it's protected and packed with loads of different fish species. Sea turtles and the occasional octopus enjoy this bay as well. Snorkeling in shallow water close to the beach on calm sunny days is a delight for both beginners and experienced snorkelers.