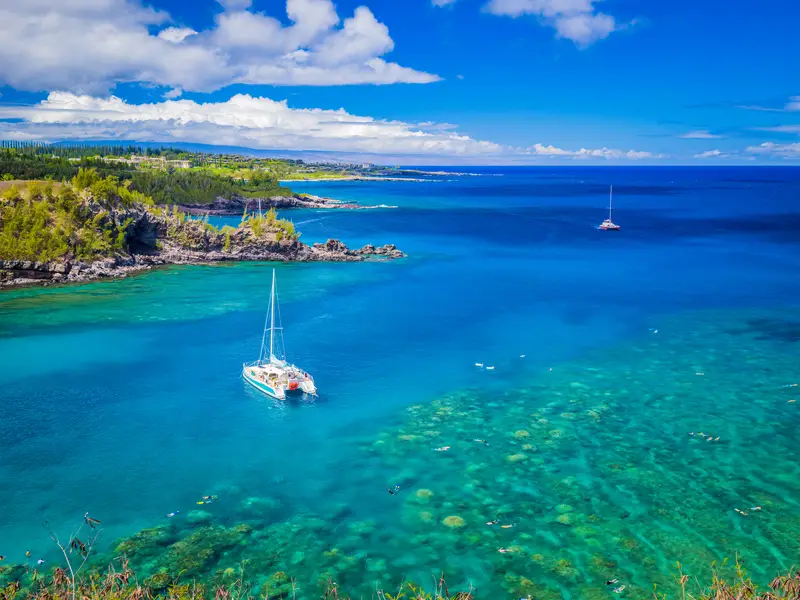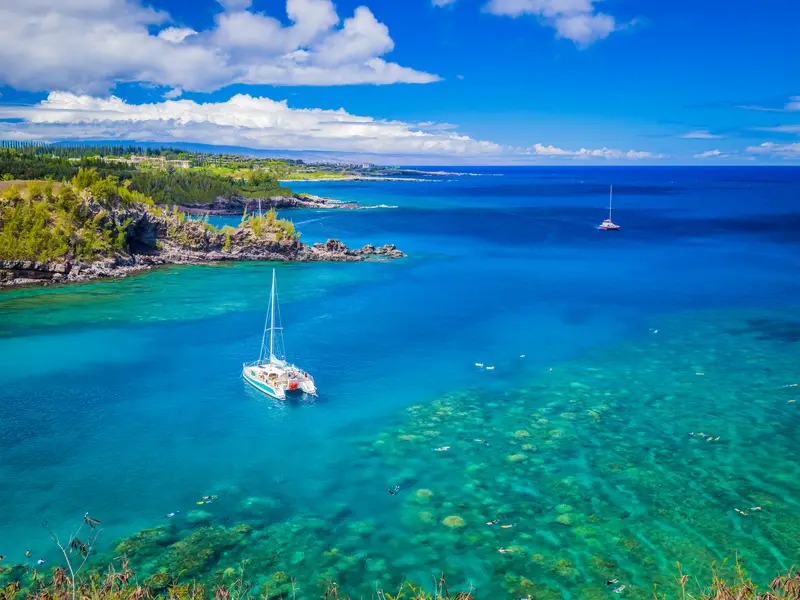 This article is part of our Top 7 snorkel spots in Maui, Hawaii.
In my article about snorkeling in Maui I already mentioned Honolua Bay briefly. However, since this idyllic bay offers such an incredible marine life, here's my in depth review that covers all the details.
Honolua Bay is located in the northwest of the Hawaiian island Maui. Sure, Hawaii has that "exotic" touch to its name, but that term also matches its marine life. I'll cover the marine life later on, but for anyone interested in all the details, I have a separate article that covers the 17 Hawaiian reef fish every snorkeler should be able to observe. I even added a video to that article that teaches you all the basics in under 2 minutes.
How To Get To Honolua Bay
By Car
If you haven't already searched, here's a link to Google maps that shows you the main road towards the bay. The road is called "Honoapiilani Hwy". You'll find it close to Kahului airport and it runs along Maalaea, Olowalu, Launiupoko, Lahaina, Kaanapali and Kapalua (after which it brings you to Honolua Bay).
Parking
If you've been following Honoapiilani Hwy road, the picture below illustrates where you'll finally end up. There are 2 parking lots next to the road. The red arrows in the picture show you the exact locations and how they look like. From each parking lot there's a hiking path towards the bay (I marked them in yellow on the map).
Parking is free. The second (so Parking lot number 2) is the bigger one and comes with tiny bathrooms. Because of this it fills up quickly. You'll notice that some people park their car in small areas next to the road from where they walk towards one of the hiking trail entry points.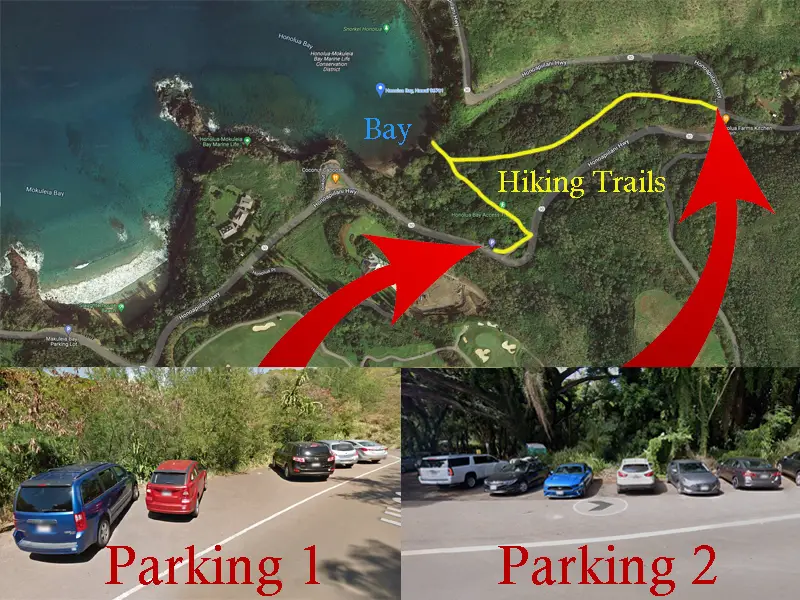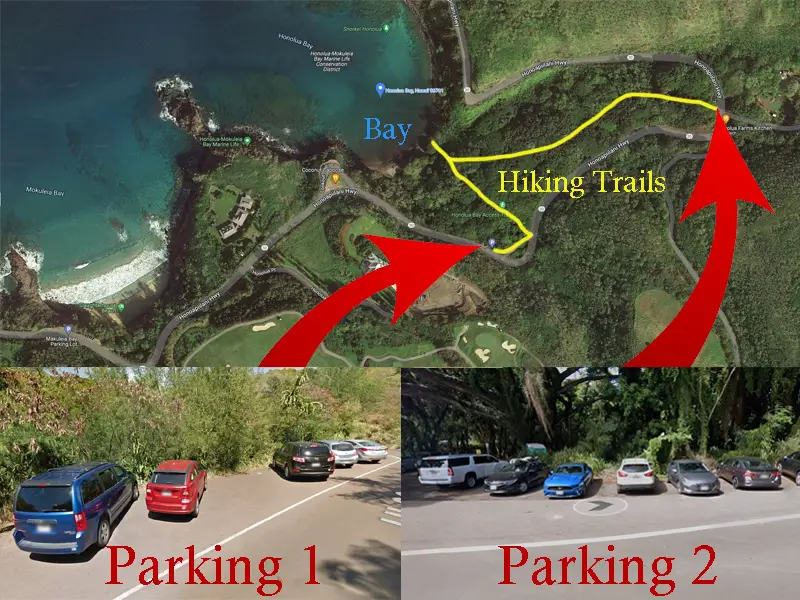 Depending on which trail you choose, and depending on how fast you walk, it should take somewhere between 10 and 20 minutes to reach the bay. The paths are gorgeous pieces of nature, with trees and shady areas to rest. Most people should be able to follow this trail. You'll get "jungle feelings" for sure with birds singing in the background.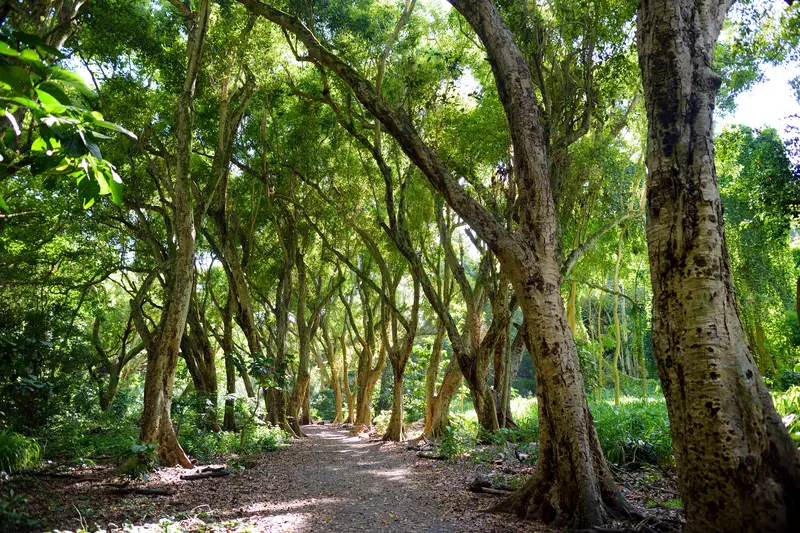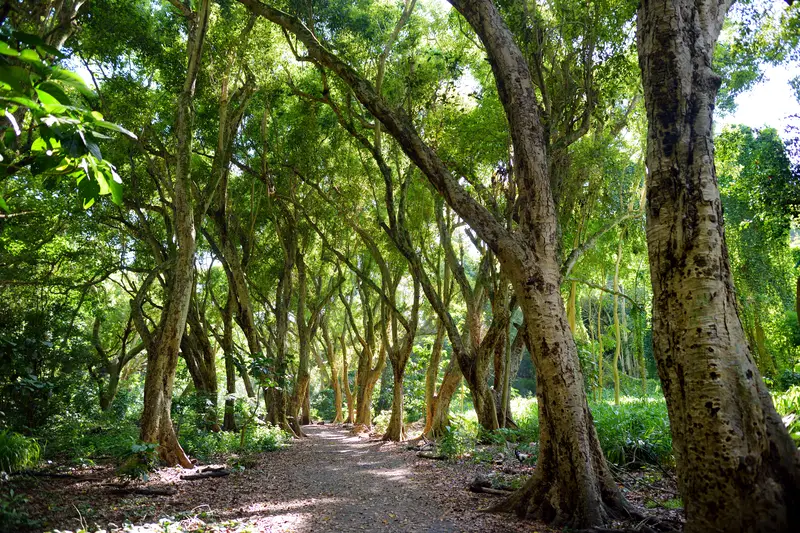 By Boat Tour
If you don't feel like renting a car or walking one of the trails, consider to join a boat tour. One big advantage of a boat tour is that you'll be able to enter the best snorkeling spots right off the boat. Pacific Whale Cruises offers a variety of snorkel excursions, and one of them brings you directly to Honolua Bay. If you book online you usually get a discount. One of their catamarans is shown in the picture at the top of this article. The excursion lasts for about 5 hours and is often combined with visiting another Hawaiian snorkel location.
Snorkel gear is included (if you don't have your own) and so are the guides that will teach you exactly what to look for. If you snorkel with kids, they also provide a program for children. If you feel like it, there's an option for breakfast, lunch and drinks. Even though they sell reef friendly sunscreen on the boat, it's (in my opinion) best to bring your own. I cover reef friendly sunscreen and a whole lot of sun protective gadgets in my article called UV protection for snorkelers.
Here's a video by Pacific Whale Cruises:
Where To Snorkel
If you take a look at the first picture I shared at the top of this review, combined with the picture I share below this section, you should get an idea of where to find the reefs. They're a good walk or swim from the "main" water entrance. That's where the boat tours that I just mentioned lay anchor. In other words, look for the boat tours and join their snorkelers.
A long story short, the reefs are towards the right. If you're an experienced swimmer you could snorkel your way towards these reefs. Some people prefer to hike the rocky areas and enter the water adjacent to the reef. The downside of this strategy is that these rocky areas can be wet and you definitely need to watch your step. Check out my article about water shoes for snorkelers in case you don't already own a pair. Once again, if you're uncertain about the whole "getting to the reef thing", consider to join a boat tour.
Furthermore, the water in Honolua Bay is usually the clearest within this reef area. Water entrances aren't always great for snorkeling, especially when there are loads of people moving sand and other debris. But yeah, you have to start somewhere. The reef is pretty shallow overall, but of course, if you're uncertain or just a beginner it's always best to stay around the most shallow areas.
I always inquire at my hotel (or with the locals) about weather conditions. Yes, Honolua Bay is usually great for snorkeling, but there are days when waves and currents meet the bay. Snorkeling won't be fun and maybe even hard for beginners, so avoid these days and do something else instead. Checking weather forecasts is also a smart thing to do.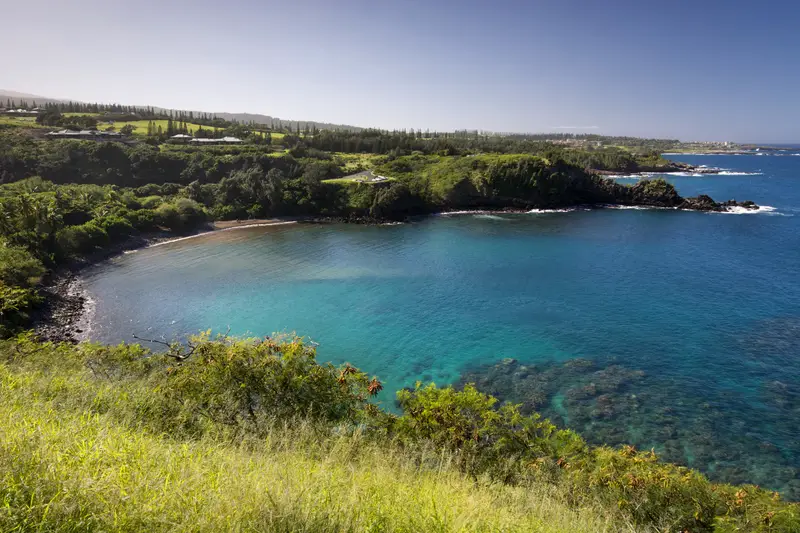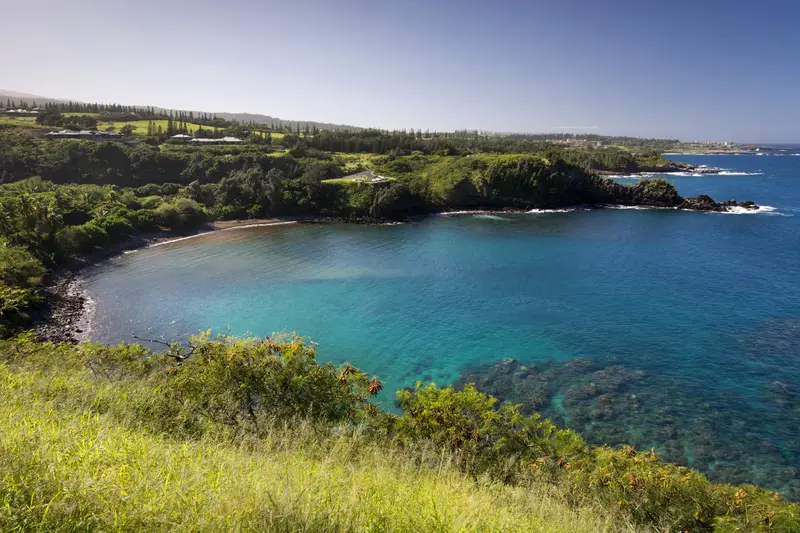 The Marine Life
The reefs are home to various corals, which attract a good amount of fish. Unfortunately, there are better places to view coral if that's your main attraction. Chances are big that you'll be snorkeling with green sea turtles, just like you do in many other Hawaiian locations. Locals also call them "Honu". Like I already explained in my Maui snorkeling review, expect a lot of fish species. To name a few, there's a good chance you'll be able to observe butterflyfish, triggerfish, parrotfish, trumpetfish (one of my favorites), surgeonfish, goatfish, spotted moray eels, octopus, sea stars, sea urchins, sea cucumber, and loads more. Corals to be found are blue rice, finger, lobe, cauliflower and a few others.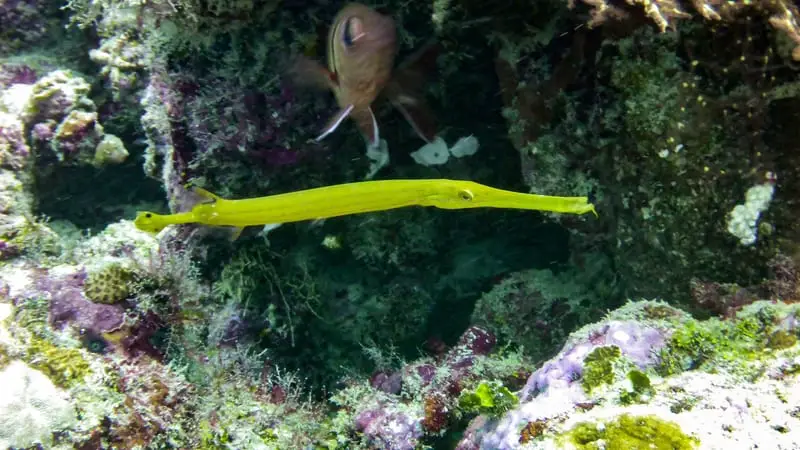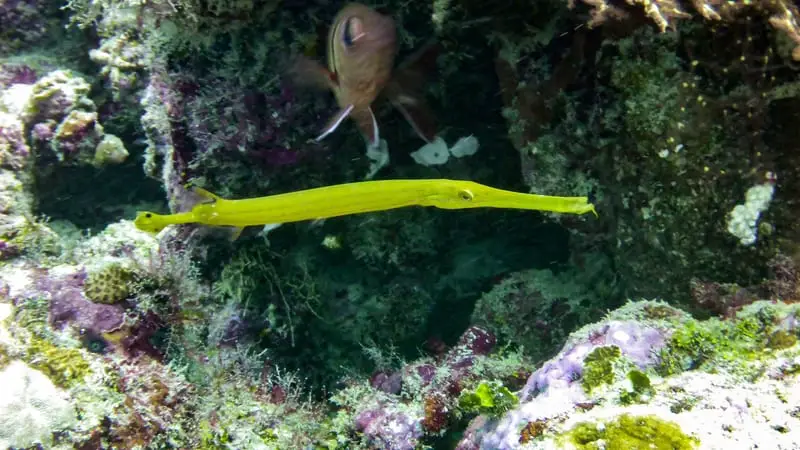 Trumpetfish are one of my favorite fish to observe. They can grow up to 36 inches (90 centimeters).
Things To Know About
Honolua Bay doesn't provide any facilities and you won't find any lifeguards either. It's important to not bring any valuable stuff because people lost all kinds of gear (whether from their car or from the bay itself). I personally always bring a waterproof bag or case for snorkeling that allows me to take my belongings with me. Make sure to also bring your own drinks and snacks because there are no restaurants within the bay.
If you can, try to arrive on time. With that I mean somewhere between 9 and 10 AM. That's when the bay could become a little crowded. And hey, if you're early, there's a better chance of finding a parking spot.
The bay is part of the Marine Life Conservation District. This means there's no fishing (it's not allowed), but it also means loads of fish for snorkelers. You're not allowed to touch the coral or the marine life, which should be obvious for any location, but I thought I remind you about that. "Normal" sunscreen is not allowed, so bring reef friendly sunscreen (which is the best thing to do anyway). I cover all kinds of different UV protection for snorkelers so maybe check them out before your visit. Another way to protect your skin is by wearing a snorkel rash guard.
My Summary Video:
Other Popular Hawaiian Snorkel Locations
Apart from Maui, if you ever get the chance to travel the islands, one of my favorite locations is Hanauma Bay (on the island Oahu). Snorkeling in Hanauma Bay is absolutely amazing with loads of sea turtles and shallow reefs. Talking about Oahu, if you ever make it to this island, consider to also snorkel at Sharks Cove. The name doesn't refer to a big group of sharks by the way, even though they could be present. One last thing to do on Oahu is to snorkel in Waikiki. All these links will refer you to my reviews. Apart from Oahu, another lovely island to consider is Kauai. This island is also known as the garden island. If you're planning to visit the place, here's my article about snorkeling in Kauai where I share 9 beaches to consider.