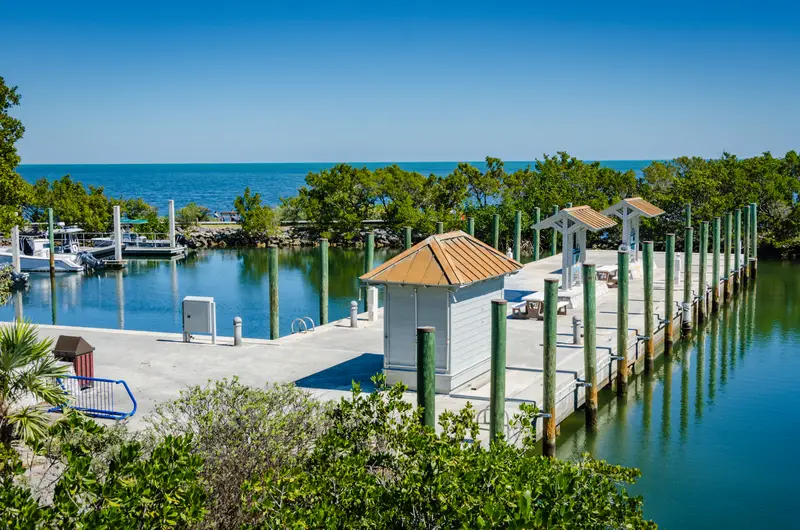 This article is part of our Top 9 Snorkel Spots In Florida.
On top of the world's 3rd longest coral reef, Biscayne National Park is one of our "go to spots" for anyone visiting the northern Florida Keys. Our readers know how much we love Florida , that's why we explore and review some of the most remarkable snorkel spots within this southeastern state.
If you didn't already know, Biscayne National Park is more of an "underwater world" that includes islands, coral reefs and mangroves. Since 95% of the park is submerged, this snorkel location is all about joining a boat tour. However, don't worry, because these tours are all waiting for you at the Dante Fascell Visitor Center (at the Biscayne National Park Institute in Homestead). From this little harbor (see the above picture) both snorkeling and kayaking tours depart towards a variety of nearby locations. Popular and impressive areas include the Boca Chita Lighthouse, Sand Key, Elliott Key, the Mandalay shipwreck and several mangroves. Here's a simple map: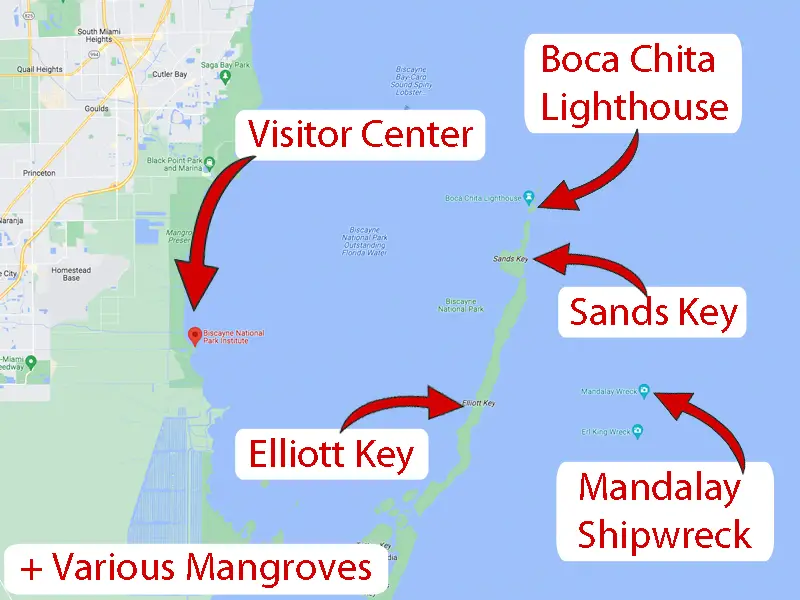 Snorkeling In Biscayne National Park
First and foremost, your biggest concern is the weather. Since the healthiest coral reefs are located offshore, the water needs to be calm enough to allow for proper snorkeling. If you catch a windy day, boats may only depart to a limited amount of nearby locations. However, don't worry just yet, because there's a good chance you'll be just fine. Let's say you catch a windy day, there's usually still a chance to snorkel at one of the mangroves along different coastlines.
We snorkelers are mainly interested in the coral reefs, but you can just as well combine snorkeling with paddle boarding. There's not "one perfect" snorkel spot within the park, so depending on the weather, let the guides pick the "best location for the day".
Coral Reefs
We wouldn't be too concerned about which coral reef you'll end up exploring, they're all pretty similar and just as marvelous. Like we said, the guides will pick the best spot for that typical day so simply leave it up to them. Tow popular reefs are Anniversary reef and Ball Buoy reef, both located south east of Elliott Key.
Boat trips usually last between 3-4 hours, unless it starts to rain. Sunny days could also involve a short visit to one of the nearby islands. Most powerboats only take a handful of people so there's enough room for some privacy and relaxation. The best part is this: Once you reached your destination you'll be floating above all the action. Simply enter the water from the boat and the marine life will be waiting a few feet below the ocean surface. How awesome (and easy) is that!
If you're interested, here's a link to the Biscayne National Park Institute snorkel excursion. You need to bring water, snacks, a towel, spare clothes and reef safe sunscreen. If you don't own any snorkel gear yourself, there is a possibility to rent basic equipment. Snorkel vests are included and mandatory to wear.
Common marine life to observe includes angelfish, parrotfish, nurse sharks, sergeant major and elkhorn coral. But of course, there are hundreds of fish species so we'd say just let nature surprise you. Who knows you might even observe a sea turtle. For the more adventurous snorkelers out there, consider to request a snorkel trip to a shipwreck.
Mandalay Shipwreck
You might have heard of the "Maritime Heritage Trail", which provides access to 6 shipwrecks. Unfortunately for us snorkelers, most of these wrecks are better suited for divers. However, the Mandalay shipwreck lies just below the ocean surface, which is awesome! Whenever we hear about a shipwreck we're usually disappointed because of its depth (even though we do a little scuba diving here and there). In other words, if snorkeling around a shipwreck is on your bucket list and you're anywhere near Homestead, consider Mandalay wreck (which sank in 1966).
You can expect a lot of schools of fish around this wreck. Shipwrecks often provide shelter from predators, so who knows a lobster will be showing it's face. Be on the lookout for floating trumpetfish as well. They try to blend in with the darker colors of the wreck, but who knows you have a sharp eye for detail.
The opportunity to snorkel above a shallow shipwreck doesn't come along every day. Most of our readers already know how much we enjoy underwater photography. Well, this is one of those locations where you definitely want to bring your camera (if you have one). Feel free to also read our guide about snorkeling with a GoPro. Be aware of possible jellyfish.
Mangroves
With about 270 square miles of water, the coastlines are home to a number of mangroves. Mangroves are often visited by paddle board, but snorkeling is fantastic as well. Mangrove trees filter water that comes from the mainland, which means clear water for us snorkelers. If you choose to paddle board, expect some brown pelicans within their branches. You can explore 3 types of mangrove trees: Red, black and white.
The mangroves at Elliott Key are definitely worth a snorkeling adventure. That's where some of the boats head out to. The mangrove coastlines are shallow and packed with loads of smaller fish species. It's just as if you're floating through an underwater jungle, always discovering something new. You have to be a little careful though, because the water could become too shallow and you might get in contact with rocky areas. The sea grass may look soft, but you never know what hides below.
Whenever water conditions are not ideal for offshore snorkeling, visiting the mangroves is probably still possible. You could decide to do a little bit of paddle boarding (and observe the pelicans), followed by a refreshing underwater exploration.
Fast forward to about 3:30 minutes for the snorkeling part:
Biscayne National Park Visitor Center
Your starting point for all of the above activities is simple: Dante Fascell Visitor Center (about 9 miles east of Homestead). Before joining any of their available tours, prepare for a little history and relaxation. There's a museum and an art gallery that will inspire you about the area. Of course, it's all about the outdoors. Take a walk through the park with its amazing sea views, find a picnic table and enjoy the sunshine. You can even go fishing if you don't feel like boat trips for whatever reason (like becoming seasick for example). One last advise from us to you: Bring some bug spray (mosquitoes are always present) and also pack comfortable hiking shoes.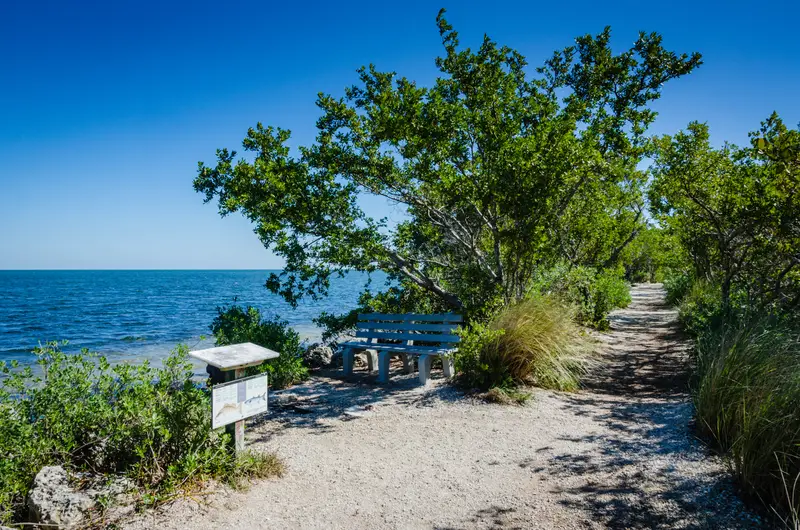 Boca Chita Island And Lighthouse
Within the entire park, Boca Chita is the number 1 visited island. Yes, the lighthouse is its main attraction, but don't forget that there's a magnificent hiking trail to follow. Visiting Boca Chita is often part of a (half) day excursion, and not necessarily meant for snorkeling. Consider it a lovely stop before or after snorkeling at one of the nearby reefs (or mangroves). Bring some drinks and snacks because the island provides picnic tables. Camping is also possible, however, we don't think that looks too promising. There's a restroom available, but no showers (as far as we know).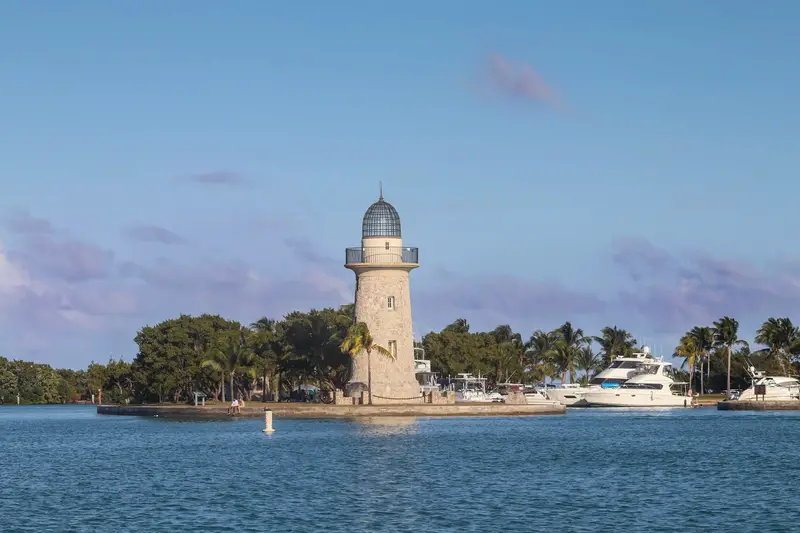 Biscayne National Park Marine Life
Like we said, there are hundreds of fish species to observe when snorkeling any of the above locations. However, let's summarize some of the most common marine life to expect: Parrotfish, blue tang, snapper, sergeant major, angelfish, barracuda, pork fish, trumpetfish, lobster, nurse sharks, sea turtles and manatees.
Final Thoughts
Biscayne National Park is packed with a good amount of very impressive snorkel locations that allow you to observe various fish species. If you can, try to visit one of the offshore coral reefs. The coastal mangroves are a great alternative in case water conditions aren't ideal for offshore snorkeling. A visit to Boca Chita island is a great addition for a full day trip and for people who enjoy to hike.
Other Nearby Snorkel Locations
If you plan to further explore the Florida keys, here are some of our suggestions (and reviews) to consider. If you stay within the northern part of the keys, snorkeling in Key Largo could definitely amaze you. Slightly towards the southwest of Key Largo (about 30 minutes by car) you'll enter Islamorada, another location that offers boat tours towards a few shallow reefs. We recently shared a video about snorkeling in Islamorada. In case you decide to drive even further you'll reach the city of Marathon. If that's where you'll stay, snorkeling on Sombrero Beach could be a great option. Last but not least, if you travel all the way to the end of the keys, feel free to also read our guide about snorkeling in Key West.