With the Gulf of Mexico on the west side and the North Atlantic Ocean on the right, Florida offers hundreds of miles of snorkel beaches. If you add the tropical islands of the Florida Keys, your choices seem almost endless.
In this article we cover our personal 9 favorite snorkel locations in Florida. Of course, there are many more spots to consider. We provide a link with every location in case you'd like to read our detailed reviews.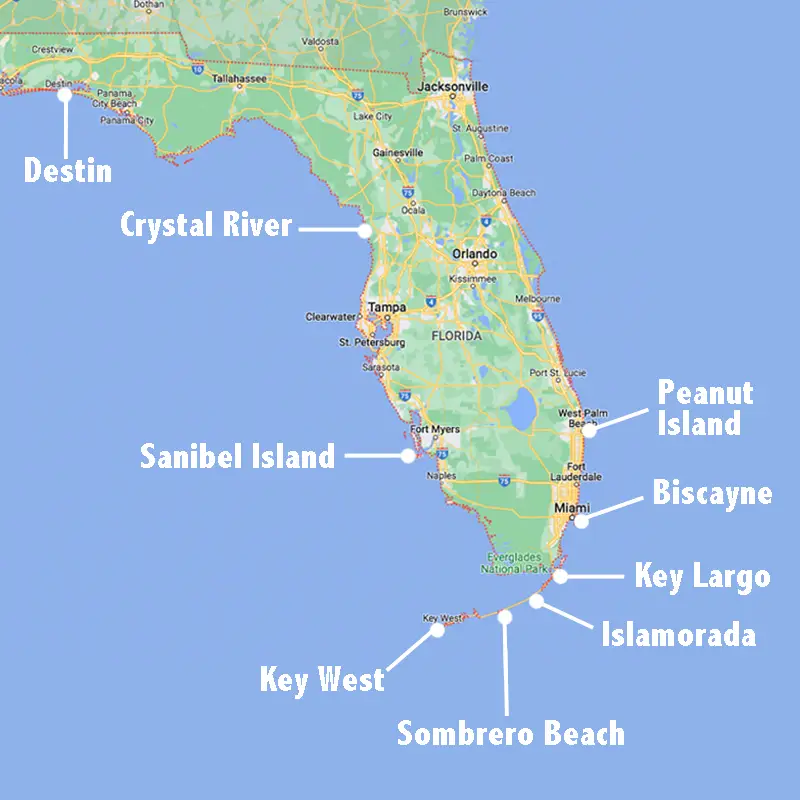 East Coast & Florida Keys:
1. Peanut Island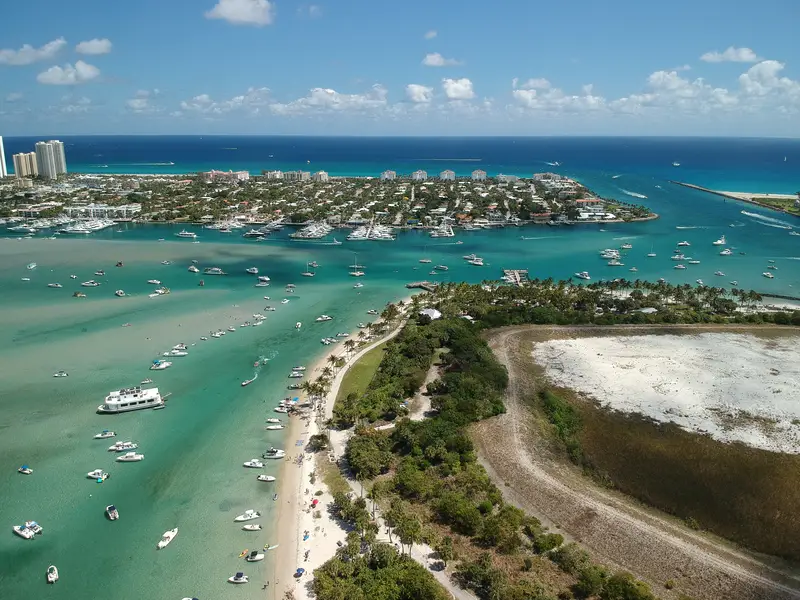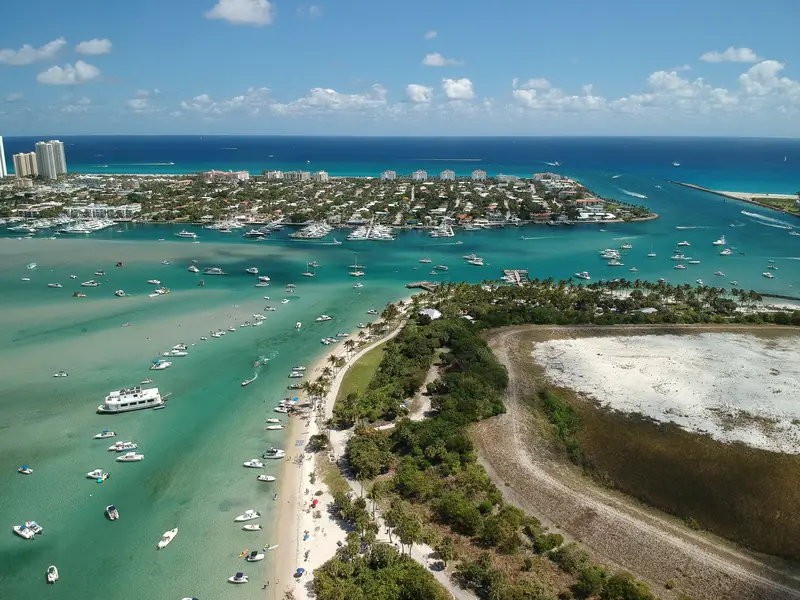 Located on the east coast near West Palm Beach, Peanut Island is a surprising 79 acre island-park within the Lake Worth Lagoon. Even though the island is situated next to a busy shore, snorkeling is absolutely amazing! Both beginners and advanced snorkelers should be impressed by the diverse marine life.
Fresh Atlantic Ocean water continuously flows towards the east side of Peanut Island through the Palm Beach Inlet. This results in 2 great snorkel spots: The eastern reefs and the eastern lagoon. The reefs attract a diverse marine life that you can easily observe directly off the beach. The lagoon attracts a good amount of manatees and offers picnic areas between palm trees.
You can visit the island by joining the shuttle boat or by renting a kayak. Common fish species include parrotfish, barracuda, angelfish, snook, moray eels, wrasse, pork fish and sometimes even sharks or sting rays. Facilities are limited so make sure to bring your own beverages and snacks for the day.
Here's the link to our detailed article about snorkeling on Peanut Island.
2. Biscayne National Park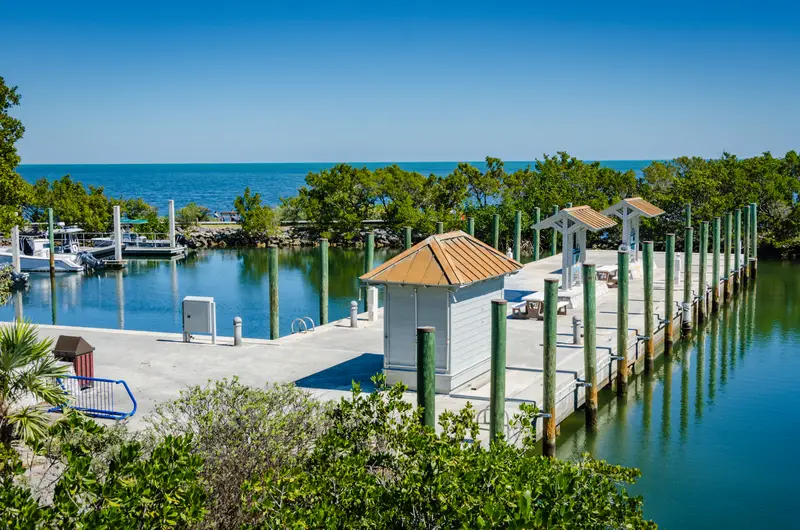 Within the northern Florida Keys and on top of the world's 3rd longest coral reef, Biscayne National Park offers islands, coral reefs and mangroves to explore. A little harbor located at the Dante Fascell Visitor Center offers various boat tours for snorkelers. Interesting snorkel spots include Elliott Key, the Mandalay shipwreck, Sands Key and the Boca Chita Lighthouse.
Weather conditions must allow for snorkeling. Since the healthiest coral reefs are situated offshore, try to pick a calm sunny day. The available reefs are all quite similar so simply let your captain pick the best spot for the day. 2 popular and fascinating reefs are called Anniversary reef and Ball Buoy reef. They're both situated south of Elliott Key.
You'll be snorkeling right off the boat. Chances are you'll be able to observe parrotfish, angelfish, nurse sharks, sergeant major fish and many more. Maybe you'll even come across a sea turtle. Coral includes elkhorn. Adventurous and experienced snorkelers could request a snorkel excursion to the Mandalay shipwreck. If you ever wanted to observe a shipwreck in shallow water, this could be a great pick.
Here's the link to our detailed article about snorkeling in Biscayne National Park.
3. Key Largo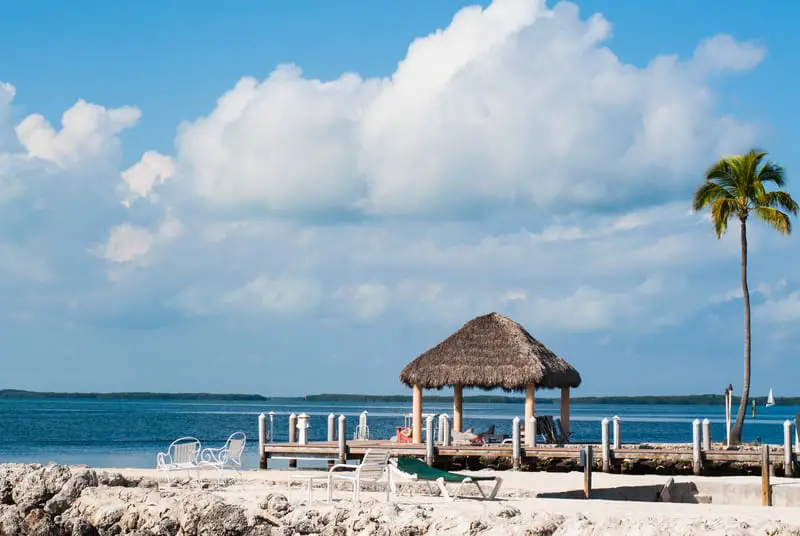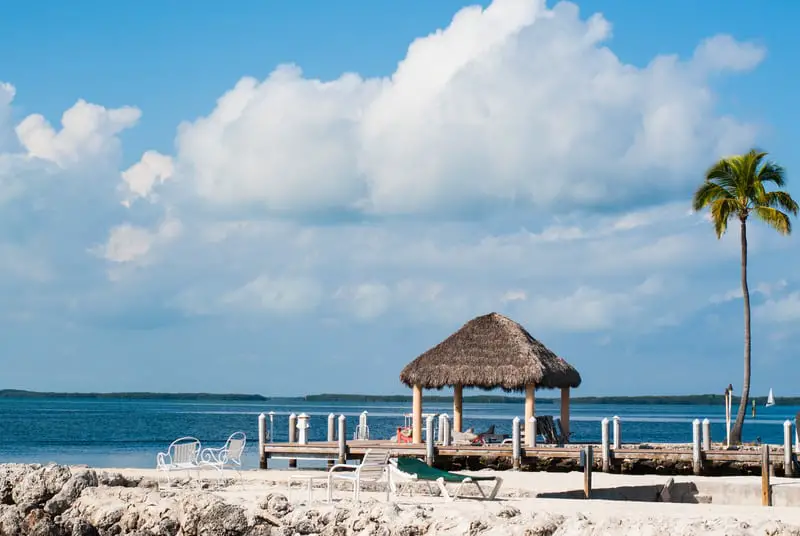 Jut below Biscayne National Park, Key Largo sits on top of the Florida keys. Key Largo also allows you to snorkel along the third longest reef in the world. Since its best snorkel spots can be found out on the reefs, joining a boat tour is your best bet. If you prefer to stay ashore, snorkeling is also great at the John Pennekamp Coral Reef State Park.
One of our favorite snorkel spots is called Dry Rocks. Dry Rocks is located close to the shore and allows both beginners and advanced snorkelers to explore two patches of shallow coral reefs. The underwater statue "Christ of the Abyss" is located nearby. Other popular and interesting reefs include Grecian Rocks, Molasses Reef, The Elbow, Snapper Ledge and Sea Gardens.
Common fish species include snapper, angelfish, barracuda, parrotfish, trumpetfish, eagle rays and nurse sharks. You might even find a loggerhead or hawksbill turtle. Key Largo offers clear warm water with very healthy reefs.
Here's the link to our detailed article about snorkeling in Key Largo.
4. Islamorada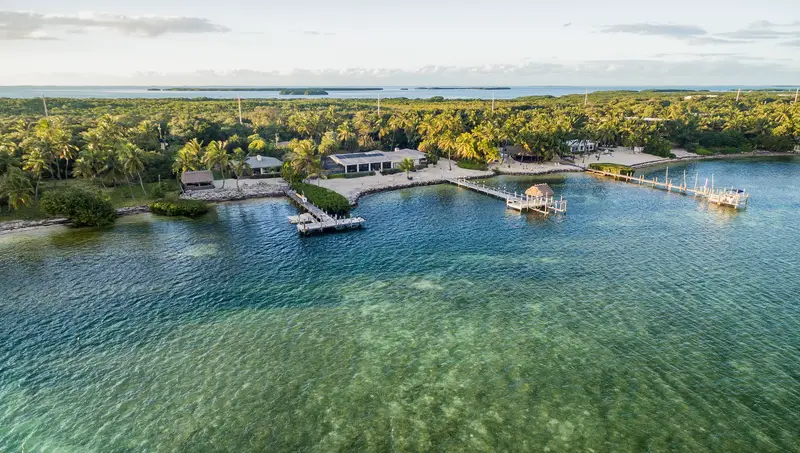 A little towards the south of Key Largo you'll find Islamorada. In our opinion, Islamorada offers some of the brightest reefs within the Florida Keys. Some reefs are better suited for divers, however, there are 3 shallow reefs that offer great snorkeling: Alligator Reef, Cheeca Rocks and Hen and Chickens. You need to join a boat tour.
Alligator Reef allows you to snorkel in shallow water up to about 20 feet in depth. You'll find various fish species and healthy coral heads. Cheeca Rocks might be a little "wilder", depending on the day, with depths up to about 10-20 feet. Hen and Chickens allows you to snorkel over a healthy protected reef which sea turtles seem to also enjoy.
Besides sea turtles you'll probably spot angelfish, yellowtail, grouper, parrotfish, blue tang and goatfish. Maybe you'll even see barracuda, sting rays, nurse sharks, lobster or reef crab. Typical corals include elkhorn, star, brain and mushroom.
Here's the link to our detailed article about snorkeling in Islamorada.
5. Sombrero Beach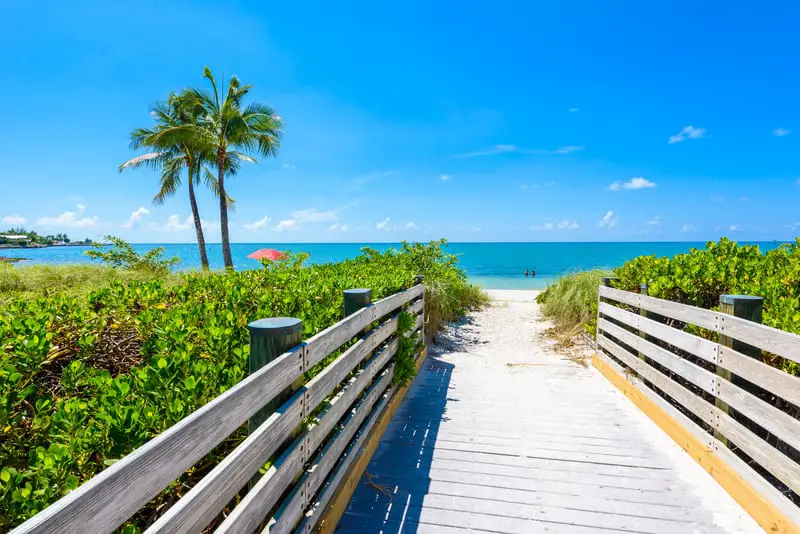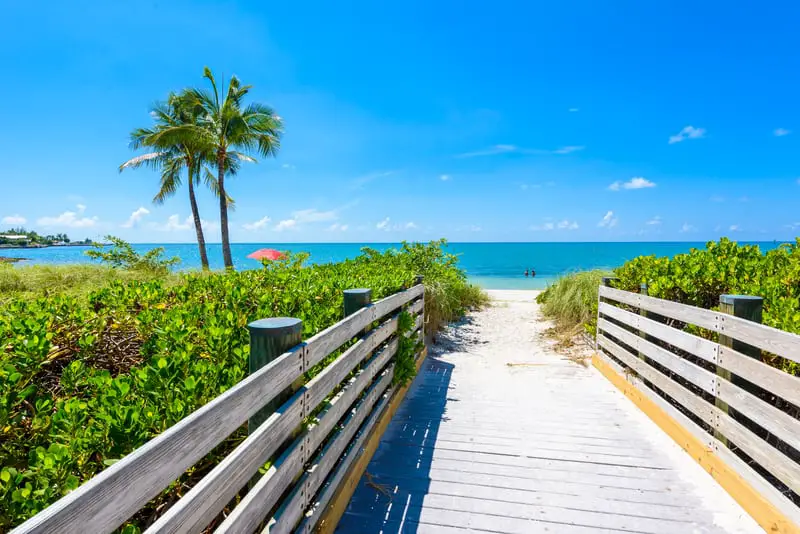 If we continue on our path towards the south of the Florida Keys, our next stop would be at Sombrero Beach. Even though it's definitely possible to snorkel at Sombrero Beach, we'd advise a boat tour towards "Sombrero Reef". This part of the barrier reef offers both shallow and deeper snorkel areas within a diverse ecosystem.
Sombrero Beach itself is partially a turtle-nesting area. From April until October you'll find loggerhead turtles laying their eggs at night. The beach itself is very pretty with beautiful parks to visit. If snorkeling is not your thing, join the volleyball court or simply enjoy one of the picnic areas.
With that being said, if you decide to snorkel at Sombrero Reef, don't be surprised to observe a good amount of green sea turtles. Parrotfish, moray eels, nurse sharks, lobster and sponges are all quite common in this location. If you're lucky you might even spot a seahorse.
Here's the link to our detailed article about snorkeling on Sombrero Beach.
6. Key West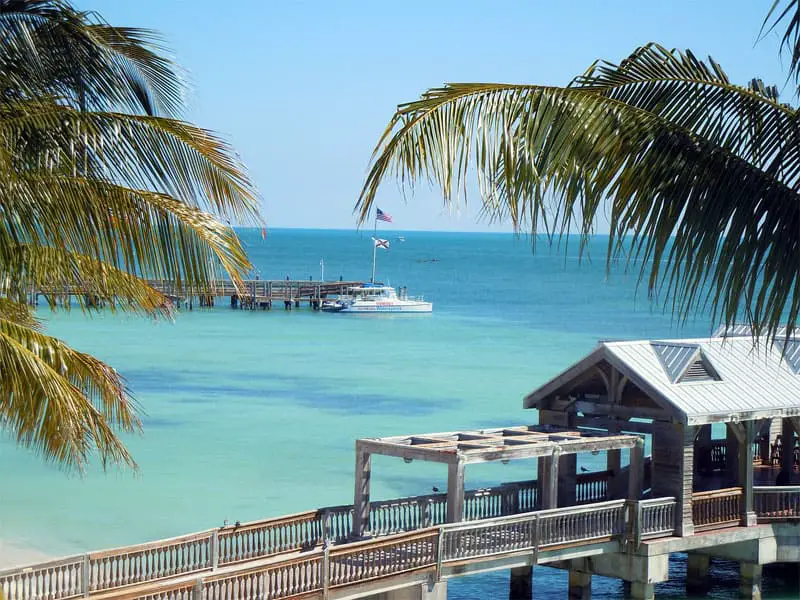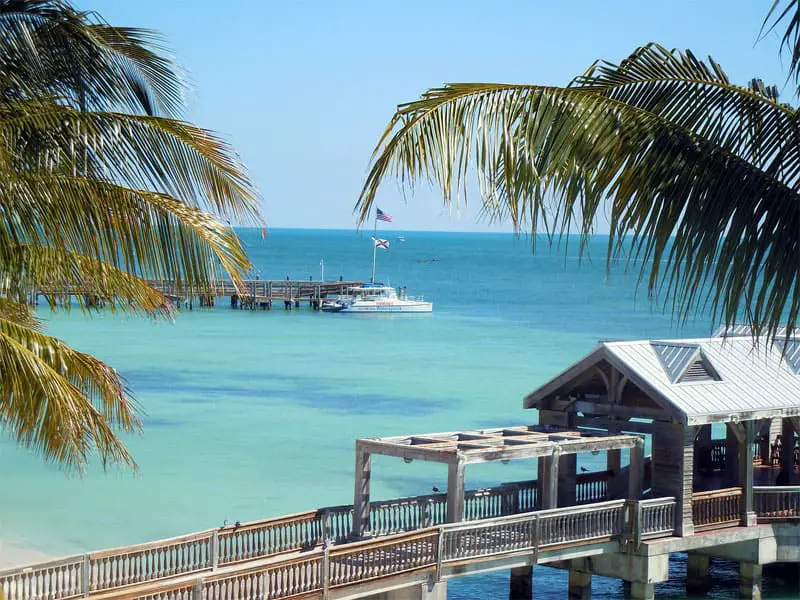 At the tip of the Florida Keys, Key West offers both snorkel beaches as well as offshore reefs to explore. Again, in our opinion it's best to join a boat tour towards the outer reefs. Sand Key Lighthouse Reef, Rock Key, Eastern Dry Rocks, Western Dry Rocks, Cottrell Key and Dry Tortugas National Park all offer a flourishing marine life with healthy coral.
If you prefer to snorkel directly off the beach, consider to visit Fort Zachary Taylor, Higgs Beach or Smathers Beach. Fort Zachary Taylor is our best bet when it comes to a diverse marine life. You simply enter the water from the beach and get to observe yellowtail snapper, parrotfish, lobster and both hard and soft corals. The other 2 beaches offer decent snorkeling, but the amount of fish is limited.
If you head out to one of the reefs you might observe blue tang, parrotfish, sergeant major fish, yellowtail snapper, snook, octopus, angelfish, barracuda, grouper, tarpon, trumpetfish, triggerfish, and maybe even nurse sharks or turtles. If you're the adventurous kind of snorkeler, consider to visit Dry Tortugas National Park by sea plane.
Here's the link to our detailed article about snorkeling in Key West.
West Coast:
7. Destin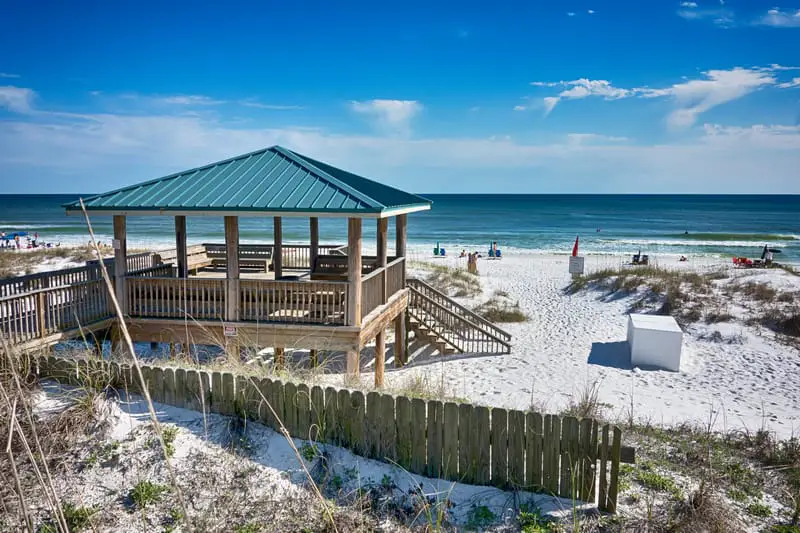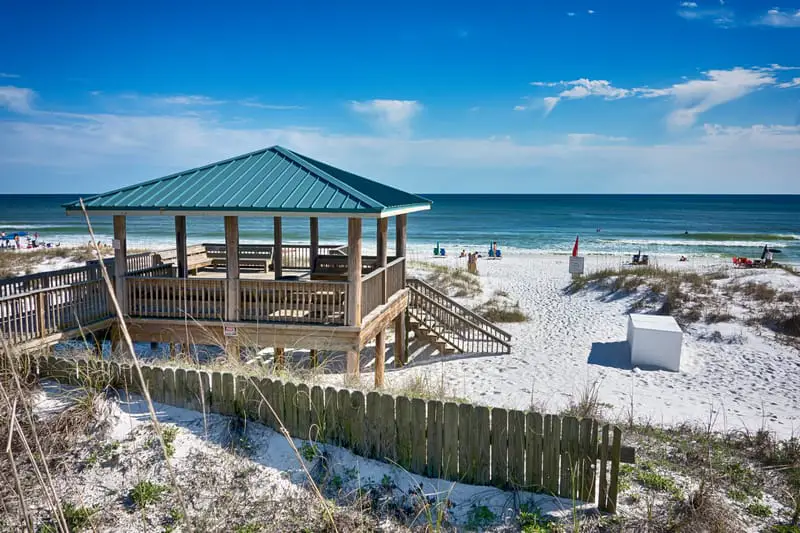 Let's head over to the west coast of Florida. Up in the northwest you find Destin. Destin is also known as "the world's luckiest fishing village". Many people even say that Destin offers the best snorkel beaches in Florida. With its white sandy beaches, great underwater visibility and diverse marine life, this location is definitely worth a consideration.
One option would be to visit Henderson Beach State Park. This spot offers a long shoreline where loggerhead turtles nest and swim. Norriego Point is a little peninsula with protected jetties that allow you to snorkel in clear calm water. The East Pass Jetties is definitely one of our tips. These jetties are partially submerged and offer a reef with an incredible marine life. 2 other popular snorkel spots are Crab Island and Destin Bridge.
Besides sea turtles, expect to observe yellow tang, wrasse, goby fish, starfish, queen angelfish, pufferfish, damselfish, lobster, string rays and maybe even a few sharks. The Gulfarium Marine Adventure Park allows you to snorkel with rays and sharks. If you like, swimming with dolphins is also possible.
Here's the link to our detailed article about snorkeling in Destin.
8. Crystal River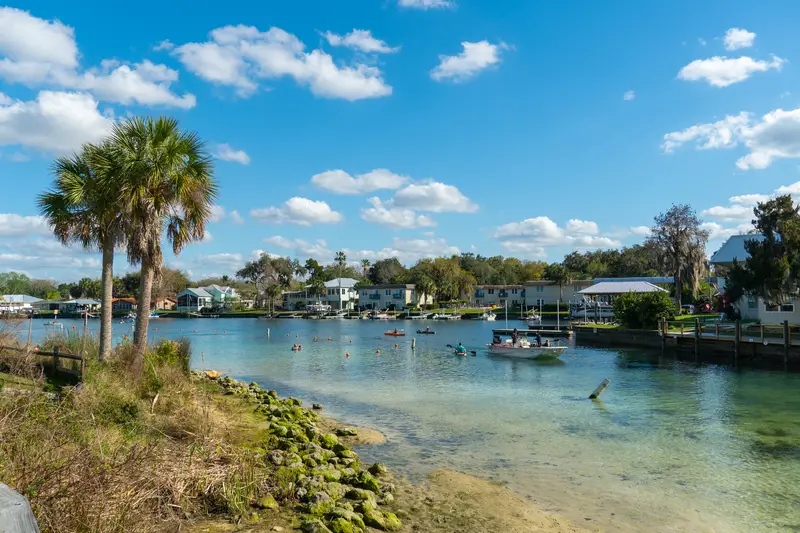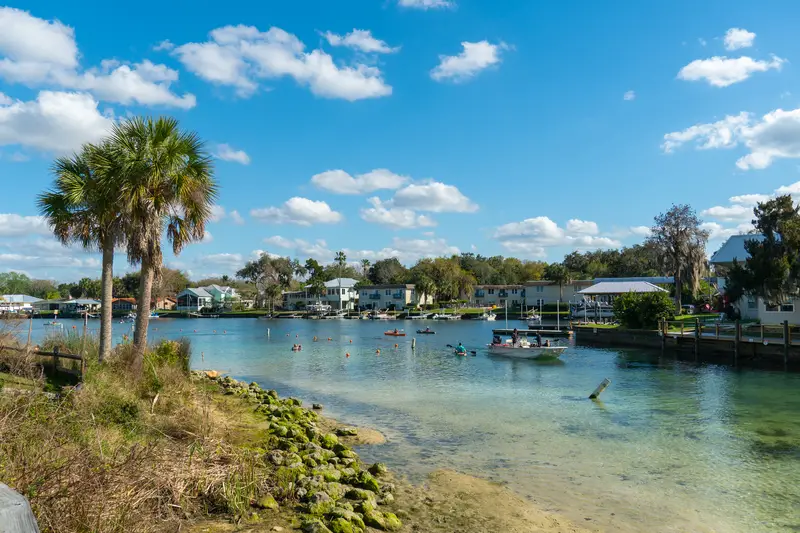 Crystal River is totally different from all the other snorkel spots that we mention in this article. This location is all about snorkeling with manatees. From mid-November until late March, hundreds of manatees migrate from the Texas Coastal Bend towards the warmer waters in Crystal River. People often call this the "Manatee Capital of the world".
Crystal River is a manatee refuge with manatee sanctuaries. Because manatees are an endangered species, snorkeling is only allowed within specific areas. "Hunter Springs Park" allows you to snorkel with manatees directly off the beach. However, for a good amount of manatees it's best to join a boat tour to either Three Sisters Springs or King Spring. That's where most manatees prefer to swim.
Manatees are very friendly and curious marine mammals. Even though you'll be instructed to not interfere with them in any way, they usually swim towards snorkelers. It's a fun and easy way to observe them up close. It's very common to meet and greet dozens of manatees whenever you visit Crystal River.
Here's the link to our detailed article about snorkeling in Crystal River.
9. Sanibel Island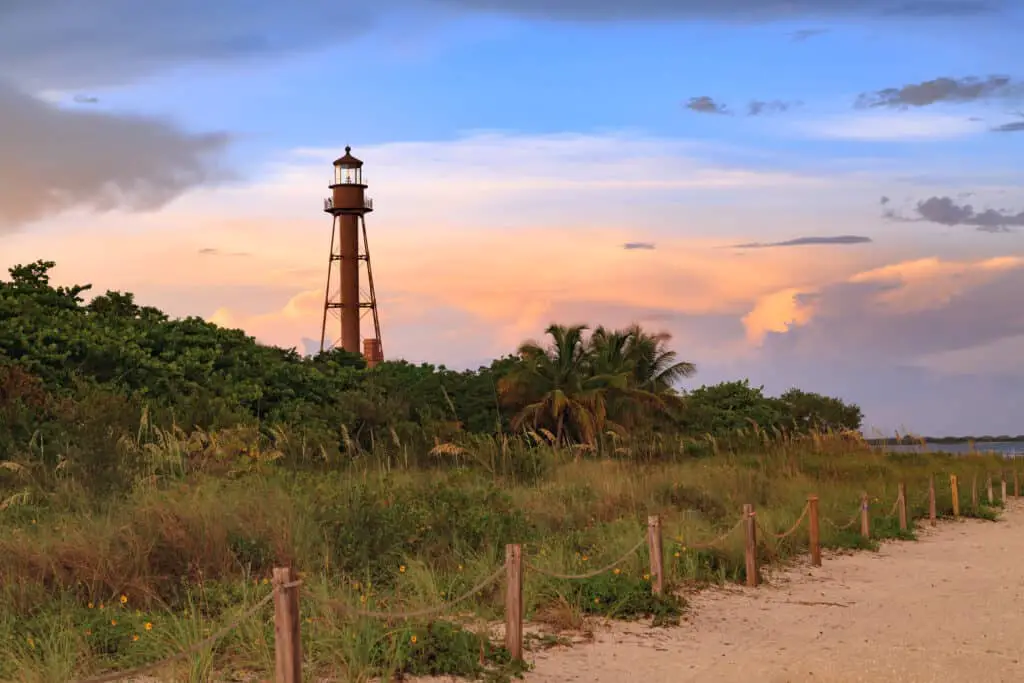 Our final snorkel spot on the west coast of Florida is called Sanibel Island. A visit to Sanibel Island is often combined with visiting a Wildlife Refuge. With its shell beaches and impressive wildlife, this location offers both mainland and snorkeling adventures.
Bowman's Beach is an artificial reef that allows you to observe a huge variety of fish species within a secluded area. Captiva Beach is another great option with multiple artificial reefs to explore. Cayo Costa State Park is a barrier island towards the north of Sanibel Island. Its white sandy beach and appealing blue water can be visited by joining a boat tour. Another option is to visit Lighthouse Beach Park. Remains of a bridge resulted in a stunning reef with various fish species.
Some of the marine life includes barracuda, grouper, nurse sharks, amberjacks, moray eels, sting rays, sea urchins and starfish. Who knows you'll even spot a dolphin.
Here's the link to our detailed article about snorkeling on Sanibel Island.
Our Summary Video