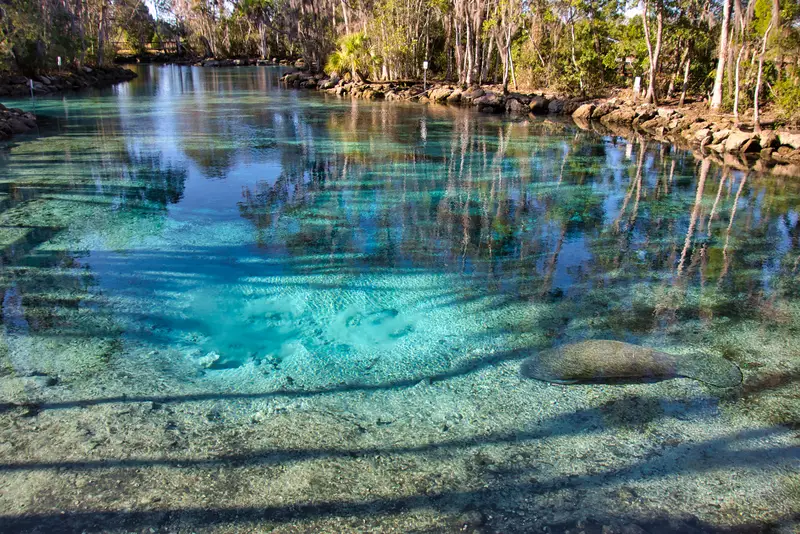 This article is part of our Top 9 Snorkel Spots In Florida.
We agree that snorkeling attracts us most on a warm sunny day with a white sandy beach staring at our breakfast table. And yes, the majority of our reviews are about snorkeling in a comfortable climate with huge varieties of reef fish. However, it's about time to share a fun and beginner friendly winter spot: Crystal River in Florida.
In a nutshell, Crystal River is all about snorkeling with dozens of manatees (also known as sea cows) during winter months (mid-November until late March). Let's dive into all the fun and helpful details!
Manatee Migration
Even though a small amount of manatees prefer to stay within Crystal River all year round, most of them are temporary visitors that stick around for a few months during winter. The Texas Coastal Bend (Gulf of Mexico) is their actual home. However, around mid-November, the Golf water temperatures start to drop. That's when manatees start to migrate towards the warmer Florida waters.
There's a picture below that illustrates the coastal route that manatees prefer to travel. Since manatees can only filter limited amounts of salt water, they need to swim within fresh water sources near the coast. Their destination, Crystal River, offers a variety of warm and protected springs that allow them to feed and to "recharge their batteries". They enjoy the 72°F water until late March.
A long story short: From mid-November until late March, the warm water springs within the Crystal River area are packed with hundreds of manatees (usually about 500 in total), which allows us snorkelers to observe them up close.

Crystal River, King's Bay and the (Snorkel) Springs
Alright, now that we know why and how manatees travel through the Gulf of Mexico, it's time to talk about their destination and where snorkeling is best.
After a long journey towards Florida, hundreds of manatees arrive at Crystal River. They're all free to choose a spot that seems comfy, however, most of them take one final swim towards King's Bay. King's Bay is home to the Crystal River National Wildlife Refuge and offers various warm springs that manatees can choose from.
Our 2 favorite springs within the King's Bay area are "Three Sisters Springs" and "King Spring". Of course, there are many more springs to visit. Some springs require a boat tour whilst others can be visited by renting a kayak. It's also possible to snorkel directly off the shore, which is pretty easy (and fun) at "Hunter Springs Park".
Three Sisters Springs (not always open in manatee season)
Three Sisters Springs is a very popular spring among snorkelers. However, keep in mind that this spring could be closed (so inquire about that up front). Its nature is simply marvelous and the water is crystal clear. It shouldn't be a problem to observe a good amount of manatees. Most of them chill on the bottom of the spring to graze on seagrass. There are some turtles to observe and maybe a few fish species here and there (depending on when you visit). For the most part this location is all about nature's beauty and observing manatees.
Even though snorkeling is not always a possibility during manatee season, it's still great fun to observe the manatees. There's a wooden trail that you can follow which provides some excellent spots to take pictures. Even though this location might be closed in winter, you can still snorkel with (a limited amount of) manatees in summer.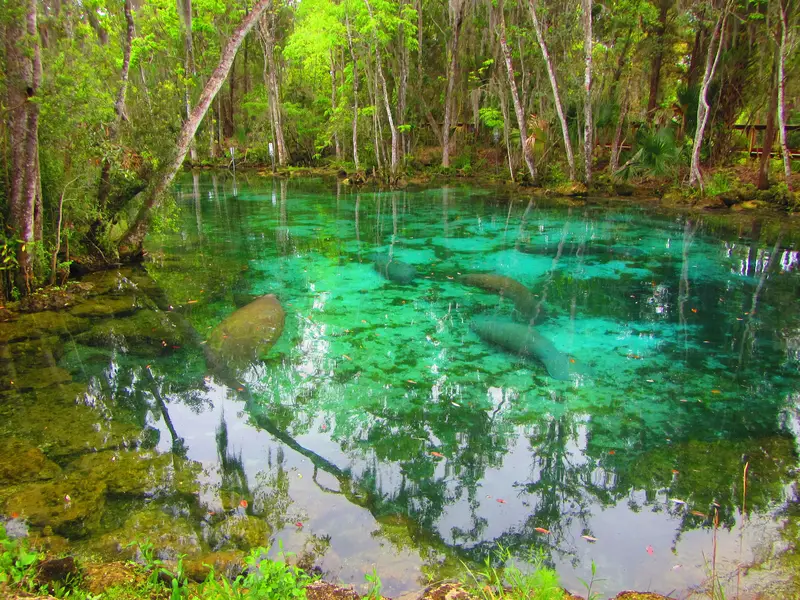 King Spring (probably your best bet in winter)
From the Plantation Adventure Center it's possible to join a boat tour towards King Spring. Before your adventure starts the instructors will hand out wetsuits for snorkelers and explain all applicable snorkel rules. Even though manatees are very friendly, your instructor will tell you not to touch or interact with them. Feeding isn't allowed either. In other words: Simply float and observe.
Manatees are very curious about snorkelers so they'll swim right next to you. If you can, snorkel with a GoPro or any other camera because it could result in some awesome footage and memories. Manatees usually grow up to about 9-10 feet in length, even though some could grow to over 13 feet in length.
Hunter Springs Park (snorkel directly off the beach)
Hunter Springs should be open year-round and provides easy access to shallow water. If you don't feel like joining a boat or kayak tour, this could be a great alternative. There even are picnic areas with barbecue places, bathrooms and some other facilities.
Even though most manatees prefer to swim within the King's Bay area, a few of them "like to be different" and head out to Hunter Springs Park. This means that snorkelers might be able to observe a few manatees in this location, especially in winter. It's important to inquire and stick to the rules (bring a snorkel buddy, a dive flag, stay within the swimming area, etc).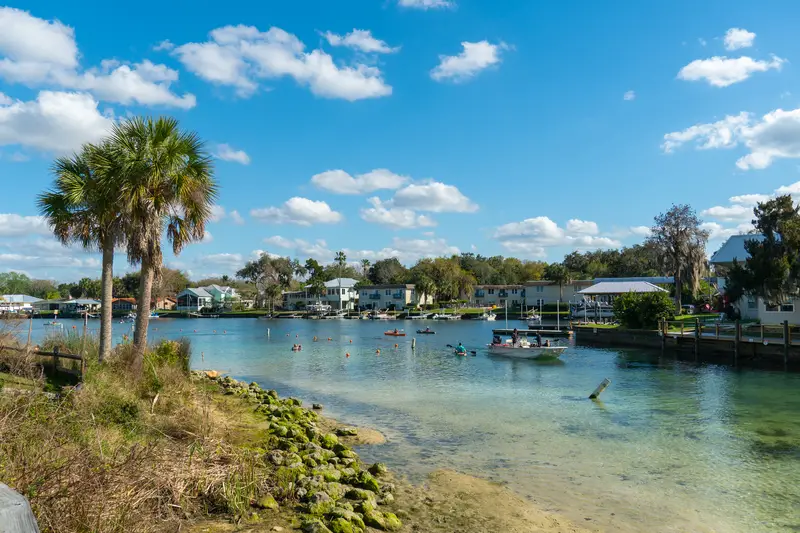 Refuge vs. Sanctuaries
One important thing to understand is the fact that Crystal River (and therefore the King's Bay area) is a manatee refuge. This means that the area is meant to protect threatened and endangered species (yes, manatees are endangered). We can visit the refuge, but we can't disturb its peace by chasing one another on a jet ski.
Sanctuaries, on the other hand, are areas within the refuge that we're not allowed to visit. These areas are only meant for manatees (it is their home so to speak). When snorkeling, these areas are marked by ropes and buoys. We can't swim into the sanctuaries, but manatees can (of course) swim out of them. Since they're naturally curious, they'll leave their "homes" in order to say hello.
Final Thoughts
If you ever wanted to snorkel with manatees, Crystal River is our absolute best pick. Also known as the "Manatee Capital of the World", this protected area offers a safe and comfortable home to these marine mammals. Of course, there are other locations that allow you to observe manatees, like snorkeling Peanut Island for example. Still, if you ask us, when it comes to manatees nothing comes close to Crystal River.
Helpful links:
Discover Crystal River Florida