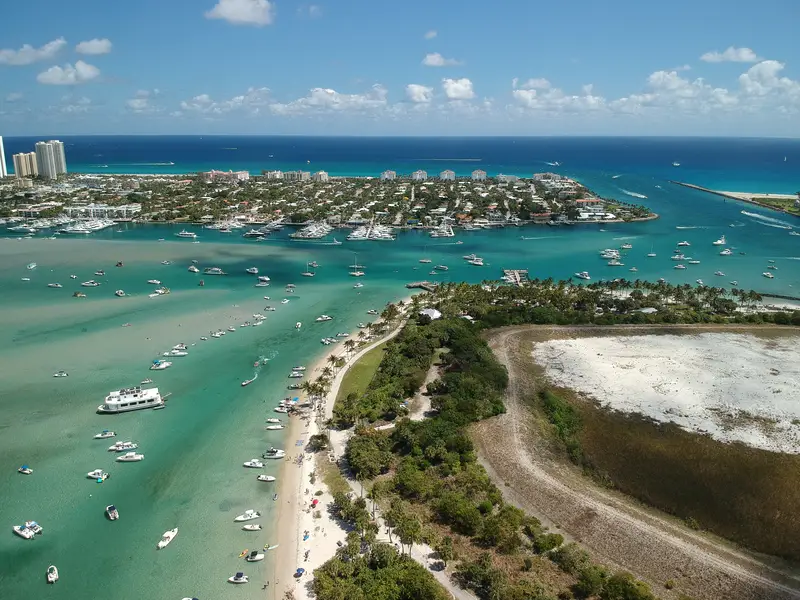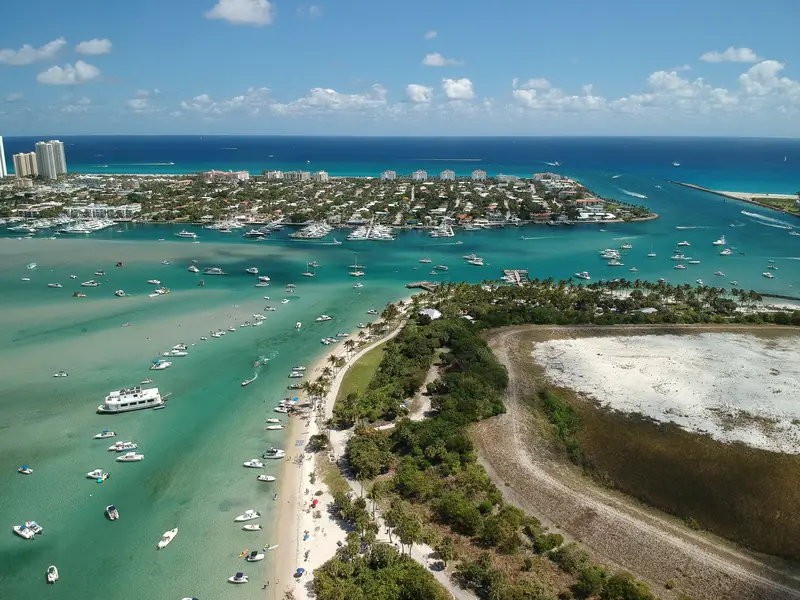 This article is part of our Top 9 Snorkel Spots In Florida.
I covered quite a few snorkel locations near Florida and the Florida Keys. This time, let's take a "snorkeling look" at Peanut Island. Located on the east side of Florida, this 79 acre island-park is situated within the Lake Worth Lagoon, right next to the Riviera Beach Marina (see picture further down below).
A continuous stream of fresh Atlantic Ocean water meets the island through the Palm Beach Inlet (also known as Lake Worth Inlet). As a result, especially the eastern side of the island is packed with a variety of marine life. If you add the white sandy beaches and palm trees, Peanut Island provides amazing snorkeling for both beginners and experts.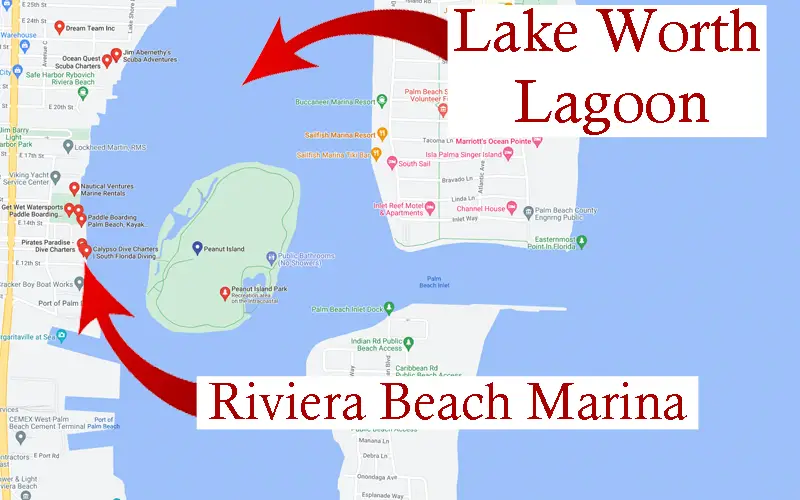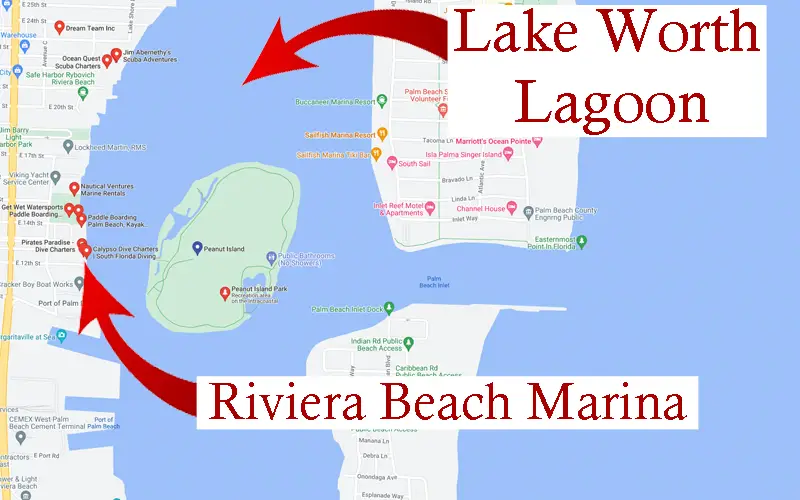 How To Get To Peanut Island
Shuttle Boat
From 10AM to 5PM, a shuttle boat departs every 25 minutes from the Riviera Beach Marine. They do so 7 days a week, even though weekends can be busy. Keep in mind that the last boat towards the island leaves at 3PM, and that the last boat departs the island at 5PM. If you're up for a little adventure, there are quite some campsites that allow you to spend the night (I'll talk about that later). The shuttle boat takes about 10 minutes. Here's a link to their website.
Kayak / Paddle Board
Another (fun) way to get to the island is by kayak or paddle board. If you don't own one yourself, there's a company in the Riviera Beach Marine where you can rent one for the day. This is their website. Kayaks and paddle boards allow you to circle and explore the island. However, the water can be busy with boats so you need to pay close attention.
How Much Does It Cost To Get To Peanut Island?
The shuttle boat to Peanut Island costs $18 for adults and $9 for children (up to 9 years). Renting a kayak or paddle board will probably cost you more. You can also rent snorkel gear for about $20 a day.
The 2 Main Snorkel Locations On Peanut Island
1. The Beach And The Reef (and a little history)
First of all, Peanut Island was not built by mother nature. Back in 1918, the Lake Worth Inlet and the Port of Palm Beach were created by dredging the area. As a result, there was a lot of debris piling up, which eventually created this island. It was decided to use the island for shipping peanut oil, however, that never really happened. Therefore, in 2005, the island was modernized into a recreational park with white sandy beaches, palm trees and an artificial reef on the east side (towards the sea).
A continuous stream of fresh water from the Atlantic ocean brought a variety of marine life towards the island. Especially the reefs have turned into little underwater paradises. You can even observe sharks, rays and manatees (but I'll cover the marine life in just a moment). This is what makes Peanut Island so unique. Where else in the world do you find exclusive fish near excessive human activities?
Once you enter the beach you'll find loads of anchored boats, sunbathing tourists and snorkel enthusiasts. Especially weekends can be crowded. However, the smaller areas between the shore and the reefs allow for perfect snorkeling. You'll find parks, picnic areas and even campsites surrounded by palm trees and walking paths.
2. The Lagoon
Adjacent (towards the south) of the beach and reefs you'll find a man-made lagoon. Especially manatees seem to enjoy these warmer waters, even in winter months. You'll probably meet a few other snorkelers or people who simply enjoy a swim. There are picnic areas, however keep in mind to bring your own snacks as there are no restaurants around. Alcohol is not allowed. Besides snorkeling you can sit in the shade and enjoy the palm trees (or even manatees).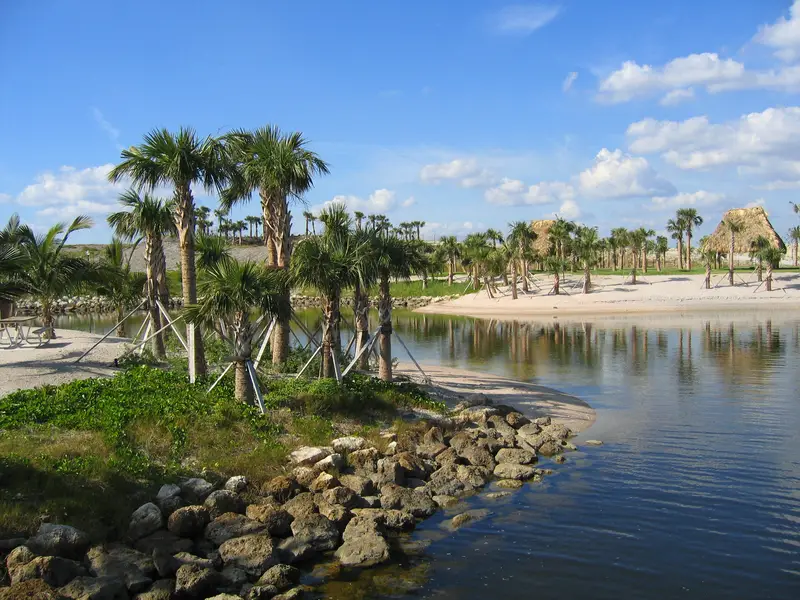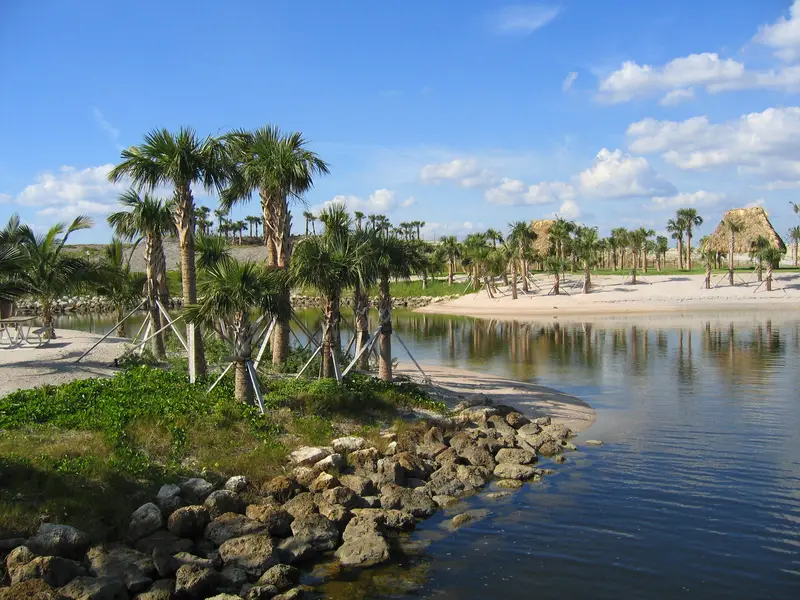 The Marine Life
The crystal clear water with its reefs are an invitation to a variety of fish species. There are various types of parrotfish, angelfish, wrasse, damselfish, barracuda, pork fish, snook, moray eels, flat needlefish, grunts, sea stars, stingrays, sharks, manatees and more.
Be aware of jellyfish and possible stings. As you'll notice, some people prefer to wear a snorkel rash guard.
Manatees are friendly inhabitants of the island. They're present all year round, so chances are you'll spot a few. They usually grow up to 10 feet in length, even though some could be bigger. By the way, if you'd like to observe dozens of manatees, feel free to also read our article about snorkeling in Crystal River.
As with all of the marine life, keep your distance so they don't get scared and swim away. They're used to snorkelers, which makes it a great chance to take some marvelous pictures for people who snorkel with a GoPro.
The average water temperature on Peanut Island is around 78°F (26°C). Here's a video of the marine life to expect:
Travel Tips
Protection
I already mentioned rash guards. Be aware that the best snorkeling is found near the rocky reefs, so protective water shoes for snorkeling could be very helpful. As you'll be spending the day outdoors, make sure to bring sufficient UV protection. I cover reef friendly sunscreen and all kinds of clothing in my article about UV protection for snorkelers. Not all parts of the beach have a lifeguard, so inquire about that. Currents could suddenly show up, so stay in shallow water that you can exit at any time.
Facilities
Like I said, there are no shops or restaurants where you can buy drinks or snacks. So make sure to pack whatever you need for the day. Here are my favorite snorkeling backpacks in case you're interested. Bathrooms and water fountains are available. Camping is only possible on the campsites. Alcohol is not allowed, even though people seem to enjoy alcoholic beverages on the campsites (as long as they behave and don't make too much noise).
Other Florida Snorkel Locations
If you're traveling through Florida, let me provide a few awesome snorkel locations to consider. Opposite of West Palm Bech, so on the west coast, there's great snorkeling on Sanibel Island. For people moving towards the north, or northwest I should say, snorkeling in Destin could be fun. Destin is also known as "the world's luckiest fishing village". If you're heading towards the Florida Keys, try to do some research about snorkeling on Sombrero Beach. It's a great location to combine snorkeling with a variety of water sports. Last but not least, within these keys, snorkeling in Key Largo is great because it hosts the second largest artificial reef in the world. Key West snorkeling is popular too with its 221 miles long barrier reef.
Final Thoughts
Even though Peanut Island is relatively small and close to a busy shore, snorkeling is surprisingly impressive! The diverse marine life around the eastern reefs will keep most snorkelers entertained for the day. Combined with white sandy beaches and chilling manatees, visiting the island is (in my opinion) definitely worth it whenever you're in the neighborhood.