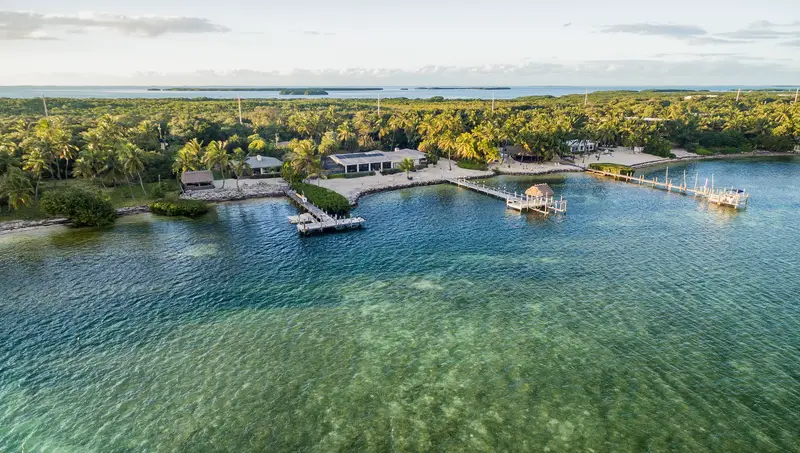 This article is part of our Top 9 Snorkel Spots In Florida.
For anyone visiting Key Largo, if you head southward for about 16 miles (30 minutes by car), you'll enter Islamorada. In my opinion, one of the brightest and most vital snorkel spots within the entire Florida Keys. Yes, these coral reefs with a multitude of fish species should impress you all.
In this article I will only focus on shallow reefs. There are quite a few deeper locations and even shipwrecks to spot, but those are much better if you're a diver. Let me first share my Top 3 shallow reefs for snorkelers before I cover the marine life.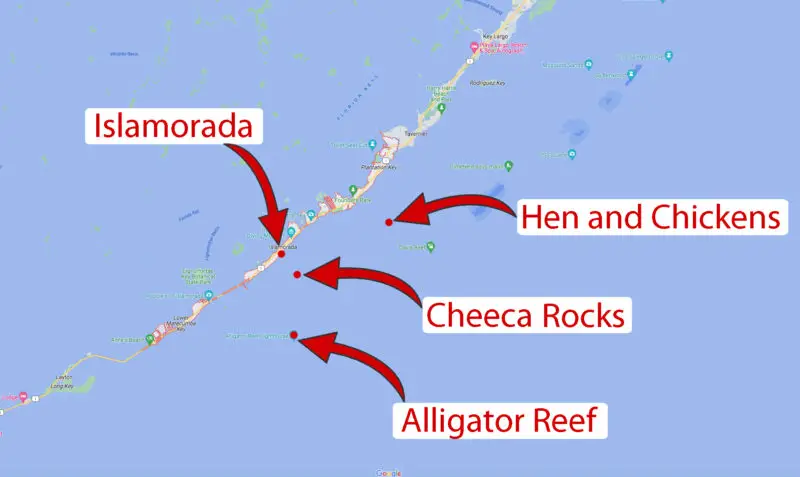 Alligator Reef
If you watch the video below, skip to the 4 minute mark. The name of this reef could raise some eyebrows, but don't worry, you won't find any alligators. On the contrary, this location is packed with loads of various fish species and impressive coral heads. I promised only shallow reefs, so yes, you'll be floating above all the action. If you're an experienced snorkeler you could decide to visit some of the deeper areas (up to about 20 feet).

The Alligator Reef Lighthouse in an eye-catcher, usually surrounded by private boats and touring catamarans. Snorkeling below and around the lighthouse is a delight, really. Compared to some other nearby snorkel spots, Alligator reef offers one of the clearest and bluest waters. Several tour operators are happy to take you on one of their catamarans. A popular company is Robbie's. One of their excursions takes you to the lighthouse for about 2.5 hours (twice a day).
Cheeca Rocks
Cheeca Rocks is my second recommendation for shallow snorkeling in Islamorada. Compared to Alligator reef, the water at Cheeca Rocks could be a little wilder and sometimes even blurrier. If you catch a good day, you'll be just fine. Depths range somewhere between 10 and 20 feet, so you could dive down a little in case you're a good swimmer (like the video below demonstrates). There's a lot of coral to observe in this spot (like brain and mushroom). Who knows you'll spot a few sea turtles.
Even though Cheeca Rocks is closer to the shore than Alligator reef, you're still required to join a tour. Keyz Charters is one of various boating companies that offer a snorkel trip to this location. Captains Samantha and Jenna will gladly take you and your friends on their deck boat and drop you off right above their favorite snorkel spots. Don't be surprised to observe nurse sharks or a spotted ray.
Hen And Chickens Reef
Just like Cheeca Rocks, Hen and Chickens isn't too far out from the shore. The water is usually a little greenish but on a sunny day you'll love to observe this healthy protected reef. Especially sea turtles enjoy different types of coral (like elkhorn, star and brain). Other typical fish species for Hen and Chickens are parrotfish (one of my favorites) and angelfish. But of course, the marine life is huge as you can see in the video below (skip to the 2 minute mark).
Swiss Captain Pascale from Edelweiss is a great pick for a 3 hour boat trip to Hen and Chickens. Her boat accompanies small groups of people, but there are possibilities to request 2 boats. When weather conditions are calm, her tours are also great for beginners. Depths range between 10 and 20 feet (just like Cheeca Rocks).
Marine Life
The clear waters surrounding the shallow reefs allow you to observe a variety of fish and coral species.
The Most Common Fish Species
I already shared a few fish species that are "typical" for individual reefs. However, the marine life is pretty similar for all of them. Chances are you'll observe goatfish, yellowtail, grouper, snapper, angelfish, grunts, blue tang and parrotfish. Possibly you'll also encounter barracuda, sting rays, nurse sharks and green moray eels. Like I said, sea turtles enjoy most of these locations so try to spot a few of them as well. If you're able to dive a little, who knows a lobster or reef crab will come out of its shelter.
The Most Common Coral Species
The Florida Keys contain a huge collection of different corals. Islamorada typically shows you brain, mushroom, elkhorn and star.
My Boat Tour Tips
As you now understand, joining a boat tour is necessary in order to explore the Islamorada marine life. I've joined quite a bunch of different tours so let me share a few important tips and tricks:
Apply sunscreen before you enter the boat. Of course, you need to reapply frequently like I explained in my guide about UV protection for snorkelers. Boats can become a mess if everyone spills their sunscreen, so keep everything clean. Most companies don't like (or allow you to bring) metal cups or plates since they could scratch the boat. Snacks and drinks aren't always available, so bring your own.
Make sure to check if snorkel gear is available and if it's included in the price. You usually pay an extra 10 bucks in case you need to rent basic gear. If you plan to join multiple excursions, it's always best to get yourself a (simple) snorkel set. A mask, a snorkel and a pair of fins aren't that expensive, even by high quality brands. I discuss my favorite ones in my article called snorkel sets for adults and kids. They will be worth it in the long run.
If you can, try to also bring a pair of water shoes. Water shoes can be very comfortable and provide more grip on slippery boat surfaces. Big catamarans often provide bathrooms and showers, so mind your step.
Nearby Snorkel Recommendations
If you're already in the Florida Keys, consider to also snorkel in Key Largo. Key Largo is located towards the north of Islamorada. Even further up north (well, slightly) you could also decide to snorkel in Biscayne National Park.
In case you travel southwards (well, towards the south west actually), it might be worth to read my article about snorkeling on Sombrero beach. Just like Islamorada, you can take a boat tour towards an outer reef that's packed with a vibrant marine life. Traveling even further southwards? Key West snorkeling should make it worth the trip.
Final Thoughts
Islamorada offers a bunch of outer reefs that can only be visited by joining a boat tour. I shared 3 shallow reefs that are great for snorkelers. Most of the other reefs are better suited for divers. Crystal clear blue (and green) water allow for great visibility. Impressive corals, various fish species and even sea turtles make this a great location for anyone visiting the Florida Keys.
Our Summary Video: