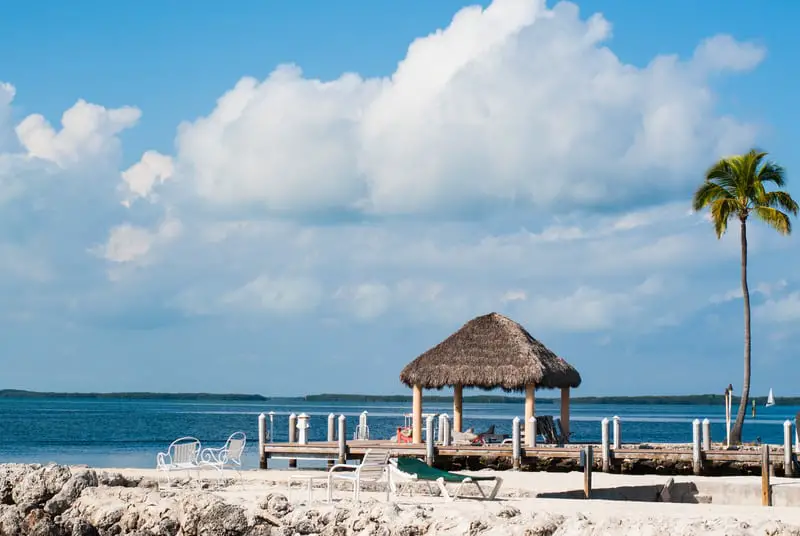 Introduction
Key Largo is the first series of keys that make up the Florida Keys. In addition, it's home to the second largest artificial reef in the world. Although there is no end to the activities and adventures, vacationers love to snorkel when they visit. 
For the best snorkeling, travelers take a boat out to one of the reefs. The most popular attraction is the John Pennekamp Coral Reef State Park. They have two beaches within the park where snorkeling is available without taking a boat out. This is the only place to snorkel directly from the beach.
Key Largo Boat Charters For Snorkeling
There are many different private charters and boat tours that take snorkelers out to the barrier reef. This is the second largest artificial reef in the world. An artificial reef is made when a number of different manmade materials are scattered on the ocean floor to attract marine life. The National Marine Sanctuary in the Florida Keys is currently the only marine sanctuary that has approved artificial reefs inside of it's boundaries.
The best way to get out to the reefs is through a boat tour or a private boat charter. People who want to snorkel can take a boat from the John Pennekamp Coral Reef State Park, as well as a number of other boat charters. There are a number of sites to visit near Key Largo and there are many species of marine life to see.
Tip: If you easily experience motion sickness, taking a boat charter could have a major impact on your excursion. Learn tips and tricks from our article about snorkeling and seasickness.
White Banks Dry Rocks And Christ Of The Abyss
Dry Rocks is located seaward of White Banks within the Key Largo National Marine Sanctuary. It has two patches of shallow reefs that are perfect for snorkeling Florida. The reefs are connected by a sandy channel. It's pretty close to the shore, it has low currents and it's sheltered from the wind. The water ranges from shallow to 15 feet deep. Anyone from beginner to expert level will enjoy snorkeling there.
It's called the Dry Rocks because the reefs come out of the water during low tide. Nearby, the underwater statue Christ of the Abyss, is a huge attraction. Even though it's more suited for divers, snorkelers certainly can see it from above. Often these two locations are combined in one excursion.
There is a tremendous variety of marine life and the coral reefs have incredible colors. There are a number of different types of tropical fish and invertebrate life to explore.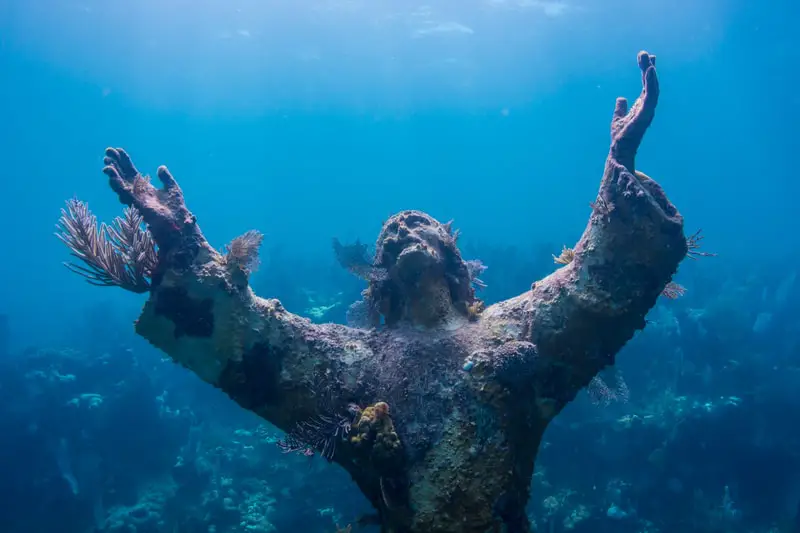 Grecian Rocks
Located one mile south of the Dry Rocks, Grecian Rocks is another very popular spot for snorkeling in Key Largo. There's a shallow reef, although parts of it are up to 25 feet deep. It's great for beginners up to novice snorkelers. You can even swim from the boat to the reef quite easily. Snorkelers enjoy seeing brightly colored tropical fish of all species as well as brightly colored coral. Below on the ocean floor you'll find sea grass and Queen conch shells.
The sandy areas closer to the reef have rays which bury themselves in the sand. The main types of marine life seen are rays, sergeant major fish, parrotfish, goatfish, barracuda, blueheads, blue tang and brain corals.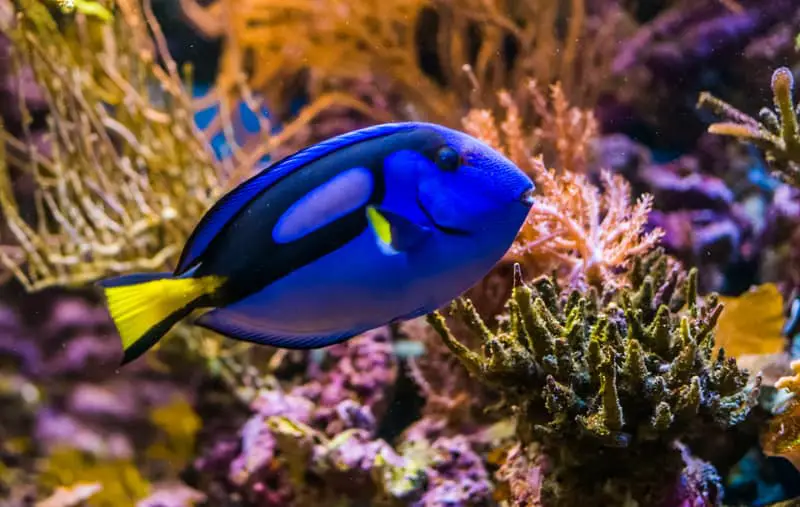 Molasses Reef
Many people consider this reef to be among the most beautiful. It has a lot of variety with spur and groove coral formations. This is where schools of tropical fish and other marine life love to swim. It's thought to be the reef most visited in the entire world. 
It's about six miles off the shore and sits on the edge of the barrier reef. The weather and ocean conditions must be calm to snorkel here. But of course, we all know to never take any risks and to never snorkel alone. That's why these boat trips can be so fantastic.
People who snorkel here especially enjoy watching the sea turtles, in addition to parrotfish, eels, elkhorn coral, brain coral, and nurse sharks. The reef is further out, so there are larger species of fish, including Goliath grouper. This location usually offers great visibility because the ocean currents continuously flush out the reef. They recommend novice level experience for this site.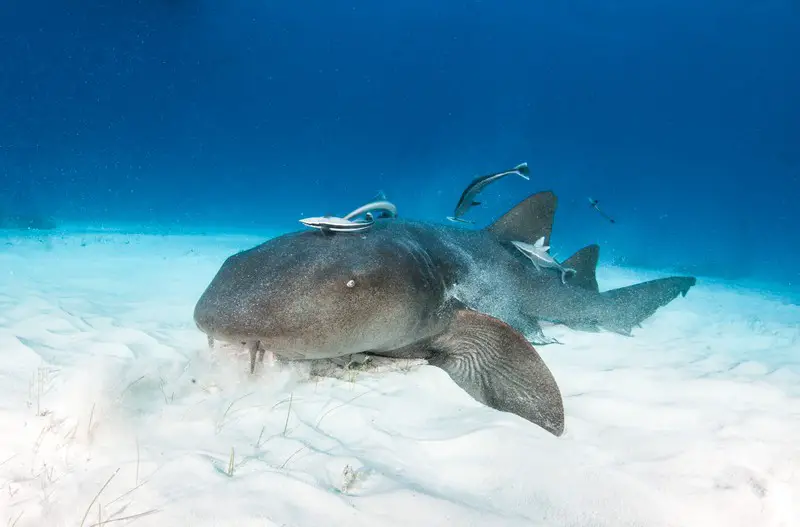 The Elbow
This reef has an angular shape, which gave it it's name. It consists of spurs and grooves across the reef. The fingers of coral are distinct and have sandy passages between them. The spurs are long and they are remarkable to see.
In addition to the wide variety of marine life, snorkelers enjoy seeing remains of a Civil War wreck. In 1866, a 752-ton steamer sunk here, and the remains of two other wrecks are here as well. There are fingers of elkhorn coral throughout the wreck which makes it a beautiful thing to see. The recommended level for this location is novice as well.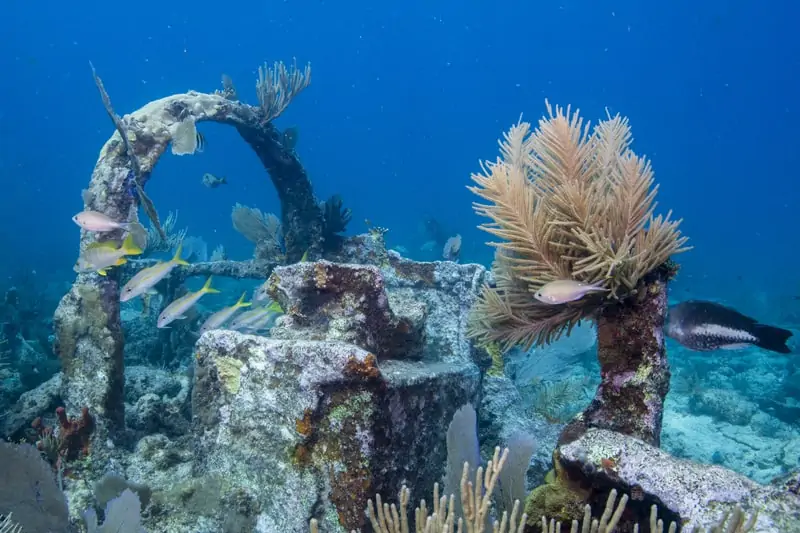 Snapper Ledge
This location gets it's name from the numerous schools of Yellowtail snapper swimming though the reef. It's a shallow reef. There are many different fish here, as well as an abundance of other marine life. Species include moray eels, goatfish (also found in Hanauma Bay, Hawaii), rays, octopus, spider and arrow crabs, sea urchins, hawk fish, nurse sharks, lobster, corkscrew anemone and numerous others. Novice level experience is recommended.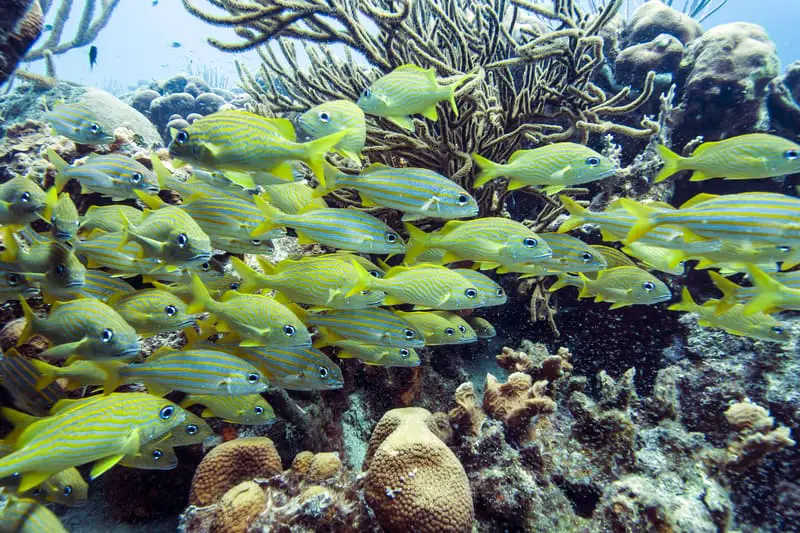 Sea Gardens
Also called Mosquito Bank, snorkelers will find beautiful and healthy soft coral here on this patch reef. Anyone from beginner to advanced experience levels can enjoy snorkeling in this location. There is a wide variety of tropical fish. 
This is one of the lesser visited reefs by the big tour companies, and as a result, the reefs are healthier. It's a smaller reef, so even when boats go, they take fewer people. This reef has hard and soft corals and large sea rods rise up from the sea floor.
You'll find colorful sponges, finger coral, lobed star coral and fans. There are fewer fish, but the collection of corals makes up for it. Some of the tropical fish include parrotfish, Yellowtail snapper, blueheads, trumpetfish, pufferfish, blue tangs and angelfish.
Tip: If you love underwater photography, this could be a great spot to consider. Our article about snorkeling with a GoPro could be a fun read for you as well.
John Pennekamp Coral Reef State Park Boat Tours
The John Pennekamp Coral Reef State Park gives easy access to the most popular coral reefs in Key Largo. The park was named for a Miami newspaper editor who was environmentally conscious. It offers a number of ways to experience the amazing marine life and coral reefs, including snorkeling. Visitors can take a boat to most of the locations listed above from the park.
Snorkeling Off The Beach In Key Largo
There are two beaches within the John Pennekamp Coral Reef State Park where visitors can snorkel off the beach. These two beaches are really the only choices besides going out on a boat. The park is surrounded by mangroves. There are different kinds of fish and other marine life to see. However, there is no coral off the beach. To see coral reefs, visitors need to go out on the boat.
There's also a shipwreck from a Spanish ship about 100 feet off the coast, which can be interesting to explore. For people who don't want to take a boat out, the beaches offer some snorkeling, primarily marine life and the Spanish shipwreck.
If the ocean is calm and not very cold, snorkeling directly off the beach could be a fun way for kids to give it a try. If you're interested, make sure to read our giant guide for snorkeling with kids.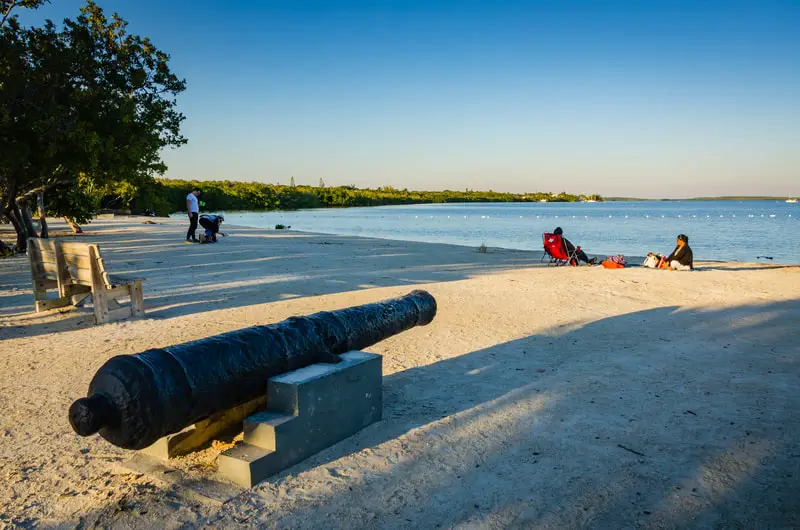 Key Largo Climate
Key Largo usually provides a warm and comfortable climate to snorkel. The average annual temperatures range between 70°F and 84°F. Summer months are the warmest. Maximum temperatures in June, July, August and September could exceed 90°F. The minimum temperatures in these months are somewhere around 75°F. Winter months are a little cooler, but still enjoyable. Average temperatures within these months range between 60°F and 75°F.
From June until October the water temperature is the warmest. This could be important for us snorkelers, especially if you prefer to swim in comfortable circumstances. These 5 months will provide average water temperatures of around 82°F. Winter months show a lower average water temperature of around 75°F. This could be the case in January, February and March.
The rainy season lasts from May until October. September often provides the most amount of rain, whereas January seems to be the driest month. More information about the climate in Key Largo can be found here.
Conclusion About Snorkeling In Key Largo
If a visitor truly wants to see coral reefs and a variety of marine life, it's best to go out on a boat tour. There is so much to see beyond the marine life, including shipwrecks. In addition, there is the statue of Christ of the Abyss. Each of these attractions is worth seeing.
The barrier has some of the healthiest coral in all of Florida. Smaller and less visited locations will have the most vibrant coral, but the coral is amazing at most of these locations. The marine life includes sea turtles and sharks in addition to numerous species of tropical fish. People can expect to see Yellowtail snapper, parrotfish, and blue tangs, as well as sergeant majors and blueheads.
Most of the sites are located near each other. They are accessible from a boat that departs John Pennekamp Coral Reef State Park or by private charter. Depending on how much a person wants to see, a private charter may make the most sense.
Key Largo is one of the most popular destinations in Florida for snorkeling for many reasons. The ocean water is clear turquoise and warm all year round. The visibility is fantastic and the efforts to create the world's second largest artificial barrier reef are clear. In addition, there's a lot to see. 
The reefs are healthier than most. There's so much to see that one could easily spend the majority of their vacation snorkeling. The best thing to do is relax, go out on a boat tour, and bring a camera to keep memories of an unforgettable experience.
Other popular and interesting locations for snorkeling in Florida are Key West and Destin.