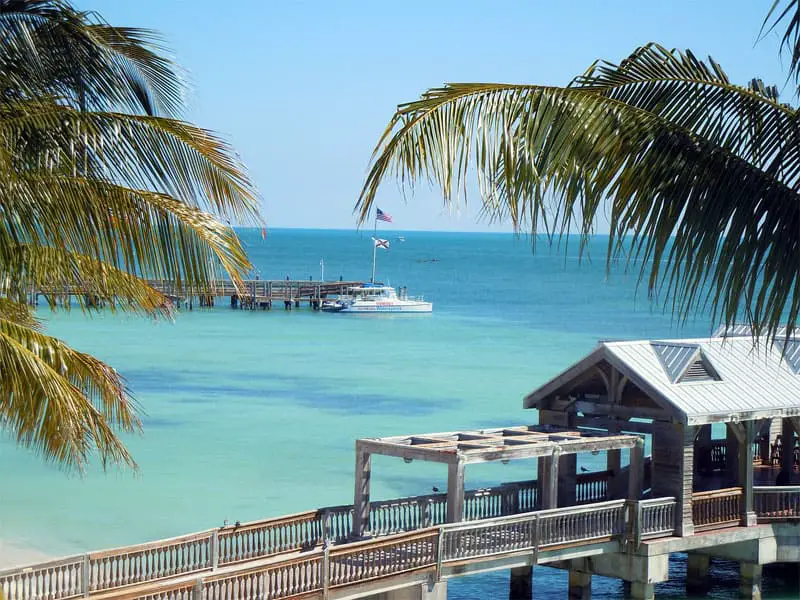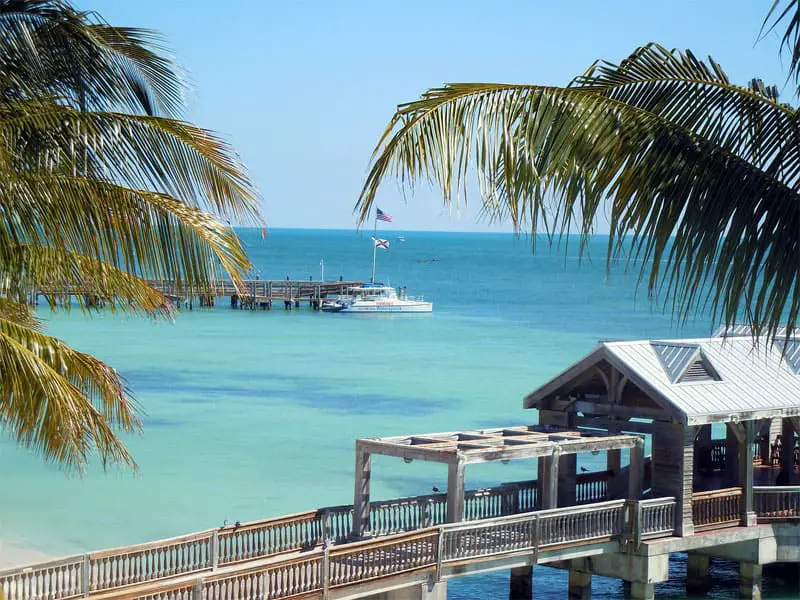 This article is part of our Top 9 Snorkel Spots In Florida.
Located 150 miles south of the mainland of Florida, at the tip of the Florida keys, Key West is an extremely popular paradise for vacationers. It boasts North America's only coral barrier reef.
Snorkeling is a very popular activity because of the clear, shallow waters. There are quite a few places to see tropical fish, living reefs and sea turtles. Key West has a few beaches for snorkeling, and there are quite a few boat charters that take snorkelers to amazing areas nearby.
Summary Video of this article:
Key West Snorkeling Boat Tours
There are a number of boat tours available. A popular one is Fury. The Florida Barrier Reef is the third largest coral barrier reef system in the world, and it's North America's only living coral reef.
Tip: Even though these tours can do the trick for most of us, some people experience motion sickness when floating on the ocean. If this is you, maybe after reading this article, check out our tips and tricks about snorkeling and seasickness.
The barrier reef system is known as the Florida Straits, and there are a number of places to explore. It's a National Marine Sanctuary, which means the area receives special protection. There is nothing remotely similar within the United States. If you ever make it to Key West, these are our favorite snorkel spots:
Sand Key Lighthouse Reef 
Sand Key Lighthouse Reef is located 7 miles west of Key West. It's part of the Sand Key Sanctuary Preservation Area. The reef is known for its red iron lighthouse, which was built in 1853. When it was discovered by Spanish explorers, they called it "Cayos Arens," which means "Sand Island".  The amount of sand however changes, depending on the weather. 
The lighthouse is encircled by a spur and groove reef. There are ridges of coral that form the spurs. They range from 5 to 20 feet in depth, with sandy grooves to explore. You could discover fire coral in several locations. Furthermore, it's one of the healthiest sections of the barrier reef.
When snorkelers visit the northwest side of the reef, they see coral heads and other mixed rubble that is close to the lagoon. On the south side, the reef gradually slopes away, with a ledge at around 65 feet. In some places it even drops to 90 feet. 
Snorkelers will come across many types of tropical fish and other marine life. Sand Key is protected with a "no-take policy". This adds to the reason why the reef is one of the best natural destinations for snorkeling in Key West.
Tropical Fish And Marine Life In Sand Key Lighthouse Reef
There are large schools of fish living in Sand Key Lighthouse Reef. Snorkelers will likely find snapper, angelfish, grunts, parrotfish, triggerfish, hogfish, trumpetfish and butterflyfish. In addition, there are two species of sea turtles: The Hawksbill and the Loggerhead. Finally, nurse sharks and bull sharks live near this reef, so encountering them on the reef bottom is a strong possibility. Bring your GoPro!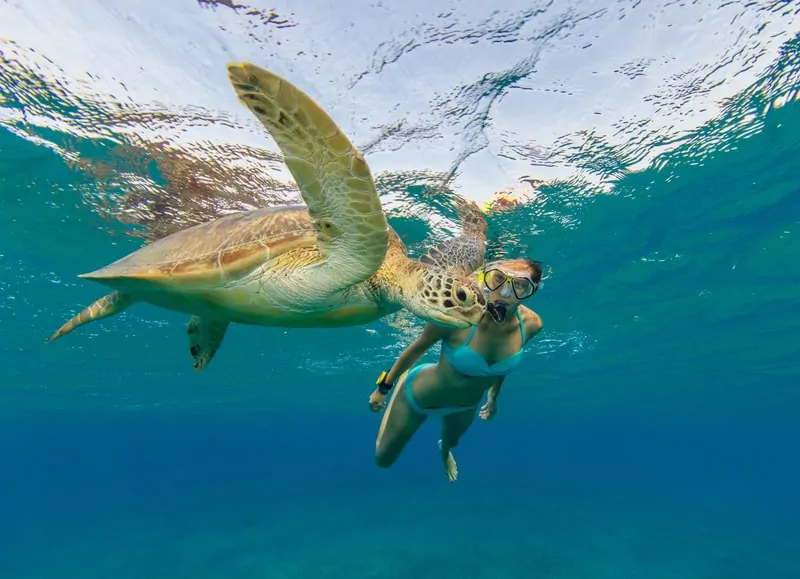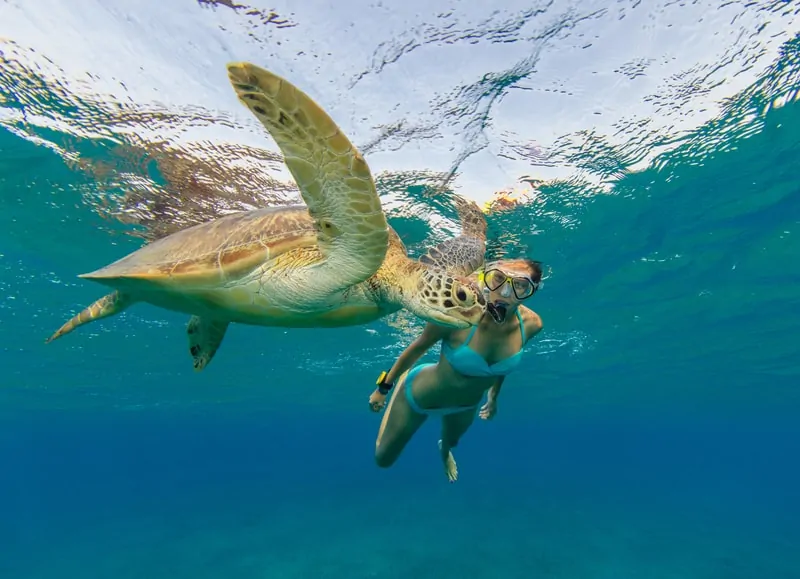 Rock Key And Marine Life
Rock Key is a mile east of Sand Key Lighthouse. It's a well-known dive site. However, it's also popular among snorkelers because of its flourishing coral and marine life. The coral at Rock Key has deeper and wider crevices, which function as hiding places for tropical fish.
Snorkelers will find blue tang, sergeant major fish, parrotfish and yellowtail snapper. But there are other types of fish swimming around the canyons of coral as well. In addition, sea turtles and nurse sharks are found in this spot.
In the 1800's, a ship from Barcelona is said to have sunk after running aground at Rock Key. Furthermore, there's a second wreck that's still unidentified at this location. Artifacts from these shipwrecks are scattered throughout the coral reef. This is also part of the Sanctuary Preservation Area, so nothing can be removed (not that ship remains are easy to take with you, but you get my point).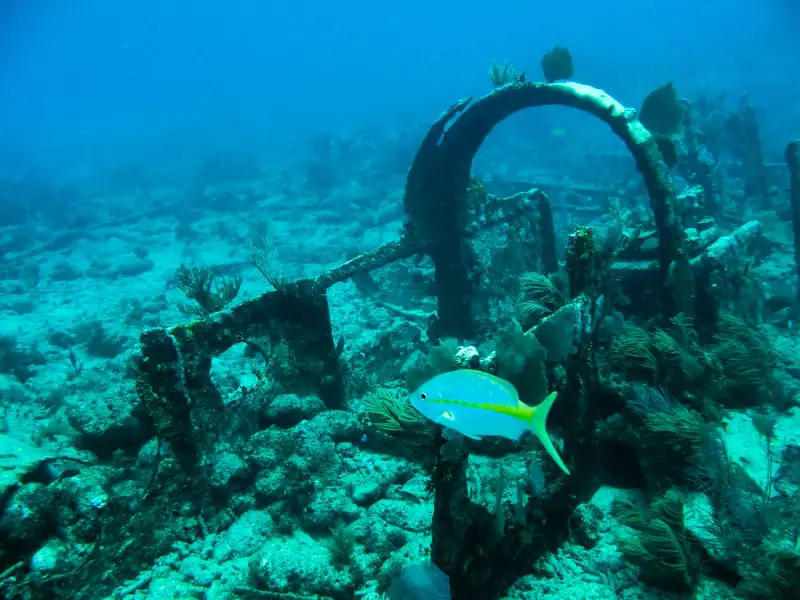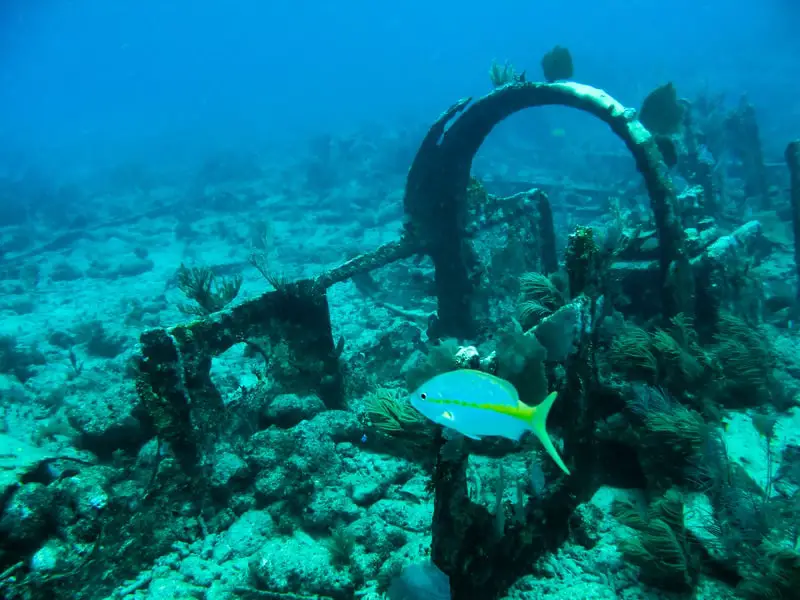 Eastern Dry Rocks And Marine Life
Eastern Dry Rocks is right next to Rock Key, a mile from Sand Key Lighthouse, and 7 miles from Key West. It's also part of the Sanctuary Preservation Area. Rubble zones and long fingers of coral are separated by coral canyons and deep sand. It ranges in depth from 5 to 35 feet.
The tropical fish and marine life are similar to what is found at Rock Key and Sand Key Lighthouse. Snorkelers will find nurse sharks and hammerheads, as well as brain coral, snook, shrimp, reef crab, octopus, lobster, parrotfish, stingray, angelfish, sergeant major fish, barracuda and sea turtles.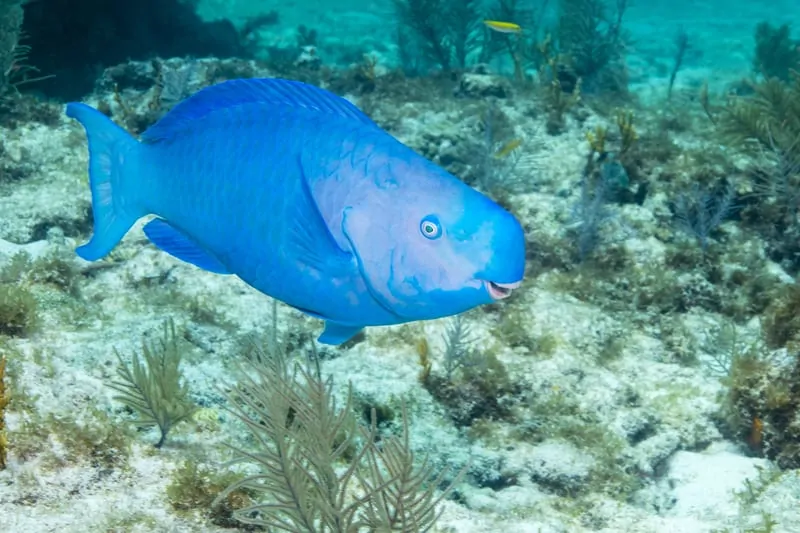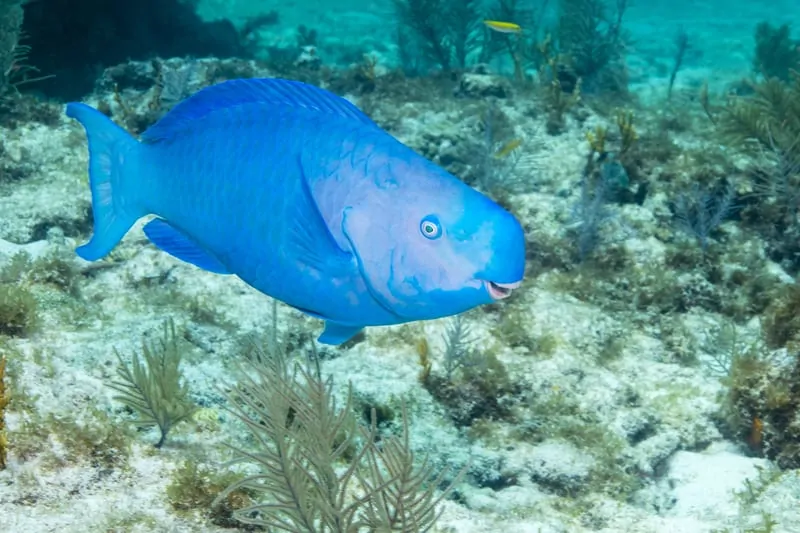 Western Dry Rocks And Marine Life
Western Dry Rocks is located about 3 miles west of Sand Key Lighthouse and 7 miles southwest of Key West. It's popular for snorkeling, but there's less traffic than the spots mentioned above. One of it's advantages is a larger variation in depth and therefore marine life. The reef has more cracks, ledges, caves and crevices than other nearby spots.
The marine life includes hammerhead and nurse sharks, as well as barracuda and snapper. You'll also spot grouper, spotted eagle rays, blue tang, parrotfish, yellowtail, grunts and tarpon. Snorkelers will meet sea turtles and moray eels as well. Corals to be found are elkhorn, staghorn and a few others.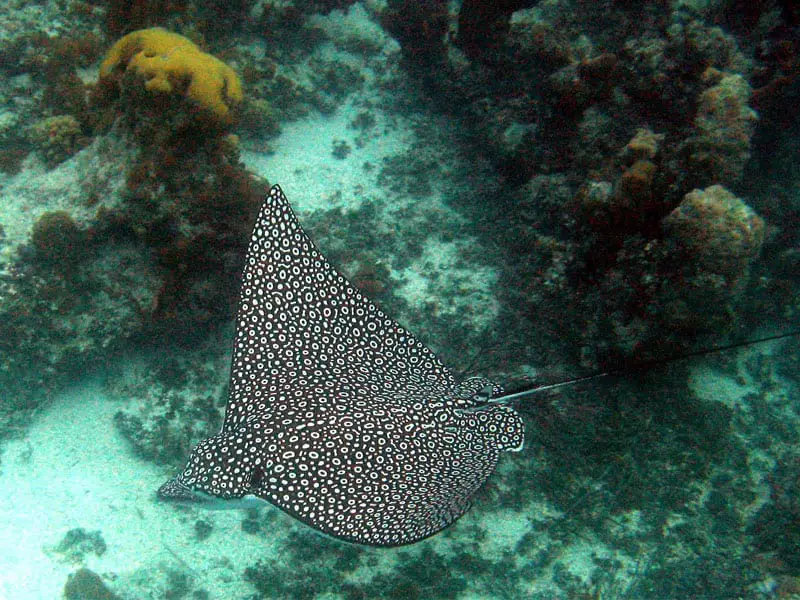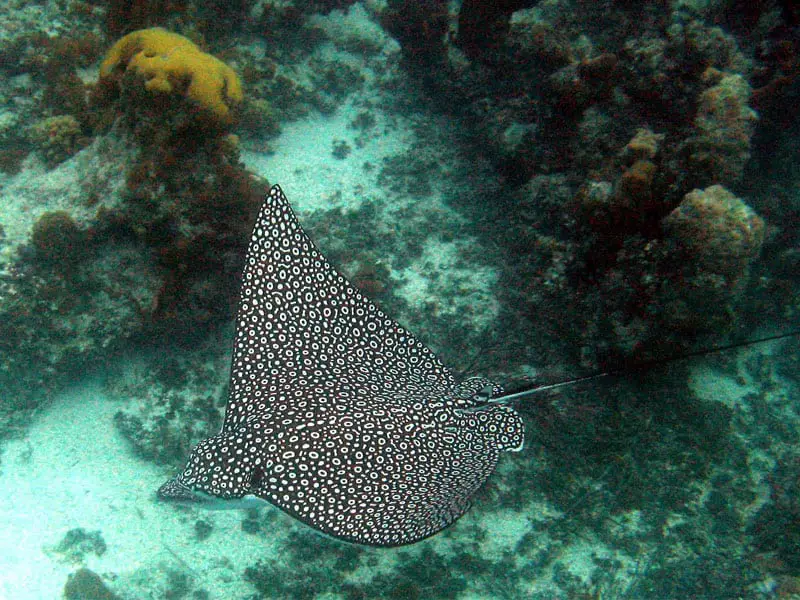 Cottrell Key And Marine Life
Cottrell Key is named after a ship captain who kept his boat near the key and used his warning beacon to make sure that others passing by didn't run ashore. This group of islands is found on the West side of Key West, about 5 miles into the Gulf of Mexico. Cottrell Key is a mangrove island with a coral reef and a sponge garden in shallow water. The sandy bottom is covered in seagrass and coral. Snorkelers often observe sea urchins and conch shells moving across the ocean floor.
In addition, Cottrell Key has a diverse population of larger marine life, including snapper, stingrays, sea turtles, Goliath grouper, parrotfish, and some different species of sharks.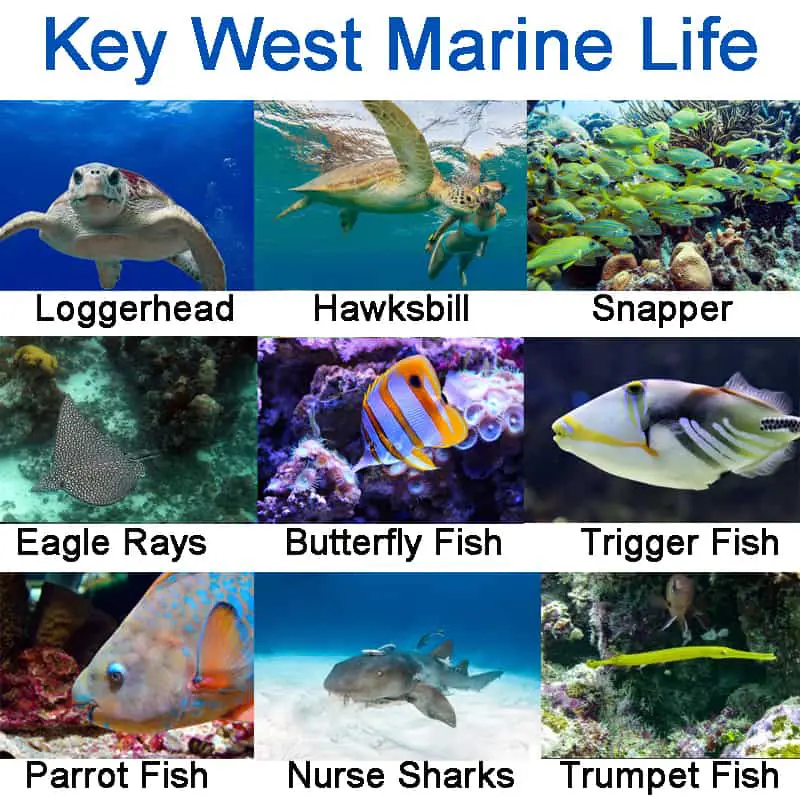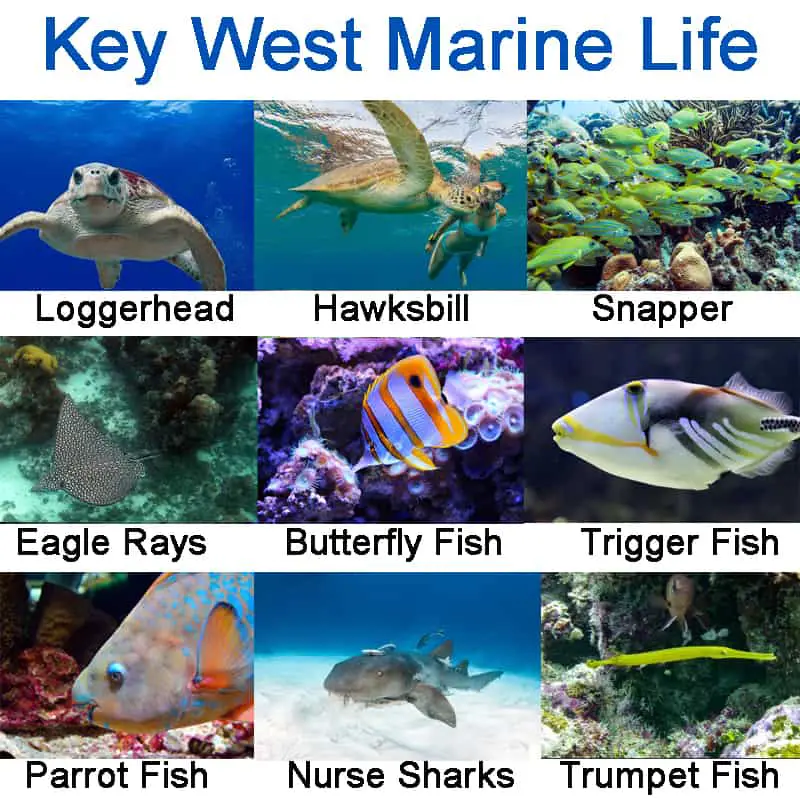 Dry Tortugas National Park
Dry Tortugas National Park is a bit further away, located 70 miles west of Key West. You'll find this park at the end of the Florida Barrier Reef. It takes around 2.5 hours to get there by boat. Adventurous snorkelers sometimes even travel by sea plane to reach this incredible spot.
There are 4 different snorkel spots within the area: The first one is outside the moat wall. Snorkelers enter the water from a white sandy beach. There are different species of marine life, many of which are immature. In addition, there are sponges and coral. Two other spots are close to the shore on other sides of the park. The last spot is further offshore. Snorkelers swim between 150 and 240 feet out to reach it. This is where the patch reefs are located, which run parallel to the fort wall. It's worth the swim, but you need to be experienced.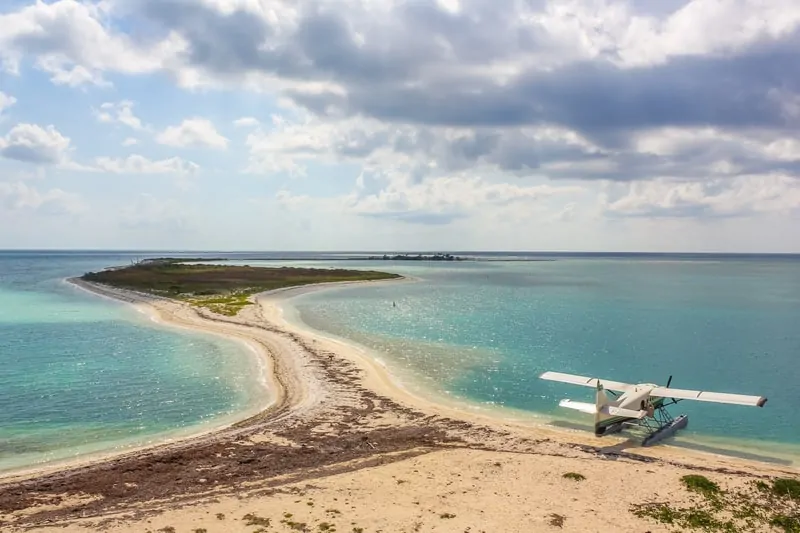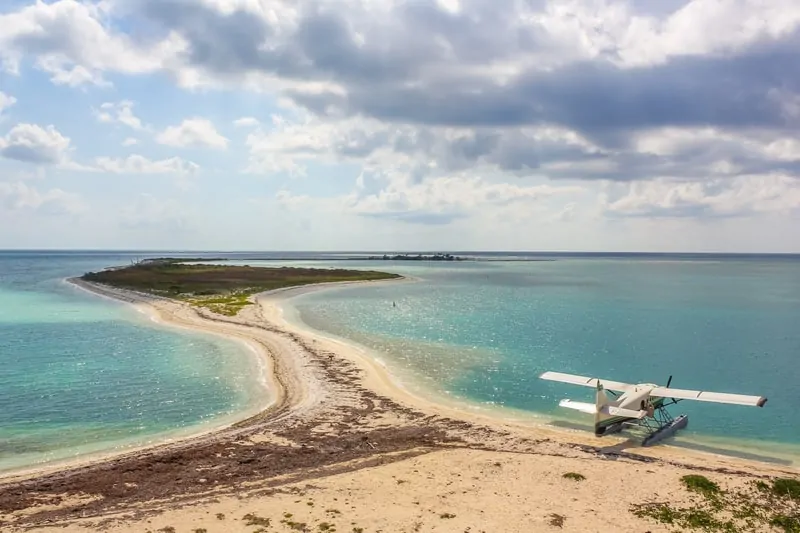 Snorkeling Off The Beach In Key West
There are a few options for snorkeling directly off the beach. If you don't want to join a boat tour, these are our tips:
Fort Zachary Taylor
You can enter the water directly off the beach and observe quite a number of different fish species. Chances are you'll see parrotfish, yellowtail snapper, hard and soft corals and sometimes even lobster. In addition, there is a spot for fishing if that's your hobby. You can just as well follow one of the trails through birds and plants. In other words, this park offers more than just snorkeling.
Higgs Beach
Higgs Beach is next to Casa Marina. The marine life may be limited to smaller fish species, but it's still an interesting spot to consider.
Smathers Beach
Smathers beach is close to the airport and offers a few fish species. In our opinion this location is more about chilling on a white sandy beach. But yes, snorkeling is decent.
Snorkeling off the beach can be a great way for kids to learn how to snorkel. At least, when the ocean is calm and not too cold. If you're interested, please read our complete guide for snorkeling with kids.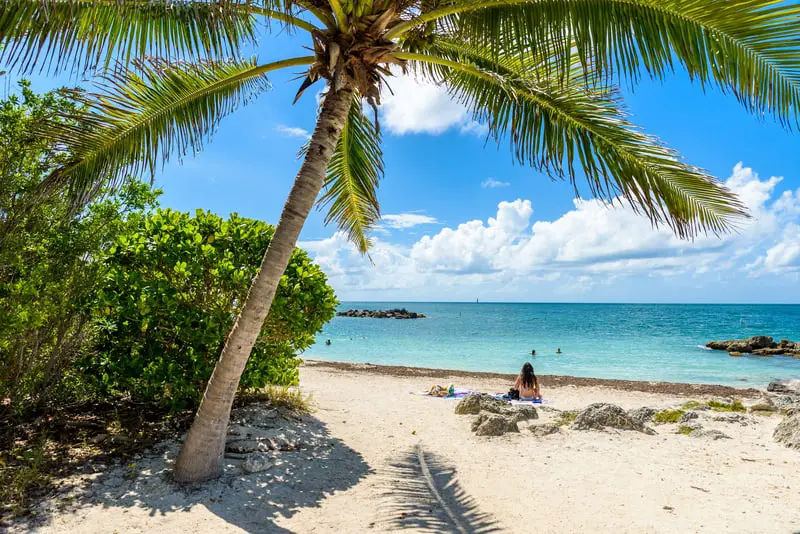 Final Thoughts
Even though its possible to snorkel directly off the beach, the best snorkel spots are out on the reefs. Key West has experienced a great deal of traffic in its waters. As a result, there's a lot of bleached coral and fewer species of marine life. We're not saying that snorkeling isn't fun, you just need to join a boat tour and get away from the crowd.