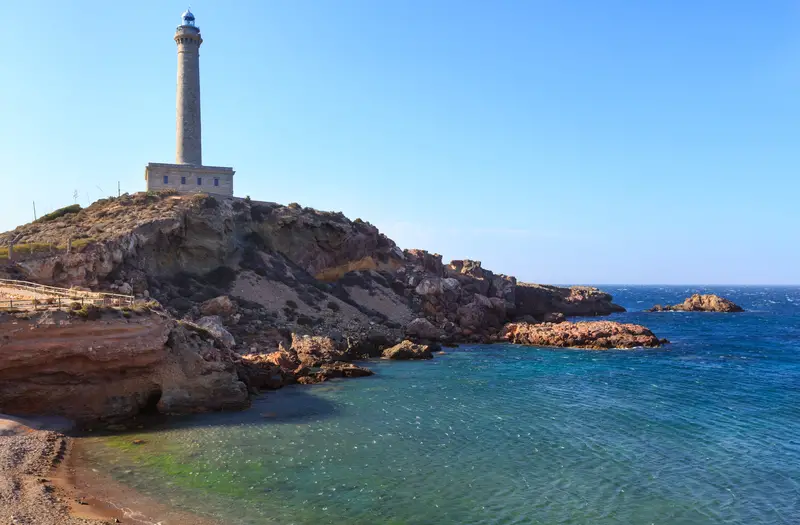 This article is part of our guide for snorkeling in Spain.
Often referred to as "Cape Palos", Cabo de Palos is a cape in southeastern Spain within the region of Murcia. This fishing village is known for its delicious seafood and appealing rocky coastline. At the most eastern tip of this peninsula there's a small beach called "Playa de la Calafria", next to its popular lighthouse.
As you can see from our map below, the cove is partially protected from winds and currents. Of course, currents can still enter the cove which means that snorkeling is not always a possibility. However, if you catch a calm sunny day in summer, chances are you'll be just fine. If you're not traveling by car, consider to join one of the available snorkel tours.
Snorkeling
Entering the water
As you can see from the picture below, a few stairs guide you towards a small and sheltered beach. The beach itself is partially rocky and partially sandy. It's definitely possible to sunbathe, just don't expect to build gigantic sand castles. Many people bring a beach umbrella.
Entering the water is simple, just watch out for a few rocks here and there. You'll find the water to be quite shallow next to the beach and next to the rocky walls. Deeper areas are meant for scuba divers, however, the shallow water is already worth it.
Marine Life
Cabo de Palos is part of a marine reserve. The ocean floor is partially rocky and partially sandy with a good amount of seagrass. Common fish species to observe include seabass, rainbow wrasse, bream, moray eels, mullets, sea cucumbers and starfish. If you're lucky you might even observe a barracuda or octopus.
Snorkel Tours
Even though parking and accessing the beach are as simple as things can get, consider to (at least) do a little research about available tours. Adventure Divers & Activity Center is one of your options. They provide transportation, floating accessories, snorkel gear (including wetsuits for snorkelers), fish identification cards and even drinks/snacks.
Make sure to bring your own towels and UV protection. They also offer scuba diving courses and excursions in case that's what you're after. We usually find these tours to be worth it because the instructors know exactly where the marine life prefers to hide.
Climate
June until September are usually the hottest months with the least amount of rain. August is the warmest month with an average maximum temperature of about 82°F. Even though snorkeling is often possible on calm sunny days, always inquire if weather conditions and possible currents actually allow for snorkeling. More information about the climate in Cabo de Palos can be found here.
What Else To Do
You can easily spend the entire day at Cabo de Palos. Like we said, if you prefer seafood try to visit one of the many restaurants. You'll find plenty of bars as well and even a shopping center. The market on Sunday morning could be fun in case that's the day you're planning a visit.