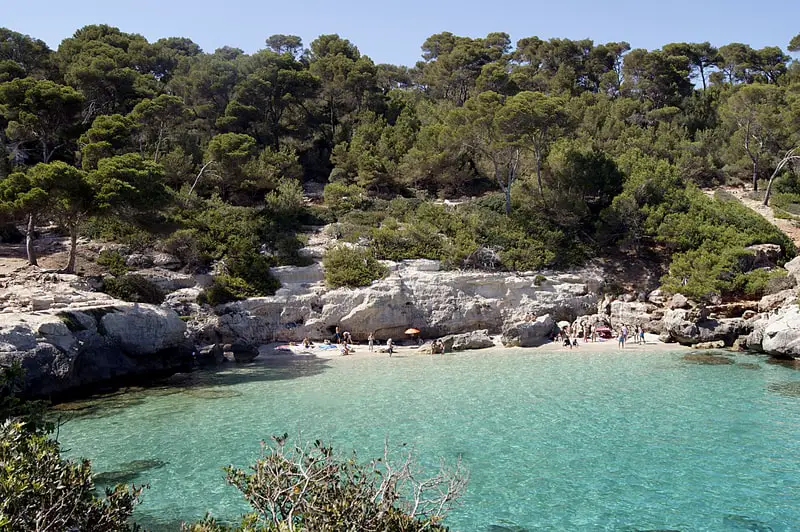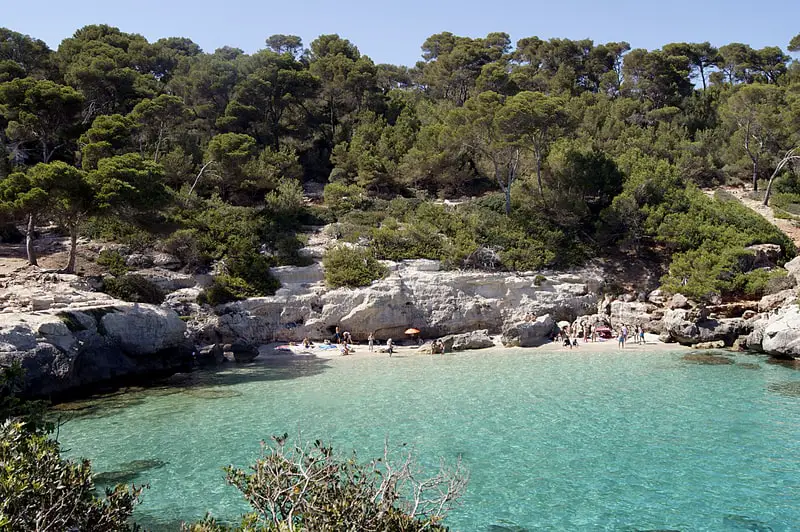 The east coast of Spain borders the Mediterranean Sea, which is a huge area full of marine biodiversity. Although the Mediterranean is a mere 1% of the entire world's ocean surface, it contains approximately 8% of the world's sea life. It's full of Neptune grass seabeds, which creates an incredible environment for a lot of marine life, even in shallow waters.
In addition to numerous beaches and shorelines, Spain has 10 National Marine Reserves. No matter where you go, Spain offers snorkeling from the north to the south. Let us cover some of our favorite Spanish snorkel spots:
Medes Islands
The Medes islands are located near the town of L'Estartit. It's a protected area with an incredible marine life. The Medes Islands is an archipelago with 7 different islets. Their ecosystem has received massive protection and conservation efforts for the past 20 years. We heard it's the best natural reserve in the western Mediterranean. 
Shallow areas contain dense groups of seaweeds and more than 100 brightly colored fish species. You'll need a wetsuit because the water is very cold. Expect to explore the following marine life:
Sea bass
Sea horses
Wormwood
Barracudas
Sea stars
Moray eels
Red mullets
Breams
Groupers
If you want to snorkel in Spain, this is one of the best places to consider. It's only a short boat trip from L'Estartit. Since the area is quite rocky, it's good to stay close to the boat so you can quit anytime you wish. Some people bring buoys to hold on to in order to save their energy. Life vests will help you out as well. All together a fun trip with awesome views from the boat.
If you're interested, feel free to check out the website of Medaqua. They share more pictures about the location and the marine life. Boat trips and other excursions can be found on their website as well.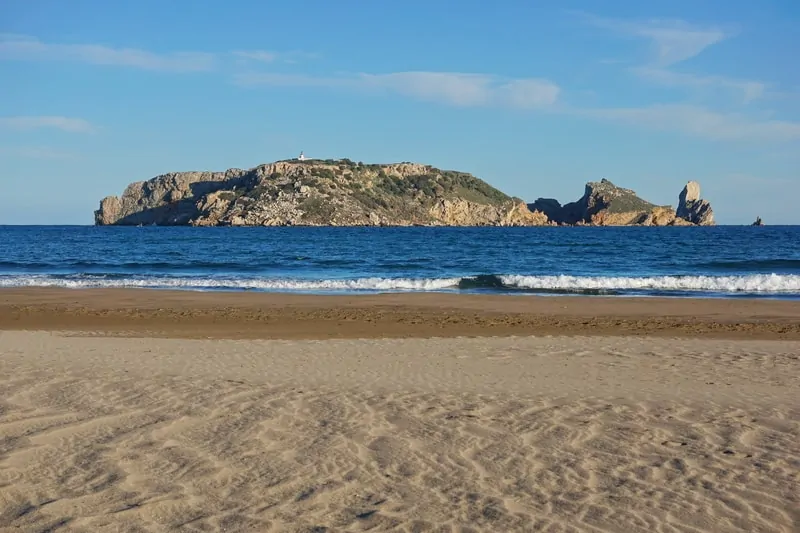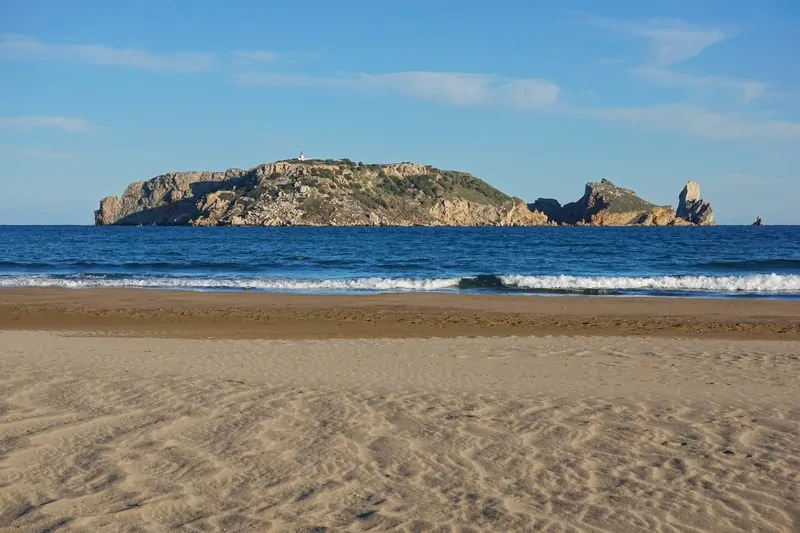 Masia Blanca Marine Reserve
Masia Blanca, located north of Tarragona, is a marine reserve that spreads along a sandy beach. You'll find sand dunes that are formed by the winds, usually full of plants. The sea bed is famous for it's Neptune grass which houses many different species of marine life. 
There are coral communities that run perpendicular to the coast. Furthermore, there is plenty of octopus, cuttlefish, mother-of-pearl, red mullets, groupers, gilt heads and sea bass. You will find a great biodiversity among the beautiful sea fields. There are so many species, even some that are extremely rare to spot in nature.
Mallorca And Menorca
Mallorca and Menorca are 2 of the 4 largest islands that form the so called "Balearic Islands". Another one is Ibiza (feel free to also read our guide about snorkeling in Ibiza). Mallorca and Menorca are located in the Mediterranean, 162 miles east of Valencia. Currently there are 2 ferries that transport people to these marvelous islands. This trip takes about 7-8 hours.
Both Mallorca and Menorca offer a bunch of great snorkel locations. Before we list some of the best, here's a short video that provides a good impression of the waters and scenery in Menorca.
Cala Morell (Menorca)
Menorca has many different coves and bays that are surrounded by rock formations. Its waters are ideal for snorkeling and seeing different brightly colored fish. Keep in mind that this is a popular area.
You'll see different algae, mussels, sponges, anemones, rainbow wrasse and damselfish. Of course the grassy sea beds attract a whole lot more fish species.
Calo Fondo (Mallorca)
The cove at Calo Fondo is a half moon shape, sheltered by the Illots d'en Marcal. It's not too windy for this reason. The water is not very deep and it surrounded by limestone rocks (without a beach).
We snorkelers will find a sea bed of white sand. Patches of posidonia attract a diverse marine life: Saddled and annular seabream, two-banded seabream and damselfish. In addition, you can see algae, including Acetabularia (umbrella algae), Corallina elongata, and Pterocladiella capillacea. 
Binimel-La Beach (Menorca)
This beach is located in the North Menorcan Marine Reserve. It's a sandy beach which forms at the mouth of the Torrent de Salario. The sand dunes are thriving with different plants. On the eastern side of the beach you'll come across some low cliffs. There are 3 small beaches with little gullies.
There are fishing restrictions within the area, which means more and larger fish for us snorkelers. The sea bed consists of thick sand and rocks, and you'll see different species of algae. You will also discover white sea bream, European sea bass, and gilthead fish. 
Cala Macarella (Menorca)
The beach at Macarella is one of the most popular in Menorca. With it's white sands and turquoise blue waters it definitely is an appealing location. The sea bed in the shallow waters is mostly sand, and it only offers a few fish for snorkelers. You will see flounder and flatfish. There are a few small beds of posidonia where you might find salemas.
S'Escala, Favaritx Beach (Menorca)
S'Escala is located in the S'Albufera des Grau Natural Park. It's a small sandy beach near the Favaritx lighthouse. The beach is perfectly circular and sheltered by a rocky islet. The waters are normally calm and clear, and it is shallow. There are a number of different sea beds, some have rocky floors and others are sandy. There are posidonia meadows as well. Expect the following fish species:
Wrasse
Different species of sea bream
Sea urchins on the rocks
Algae communities
Sea cucumbers
Clams
Costa Brava
Even though the translation of this shoreline is "Wild Coast", there are some lovely snorkel spots to visit. Currents and winds can be different from one day to the next. This being said, there are some marvelous and calm little bays to visit.
One of our favorite holiday destinations is Platja d'Aro. It's where I first tried my full face snorkel mask combined with a GoPro. Snorkeling right off the beach is ok, but not spectacular. The cooling breeze combined with comfortable temperatures is what we're after sometimes. And the sand grain size is a little bigger so the winds don't usually carry it around.
If you ever take a hike in the area, you will soon notice loads of different little bays. Some of them are protected from the strong currents. Add the huge amount of rock formations and you could find yourself a little snorkel paradise.
Here's an example of what to expect. The snorkeling starts after 20 seconds so you can skip the introduction pictures if you prefer.
Kayaking And Snorkeling Trip (Costa Brava)
There are many excursions available within the area. If you stay in Barcelona you could join one that includes transportation. Kayaking is not obligatory, but they allow you to visit some of the best snorkel spots.
Having an instructor is helpful as well. They know exactly where the marine life hangs out. If you're an adventurous kind of person you could join a kayaking tour that takes you through coves and small caves.
Some reviews about these trips can be found here on Viator. To give you an idea of what to expect underwater, here's a short list:
Dusky Grouper
European barracuda
European Sea Bass
Octopus
Mediterranean Gorgonian
Shade fish
Bogue
Basking shark
European Conger
Dolphinfish
Two-banded seabream
Skipjack tuna
Mediterranean murray
Salema
Black scorpionfish
Red scorpionfish
Tip: The Costa Brava can be wild. We wouldn't advise it to anyone who's scared to snorkel or who's not a good swimmer. Only the calm little bays will be fun if you're a newbie or still learning.
Cala El Racó, Alicante (Calpe)
Cala El Raco is known for its glassy clear water. You can sometimes even see the different species of fish and other natural beauty under the waves. The beach stretches out with soft white sands, and there is a huge rock that stands out in the landscape. Whenever you are in Calpe, this should be a fun snorkel spot nearby.
Cape Palos, Murcia Region
Cape Palos, also known as Cabo de Palos, is on a small peninsula that reaches out to the Mediterranean Sea. The peninsula was formed after a volcanic eruption. There are several islands surrounding the area. The result was a unique ecosystem with a variety of sea life. You will see sea bass, wrasse, goldmine fish, hard and soft corals, starfish, sea cucumbers and octopus. This area is rich in history. Some of the earliest remains of our human ancestors have been discovered here. It's a great place to snorkel and to vacation at the same time.
Hormigas Islands, Murcia Region
This area has been protected since 1995. It's one of the best preserved areas in the Mediterranean region. The islands are out from Cape Palos like we mentioned previously. Its clear waters provide great visibility. Here's our list of the marine life to possibly observe:
Flying fish
Groupers
Rainbow wrasse
Sea bream
Sea bass
Golden grey mullets
Barracuda
Octopus
Moray eels
Sea urchins
Sponges
Starfish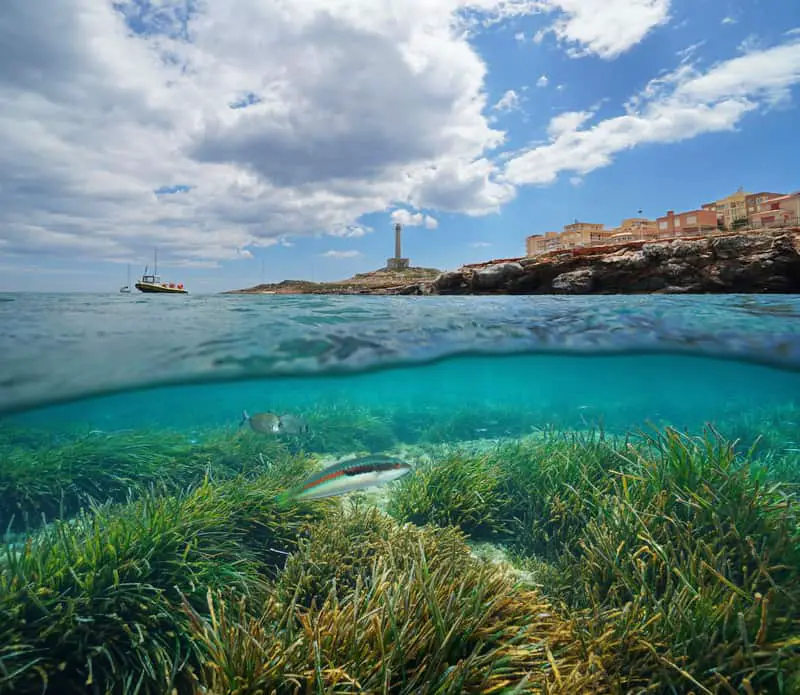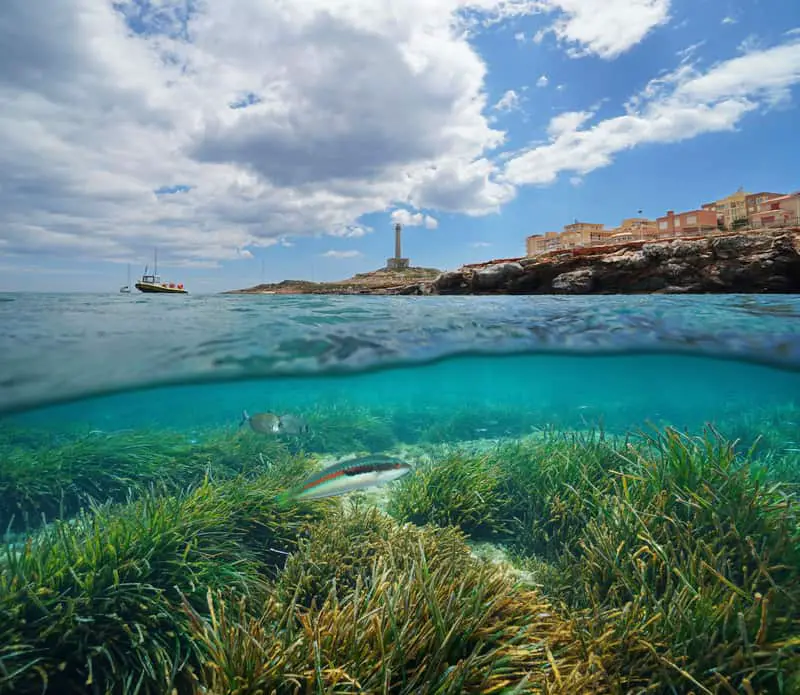 Canary Islands
These islands are a Spanish archipelago close to northwestern Africa. They are volcanic islands and famous for their black and white colored beaches.
Tenerife
You can take a snorkeling trip from Costa Adeje. A guide will take you to some of the best locations in order to see turtles and fish. My detailed guide about snorkeling in Tenerife explains way more about this warm island.
Corralejo, Fuerteventura
You can go to Corralejo and learn how to snorkel in shallow waters. This is a wonderful location. You can find pufferfish, red mullet, different types of sea bream, canary damselfish, yellowmouth barracuda, white trevally and loads more. The fish aren't as colorful, but you will see a few.
Currents can be strong, just like any of the other islands. If that's the case then snorkeling is not for everybody, or maybe for nobody on certain days. Don't think you can beat them with an underwater scooter, because you won't! Take no risks or inquire about snorkeling with a local lifeguard.
When Is The Best Time To Go Snorkeling In Spain?
The Mediterranean has a mild climate. From June to September, the average temperatures range from 70 ºF to 80 ºF. Some days can be hotter though, especially in August. The water is chilly, so some people snorkel with a wetsuit. You need to pay attention to the winds, as they can create dangerous currents. More information about the climate in Spain can be found here.
Final Thoughts
The Medes Islands is known to be one of the best snorkel locations in the north of Spain. Cape Palos and the nearby Hormigas Islands are amazing in the Murcia regions. If you're able to visit one of the islands, Menorca is a safe bet.
There are many different places to snorkel in Spain as the landscape offers a great deal of diversity. The rocky shores are great, but the marine parks are (in our opinion) ideal. Spain is even creating the second largest marine park in the Mediterranean according to this article.
Depending on where you stay, the water can be very cold. At some locations you might experience strong currents, so watch out for that. If you snorkel with kids that's definitely a no-go. Always do your own research and never take any risks. If you are an experienced snorkeler you already know to bring at least 1 buddy. In case currents are acceptable it's definitely wise to wear fins. Whenever currents increase you need to quit snorkeling all together.