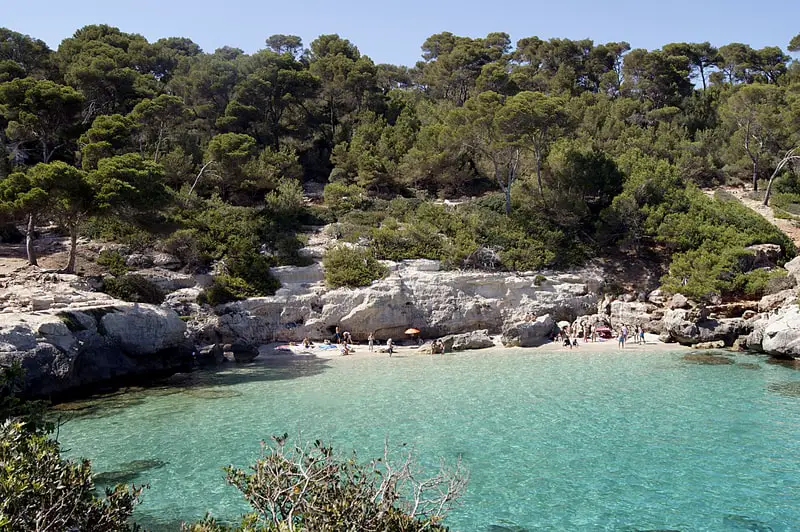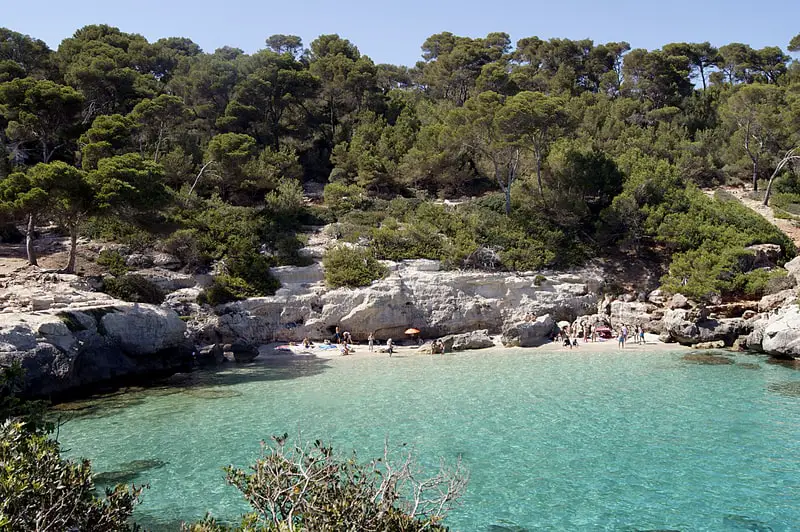 With its capital city Madrid, exceptional architecture in Barcelona and over 3000 beaches along its coastline, Spain is a tourist magnet. Millions of people visit the country each year for its cuisine, flamenco music and especially Mediterranean beaches.
In this article we summarize our favorite Spanish snorkel beaches and coves on the mainland and on the surrounding islands. If one of them speaks to your imagination, there's a separate link for each spot that takes you to our full review.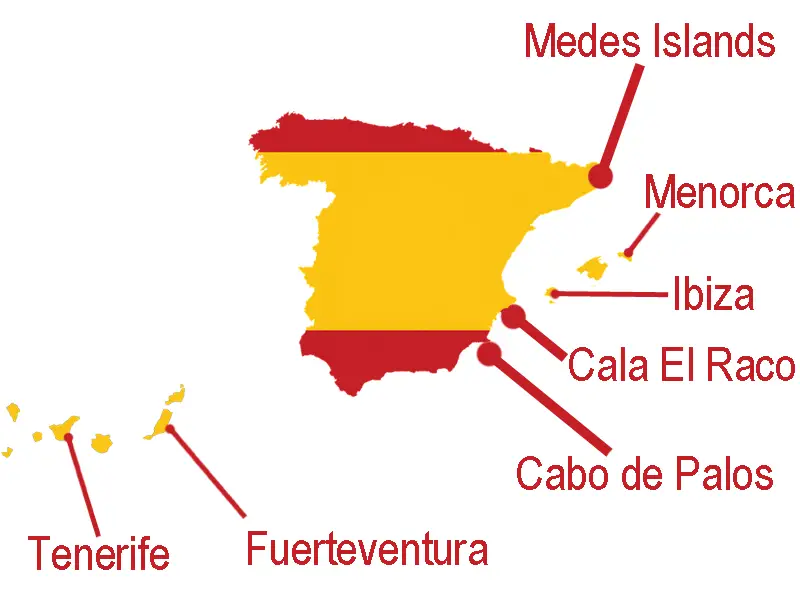 1. Medes Islands (Costa Brava)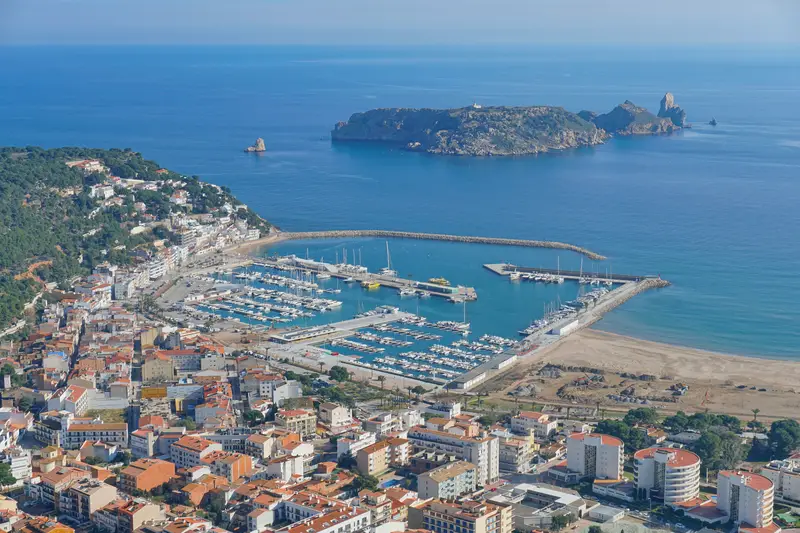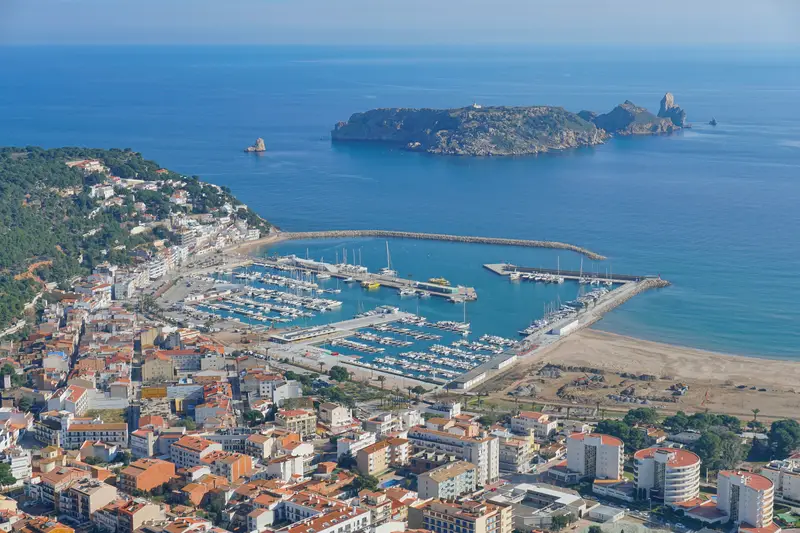 Within the Costa Brava area, right next to a small town called L'Estartit, the Medes Islands allow for some awesome snorkeling. You need to join a boat tour in order to reach this marine reserve (which only takes about 15 minutes).
Summer months with warm and calm water are the best time to visit Medes Islands. Necessary gear and wetsuits for snorkelers are usually provided by the tour operators. Underwater visibility is often great. However, whenever it rains, the nearby river "Ter" could make the water a little blurry.
Common fish species to observe include dusky grouper, sea bass, barracuda, moray eels, damselfish, sea bream, mullets, wrasse and maybe even a sea horse. From your boat you'll be floating in water of about 5-15 feet in depth. If you stay close to the rocky shoreline and follow your instructor you'll be amazed by the beauty of this little Spanish snorkel gem.
More information can be found in our article about snorkeling Medes Islands.
2. Menorca (Balearic Islands)
Menorca is 1 of the 4 largest islands that form the so called "Balearic Islands". Menorca is known for its secluded white sandy beaches and blue-turquoise water. The beaches on the northern coastline can be a little rocky whilst the ones in the south are usually sandy. You can snorkel in shallow clear water.
If you're interested in our full review, here's the link to our article about snorkeling in Menorca.
Cala Morell (in the North)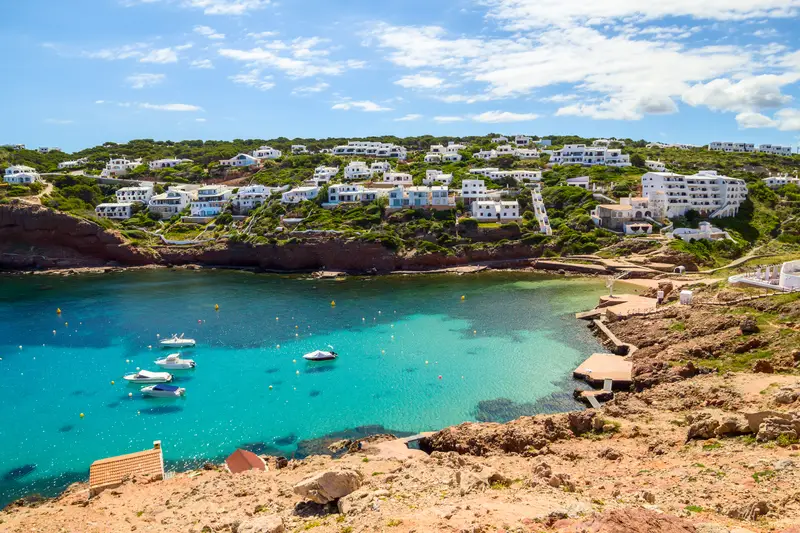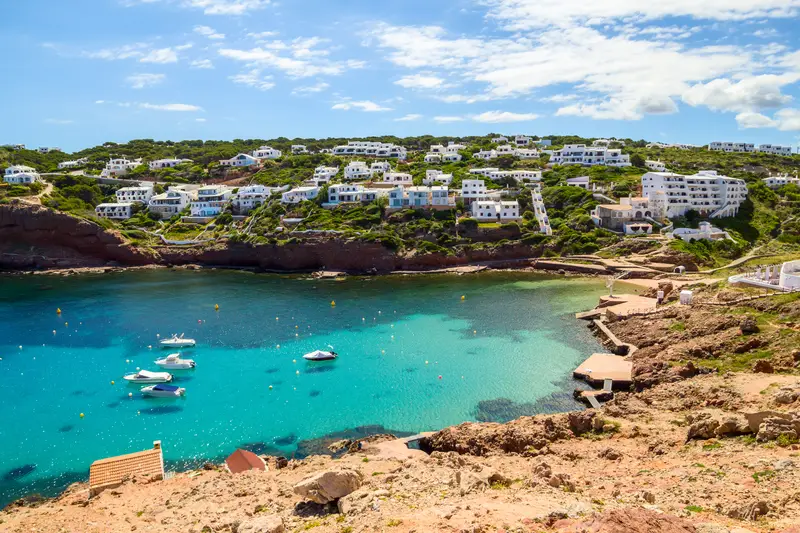 This is a rocky cove with a small rocky beach. Towards the left you'll find a smooth stony platform from where you can easily enter the water. You snorkel in shallow water with various schools of fish. Since this is still a rocky area, wear water shoes.
Cala Pregonda (in the North)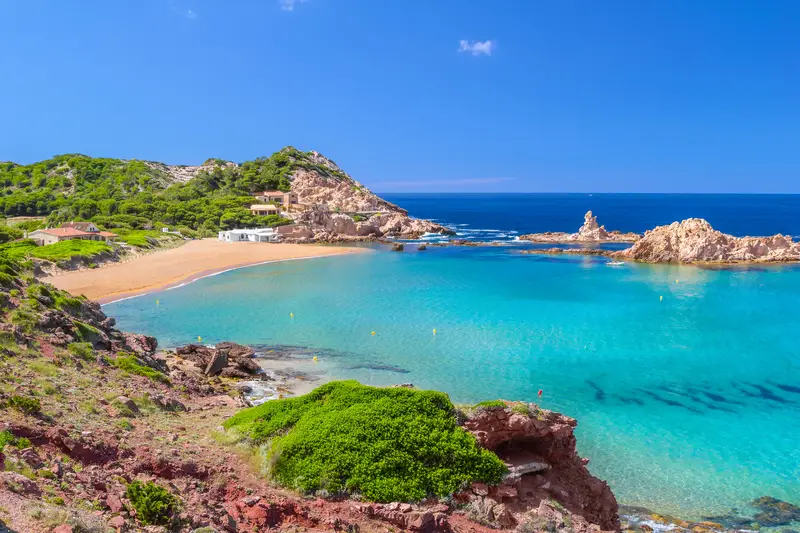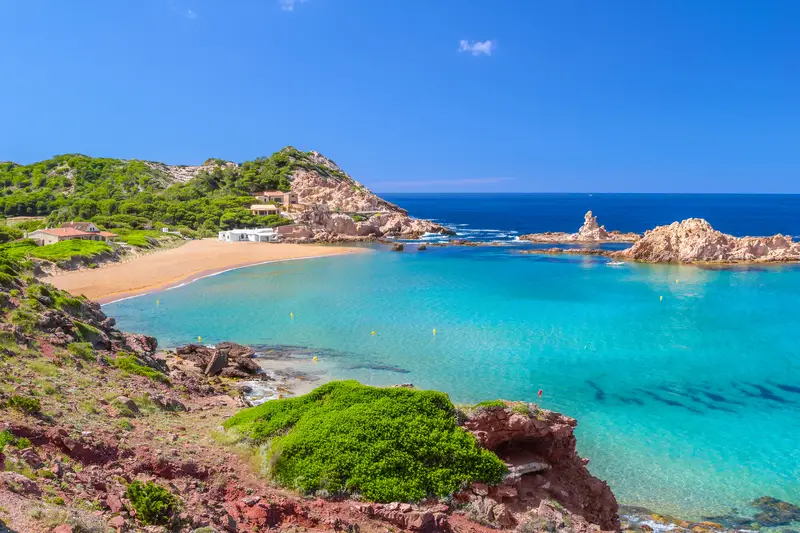 Towards the east of Cala Morell you'll find a little gem called Cala Pregonda. If you're looking for a golden sandy beach on the north coast of Menorca, this is definitely a spot to consider. Locals enjoy this bay as well so try to arrive on time before the crowds arrive. The ocean floor is partially covered in seagrass which attracts a diverse marine life.
Cala Macarella (in the South)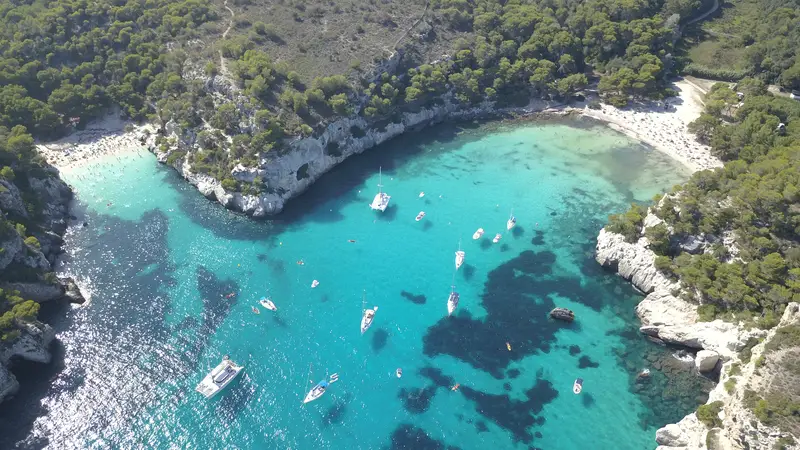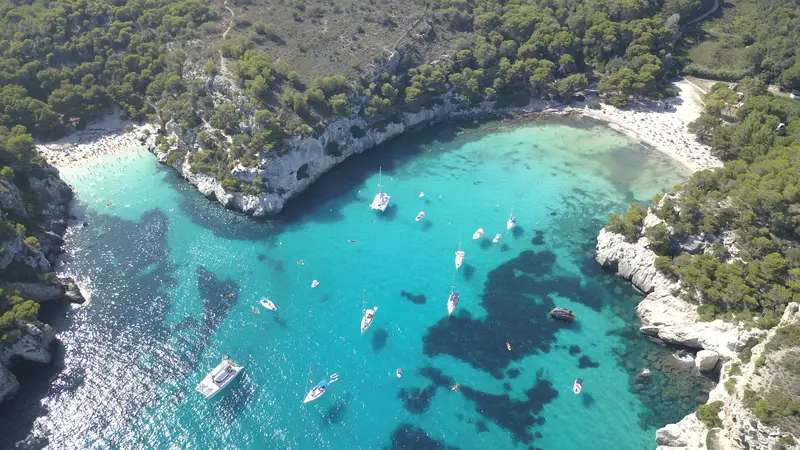 On the southern coastline of Menorca, Cala Macarella is definitely one of our favorite spots. There's a second (smaller) beach right around the corner called Cala Macarelleta. You can visit both of these beaches through a path, just make sure you're capable to do the hike. Impressive white cliffs that run all the way into the ocean are not only impressive but also attract a variety of fish species (that prefer to hide within the little crevices).
Cala Mitjana (in the South)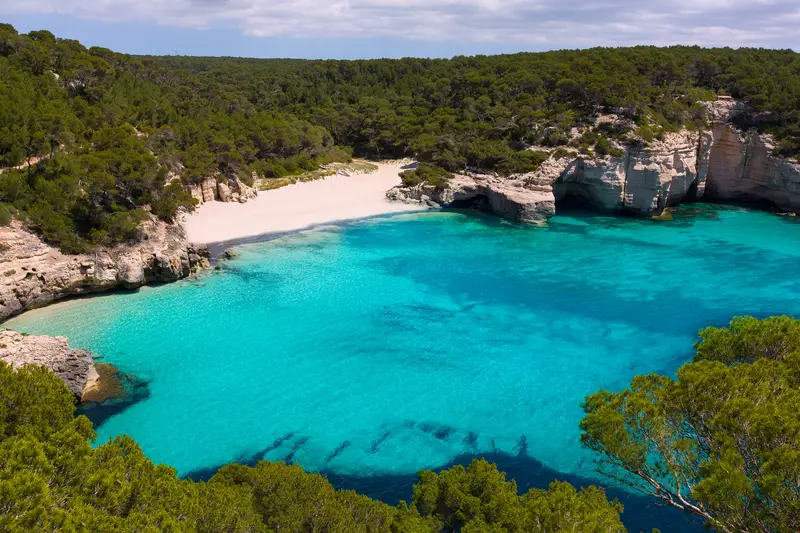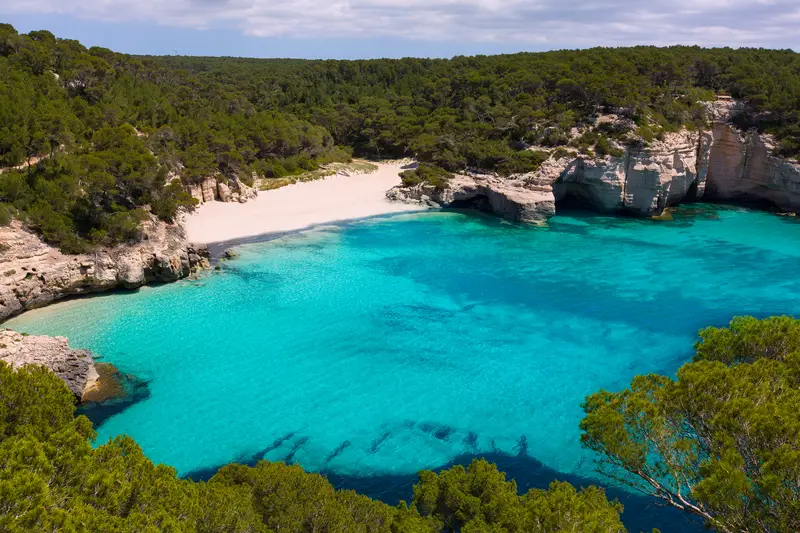 3. Ibiza (Balearic Islands)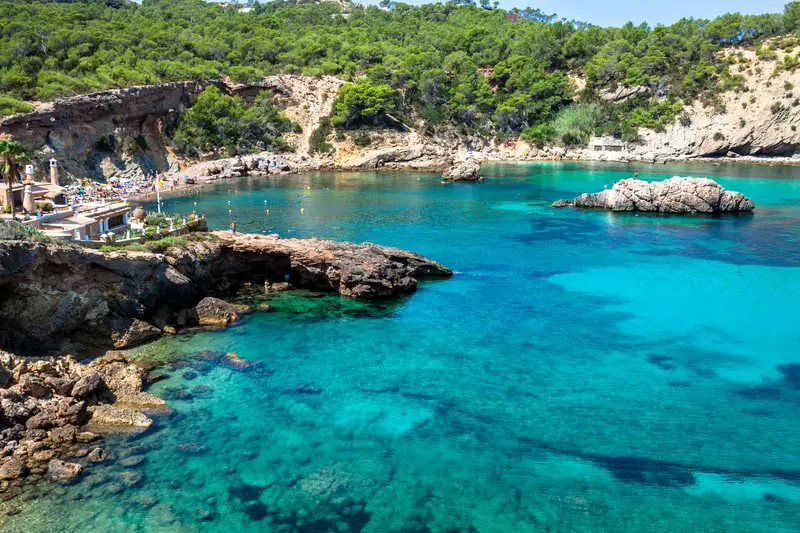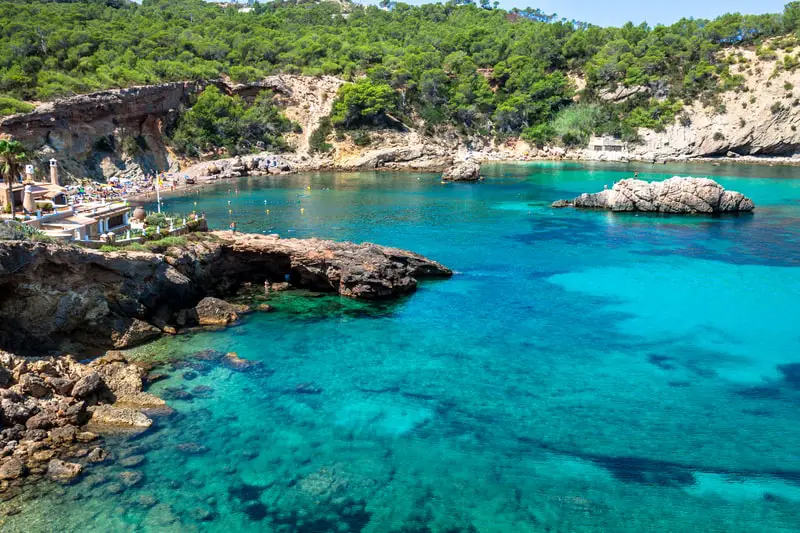 Another Balearic Island, and actually one of our favorite holiday destinations, is Ibiza. We're well aware that the island is known for its parties and world famous DJ's. However, there's no shortage of pretty secluded beaches that offer fantastic snorkeling.
We list our 9 favorite beaches in our Ibiza review where we share a lot of videos and information about the marine life to expect. Surrounded by rocky mountains and green sceneries, Ibiza hosts quite a few secluded beaches to know about. Cala Xarraca (see the above picture) is just one example of a hidden beach with clear blue water and a nearby restaurant.
The marine life is often amazing as well. If you ever want to spot a big octopus, Ibiza could allow you to do just that. Common fish species include barracuda, mackerel, cuttlefish, rays, grouper and maybe even a sea turtle. Crabs, lobster, seahorses and moray eels can be found in quite some spots as well. Swordfish and dolphins could be spotted in the distance from some locations. Sea urchins and jellyfish might also be present, so be aware of that.
Here's the link to our full review about snorkeling in Ibiza.
4. Cala El Racó (Alicante)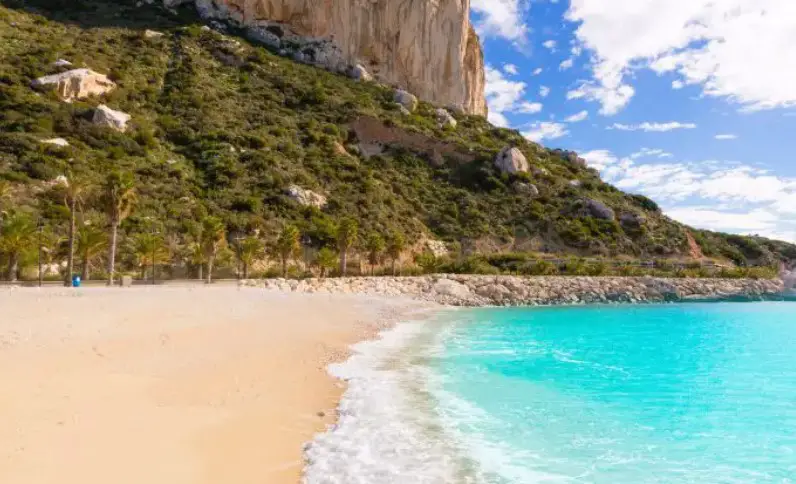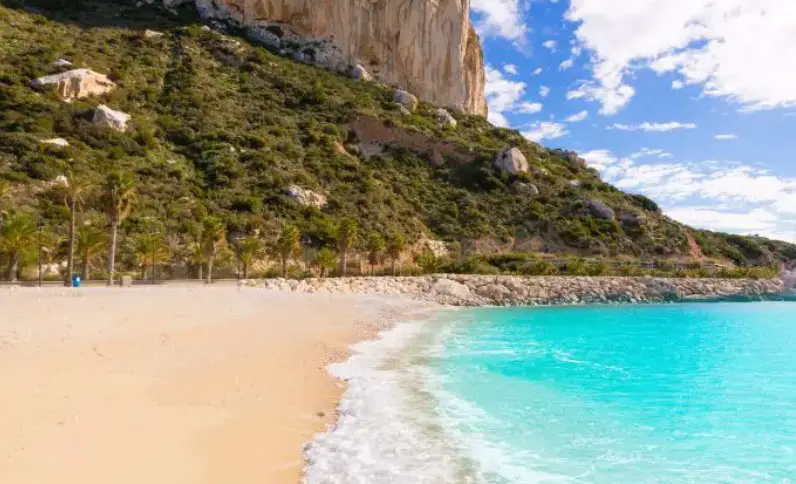 On the east coast of Spain there's a small but impressive beach called Cala El Racó. This beach is located in Calpe, in the province of Alicante. Bordered by two rock formations, this little cove allows you to observe hundreds of fish in shallow water.
As soon as you enter the water you can already see the marine life. In other words, you don't need to swim out far. Most of the marine life can be observed in shallow water right next to the beach and its rock formations. Even better, the beach usually isn't very crowded.
Keep in mind that this is a pebbly beach and that facilities are limited to a bar and a restroom. Luckily the town center of Calpe is nearby with lots of dining and wining opportunities.
Here's the link to our review about snorkeling Cala El Racó.
5. Cabo de Palos (Murcia Region)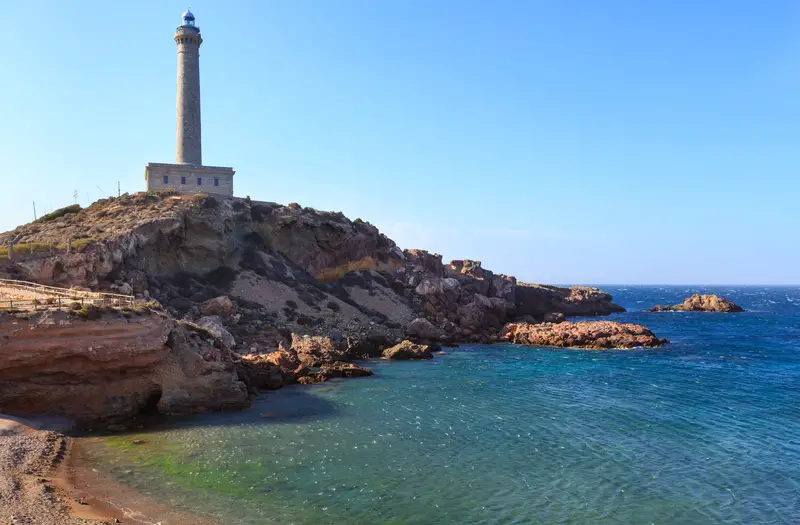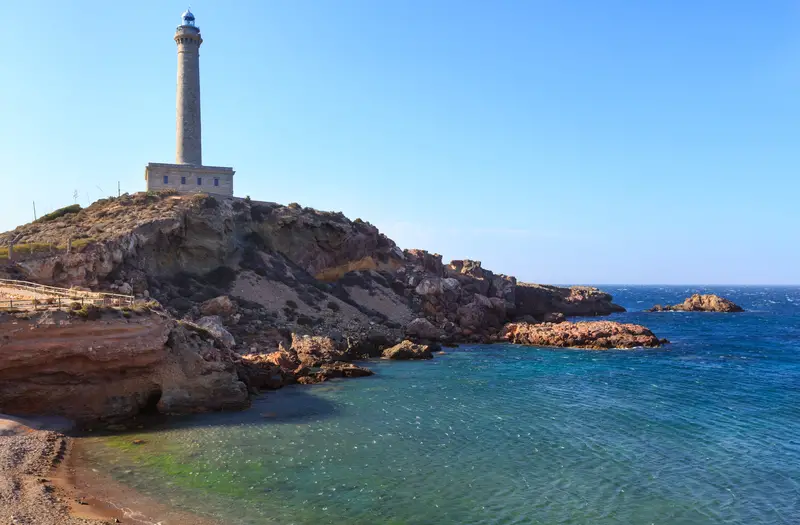 Cabo de Palos is a small peninsula in the southeast of Spain (within the Murcia region). On the far east you'll find a small protected beach called "Playa de la Calafria". This beach is located right next to the lighthouse and allows you to snorkel within a partially protected cove.
Cabo de Palos is part of a marine reserve. Common fish species include seabass, rainbow wrasse, bream, moray eels, mullets, sea cucumbers and starfish. Who knows you'll even spot a barracuda or an octopus. The ocean floor consists of rocks, sand and seagrass.
The beach itself is quite small with both sandy and rocky areas. You can snorkel directly off the beach within shallow water. Various tours are available in case you don't travel by car. If you like seafood, try one of the many restaurants. Cabo de Palos is famous for its tasty seafood.
More information can be found in our article about snorkeling Cabo de Palos.
6. Fuerteventura (Canary Islands)
Fuerteventura is one of the Canary Islands. These islands are a Spanish archipelago close to northwestern Africa. They are volcanic islands and famous for their black and white colored beaches. Temperatures are very comfortable throughout the year, which makes the Canary Islands a popular tourist destination.
One of our favorite locations is called El Cotillo. Some of its beaches have been nominated to be among the most beautiful of Spain. Another great snorkel spot is Costa Calma. Its golden sand and clear blue water makes this one of the island's best hidden gems. Morro Jable is our third pick and especially worth it if you prefer to observe octopus, moray eels, barracuda and even stingrays. Caleta de Fuste is another option for snorkelers who enjoy to see crabs, tuna and angel shark. Isla de Lobos a small island just north of Fuerteventura with stingrays, turtles, soft corals and more.
Besides the marine life that we already mentioned, expect to often see parrotfish, wrasse and grouper. June until October provide the warmest climate in Fuerteventura. 8 different sea turtle species inhabit the island of which the Loggerhead and the Hawksbill are the most popular.
Here's the link to our full review about snorkeling in Fuerteventura.
7. Tenerife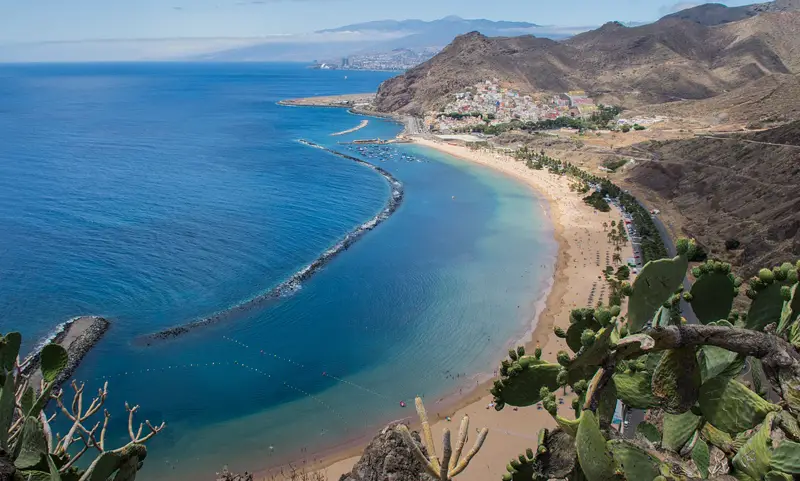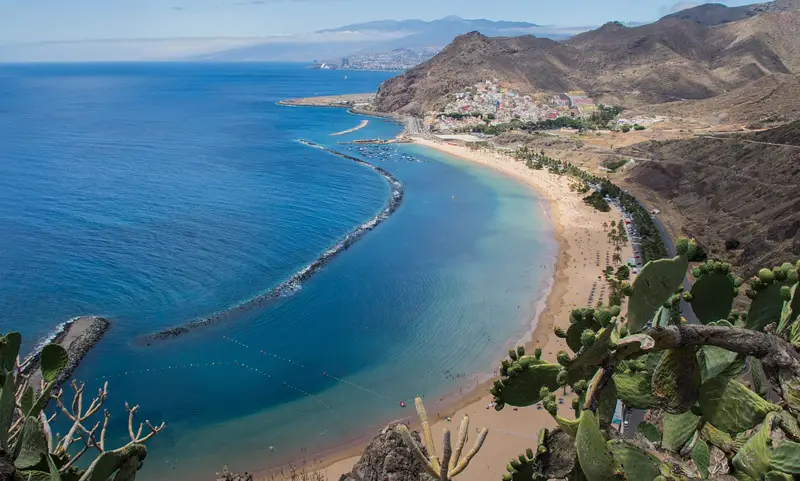 Tenerife is the largest Canary island and popular for many reasons, one being snorkeling. You won't find colorful corals but the marine life (and its sea turtles) makes up for that big time. Talking about turtles, expect to observe the Atlantic Green, Leatherback and Loggerhead.
Our favorite beaches on Tenerife are as follows: El Puertito, Playa de Las Arenas, Playa de Las Vistas, Punta de Teno and Abades. They all have their own charms, from rocky sceneries to more touristic sandy snorkel spots with restaurants and bars nearby. Whatever it is you're looking for, Tenerife has you covered.
Besides the turtles, expect to observe stingrays, bull rays, butterfly rays and various schools of fish. Octopus is not uncommon either on Tenerife. If you plan to visit the island, check out some of its awesome hiking paths as well. Even snorkel tours are available in case you're into a little adventure.
Here's the link to our full guide about snorkeling in Tenerife.
When Is The Best Time To Snorkel In Spain?
The Mediterranean has a mild climate. From June to September, the average temperatures range from 70 ºF to 80 ºF. Some days can be hotter though, especially in August. The water is chilly, so some people snorkel with a wetsuit. You need to pay attention to the winds, as they can create dangerous currents. More information about the climate in Spain can be found here.
Final Thoughts
The Medes Islands is known to be one of the best snorkel locations in the north of Spain. Cape Palos and the nearby Hormigas Islands are amazing in the Murcia regions. If you're able to visit one of the islands, Menorca is a safe bet.
There are many different places to snorkel in Spain as the landscape offers a great deal of diversity. The rocky shores are great, but the marine parks are (in our opinion) ideal. Spain is even creating the second largest marine park in the Mediterranean according to this article.
Depending on where you stay, the water can be very cold. At some locations you might experience strong currents, so watch out for that. If you snorkel with kids that's definitely a no-go. Always do your own research and never take any risks. If you are an experienced snorkeler you already know to bring at least 1 buddy. In case currents are acceptable it's definitely wise to wear fins. Whenever currents increase you need to quit snorkeling all together.