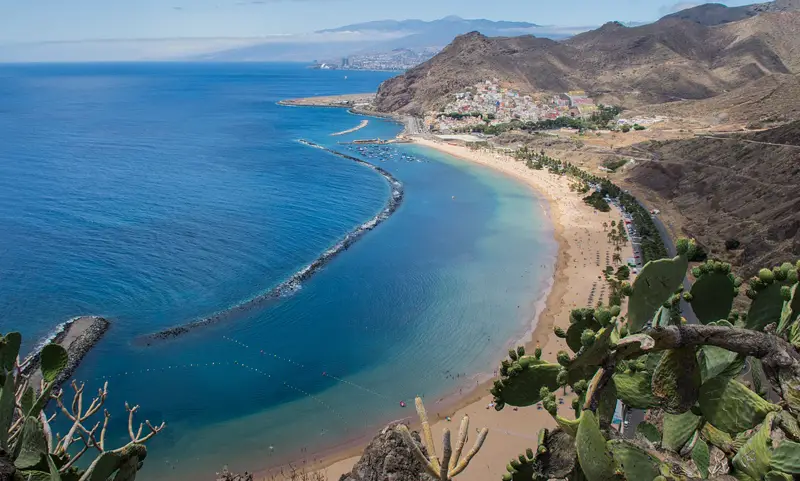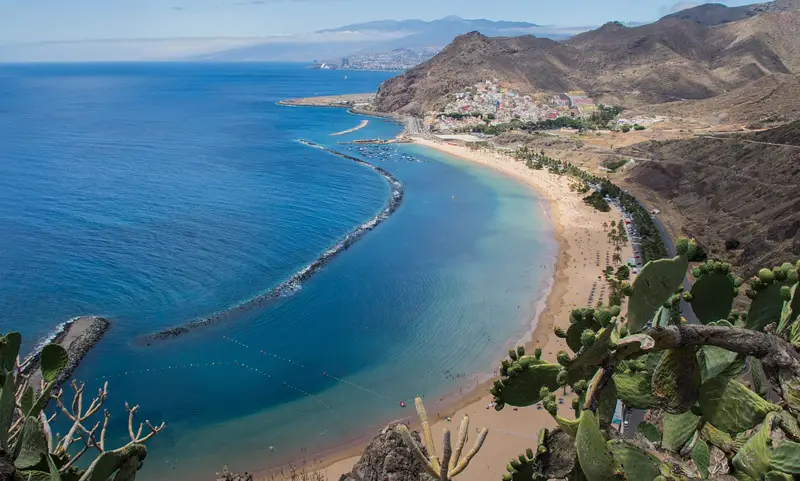 This article is part of our guide for snorkeling in Spain.
Tenerife is located off the west coast of Africa in the Atlantic Ocean and is the largest of the Canary Islands, which are a part of Spain. Nearby popular islands for tourists are Gran Canaria, Fuerteventura and Lanzarote (listed from west to east). Sidenote: I do like snorkeling in Fuerteventura, the link will take you to my review. The volcanic island Tenerife hosts many beaches, covered in either black or white sand.
For us snorkelers, one of the downsides is that you won't find colorful corals. The only coral is called the "black coral". However, this type of coral usually lives in the deeper parts of the ocean. In other words, if you're a coral fanatic, Tenerife could disappoint. On the other hand, the water does offer a marine life which includes 3 types of sea turtles (the Atlantic Green, the Leatherback and the Loggerhead).
Expect a lot of rocky areas. If you're going, protective water shoes for snorkeling could be of great help. The water is often clear enough to observe the marine life. A long story short, Tenerife offers great "regular snorkeling" that people combine with a holiday. If snorkeling and corals are your main priority, I would personally look a little further.
I've visited Tenerife 3 times in October because the climate usually allows for a warm and sunny trip before winter in my country starts to peak.
My Top 5 Snorkel Spots in Tenerife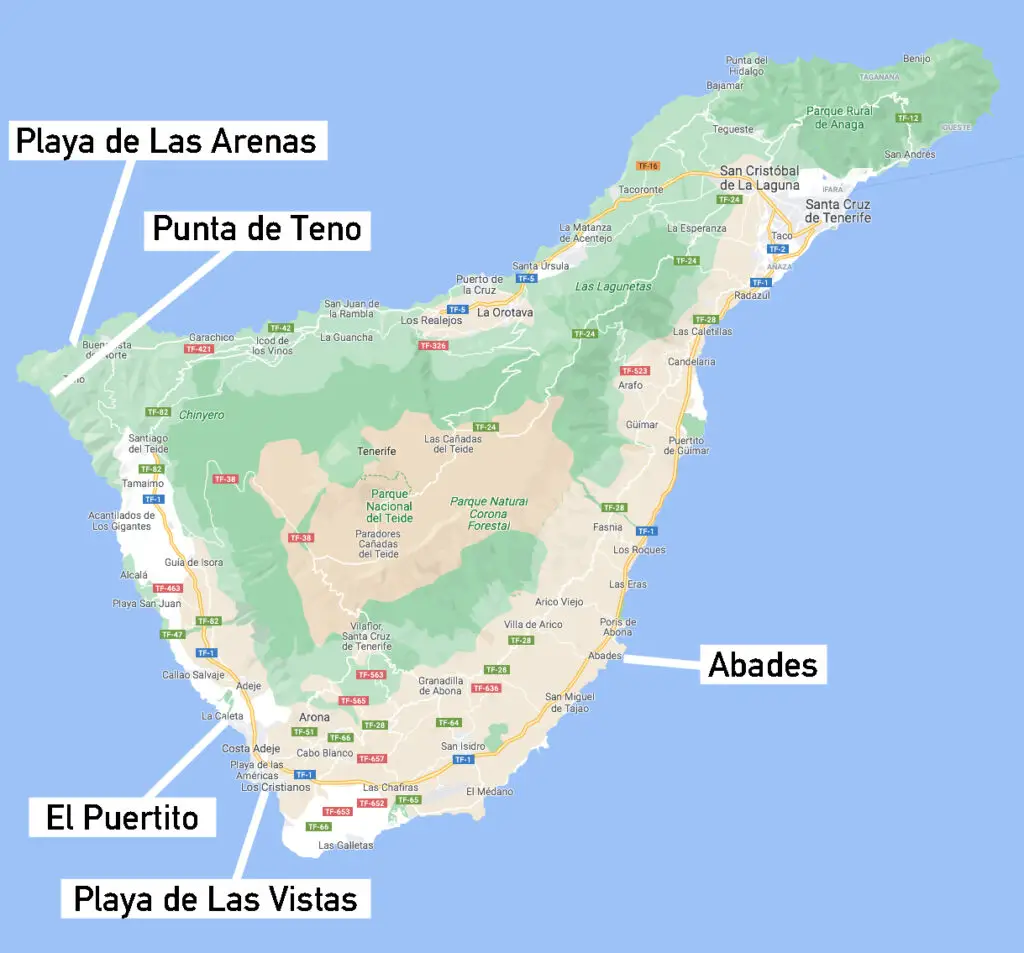 1. El Puertito (aka Turtle Bay – Costa Adeje)
El Puertito is located on the south-west part of the island (see my map above). The marine life is average (I mean it's ok but not exactly exceptional), however, one big attraction are the sea turtles. My hotel arranged a tour/minibus (most hotels offer some flyers about available excursions).
The sea turtles in El Puertito can become quite large. The loggerheads can grow somewhere between 3 and 4 feet. They do in fact enjoy the ocean surface because the water is warmer, which is great for relaxation after a meal (and they need to breathe). They're pretty used to tourists and snorkelers, I just don't understand why people always feel the need to touch them. Please, if you read this, keep your distance from these lovely animals.
In addition to turtles, snorkelers can enjoy seeing stingrays, bull rays, butterfly rays, and a good amount of schools enjoying the rocky ocean floor. Like I said, Tenerife can be rocky, so besides water shoes some prefer to also wear a snorkel rash guard. If you stay close to the shore, the water is shallow, so watch your movements. I personally prefer to wear snorkel fins because they make it extremely easy to propel without crazy swimming moves.
2. Playa de Las Arenas
Situated in the north-west of Tenerife, Playa de Las Arenas is a bay surrounded by hotels and restaurants. If it's your goal to enjoy a day on the beach, sunbathe and have a meal afterwards, Playa de Las Arenas will allow you to do all that. Don't expect this to be a tropical paradise, consider it to be a "casual day on Tenerife" with other tourists.
Like I mentioned before, don't expect colorful coral on Tenerife. Playa de Las Arenas consists mainly of a rocky ocean floor, with a few fish here and there. So why do I like this place? Well, it's the scenery. This bay really shows the volcanic history and the beauty of the island. There are quite some schools of fish to observe. Furthermore, there are enough shallow areas. However, there could be some currents to be aware of. Again, it could be helpful to wear some protective gear.
All together a fun touristic bay that allows for a family day of relaxation. Snorkeling is "regular" but combines well with a day on the beach. A great (and growing) place for families to chill at. And hey, who doesn't like palm trees? If the weather is good, this could also work well to snorkel with kids.
3. Playa de Las Vistas
A little south of El Puertito, about a 15 minute car drive, there's a large "white" beach called Playa de Las Vistas. If you're staying in Playa de Las Americas or in Los Cristianos you'll find this beach right in between the two. Expect a good amount of tourists, however, the beach is pretty big so on a regular day there's enough space for everyone.
Just like the other snorkel locations that I mention in this article, Playa de Las Vistas in my opinion is another great beach where snorkeling can be a "part of the day". You probably don't go here only to snorkel, but to chill with your friends or family and to observe some fish in between activities (or sunbathing). Compared to Playa de Las Arenas you'll find more sand, even though there still are a good amount of rocky areas. You'll be able to observe a variety of fish species in pretty clear water.
So why do I like this beach? Well, it's because of all the facilities like restaurants, bars, beach chairs, you name it. You can even do some shopping if the beach starts to bore you. And it's a spacious area. One of the downsides are possible jellyfish. Whenever they are around, you'll be notified by flags (so make sure to pay attention to those). All together a fun day with loads to do and some "regular" snorkeling.
4. Punta de Teno
Located in the north-west of Tenerife, Punta de Teno offers a breathtaking view of what the island is all about. Many of us visit Tenerife to get some sunshine and partying going on, but the true beauty of the island is definitely visible in Punta de Teno. If you're going, consider to visit the nature reserve as well. It's beauty is just "wow". Here's a link to read more about the area.
The water can be wild. Therefore, figure out if the ocean is calm on the day you're planning to go. If the weather isn't ideal for snorkeling, you can also go for a hike. There's a long hiking path from which the views are just stunning. If you like photography as much as I do, make sure to bring your camera. If snorkeling is possible and safe, consider to also read my article about snorkeling with a GoPro. You might even spot an octopus in this location.
There are some pools to enter the water, even though they are rocky. The video below shows exactly what I mean. So be careful. For these locations I always advise to join a tour, here's an example. Some tours offer boats, some kayaks, with breaks for swimming and snorkeling. Don't forget, a boat tour does help with some amazing photography.
5. Abades
On the south-east of Tenerife there's another "pretty good" snorkel location. Abades isn't extremely big and usually quiet compared to some of the other snorkel spots. In other words, if you'd like to escape the tourists for a day, Abades can help you out (even though it's being discovered by more people). There are some restaurants around.
Abades offers quite good snorkeling, some even call it the "gem of Tenerife". Just like Punta de Teno, there's a chance to observe an octopus. But there are loads of fish species around as well. In my opinion, the whole area is just more colorful than the ones I mentioned preciously. Even the ocean floor. The video below will show you what I mean by that.
From Playa de Las Americas, Abades can be reached by car in about half an hour. There are busses as well, which should take more than an hour.
Tenerife Climate
Temperatures
Tenerife offers a comfortable temperature all year round. Of course, it can be cool or hot, but let's take a look at the average temperatures. Between May and November the average temperature exceeds 70 °F. July, August and September are the warmest with an average temperature of around 77 °F. The winter moths are cooler with an average of around 65 °F.
Rainfall
There usually aren't a lot of rainy days on the island. June, July and August might have no rainy days at all. The winter months have more rainy days, but even those are around 5 per month. In other words, rain is usually not a big issue on Tenerife. Even if it rains, there could be opportunities to snorkel if the climate allows you to. You can read more about the topic in my article about snorkeling in the rain.
Keep in mind that there could be a different climate depending where on the island you're staying. All the details can be found on this website.
Final Thoughts
For me personally, Tenerife is a great way to escape the cold October month in my country and to get some sunshine in. Snorkeling on the island is fun and "pretty decent". For a holiday and for relaxation, with a little snorkeling here and there, it's great!
One last final tip: Bring some UV protection for snorkelers!