Because of it's white sandy beaches and sparkling waters, Fuerteventura in the Spanish Canary Islands is quite a popular snorkel destination. The best time to visit Fuerteventura is from June until October. That's when both the temperature of the water and the overall temperatures are the best. That being said, the water is so beautiful and the temperatures are enjoyable most of the year.
If you visit the area during the winter, just wear a wetsuit and you'll be fine. Fuerteventura offers tons of varied marine life to enjoy as you're snorkeling, regardless of when you go. Another Canary island worth visiting is Tenerife. If you're interested, here's our detailed guide about snorkeling in Tenerife.
El Cotillo
Located on the northwest coast of Fuerteventura, this is a quiet area but a very popular one as well. It's a small village with a beautiful landscape that you'll love experiencing. Some of their beaches are often mentioned in lists that describe the best beaches in all of Spain. There are a few hotels and restaurants, as well as other in-town things to do. If you're a snorkel enthusiast, you'll love the crystal-blue waters and the (often) perfect weather. Make sure to bring a wetsuit because the water temperature can be around 64°F.
Whenever you choose to go, make sure to pick calm waters that make snorkeling a lot more fun. There are so many types of colorful fish that you won't want your adventure to end. The water closest to the shore is the calmest and therefore recommended for snorkeling. This also means that you can enjoy the beaches of El Cotillo whether you're new to snorkeling or a true pro.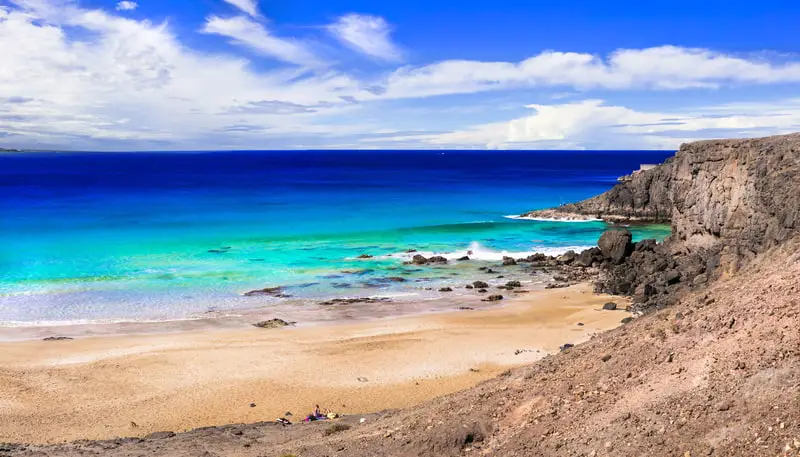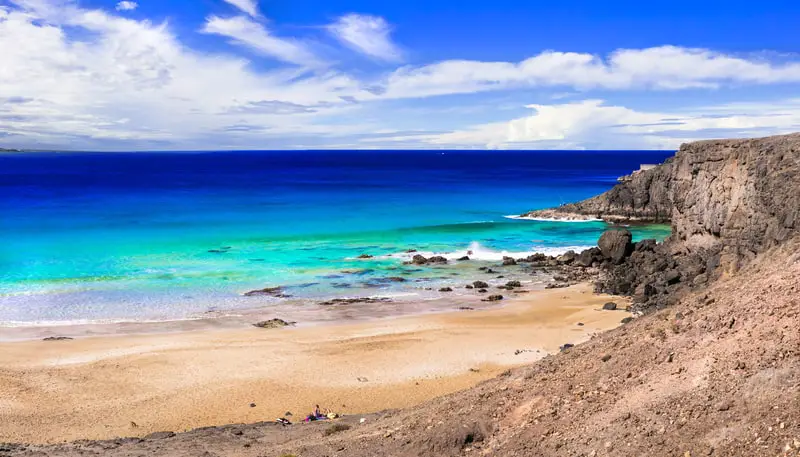 Costa Calma
Costa Calma is roughly 1.25 miles of beautiful golden sand and gorgeous blue-green water. Because it's considered one of the best beaches on the island, it's always filled with tourists. In other words, you'll never run out of things to do while you're there. You can find everything from sea cucumbers to starfish in these waters of Fuerteventura. For recreational snorkelers, you'll never be disappointed when you decide on Costa Calma for your next snorkeling adventure.
You should also look for parrot fish and wrasses while you're under the water. Because it's such a popular tourist area, you'll also have access to restaurants, bars and shops whenever you need to take a break. You'll get to see groupers, stingrays, grayish Atlantic fish and even the occasional turtle or angel shark. If you feel like joining a snorkel group/tour, don't worry, there are plenty. They usually rent wetsuits and other equipment if you don't have your own. Prices are also very reasonable. If you're a little nervous about your first snorkel adventure, this is definitely a location to consider.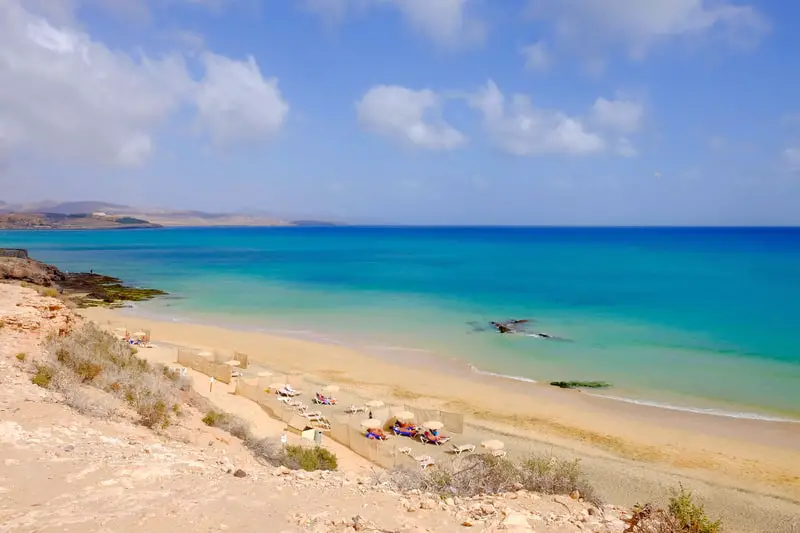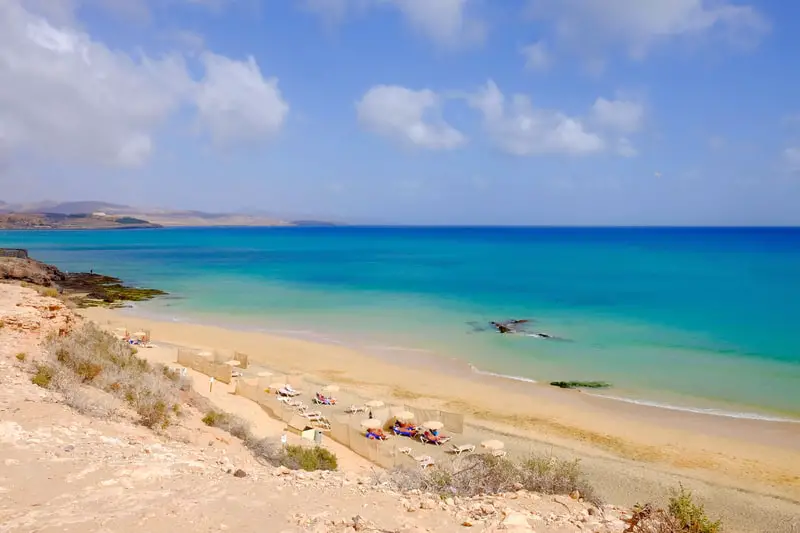 Morro Jable
Morro Jable is found just south of Fuerteventura and not always the easiest spot to find. However, it's definitely worth the effort to go there when you're a snorkeler. Some of the many species you'll see include octopus, moray eels and barracudas. If you can, make sure to swim around the cliffs near the church because you'll find a lot of stingrays (see picture below).
Sea urchins and starfish are some of the other marine life you'll be able to observe, as well as spider crabs and tons of colorful fish. Companies that specialize in snorkel tours are available. They'll make sure that you get the equipment you need to make the trip a success (also read our tips whether or not to buy your own snorkel gear). If you're a beginning, don't worry, because these guides will make it a fun experience.
The rocky areas are particularly stunning. When you're not snorkeling, this small town offers activities that include a sperm whale skeleton, a natural park and so much more. It's located roughly 50 miles from the airport. Even if you're just there for the day, it won't disappoint. If you're anywhere near Fuerteventura, Morro Jable is a place that you don't want to miss. The location is great for experienced and newbie snorkelers.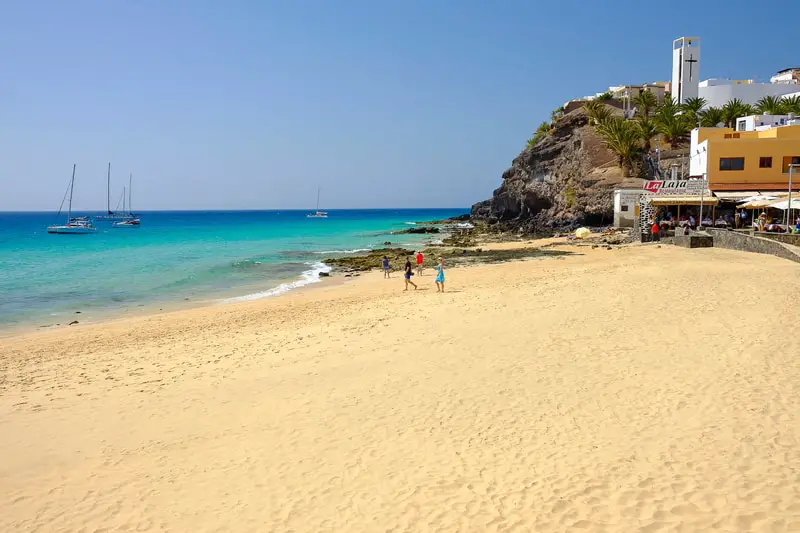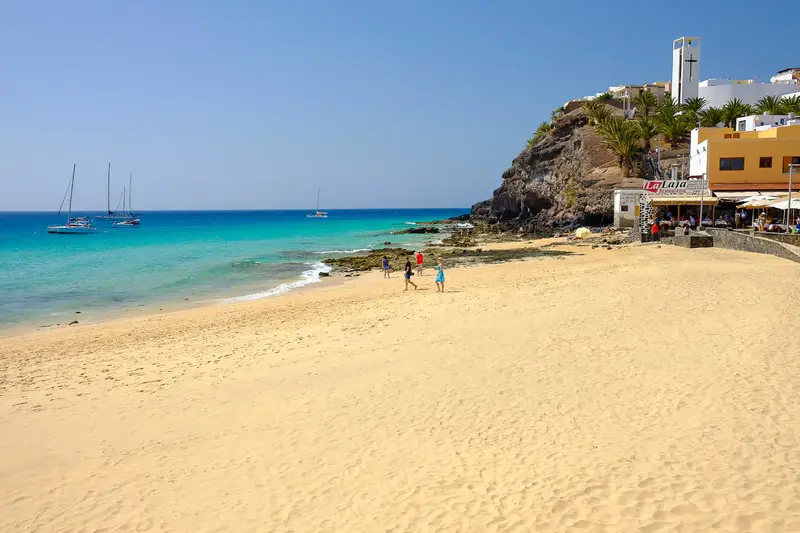 Caleta de Fuste
Known as a family-friendly tourist spot, Caleta de Fuste offers lots of calm, clear water that is home to species such as sea stars, crabs and various colorful fish. The area is centered around a man-made bay that truly offers something for everyone. Other marine life that you'll be exposed to include barracudas, groupers, tuna and angel sharks.
If you stay in the rocky areas close to the shopping center, that's where you'll find the most amazing underwater marine life. This shallow beach area is perfect for snorkeling. In Caleta de Fuste, both experienced and inexperienced snorkelers are guaranteed a lot of fun.
When you're not in the water, you can enjoy golfing, shopping and lots of dining opportunities. This includes a ton of tourist attractions and activities, and great shops in an area known as the Atlantico Commercial Center. It offers lots of opportunities to sample various international cuisine, in addition to authentic Spanish dishes. If you ever visit Fuerteventura, this location could be a great pick for a day excursion. Especially if you want to go snorkeling with kids.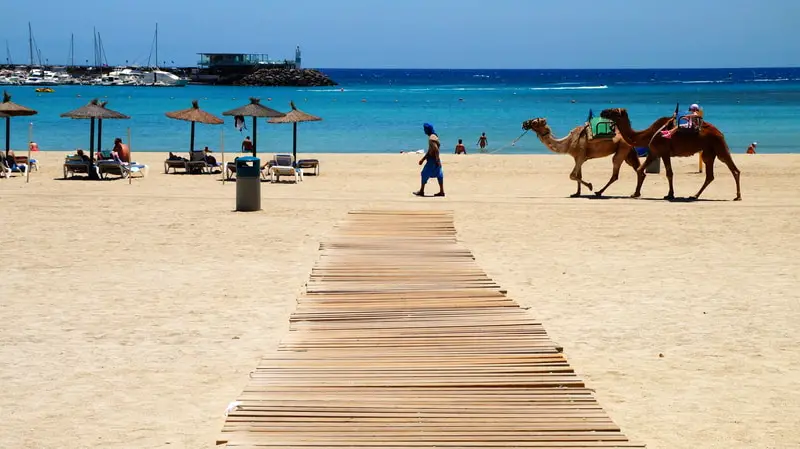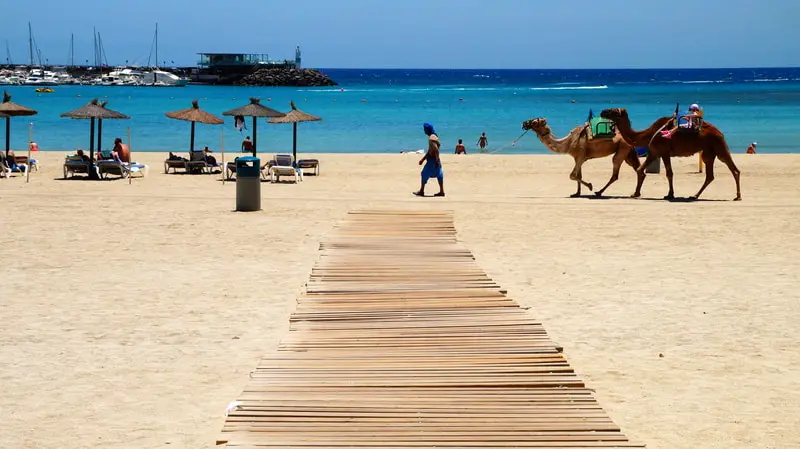 Isla de Lobos
This is a small island just north of Fuerteventura that has been declared as a natural reserve and is therefore strictly protected. Because of this, you can experience crystal-clear water that allows you to clearly see marine life such as stingrays, turtles, Gorgonian fans (soft corals) and so much more. From Corralejo, you can take a short ferry ride to get to Isla de Lobos (which takes about 15 minutes). There's a great diving spot near the deep reef that's located in front of the Lobos Lighthouse.
For the absolute best experience, try to visit the southern side of the island. It's less windy and well known for providing some of the best snorkeling in all of Fuerteventura. The crystal-clear water and the various colorful marine life will allow for a lovely excursion.
There are many videos available that provide a good impression of the marine life. Just do a little research on Youtube and you'll get the idea. Here's a video in order to understand how the area looks like. If you feel like going on a short adventure and enjoy the views from the boat, consider Isla de Lobos. One final tip however is to ask yourself is you experience motion sickness easily. If that's the case, either skip this idea or read our tips and tricks about snorkeling and seasickness.
Marine Life
We provided the most common marine life throughout the article already, but let's sum them al up to get the bigger picture. Some locations in Fuerteventura offer a more varied collection of fish than other places. In the end however, that's probably not a big issue if you're a recreational snorkeler. If you set the bar high, scroll through the article again so you know what to expect. The marine life includes the following:
Sea cucumbers
Sea urchins
Sea stars
Gorgonian fans
Spider crabs
Starfish
Parrot fish
Wrasses
Groupers
Tuna
Stingrays
Grayish Atlantic fish
Octopus
Moray eels
Barracudas
Turtles
Angel sharks
The Climate In Fuerteventura
Summer
Like we already mentioned, June until October offer the warmest climate in Fuerteventura. Average maximum temperatures within these months range between 78°F and 82°F. The minimum average temperatures in these "summer months" are somewhere between 66°F and 71°F.
Winter
January and February are usually the coldest months with an average temperature between 58°F and 70°F. After that the temperature starts to increase slightly towards summer.
Rain
Fortunately for us snorkelers, there's not a lot of rainfall in Fuerteventura. Chances are that you won't experience any rainfall if you visit during the summer months. Between October and March there could be some rain, but probably not too much.
Sea Temperature
Even though the sea temperature is highest during the "summer months", remember that the water can still feel a little cold. Between June and October (when it's the warmest in Fuerteventura), expect sea temperatures between 68°F and 72°F. From February until April this temperature drops to around 64°F.
More information about the climate in Fuerteventura can be found here.
About The Sea Turtles
Many people, including ourselves, especially enjoy snorkeling with sea turtles. We already discussed the importance of not touching them and keeping your distance, but their company can be an amazing experience. Sea turtles migrate from the United States towards Africa, which means their amount is highest during the summer months. Sure, you can set them throughout the entire year, but if you want to increase your chances try to visit in summer.
There are 8 different species of sea turtles to be found. The Loggerhead is the most famous and most common one. But you can expect to see other species like for example the Hawksbill. They can measure over 3 feet in size, so make sure to snorkel with a GoPro if you can.
Final Thoughts And Related Articles
Fuerteventura offers some amazing beaches for snorkelers. The gorgeous sparkling water and extraordinary surroundings add to the beauty of this island. If you ever went snorkeling in Spain, you most likely enjoyed the comfortable weather conditions. Fuerteventura offers a lovely climate from June until October, but you'll be able to enjoy the island all year round. The water is pleasant but could be a little cold for some of us.
If Spanish snorkel locations are a favorite of yours, consider to also do some research about the Balearic Islands. One of our personal favorites is to snorkel in Ibiza. We know the island is famous for partying, but you could be surprised by the beauty of both beaches and landscapes.