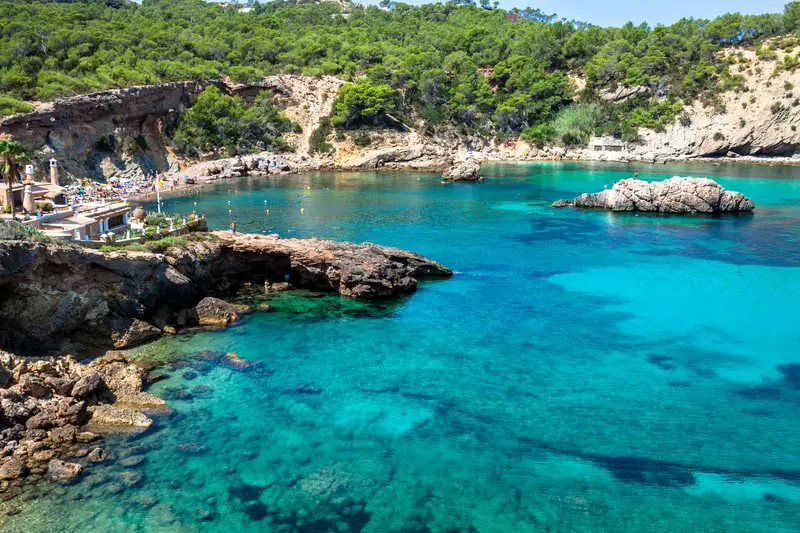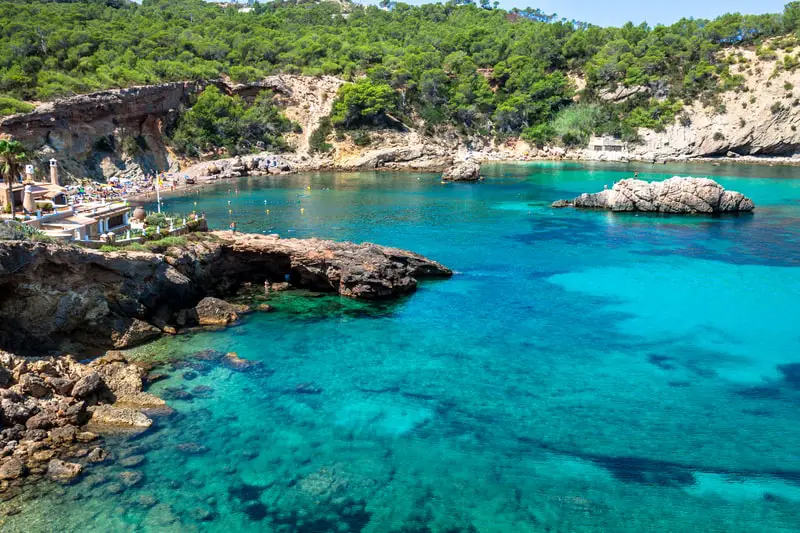 With more than 80 impressive beaches, Ibiza has been one of our favorite holiday destinations for over a decade. If you rent a car you're able to move across the island and travel from an abandoned beach all the way to the famous beach parties. Even though we usually skip the party scene most of the time, feeling bored is probably never going to happen. If you've been there, you know what we're talking about.
If you didn't know already, Ibiza is a Spanish island (on the east coast) and part of the Balearic Islands. Together with Mallorca, Menorca and Formentera they are the 4 biggest islands of the Balearic Islands. More snorkel information can also be found in our separate article about snorkeling in Spain. For people who enjoy the Spanish sun in wintertime, feel free to head on over to my article about snorkeling in Tenerife (Spanish Canary islands).
Allright, so in this article we cover some of the best beaches for snorkeling. Our Top 9 snorkel beaches is based on the scenery, the water, the marine life and facilities. As the map below shows, these beaches are all located on the north and west coast. Further down below we also explain the marine life and the climate.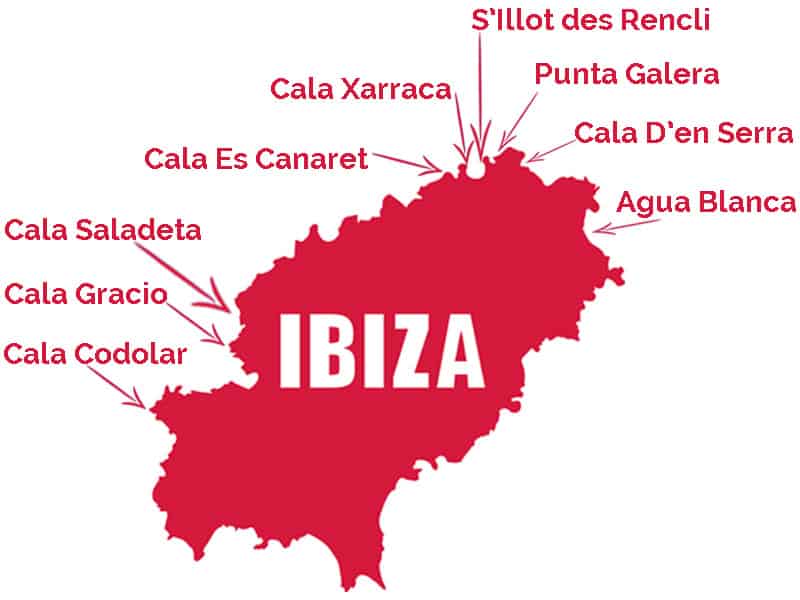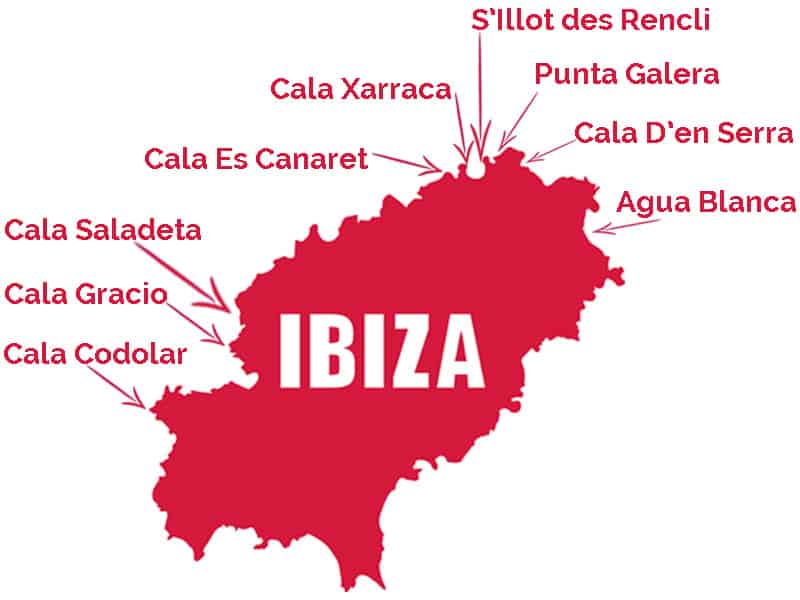 1. Cala Gració (and adjacent Cala Gracioneta)
Just north of San Antonio you find this 260 feet (80 meters) long laid-back beach. It's really an awesome spot to find some relaxation, if that's what you're after. Since San Antonio is roughly 1.2 miles (2 kilometers) towards the south, you can walk towards Cala Gració in about 15-20 minutes. The thing to understand, is that not everyone feels like taking this hike! Really. That's why Cala Gració is one of our favorite snorkel beaches in Ibiza. Of course you won't be alone, but usually the beach is not extremely crowded like some of the other nearby beaches. And let's say, in case you do visit on a busy day for whatever reason, remember that the water area is way bigger than this "not too big" beach. Plenty of space for us snorkelers.
Another great option is to walk towards Cala Gracioneta, located just next door. This is a similar beach but way smaller, making it a perfect spot for anyone seeking more privacy.
Since the bay is "sheltered", snorkel circumstances are pretty much ideal. You won't experience heavy currents or waves on a "regular" day. Some even snorkel with kids in Cala Gració. Facilities include restaurants/bars, showers, beach chairs and umbrellas, and even lifeguards. Be aware that there are a good amount of rocks. Rocks provide shelter to fish, which makes snorkeling close to rocks quite exciting. On the other hand, rocks can be a hassle. Walking in rocky areas, or even underwater rocks can hurt our feet. Even though not necessary, we'd advise water shoes for snorkeling in this (and some other) locations.
2. Cala Xarraca
The picture at the top of this article is actually taken at Cala Xarraca. But the video below will provide an even better view of the area.
Close to San Juan you'll find this 300 feet (90 meters) long "hidden beach". If you want to give it a try, you unfortunately need to travel by car. On the other hand, because parking lots are limited, the amount of visitors is limited as well. If you want a quiet gem, and if you have access to a car, Cala Xarraca is definitely worth a visit. Surrounded by rocky mountains, green trees and a few typical Spanish houses, it's not only the clear blue water that will grab your attention. The whole scenery is just amazing and therefore popular among photographers.
If you're like us and you snorkel with a GoPro, this beach will keep you busy for quite a while. Both on land and underwater.
Visitors have access to beach chairs and umbrellas. You'll also find a restaurant in case you feel like a tasty meal or a refreshing drink. The area is also great for experienced hikers, just be aware that the tracks are rocky and sometimes steep. A combination of hiking and snorkeling could be a great way to spend an entire day. Just remember: Use proper UV protection! We know, it sounds obvious, but a friendly reminder is worth noticing once in a while.
3. Cala Codolar
Just like Cala Gració, Cala Codolar is located near San Antonio on the southwest coast of Ibiza. This 230 feet (70 meters) long beach is another secluded location with not too many tourists. Since tourist boats don't anchor in this specific bay, this beach is still popular among locals. If you want to get away from the crowd in order to enjoy some "quiet" or "private" snorkeling, Cala Codolar is another good option.
One thing to be aware of is the huge amount of pebbles and rocks. Even though there's a sandy area to access the water, you'll probably still need water shoes. But hey, if that provides a tranquil snorkel adventure, it's probably worth the effort. By the way, you need to bring your own snorkel gear to this beach anyway, so make sure you come well prepared. If you love sunsets, this location offers a great view.
You're able to rent beach chairs and umbrellas. Be aware that there aren't many shady areas on this beach, so if you own a beach umbrella, take it with you. We always bring some drinks and snacks, but there's a beach bar that serves drinks and fast food dishes as well. You don't have to swim out far in order to enjoy the clear water and it's marine life. If you prefer to snorkel near the rocky edges of the bay, bring a snorkel rash guard if you have one. If not, just be careful to not scratch yourself. We know how fish prefer these tiny underwater caves, but remember to pay attention and to protect yourself.
4. Cala d'en Serra
Up in the north of Ibiza, Cala d'en Serra is a small but extremely cosy beach adored by many locals. If you want to get away from it all, and just avoid the crowd for a moment, consider to visit this adorable beach. Since noisy water activities like jet skiing or motor boating are not welcome in this particular bay, be prepared for a day of silence and piece. Of course swimming and snorkeling are allowed, which is exactly what visitors to the area are after.
If you want, you can rent beach chairs and umbrellas once you arrive. There's a small shop that sells refreshments and snacks. Especially their smoothies and burgers are really good. In order to access Cala d'en Serra you'll have to follow a sometimes bumpy road. Even though most of us won't mind it that much, make sure to be careful. You'll be rewarded by the crystal clear turquoise water and the lovely mountainous scenery.
From the parking lot (which is more at the side of the road) you'll have to walk for about 15 minutes. Just like the car drive, this is a bumpy hike and not everyone's cup of tea. Consider mobility issues before you actually go there. Even though you'll eventually find the beach bar, bring some water with you. You'll be walking in the sun with little shady areas to rest. A UV protective hat or beach dress (like we show in our snorkel gifts article) is more than just a luxury. If you have your own beach umbrella consider to bring that as well since the rentals are limited.
5. Cala Es Canaret
Another impressive snorkel location in the northern part of Ibiza is Cala Es Canaret. This beach used to be private but has been opened up for visitors eventually. They built a road to actually get there, but in order to access the beach there's a little water area you need to cross. You either walk through shallow water or you need to take a swim. No wonder why some call this the "secret beach" of Ibiza. Be cautious though: There are a good amount of sea urchins on the ocean floor. In other words, pay attention where you put your feet. Of course we don't want to harm these little creatures, but water shoes could be more than a luxury.
Unfortunately there are no facilities. So you won't find any bars or places to rent beach accessories. You need to bring everything by yourself! Yeah, that could be quite a bit of luggage. Make sure to at least bring a towel, a beach umbrella, sunscreen, food and drinks, and of course your snorkel gear. Don't leave any garbage behind once you head back home.
We'll cover the marine life in just a moment, but this area is already impressie upon arrival. Palm trees, flowers, birds, blue water, a few boats here and there…just watch the video below and you get what we mean. If you love adventures and if you enjoy a peaceful scenery, Cala Es Canaret could be a great pick for a day full of hiking and snorkeling.
6. Cala Salada (and Cala Saladeta)
Green nature, orange mountains, turquoise water: Yeah, Cala Salada is a pearl on the west coast of Ibiza. Compared to some of the beaches we just mentioned, this beach is accessible for almost everyone. There's a parking lot for people visiting by car, but you can just a swell consider to take a bus or even a boat. Some boat companies offer transportation which is both convenient and adventurous. Make sure to read this article about transportation and when roads could be closed.
The locals enjoy Cala Salada quite a bit, and so do people who own a boat. Whenever it's weekend, you'll find a good amount of them hanging out in this area. Maybe you could give this beach a try on a weekday, or in case it's busy, check out adjacent Cala Saladeta. There should be a nice spot for you to chill and enjoy.
Facilities are great! You can rent beach chairs and umbrellas, or bring your own. There are showers which is not only great for us people, but also helpful for cleaning snorkel gear. A lifeguard is present and so are toilets. You can visit the restaurant for a break from beach life or (obviously) bring your own for and drinks. A place worth checking out if you ask us.
7. S'Illot des Rencli
S'Illot des Rencli is a small beach up in the north of Ibiza. Since the area isn't too big, it could feel a little crowded if you visit during high season, especially in the weekend. However, this is a true gem with its pebbly white beach and appealing rock formations. For anyone in search of a romantic and spectacular sunset view, this can definitely work. You'll probably run into some photographers or maybe you're into this hobby yourself. If you do, yeah, bring your camera.
Even though the beach is only 65 feet wide (20 meters), you'll find shallow water, rock formations and a few fishing huts. Snorkeling is popular among visitors, so bring your gear. If you arrive on time you might beat the crowd and leave before tourists arrive. Maybe enjoy a lunch and then move on, because staying a full day might be too much for some of us.
There's a restaurant that serves some awesome paella and other traditional Spanish dishes. Once you take a seat you'll notice a fantastic ocean view. Beach chairs are available, but their amount is limited. Again, try to arrive on time, or simply bring your own equipment. A long story short: If you're in the area, S'Illot des Rencli is worth a (short) visit to just relax, snorkel around and maybe even stay for lunch.
8. Punta Galera
Located in the north of Ibiza, Punta Galera is a lovely rocky piece of nature, surrounded by high cliffs that offer spectacular views. The beach is famous among locals who either snorkel or watch the impressive sunset. Be aware: Punta Galera doesn't offer a "real" beach. You'll find flat rocks which make it hard to put up a beach umbrella. Furthermore, there aren't a lot of shady areas, so be creative on how to create that shady spot. UV protection for snorkelers is definitely a must!
Fun fact: There's a small cave nearby which was inhabited by a man called Alex Shiney. He lived in the cave all year round and used to spend some time with visitors. Unfortunately he had to leave the cave, but the remains of his "home" are still there to explore. He does return to the area from time to time, so who knows you'll run into him for a chat.
There are no facilities so bring your own food and drinks. Make sure to also bring a towel and other gear that will make you feel comfortable. Water shoes, rash guards or even snorkel vests could be of help to protect your body from scratches. Last but not least: Punta Galera is also popular among nudists. Just so you know.
9. Aguas Blancas
For anyone who prefers a nudist beach, consider to visit Aguas Blancas. Even though some people wear their beach clothes in this location, many don't. You'll find this beach on the north-east side of Ibiza, not far away from San Carlos. Many locals enjoy this beach and it's surrounding rocky scenery. You're able to park your car nearby (not free), after which you need to walk down a steep passage. Once you made it you'll be able to find a spot in the white sand and chill out for the day.
Whenever winds occur, be prepared for some waves and currents. Snorkeling on these days is not ideal, and sometimes even not advised. However, if you visit on a sunny and quiet day, snorkeling will be great. For the more advanced snorkelers, there are a few rocks to explore which attract a variety of fish species. For people who prefer to sunbathe, try to be there on time. During the day, the cliffs will block some sunlight, leaving you in the shade.
Aguas Blancas offers beach chairs and umbrellas. There's a restaurant and a bar as well.
Marine Life In Ibiza
One of my first memories of snorkeling in Ibiza was encountering a pretty big octopus! It's something I'll never forget. But let's talk about the marine life we snorkelers will (or could) be observing.
So apart from the octopus, expect to see barracuda, mackerel, cuttlefish, rays and groupers. Sea turtles are rare to spot, but if you're lucky you could in fact come across one or two. Always a lovely sight! Swordfish and dolphins are even rarer, but who knows. What we like best is the marine life on the ocean floor. Crabs and lobster are not uncommon, and so are seahorses and even moray eels. Moray eels enjoy the little openings in between rock formations, so make sure to only observe (they can bite when feel threatened). We already mentioned sea urchins, so pay attention where you put your feet (if you need a small rest). Depending on the season, jellyfish are a possibility. Inquire with lifeguards or snorkel shops about their presence.
The Climate In Ibiza
Temperature
The Mediterranean climate in Ibiza usually means cool winters and hot summers. June until October are usually the warmest months with average temperatures of around 70-75 °F. July and August can sometimes even reach temperatures of 84°F. The coolest months are December until April, with average temperatures of around 54 °F. January and February are often the coldest months with an average temperature of approximately 52 °F.
Sea Temperature
The sea temperature is warmest between June and October. That's when the average water temperature for snorkelers is somewhere between 70 and 80 °F. From December until April the sea temperature is cooler, on average around 60 °F.
Rainfall
Rainy days are more common in winter than in summer. Especially the month of July shows minimal rainfall, but actually June until September is quite dry. The remaining months shows a little more rain, but overall rainfall is not too bad.
More information about the climate in Ibiza can be found here.
Final Thoughts
Ibiza offers great snorkeling for both beginners and experts. Many beaches provide tranquil waters with cosy sandy beaches. However, some beaches can be very rocky and even difficult to reach. Even though these usually are the more secluded and "private" beaches, Ibiza offers something for every snorkeler out there.
If you can, try to travel during the summer months. That's when temperatures are warm and rainfall is very limited. Even the sea temperature is comfortable for snorkeling. We share our Top 9 beaches in this article, but there are many more to explore. However, many beaches on the island can be pretty crowded, which is why we focused on a few gems we discovered over the years.
We would like to conclude that snorkeling in Ibiza is a great combination of sunshine, white (sandy or rocky) beaches, and turquoise water surrounded by a green and mountainous scenery. Not only snorkeling, but hiking and enjoying the sunset are popular activities to do. If you can, bring your (underwater) camera. Not only the marine life, but also the nature is worth a few awesome pictures to take home.