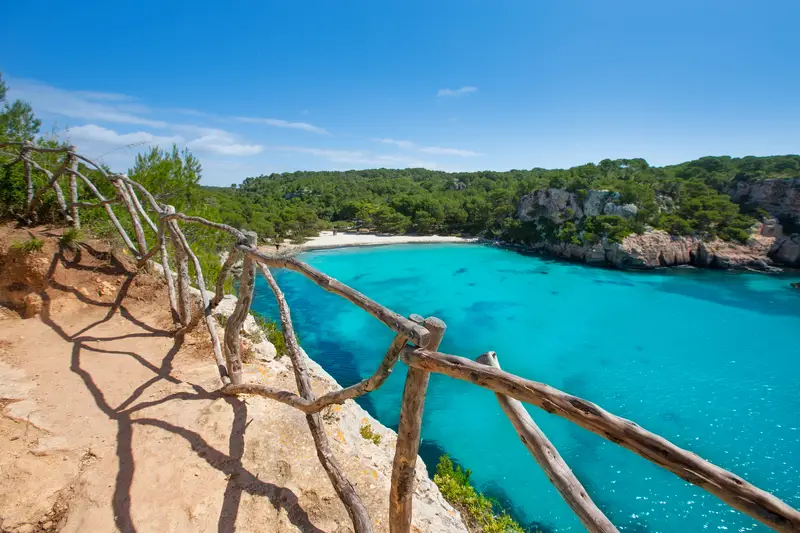 This article is part of our guide for snorkeling in Spain.
Off the east coast of Spain, within the Mediterranean Sea, Menorca is one of the 4 largest Balearic Islands (together with Mallorca, Ibiza and Formentera). Menorca is known for its crystal clear transparent water, secluded white sandy beaches and megalithic stone monuments.
The coastline includes numerous snorkel beaches and coves. In this article we narrow everything down to our Top 4, combining both nature's beauty and a diverse marine life. Of course, most beaches allow for snorkeling, we just like to focus on some of the island's finest gems.
With exceptions, you could say that the northern beaches are rockier than the ones in the south. This usually makes the northern beaches a little secluded and therefore less crowded. Still, every beach is worth a visit, depending on your expectations (like facilities, hotels etc).
FYI: The Spanish word "Cala" means "Creek" in English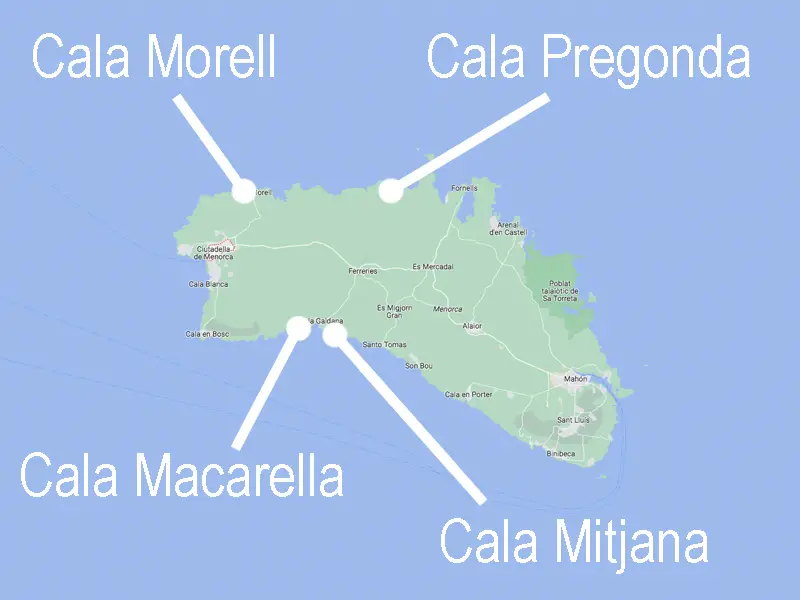 1. Cala Morell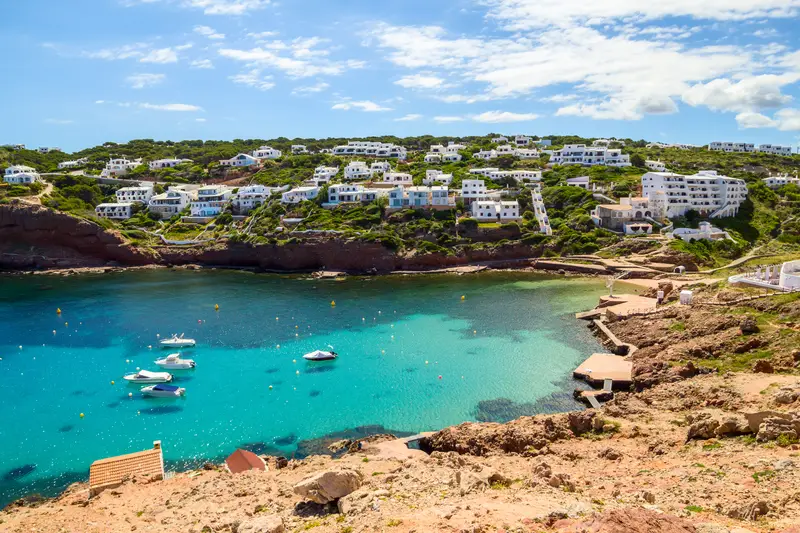 Located in the north, Cala Morell is one example of a rocky cove with a cozy little beach. The beach itself is partially sandy, even though rocks are pretty much everywhere. So yes, bring water shoes. Furthermore, accessing the beach can be a little steep (and therefore tricky) for some of us. Alternatively, some people visit the bay by boat.
Even though you can snorkel directly off the beach, consider to follow the flat stony platform towards your left (as shown in the above picture). You'll find stairs to enter the water, a few sunbathing people and fellow snorkelers. This spot offers some lovely views over the bay as well.
The ocean floor is rocky with various shallow rock formations, so watch your surroundings. On the other hand, the water is usually calm and very transparent. Various types of schools of fish can easily be observed in shallow water.
There are a few restaurants and bars nearby, some of which offer a lovely view over this protected cove.
2. Cala Pregonda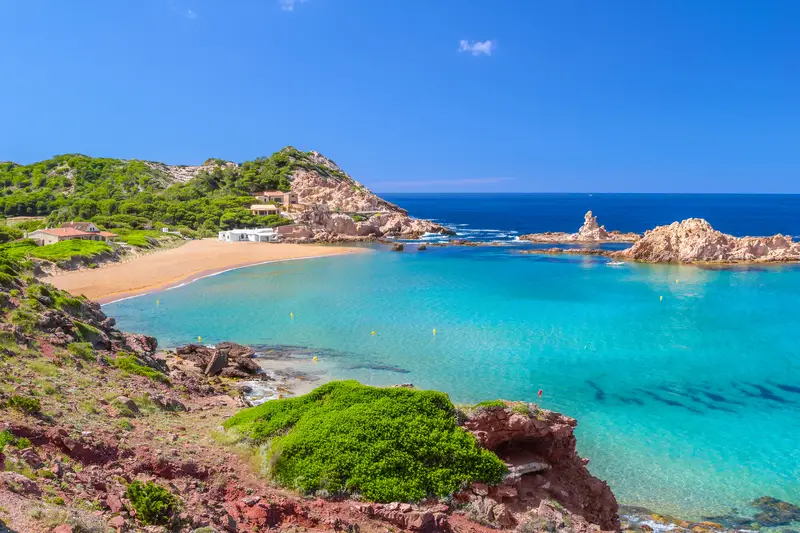 Our second snorkel tip is Cala Pregonda. This golden beach is also located on the northern shore of Menorca, towards the east from Cala Morell. Even though the northern coast of Menorca is pretty rocky, here's a little gem for you. Gold-red sand, multiple protective islets and crystal clear water…what else could we snorkelers wish for?
We consider Cala Pregonda to be "semi remote". On one hand it's quite a walk from the parking lot towards the beach, one the other hand it's a pretty popular beach among locals. However, if you arrive on time, chances are you'll enjoy this beach to its fullest. Keep in mind that once again the hike towards the beach is partially rocky and partially sandy (and takes about half an hour).
As you can see from the above picture, and as with many beaches on Menorca, shady areas are limited. Therefore, if you can, bring a beach umbrella and other UV-protective gear. Furthermore, make sure to bring some drinks and snacks.
Snorkeling is really amazing! The ocean floor is partially rocky, partially sandy and partially covered in seagrass. Underwater visibility is excellent as long as weather conditions are calm. You can easily snorkel within the shallow areas next to the beach and observe a big variety of fish species up close.
3. Cala Macarella (and Cala Macarelleta)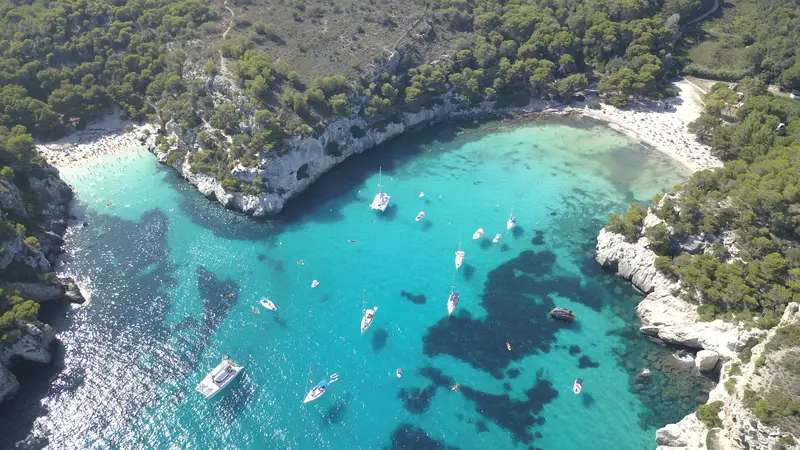 Ok, so chances are this is the most famous snorkel spot on Menorca (at least, we think it is). Cala Macarella is located on the southern coast of the island and is accompanied by its little twin called Cala Macarelleta. A path combines both beaches even though we personally prefer the bigger Cala Macarella.
In summertime, this is a popular snorkel spot so (if you can) try to arrive on time to find a parking lot. The hiking part towards the beach is "medium", so make sure to do some research whether or not you're able to follow the paths. The video below gives you a good impression of what to expect. Since quite a number of boats anchor within the bay, make sure to snorkel close to the shore.
The white cliffs run all the way below the water surface and are packed with little crevices. This attracts a huge amount of fish species. We guess it's obvious that snorkeling along these cliffs is absolutely the best in regards to the marine life. Especially the cliffs that border Cala Macarella on the right side of the above picture allow you to easily observe the marine life in shallow clear water.
As long as weather conditions are calm and as long as you stay in shallow water near the beach, snorkeling is a delight. Make sure to bring some snacks and drinks.
4. Cala Mitjana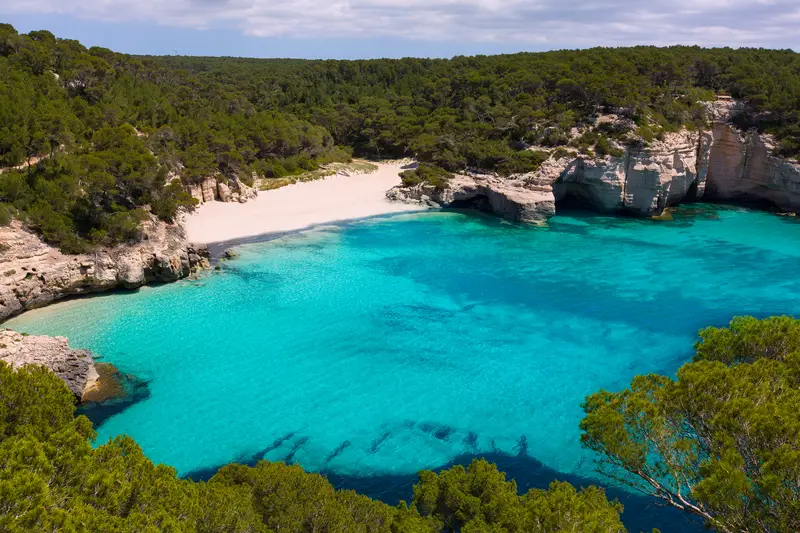 Our fourth tip, and many people's favorite, is Cala Mitjana. Just like Cala Macarella, this beach is also located on the southern shore of Menorca, just slightly to the east. There's a parking lot nearby from where you take a "medium level" hike through pine trees towards the beach (which takes about 15-20 minutes).
If you long for pure white sand that borders some of the clearest blue water, Cala Mitjana is just that. Surrounded by cliffs and multiple caves, the marine life in shallow water can not be missed. However, you need to be aware of cliff jumpers and therefore find a quiet shallow snorkel spot.
Even though we consider this beach to be "semi remote", many people find their way to this spot because of its beauty. If you can, try to arrive on time because around 9-10 am more and more people start to arrive. Some prefer to visit the bay by boat. Bring your own drinks and snacks.
The Climate of Menorca
Average Temperatures
From June until September you can expect an average temperature between 72°F and 78°F (22°C – 25°C). January and February are the coldest months with an average temperature of 52°F (14°C).
Water Temperatures
From June until October, water temperatures range between 70°F and 77°F (21°C – 25°C).
Rainfall
June, July and August are the driest months with a limited amount of rainy days. Rainfall usually starts to increase from October.
Helpful (Travel) Tips
Menorca can be windy. If you haven't yet planned your trip, check out all the weather statistics on this website.
Jellyfish are not uncommon in Menorca. Always inquire with lifeguards or locals whether or not snorkeling is an option for the day.
A good amount of beaches require a (little) hike. Flip flops aren't always an option, so bring appropriate gear.
Pretty remote beaches are fun, but often lack facilities. A (cooler) snorkel gear backpack could be helpful. Furthermore, not all beaches offer shady areas, so bring a beach umbrella and sunscreen.
Most snorkel spots are shallow and located near the shore. Make sure to stay within these areas and to always check if weather conditions allow for snorkeling in the first place.